7 Moments That Define John Cena's WWE Career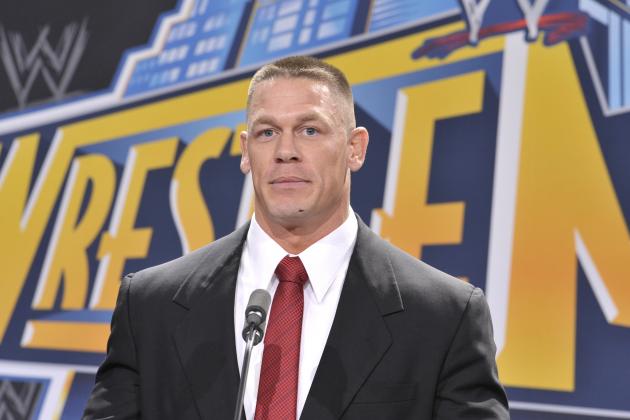 Michael N. Todaro/Getty Images

Regardless of your feelings on the matter, John Cena is the biggest star in pro wrestling and has been for the last seven or eight years. He's everything WWE could ever want:
A gifted speaker (regardless of whether or not you like his promos nowadays, they'd be much worse delivered by someone else).
Charismatic.
Has "the look".
Not scandal-prone.
Usually has good matches (even if you don't think he contributes a lot to them).
Is willing to devote his life to the company, doing any public relations/promotional gigs they need him for, visiting as many Make-A-Wish kids as possible (he's the record holder), etc.
It was fairly obvious that he would be a big star from the day he started wrestling school, but just how big was the question. So how did he get where he is now? Let's take a look...
Begin Slideshow

»
A few months into the WWE "brand extension" that only ended recently, John Cena was called up to the SmackDown roster and debuted by answering an open challenge from Kurt Angle. While he lost, he got to have a close match and the idea was that a hot new prospect had pushed Angle to the limit. The show even ended with Edge, Rey Mysterio, and Cena standing tall as "the future of SmackDown".
It wasn't followed up on as he was an undercard babyface for the next few months, but he made an impression on the fans. It was out of the ring where he made a much bigger one.
In October 2002, a tournament was held to crown Smackdown's first tag team champions and Cena was part of a team with Billy Kidman. They lost to eventual tournament winners Kurt Angle and Chris Benoit when Kidman was submitted and Cena was so incensed, he turned heel by beating up his partner.
A few weeks later, SmackDown had a Halloween party. Cena went as one-hit-wonder rapper Vanilla Ice and impressed both the fans and management with his free-styling skills. He adopted a gimmick where he was basically Marky Mark: a white rapper from Boston who looked like (or in Marky Mark's case, actually was) an underwear model.
After finding himself in the rapper gimmick, Cena's stock went way up and by the time he turned babyface about a year after that heel turn, it was clear he was being groomed to be the top star in the company. He still had some hurdles to clear, though.
He got to win his first title in grand fashion: opening WrestleMania 20 at Madison Square Garden. He beat the Big Show with the F-U (now the Attitude Adjustment) and while it's always impressive when he shows off his strength like that, the first time sticks out as the most memorable.
Skipping John Cena's first world title win (beating JBL for the WWE Title at WrestleMania 21) is going to be controversial, so let me explain myself.
The moment itself is really underwhelming. The match was short with a long chinlock and a very abrupt ending. The crowd reaction was good, but not great. Think about it for a moment: how often has WWE included it in highlight packages? Not nearly as much as you'd think.
The long-term storyline that led to Batista beating Triple H for Raw's World Heavyweight Title that night had sucked up whatever anticipation there was for Cena's win. It took some time for Cena to build up the real momentum he needed.
Step one was introducing his custom "spinner" belt that was finally dropped this year (though it stopped spinning years ago). Step two saw him beat JBL in a surprisingly great "I Quit" match. Step three was the moment featured here.
The 2004 WWE Draft was different from other years in that the draft picks were unveiled slowly over the course of a month. Raw's first pick was to be unveiled on Chris Jericho's "Highlight Reel" interview segment and, yup, it was Cena (and yes, Batista was the last draft pick so they could switch brands after dragging out the drama for weeks).
Just like that, Cena was where he needed to be. It was such a surprise that the crowd exploded and it's become a common pick for Raw "greatest moments" videos over the years. With Raw being live and often a higher priority, it felt more important so with that machine behind Cena in a big way, he usurped Batista as the top babyface in the company.
Going into his title defense against Triple H at WrestleMania 22 in Chicago in Spring 2006, some fans had started to turn on John Cena. There are a number of arguments as to why:
Did feuds with Kurt Angle and Chris Jericho "expose" him as an inferior wrestler unworthy of his spot?
Was he developing an image as a poser who put on a lower-class Boston accent to enhance the rapper gimmick when he really was from a fairly wealthy suburb?
Did adult male fans just not like a guy whose biggest fans were women and children?
Whether it was one or none of those, the first one was worked into a strange Raw segment where Triple H told Cena he was not actually a very good wrestler—and Cena agreed, in spite of being the WWE Champion.
WWE definitely wanted a certain reaction from the most hardcore fans from all over the world gathering in a city that always has loud hardcore fans even when just the locals are there.
But before the match could get started, we were treated to the most extravagant pair of entrances ever in a single WWE match. Triple H was dressed as Conan the Barbarian and began his entrance sitting on a throne. Cena got an even more elaborate appearance with an "Untouchables" theme as gun-toting mobsters (including CM Punk) escorted him to the ring.
When the bell rang, the crowd was completely with Triple H, who was not exactly a favorite of the hardcore fans beforehand. WWE rolled with it and it turned a really good match into an incredible spectacle that's one of the most underrated main events in WrestleMania history. In a rarity, Triple H submitted cleanly to the STF and Cena celebrated as the fans were...confused? They were loud, that's for sure.
If you want to see the moment where WWE definitely decided it didn't matter if fans booed John Cena as long as they paid to see him, this is it.
On the October 2, 2007 edition of Raw, John Cena tore his pectoral muscle during a match with Mr. Kennedy. It was an incredibly serious injury that forced him out of the WWE Championship. He was expected to be out for about six months, with him likely just to miss out on WrestleMania 24.
On January 27, 2008, at Madison Square Garden for the Royal Rumble, everyone of note on the roster appeared to have entered the Rumble match when Triple H came in at number 29. Who was left? A token surprise legend? After all, Roddy Piper and Jimmy Snuka were surprise entrants earlier in the match.
The fans counted down, the buzzer sounded, there was a pause...and John Cena's music hit. In one of the best-kept secrets in WWE history (because nobody could figure out how he did it), Cena was back months ahead of schedule.
He went on to win the match and his choice of world title shots at WrestleMania.
In terms of fan reaction, this is the most "John Cena" moment of them all. For the surprise return, MSG erupted in loud, sustained cheers. When he and Triple H squared off in the ring, the fans came to their senses and started booing Cena.
I love New York.
From an in-ring standpoint, it's difficult to argue that CM Punk is John Cena's greatest opponent. While it's hard to top their first PPV match (Punk's title win in Chicago at Money in the Bank 2011) as a spectacle, from a technical standpoint, it seems like they get better every time out.
I could have used their Night of Champions 2011 match to illustrate the point I'm about to make, but I decided to go with their battle from Raw from February 2013, the main reasons being:
Cena wins.
How Cena wins.
In these two matches, a recurring theme is that they know each other too well and need to pull out all the stops by hitting new moves. At Night of Champions, for example, Punk broke out the "Crooked Moonsault" (that's what "CM" stands for) for the first and only time since he arrived in WWE. Cena hit Punk with a suicide dive to the floor and the match ended with a double pin draw when Cena hit a German Superplex.
In their match on Raw in February, the pattern continued, most memorably in the finishing stretch. Punk spikes Cena with a piledriver that elicited gasps from a large portion of the crowd (who were split, to say the least), but it only got a two count.
He went for the Randy Savage elbow drop and then the magic happened: Punk bounced to his feet, Cena hit the weirdest-looking hurricanrana in wrestling history and followed it up with the Attitude Adjustment for the pin.
Previously 50/50, the entire arena cheered, in part thanks to the storyline that John Cena hit the last move you'd ever expect from him to get the win. Because he can't wrestle, remember?