Oregon Football: 5 Ducks with Most Pressure to Perform in 2013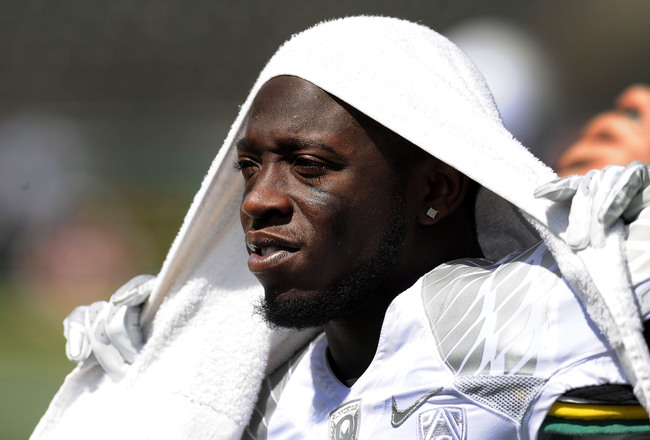 RB/WR/KR De'Anthony Thomas
Steve Dykes/Getty Images
Today we're taking a look at Oregon Ducks players facing pressure in 2013.
Naturally, everyone faces some sort of pressure, because a football team cannot accomplish its goals unless every player does his job. But some players have more pressure than others for a variety of reasons.
It may be that he's underperformed so far in his career. It could also be (as in the case with a certain linebacker on this list) that he's at a position in need of some veteran leadership.
The biggest name failing to make this list is Marcus Mariota, because there aren't many questions surrounding the Ducks' star quarterback. He played one season, exceeded expectations and now enters 2013 as one of the best signal-callers in the country. The pressure is on for him to continue his stellar play, but it isn't the same as the other guys on this list.
Before you read on, remember one very important thing about the offensive players on the list. Oregon averaged 50 points per game last season, so getting hung up on individual statistics is pointless. Guys can always improve their own numbers, but in a game where the offense scores on seven or eight straight drives to begin the game and then starters are subbed out, you can't be mad at anybody for not producing.
If the offense is scoring, it doesn't matter what kind of numbers players put up.
Find out which five Ducks have the most pressure to perform in 2013.
5. Thomas Tyner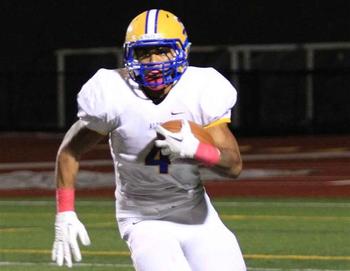 RB Thomas Tyner
It almost seems silly to apply the word "pressure" to an incoming freshman who hasn't played a down of major college football.
But several factors surrounding the hype of Thomas Tyner contribute heavily to the pressure he'll face this season.
The first is the depth at running back. Byron Marshall is the only true running back, and he's coming off a freshman season that had mixed reviews. De'Anthony Thomas is the other big name in the backfield, and we're certainly aware of what he brings to the table. But he'll be used all over the field, and counting on him to carry the load at running back may take away from other areas of the offense.
The second factor putting pressure on him is that Tyner was such a dynamic force in high school and his skill set is seemingly a perfect match for the Ducks' fast-paced attack. He's one of the fastest players on the team, but he has both the size and strength to shed tacklers.
Given that he is just a freshman, growing pains are expected. As much as fans want to see him have a spectacular season in Year 1, it may not happen. But on the other hand, he'll need to show some growth and at least give fans a taste of his highlight potential now and again.
The pressure on Tyner isn't immense, but because of the needs at running back and the hype surrounding his recruitment, it will be very present in 2013.
4. Terrance Mitchell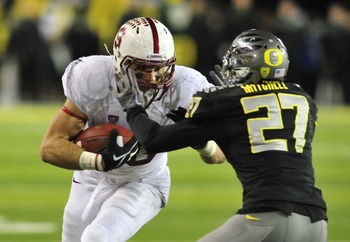 Terrance Mitchell
Steve Dykes/Getty Images
Terrance Mitchell entered last season as the Ducks' most experienced defensive back (excluding John Boyett), and many expected him to be a shutdown corner.
And he was, for much of the season.
But it was Ifo Ekpre-Olomu who stole the show opposite Mitchell and now enters the season under the spotlight.
Now it's Mitchell's turn to re-enter the conversation of best corner in the league. He'll have plenty of chances to showcase his skills throughout the season. With teams now aware of what Ekpre-Olomu brings to the defense, expect quarterbacks to look toward Mitchell to start the season.
He didn't have a great game in the Fiesta Bowl, and with the secondary appearing to be one of the best in school history, it's now Mitchell's time to shine under the Autzen lights and help become the second part of what should be a lockdown tandem at corner.
3. Boseko Lokombo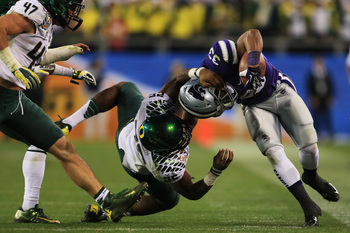 LB Boseko Lokombo
Doug Pensinger/Getty Images
Boseko Lokombo is the only returning starter at linebacker, which is why the position is one of the more questionable spots on the team heading into the 2013 season.
The pressure will be squarely on Lokombo to rise up and become a leader on defense.
New guys are going to make mistakes. There will be more than one occasion when a linebacker misses an assignment which leads to a big play. But if Lokombo can take what he's learned from playing with guys like Michael Clay and Kiko Alonso and instill that into guys like Derrick Malone and Tyson Coleman, he'll be perhaps the most impactful player on the entire defense.
Then there's the matter of his own play, which has been solid and steady with the occasional highlight. But Clay and Alonso set the bar extremely high, and the pressure is on Lokombo to take his game to the next level.
He has the speed and athleticism to do just that.
With the losses suffered at the position, Lokombo must deliver in a major way in 2013.
2. De'Anthony Thomas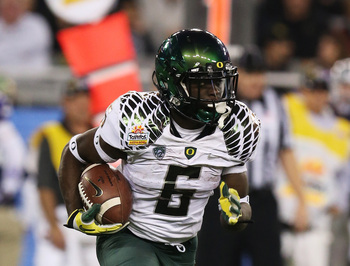 De'Anthony Thomas
Stephen Dunn/Getty Images
De'Anthony Thomas enters his junior season as a Heisman Trophy candidate. He holds the title of "most electrifying player in the nation."
With Kenjon Barner gone, it's now Thomas' turn to take his game to the next level by establishing himself as a premier running back to go along with his returning and receiving skills.
The pressure is on the Black Mamba, because his numbers last season didn't exactly match his talent. And remember, in an offense that averaged 50 points per game it's hard to find room for more yards or more touchdowns. The Stanford game is really the only contest that comes to mind where the offense as a whole could have performed a lot better.
But as the most dynamic player in an experienced offense, Thomas must continue to make those highlight-reel plays that deflate opponents.
With all the weapons on offense, it's hard to see Thomas putting up Reggie Bush numbers. But he has all the talent in the world. He's the kind of player who makes things happen every time he touches the ball.
The pressure will be on De'Anthony Thomas in 2013 to continue delivering those "wow" plays and to provide some stability in the backfield.
1. Josh Huff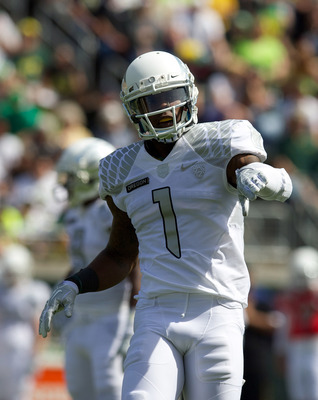 Senior wideout Josh Huff
USA TODAY Sports
All offseason, the talk surrounding new head coach Mark Helfrich has been about whether or not he can continue to build off the accomplishments of Oregon's previous coach, Chip Kelly.
One of the things being talked about is incorporating more of a passing game, and the promotion of Scott Frost to offensive coordinator seems to fit that narrative well.
Therefore it's only natural that a certain amount of pressure will fall on the shoulders of the Ducks' most experienced receiver, senior Josh Huff.
Huff has had an interesting career with the Ducks, from his outstanding freshman season to the nagging injuries that have hampered his output over the past couple years. But anyone who has seen Huff at full strength knows how talented he is.
The pressure is on because as a senior, this is Huff's last chance to prove to NFL teams that he can be a playmaker on Sundays.
But the bigger pressure comes from being the guy at receiver. Many other weapons exist at the position, but Huff has the most experience, and he's the one Mariota will look to on key third downs.
Everything Huff has worked for comes together this season, and his talent is undeniable. The only question now is whether he will consistently step up and be a leader on offense. If the latter stages of last season and spring practice were any indication, the answer may be a resounding yes. But the pressure is on to make it happen.
Keep Reading

Oregon Ducks Football: Like this team?