Ranking the Most Incredible Victories by a Teenager in Boxing History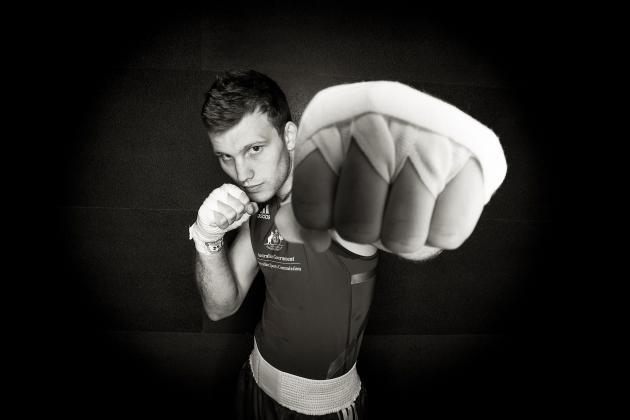 Mark Nolan/Getty Images

Dr Seuss labelled boxing as "The Manly Art of Self-Defense" in a famous painting. The description has stuck—with an emphasis on manly.
The fight game is no place for children.
In boxing, you get hit, you hit other people and you feel no remorse in doing so. It's the complete opposite of everything you learned in grade school.
Athletic commissions and governing entities were put in place to keep children away from the sport.
But throughout boxing's rough and tumble history, a few notable kids have slipped through the safety net. Teenagers are nothing more than glorified children: they have an extra dose of angst and attitude—but their creative power is still boundless.
Their gullibility is their strongest asset. They believe they can take on the world.
And looking at the exploits of these teenagers, they can.
These men—or boys—are no older than 19 years of age; they rejected the basic principles of civilization from an early age and lost themselves in the fight game.
Their stories, and the victories they pulled off, are remarkable.
These are the most incredible victories by a teenager in boxing history.
Begin Slideshow

»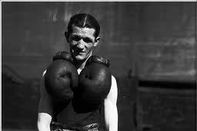 Date: July 4, 1925

Location: Oaks Ballpark, Emeryville, California, USA
Jimmy McLarnin, also known as the Belfast Spider, was a dynamite puncher and one of the greatest weight climbers of all-time, weighing in as light as 104 pounds, all the way up to 147 pounds.
McLarnin made his professional debut when he was 16 years old. By the time he was 19—he earned himself a fight with the flyweight champion of the world, the Filipino Pancho Villa.
The two met on the fourth of July in 1925 and McLarnin pulled out one of the single greatest victories in boxing history.
In front of thousands of Filipinos in attendance to root for their countryman—McLarnin made things look easy as he completely upstaged Villa.
"Champion Is Outclassed by 19-Year-Old Belfast Boxer," read a headline from the Oakland Tribune.
Villa had ruled over the flyweight division for two years and held wins over Hall of Famers Charles "Bud" Taylor and Jimmy Wilde.
But the young Belfast lad didn't shy away from the challenge. He was said to be the aggressor in every round and completely handled Villa in the clinches "like a baby" (Oakland Tribune). This night belonged to the kid wonder.
The Oakland Tribune continued, stating "Villa was out-boxed, out-smarted and out-hit in practically every round."
On the evening of his monumental triumph, McLarnin did not partake in any alcohol. He, did however, enjoy some sweets and was actually in bed by 9:30.
On the morning of the fight, Villa had an ulcerated tooth extracted. Against his physician's advice he still went through with his fight with McLarnin. Villa claimed it was this procedure that kept him fighting to the best of his abilities that night. Reports show Villa's mouth was very swollen when he entered the ring.
10 days later, Villa—born Francisco Villaruel Guilledo—died from Ludwig's angina; an infection resulting from the tooth extraction.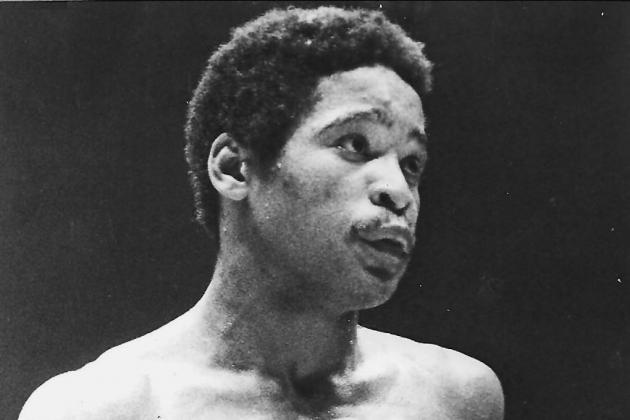 Date: March 6, 1976
Location: Hiram Bithorn Stadium, San Juan, Puerto Rico
"I won because I was in great physical condition. I was also prepared morally and spiritually. I didn't think I could lose." — Wilfred Benitez, Panama City Herald, March 14, 1976
Wilfred Benitez was just a teenager when he challenged the Hall of Famer Antonio Cervantes for his WBA light welterweight title.
Cervantes was a 4 to 1 favorite and had been champion for four years. Benitez was nothing more than an opponent to keep Cervantes busy as he hunted bigger game. The champion was going to beat this kid—just like he had done to 106 previous opponents, including Esteban De Jesus, Hector Thompson, Carlos Gimenez, Alfonso Frazer (two times) and Enrique Jana.
But "El Radar" had different plans.
In a generally uneventful fight, both men stayed at long-range and tried to lull the other into making a mistake.
In a battle of wits over 15 rounds, Benitez showcased the ring intelligence and defensive prowess that would make him one of the most celebrated figures in boxing throughout the 1980s and walked away the winner. He became an overnight hero in his native Puerto Rico and holds the distinct honor of being the youngest boxer in history to win a world title.
His age: 17 years, 5 months and 23 days.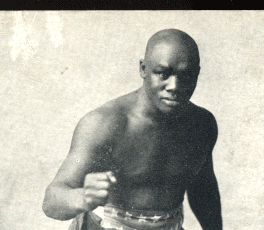 Date: December 8, 1903
Location: Criterion A.C., Boston, Massachusetts, USA
The date of Sam Langford's birth has often been a subject of debate. BoxRec.com, for instance, lists his birthdate as occurring in 1883.
But according to Clay Moyle in his benchmark Langford biography, Sam Langford: Boxing's Greatest Uncrowned Champion, Langford was actually born on March 4, 1886. A date that Langford's manager, Joe Woodman, confirmed.
Which makes Sam Langford 17 years old on December 8, 1903—the day he outboxed the best lightweight in the world.
It was announced on Dec. 4 that Joe Gans, the lightweight champion of the world, had accepted Langford's challenge to a 15-round bout.
Gans is a Hall of Famer and one of the greatest fighters of all-time. At the time of the bout, he was 29 years old and, officially, held an incredible record consisting of 124 wins to just seven losses.
The "Old Master," as he was called—for his unparalleled skillset—won the title in May of 1901 and already held victories over standouts Dave Holly (two times), Kid McPartland (two times), Elbows McFadden (four times), Frank Erne and Young Griffo.
The weight limit for the contest was agreed upon at 138 pounds. "On the day of the fight Gans weighed 135 ¼ pounds, while Sam came in two pounds over at 140 pounds" (Moyle).
Langford may have came in above the weight limit but this had more to do with him growing out of the division rather than him being out of shape. He was in peak condition—as Gans and the rest of the world was about to see.
Gans began the match very quickly. He fired blitzing lead jabs and hooks. Many of his combinations were finding their target and some even staggered Langford.
Being the great champion he was, Gans had his way with his young challenger for the better part of the first four rounds.
Most men, let alone a teenager would've submitted to defeat—but not Langford.
Coming out to the fifth round, Langford became the aggressor. He pushed the pace and threw everything he had at his opponent.
Both combatants pulled out every trick in their arsenal. Their performance was putting on quite the show.
"A more scientific battle was probably never witnessed," commented the Boston Daily Globe.
But the momentum was leaning towards Langford. He found the most success going to the body and in the clinch, where he was much stronger than his opponent. Seeing as how Langford would one day grow into a hard-hitting heavyweight contender—this comes as no surprise.
Langford was stealing round after round. But Gans' masterful defense was on full-display as "he successfully slipped or blocked the majority of Sam's heavy punches," (Moyle). The teenage wonder was content, however, with a decision victory.
He wasn't going to take an unnecessary risk and lose the fight.
But nonetheless, at just 17 years of age, "Langford proved his superiority in 15 rounds of really scientific boxing…" said the Boston Daily Globe.
Even Gans' most "rabid" supporters admitted this. When the bell sounded to end the fight, Langford was announced the winner.
Victory was his. But not the title, as both men were over the lightweight limit of 135 pounds.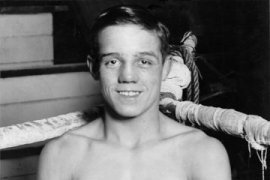 The amazing tale of Nipper Pat Daly cannot be compacted into just one fight.
His greatness was on display every time he stepped into the ring. Every punch he threw, every punch he took all bore testament to his greatness.
Bending the very confines of reality, Daly's entire career is what lands him on this list.
Born Patrick Clifford Daley, "Nipper" became a professional boxer at the age of nine. Yes, nine—the youngest to ever do so.
By 15, he had already worked his way up the professional ladder with 53 fights to earn shots against Britain's leading flyweights and the reigning flyweight champion of Italy, Giovanni Sili.
Barely a teenager, Daly was already being looked upon as a world-class fighter.
"Fly-weights [sic]… are easily the most expert performers [Britain has], and we are still of the opinion that Nipper Pat Daly is the best box-fighter of them all, for all that he is only 15 ½" —Boxing magazine, September 11, 1928
After outclassing high-level fighters Bert Kirby and Alf "Kid" Pattenden and many more grown men—some of them twice his age—The Ring magazine ranked Daly as a top-10 bantamweight (ratings for July of 1929) when he was just 16.
Daly spent his adolescence unlike any other, engaging in 119 officially recorded professional boxing contests—all before the age of 18.
Poor management and mishandling would eventually force him to retire at just 17—cheating the world of boxing's absolute greatest talent.
He was the consummate boxer. He was long and utilized a splendid lead jab and never cowered away from engaging in close quarters to entertain the fans. He was, and always will be, boxing's wonderboy.
The career he did have is almost unfathomable.
What might the career he didn't have been like?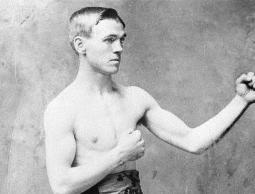 Date: September 12, 1899
Location: Westchester A.C., Tuckahoe, New York, USA
The weather was cool and "the day was perfect," reported New York World. "The sun at 3 o'clock filled the open wooden amphitheatre [sic] with a dazzling white light."
An estimated 9,000 fans were in attendance to see Pedlar Palmer, an acclaimed technical genius from London, defend his bantamweight championship of the world against Terry McGovern of Brooklyn. Palmer was the first to enter the ring and the action did not take long to get underway.
As soon as the referee called on them, Palmer rushed to meet his challenger in the center of the ring. Unbeaten and a four-time defending champion, he was supremely confident in his abilities.
The champion fired left hands to his opponent's face. They fell short. And just over two minutes later, Palmer was sprawled out on the canvas—helpless and half-unconscious.
The Burlington Hawk Eye observed, "It was a case of a hurricane fighter pitted against a clever boxer. The fighter won."
There wasn't much to the fight: Palmer was determined to get into close quarters with his challenger and that's where McGovern beat him unmercifully—"working both hands to the body and neck" (Burlington Hawk Eye)—until Palmer collapsed. The contest lasted two minutes and 32 seconds.
"The fight was so one-sided that it is almost impossible to see how Palmer… ever could have expected to win." (New York World)
McGovern was 19 years old.
Date: January 9, 1900
Location: Broadway A.C., New York, New York, USA
Terry McGovern was a ferocious fighter. His punching was so powerful, his approach so ruthless, he became known by the nickname "Terrible."
He was the original crouching, swarming power-puncher. Imagine a 5'3" Mike Tyson—but full of even more ill-will towards his opponents.
That was McGovern.
He is one of the greatest fighters of all-time and for a span of two years—from 1899 to 1901—he was the sport's most devastating and terrifying force.
Harry Forbes, Oscar Gardner (two times), Frank Erne, Aurelio Herrera and Joe Gans—McGovern battered every single one of them. And did so in unforgiving and sadistic fashion.
None of them lasted more than five rounds.
But it's his knockout win over George Dixon—along with that annihilation of Pedlar Palmer—that lands McGovern atop this list.
In January of 1900, McGovern rang in the century with a brand of never-before-seen boxing violence.
McGovern and the defending champion Dixon were scheduled to fight 25 rounds for the world featherweight title. McGovern—the bantamweight champion after dethroning Palmer three months prior—was looking to become only the third fighter in history to have won world titles in two weight classes.
He was still aged just 19.
Dixon was first to enter the ring. Not a minute later, McGovern climbed into his corner. Both champions were called to the center of the ring where they shook hands.
It was on.
Dixon, cool and collected as always, "opened with a left swing to the head," observed the Salt Lake Tribune. "McGovern ducked and sent his right over the kidneys."
McGovern was finding his way inside the champion's defense and went after Dixon's ribs with all his might. McGovern was landing between six and 10 punches at a time.
But Dixon, who was recognized as the best featherweight in the world as far back as 1890, reportedly laughed at his challenger's body attack.
But McGovern did not waver. He continued to batter Dixon's ribs and kidneys from the clinch.
"He seemed to have no other object in view," said World on January 10, 1900.
In Round 2, Dixon seemed to finally weaken. Hoping for some time away from the abuse, Dixon was said to have pushed McGovern away only to see the fistic hurricane rush back and ram "a dozen short right jolts [to Dixon's] kidneys." (World)
Attempting a rally, Dixon landed flush left uppercuts to his challenger's body and face.
McGovern only laughed at him.
"Once more Dixon came with a left-hook on the jaw. McGovern smashed him in the body and laughed as Dixon hung on," reported World.
This frightening phenom was becoming too much even for one of history's greatest champions.
Save for a tremendous right-hand that Dixon landed in the third round that staggered his opponent, the fight was all McGovern. In the seventh round, the end looked near.
Dixon was noticeably tired by now, hanging on in the clinches. But, as in every round up until that point, it was in the clinch where "McGovern roasted [Dixon's] ribs" (World).
McGovern had produced something that had never before been seen: he "pulled back his body and put all his strength in a right hand smash on the short ribs" (World), sending Dixon on to all fours—the first knockdown of a 14-year career.
It was to happen eight further times in Round 8.
World recaps the closing moments of the title fight-turned-assault:
"[Dixon's] eyelids were drooping and his legs were shaking but he made a vicious rush at McGovern and swung his left fiercely for the jaw.
Terry, laughing, ducked it and clinched. For the last time he drew back… to get distance and rammed home his right on Dixon's sorely battered ribs.
The blow knocked Dixon flat on his face."
A ruined Dixon attempted to get to his feet one last time—but his manager, Tom O'Rourke, stopped the fight and saved him from any more harm.
"Terrible" Terry McGovern was born. He was crowned the featherweight champion of the world, his second title in as many years.
He simply couldn't be stopped. He was an apex predator, a lion ravenous with hunger; the very air around him trembled in fear.
McGovern was a true legend-killer—and just a teenager.