Athletes Nut-Tapping Other Guys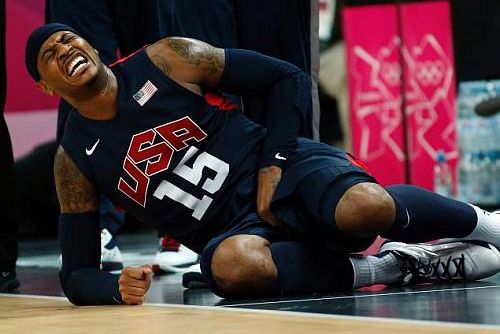 Image via Getty
After a big play in sports, it's not uncommon to see another guy slap the behind of one of his teammates for a job well done.
While it's an unwritten rule in sports that touching another man's ass is completely acceptable, one region of the body that isn't OK is the "nether regions".
Getting a nut shot feels like death, yet it's something that's happened probably more than us guys would like to admit.
For that reason, I'm giving you some instances where nut-tapping in sports went a bit too far.
Begin Slideshow

»
For LeBron James, it must be tough to be King.
On top of all the pressure he gets from fans and media to live up to the high expectations of winning multiple NBA titles while still acting as a role model to kids, something like this happens to him.
Back during his SVSM High School days, the King's jewels got snatched by an opposing player, sending James to the floor and, weirdly enough, fans in the stands to almost laugh as he rolled around holding his junk.
Nut taps should never be joked about.
Can I really blame the first baseman for not catching the ball on this infield bunt turned into a triple?
Seeing that the poor kid got his nuts demolished by the oncoming runner when his hand swipes them on his way to first, probably not.
It just seems harsh to lower this kid's fielding percentage after taking a hit like this, but sadly, we're giving him an error.
Anytime a guy makes a fist, winds up and delivers a heavy hit to another guy's sack, there's no denying that it was deliberate.
For Spanish basketball player Juan Carlos Navarro, he unfortunately found that out the hard way when French player (and Blazers forward) Nicolas Batum laid a nut-punch on him in last year's Olympics.
This is the type of ball-swatting that is definitely not allowed in basketball.
Kobe Bryant is one of the most ferocious basketball players on the planet, playing with an almost unstoppable intensity to win every game he plays in.
When he "accidentally" tapped former Olympic teammate Andre Iguodala in the junk a few years back, Bryant proved that he can score a nut shot as well as he can score a basketball.
Sadly, it looks like Kobe's got a trend for this, as he knocked on teammate Pau Gasol's sack door once too.
Is nut-tapping just a Lakers thing these days?
As we saw with the last video of Kobe Bryant tapping Andre Iguodala, the Mamba's teammate, Pau Gasol, decides he wants in on the action, too, scooping towards the Thunder's Serge Ibaka's nuts.
We're sure Gasol was going for the hand to apologize for this little tangle up, but it was the Western Conference Semifinals, so maybe he was just trying to get Ibaka out of the series.
OK, so anytime there's something other than a hand used in a nut-tap, it becomes real.
Luckily for former Bruins goalie Tim Thomas, he didn't have the Canucks Daniel Sedin come after his head after Thomas deliberately stuck his stick into Sedin's nut area.
Come on dude, ain't nobody got time for that!
What could possibly have gotten former Suns forward Channing Frye so hotheaded following a foul call on known instigator Kevin Garnett?
Well, when observed closely, Garnett's nut-tap on Frye's fellas might have something to do with it.
I'm pretty sure these aren't the loose balls coaches talk about trying to go after during a basketball game.
Ah, the joy of scoring a touchdown.
It's the culmination of hard work and perfect execution when each player on the team does exactly what they're supposed to do to get into the end zone.
That's when the fun begins.
Some guys break into dances, but former Arkansas wideout Joe Adams just breaks one of his offensive lineman's ball sacks, landing a palm to his nuts here.
Clippers forward Blake Griffin might be known for his monster jams on the basketball court, but if you ask the Rockets' Chandler Parsons, he'll tell you that Griffin throws down some serious heat when it comes to nut-tapping, too.
That's what happened earlier this year when Griffin connected on Parsons' family jewels, creating quite the comical Twitter exchange between the two.
Isn't there a saying that goes, "Every action deserves a reaction?"
Well in both Blake Griffin and Serge Ibaka's case, after being involved in a couple other nut tappers of their own, the two found out what it was like to be on the other side.
Ibaka took his Pau Gasol revenge out on the other big-name L.A. forward, while Griffin received payback for his little twap to Houston's Chandler Parsons—except Ibaka's was with the force of a damn runaway beer truck.
After hitting a triple in a game earlier this year, Jeff Francoeur didn't just go with the normal fist bump or high five.
No, he went with the backhand to the nuts, sending third base coach Eddie Rodriguez back with amazement—and I'm sure some pain.
Baseball players are usually required, or at least suggested, to wear cups for each game, so it just seemed like Francoeur was making sure his coach was abiding by the rules.
Things got a little testy (pun intended) during last year's Olympic match between the United States and Argentina after USA's Carmelo Anthony absorbed this blow below the belt.
Defender Facundo Campazzo can argue that he went all-ball on Carmelo—it just wasn't the one he was supposed to go for.
In arguably the most famous instance of nut-tapping during sports, former NFL official Ben Dreith went into vague, but understandable, detail during a Bills/Jets game in 1986.
After Bills quarterback Jim Kelly got taken to the ground by Jets defender Marty Lyons, Dreith simply told us that he was "giving him the business down there," leaving many to believe there were some nut-taps going on during the mini scuffle.
Not to be outdone, ACC official Ron Cherry, repeated the call during an '07 game between Maryland and NC State but was a bit more subtle with his.