How Jurgen Klinsmann Fixed the US National Team's Defense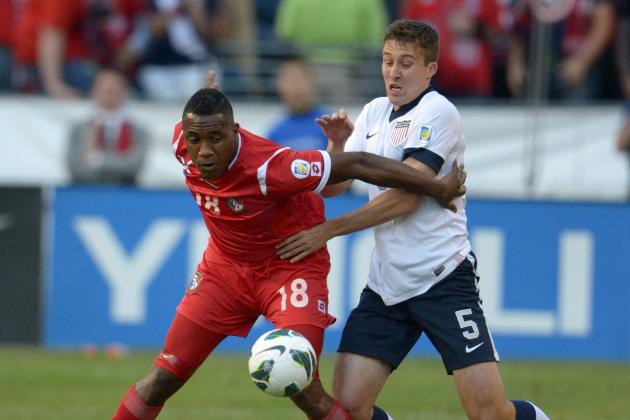 USA TODAY Sports

Following its win over Panama in the CONCACAF Gold Cup final on Sunday, the United States men's national team is now on an 11-game winning streak. Over that stretch, the USMNT has given up eight goals for a 0.72 goals against average and picked up five shutouts along the way. By comparison, the U.S. had given up 12 goals for a 1.09 goals against average over the 11-game stretch prior to the winning streak.
So, what changes has U.S. head coach Jurgen Klinsmann made that have helped the team's defense improve?
Begin Slideshow

»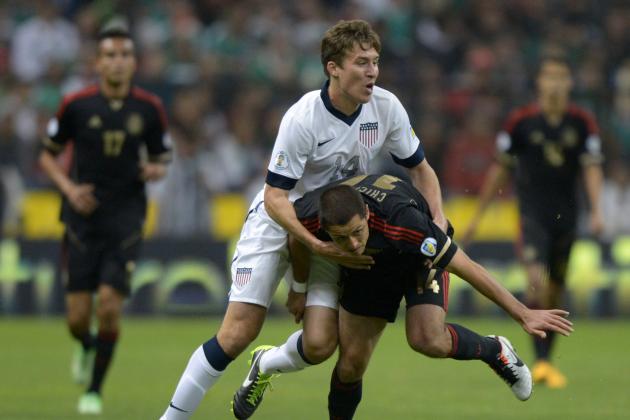 Kirby Lee-USA TODAY Sports

One year ago, few U.S. fans outside Sporting Kansas City's fan base knew who Matt Besler was. However, in the midst of a season that would eventually win him 2012 MLS Defender of the Year, Jurgen Klinsmann called Besler up for the U.S.' August friendly against Mexico.
Besler didn't feature in the match, but was called up for the January camp, usually reserved for fringe Major League Soccer players, where he earned his first start in an 0-0 draw with Canada. Besler was again called up for the U.S. World Cup qualifier in February against Honduras, but did not play.
His big chance came in the March qualifiers when Klinsmann decided to trust him in the mother of all qualifiers—an away match to Mexico at Estadio Azteca. Besler held his own that night against the team that was widely regarded as the best in the CONCACAF region at the time in one of the most inhospitable environments in world football.
Since then, he has been a regular fixture in the U.S.' lineup and is considered by many to be the team's most consistent defensive performer.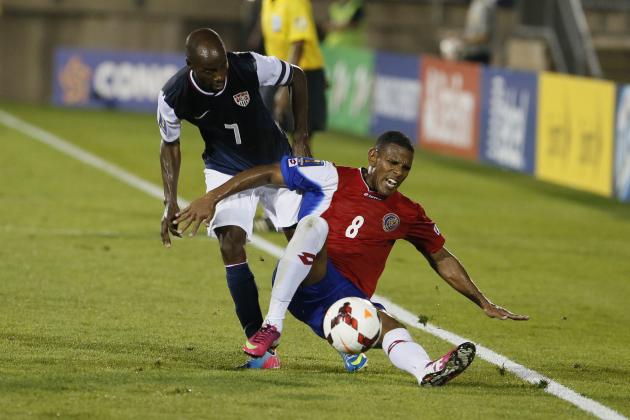 David Butler II-USA TODAY Sports

Most fans considered DaMarcus Beasley's international career done and dusted after a series of underwhelming performances over the past few years. In 2012, he only made one appearance for the U.S., as a second-half substitute.
However, heading into the U.S.' World Cup qualifier against Costa Rica in March, the U.S. suffered an injury crisis at left-back. Preferred choice Fabian Johnson was injured, as were potential backups Steve Cherundolo, Timothy Chander, Edgar Castillo, Jose Torres and Jonathan Spector.
With few other options, Klinsmann resorted to using Beasley in the back, an experiment which had failed miserably under Bob Bradley. However, Beasley, finally back in solid form after a good run with Puebla in Liga MX after years of up-and-down club play, repaid his manager's faith with a strong game. Klinsmann then trusted Beasley several days later against Mexico, and although Beasley struggled against Mexico's speedy attackers, the U.S. came away with a 0-0 draw and a huge away point in World Cup qualifying.
This summer, Beasley has continued to put in good performances for the U.S. against top teams like Belgium and Germany in friendlies and against CONCACAF opponents in World Cup qualifying and the Gold Cup. In fact, he has so successfully re-integrated himself into the fabric of the USMNT that Klinsmann named him captain of the team for the Gold Cup.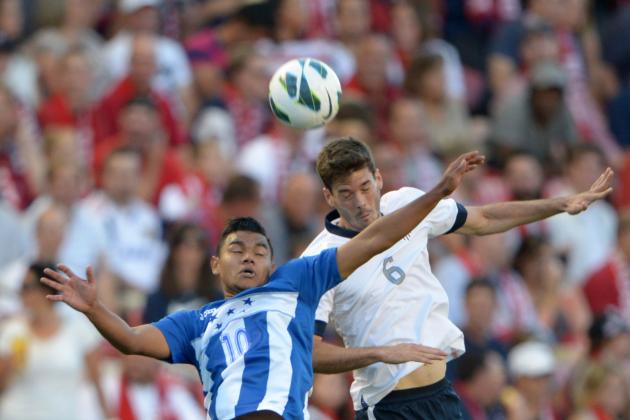 USA TODAY Sports

Just as the team suffered an injury crisis at left-back heading into the March World Cup qualifiers, the team suffered a similar crisis at right-back heading into this summer's matches. Steve Cherundolo and Timothy Chandler were hurt and Geoff Cameron had struggled on the right against Belgium in May.
Klinsmann decided to gamble and go with Seattle Sounders center midfielder Brad Evans at right-back. It was a gutsy decision, but one that had showed promise during the U.S.' January game against Canada when Evans was put at right-back for the second half.
Evans, like Beasley, repaid Klinsmann's faith and put in a series of solid performances throughout the summer, even scoring the stoppage-time game-winner against Jamaica.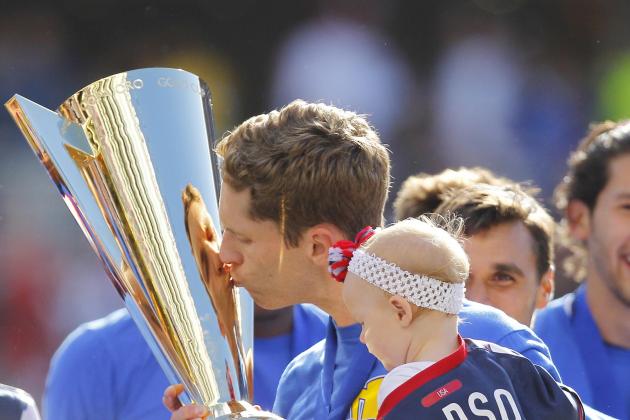 Dennis Wierzbicki-USA TODAY Sports

Although Clarence Goodson has had more than his fair share of shaky moments for the USMNT in the Jurgen Klinsmann era, Klinsmann has continued to show faith in the lanky center-back.
While many managers might have dropped Goodson after bad performances against Italy and Belgium in friendlies and some poor games in the semifinal round of World Cup qualifying last year, Klinsmann has stuck with him.
Given his chance in the Gold Cup, Goodson played well, even if it was against sub-par competitors. He did not make mistakes in possession and did well to keep a series of speedy Central American and Caribbean wingers and forwards in front of him. He scored two goals for the U.S. this summer and even kept his starting position over Omar Gonzalez when Gonzalez was called in for the semifinal and final of the Gold Cup.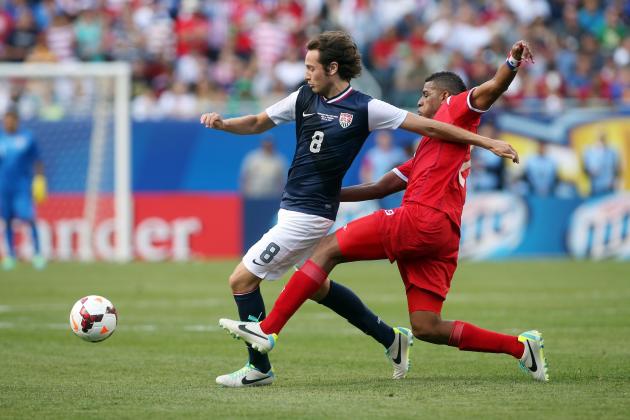 Jerry Lai-USA TODAY Sports

One aspect of the U.S.' play over the Gold Cup that helped the defense was playing a more attacking group of midfielders. While it may seem counter-intuitive to improve the defense by attacking more, the U.S.' ability to hold possession with players like Mix Diskerud and Stuart Holden, as well as the markedly improved play of Kyle Beckerman, helped keep pressure off the U.S. backline.
In every game of the Gold Cup, the U.S. enjoyed a serious advantage in possession, limiting their opponent's chances to go forward.
Even in the Gold Cup final against a Panamanian side which had proved it was for real with two wins over Mexico in the tournament, the U.S. enjoyed 69 percent of the possession.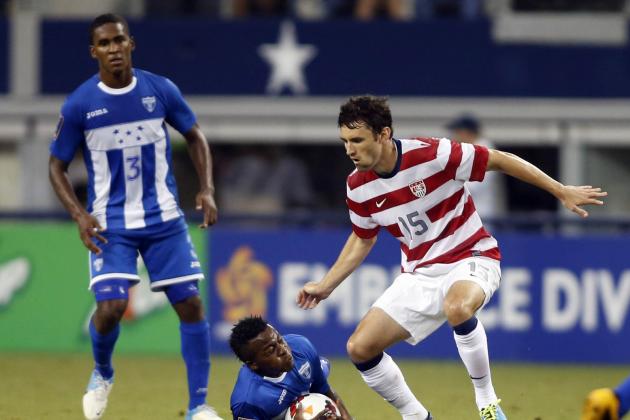 Tim Heitman-USA TODAY Sports

Keeping the U.S.' defensive "improvement" in perspective, it must be recognized that this 11-game winning streak, with the exception of the win over Germany (which itself fielded a "B" team), has been exclusively against CONCACAF competition.
And, to put it further in perspective, many of these games were against CONCACAF teams missing their top players.
Against Panama in June, the team was missing Blas Perez (who did play against the U.S. on Sunday in the Gold Cup final) and against Honduras in June, Los Catrachos were missing five of their regular starters.
In the Gold Cup, the U.S. faced weak teams like Belize and Cuba, and opponents Costa Rica and Honduras did not have most of their "A" players.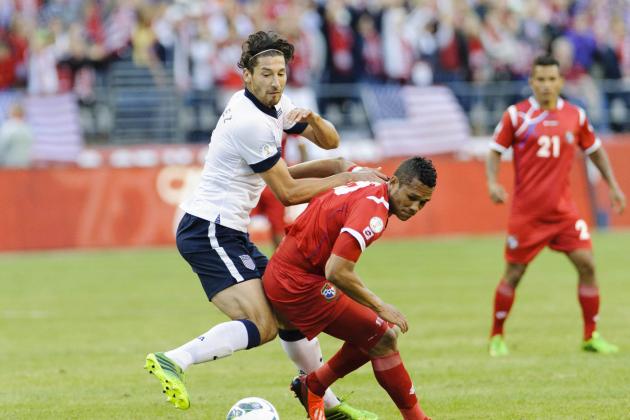 Steven Bisig-USA TODAY Sports

Looking forward, there is still much work to be done. Klinsmann must sort out his depth at center-back with an apparent battle now ensuing being Clarence Goodson and Omar Gonzalez for the No. 2 spot next to Matt Besler.
Geoff Cameron might also be in the mix should he not be needed out wide or as a holding midfielder, but his lack of first-team minutes at center-back for Stoke City may limit his chances for the U.S. at that position.
The announcement this week that dual national John Anthony Brooks will be joining the team for the U.S. friendly against Bosnia also adds some competition into the mix. And, Klinsmann still needs to sort out the mess at right-back with Steve Cherundolo, Timothy Chandler, Michael Parkhurst and Brad Evans all apparently in the mix.
The U.S. also has work to do on set pieces, where they still, maddeningly, give up most of their goals. Normally a point of pride among Americans, set piece defending over the past few months has been poor. It also goes against conventional wisdom that a German coach, like Klinsmann, would allow this to continue.
Finally, the U.S. needs to test itself against better competition. The August friendly against Bosnia, led by Manchester City forward Edin Dzeko, should be that opportunity. Bosnia currently leads their UEFA World Cup qualifying group with 16 points from six games.
Follow me on Twitter @JohnDHalloran
Follow me on Facebook www.facebook.com/AmericanTouchline