The Detroit Pistons have made some noise this offseason by signing forward Josh Smith and bringing back guard Chauncey Billups.
President of Basketball Operations Joe Dumars signed Smith to a four-year deal worth $54 million. More importantly it signifies to Pistons fans that the team is serious about a quick turnaround—and Smith is excited to be a part of it.
"When I first met with Joe, he had me sold from the word go," Smith told Gillian Van Stratt of Mlive.com. "This is a successful organization I've always wanted to be a part of. I've always wanted to be a part of a good organization that has a lot of die-hard fans."
Smith played the first nine seasons of his career with the Atlanta Hawks. During that time he played 52 postseason games, bringing valuable experience to a young Piston club. Over the course of his career he's averaged over 34 minutes, 15.3 points and eight rebounds per game.
With the addition of Smith, the Pistons have a bit of a log-jam in the front court with Greg Monroe and Andre Drummond.
Smith is a power forward who could be squeezed into the small forward role, where his career .465 field goal percentage could be an issue. On the plus side, the three could make for the tallest frontcourt trio in the NBA.
Vincent Goodwill of the Detroit News reported that Dumars has opened the phones for possible deals, though he's made it clear Andre Drummond wouldn't be moving.
"I'm comfortable with this roster, really comfortable. But you can't shut the door now," Dumars said told Goodwill. "It's the middle of July; it's a long time before Oct. 1. If something comes up that can get us one step further, we'll do it."
Dumars would not declare anyone as "untouchable".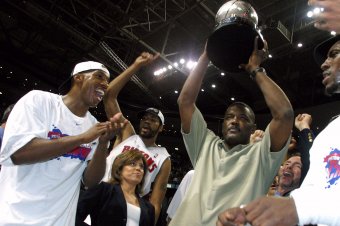 Tom Pidgeon/Getty Images
Just a day after signing Smith, Dumars brought home a familiar face by signing 37-year-old Chauncey Billups to a two-year deal. The return of "Mr. Big Shot" provides the Pistons with an established point guard and much-needed veteran presence in the locker room.
Billups clearly isn't the long-term answer at point guard, but they're hoping he can provide stability for two-guard Rodney Stuckey and mentor young talents Brandon Knight and Kentavious Caldwell-Pope, the No. 8 overall pick in the draft.
"I think we got a lot of really good young players on the team," Billups told Vince Ellis of the Detroit Free Press. "Not a lot of leftovers from when I was here with the exception of Rodney Stuckey, who I think so much of and I'm looking forward to getting back and teaming up with him."
While only the first year of Billups' deal is guaranteed, Ellis tweeted the team could choose to transition him to the front office when he finally hangs them up.
Also, #Pistons have talked with Billups about front office job when he is done playing.

— Vincent Ellis (@Vincent_Ellis56) July 27, 2013
Billups has only played a total of 42 games with the Los Angeles Clippers over the last two seasons due to injuries. He tore his Achilles during the 2011-12 campaign and was nagged by injuries last season as well.
After being dealt to Denver early in the 2008-09 season, Billups has spent the past four seasons between the Nuggets, New York Knicks and Los Angeles Clippers. Billups is expected to be healthy come the start of this season and is ready to play a leadership role in all facets.