As Formula 1 takes its summer break, Lewis Hamilton and Mercedes head off with greater confidence it can challenge for the world championship when the fight resumes in Belgium. With different tyres, blistering conditions and a new 2013 winner, the Hungarian Grand Prix offered much more than usual.
But what did we learn?
Mercedes Aces the Tyre Test
The talk before Hungary was that the new Pirellis would jostle the order a little rather than turn it on its head. Despite concerns Mercedes would struggle, how they must have laughed within the garage when —during the hottest race of the year (albeit on a less-aggressive on tyres circuit)—their lead car controlled the race from start to finish, not so much as blinking in the wake of blistering or overheating rubber.
Brawn: Lewis was absolutely perfect. We genuinely didn't know how the tyres would play out. Feel we made a step today. #F1

— Maurice Hamilton (@MauriceHamilton) July 28, 2013
This despite not running the experimental tyre in the Young Driver Test—the consequence of the "secret" test at Barcelona. What bodes well is temperatures are not likely to reach that sort of peak again, and there are other low-grip circuits coming up. So, if Hungary was the litmus test, Mercedes came out glowing.
Grosjean is Learning...Slowly
The frustrating thing about Romain Grosjean is that he has race-winning potential, but only seems able to access it in short bursts. He rarely threads together a complete weekend—Bahrain and Germany the notable exceptions to this in 2013—and has been guilty of dangerous lapses in judgement (Spa 2012) and costly errors (Monaco 2013).
While Hungary may have brought more of the same in terms of blistering speed but fool-hardy racecraft, there were signs he is beginning to piece it together. That his third-placed qualifying position —and almost assured podium were it not for an undue drive-through penalty—followed on from that performance at the Nuerburgring is testimony to the potential those who support him often point to.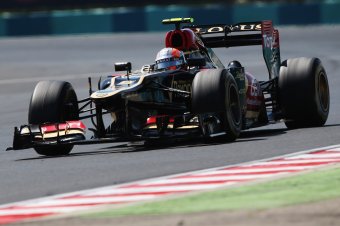 Mark Thompson/Getty Images
While the incident with Jenson Button was an amateur mistake, the move on Felipe Massa which harshly earned him his race-compromising penalty was a stroke of brilliance.
Stewarding Still Needs Greater Discretion
This brings us to the next conclusion: and not an uncommon one. While the introduction of driver stewards have, to a degree, helped tighten up official decisions during grands prix, all too often we see delayed decision-making (the incident involving a and b will be investigated after the race when said incident occurred on lap two) and, of more concern, lax decision-making.
Grosjean has long-been earmarked as a troublemaker thanks to a crash-happy, rushed debut in 2009 and a spate of incidents in 2012 which culminated in a race-long ban. But for heavens' sake, a drive-through penalty for bravely sweeping around the outside of a driver who later conceded he was not in any way aggrieved by it?
And a 20-second penalty for running another driver off the road, not causing any change in the offender's result because he finished 21 seconds ahead of the man he dangerously closed off? It is hardly an effective deterrent.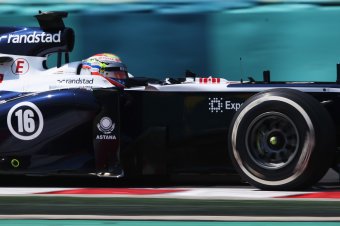 Mark Thompson/Getty Images
McLaren/Williams' Development Shows Signs of Fruition
While Hamilton grabbed the headlines for winning, Vettel the headlines for complaining, and various other drivers for transgressions of varying extremities, McLaren and Williams made more positive steps forward.
Were it not for being unceremoniously dumped off the road by Grosjean, Button may have been looking for a top-five finish. And Pastor Maldonado finally chalked up Williams' first point of the season with his 10th-place finish.
These two teams won grands prix last season, so of course such results are not greeted with parades in Woking and Grove—but they are minor victories, and suggest better is still to come.
How would you rate the Hungarian Grand Prix?
There is Hope For Hungary
Who would have thought that Budapest would be the stage for one of the most entertaining races of the season? A superb overtake for the lead to crown a new 2013 winner, a battle for second which raged until the final corner and all manner of action behind combined to produce a quality Hungarian Grand Prix. Good news for fans, seeing as its stay on the calendar has been extended until 2021, Formula 1 CEO Bernie Ecclestone told Sky Sports (via MotorSportsTalk) before the race.
It often attracts criticism—the chief gripe being it is Monaco without the glamour—and often relies on external factors such as the weather to spice up the show. Sunday's race was as far from a rainy grand prix as you are likely to see. And it wasn't bad, was it?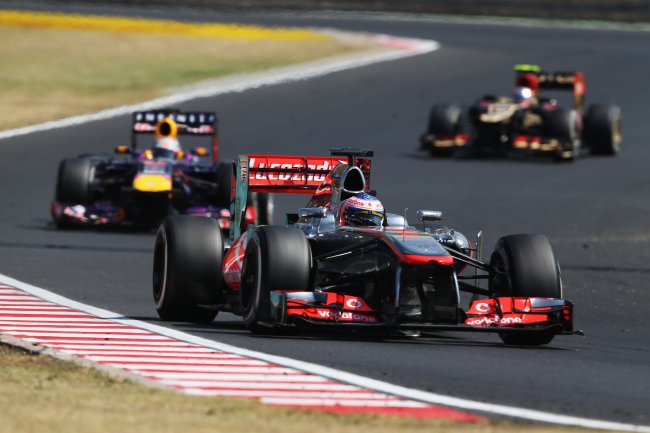 Mark Thompson/Getty Images