Carolina Hurricanes' Complete Player-by-Player Scoring Projections for 2013-14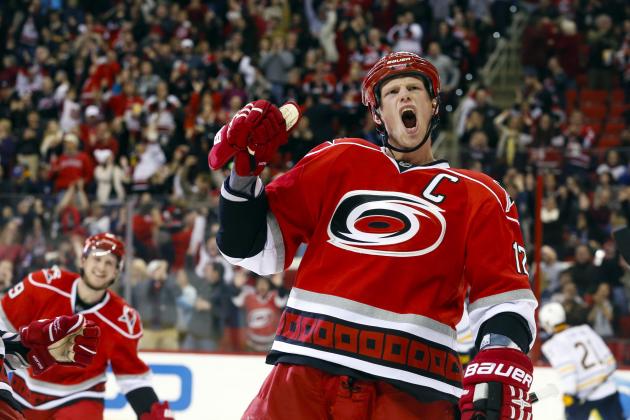 James Guillory-USA TODAY Sports

The 2013-14 NHL season will be a trying one for the Carolina Hurricanes.
For all the defensive improvements the 'Canes have made this offseason, the pressure will inevitably fall on Carolina's offense to carry the team to the playoffs.
Led by a first line that boasted three of the league's top 34 point scorers, the 'Canes ranked 14th in the NHL in scoring in 2013.
In 2013-14, however, they're going to have to be even better.
With Elias Lindholm added into the mix, several depth signings rounding out a refreshed bottom six and a healthier overall cast of forwards, we expect they'll rank between seventh and 10th in 2013-14 with 243 tallies (2.96 per game) in 82 contests.
What kind of offensive contributions will each Hurricanes player make in the coming season? Compare their 2013 prorated stats and our in-depth 2013-14 projections on the coming slides.
Begin Slideshow

»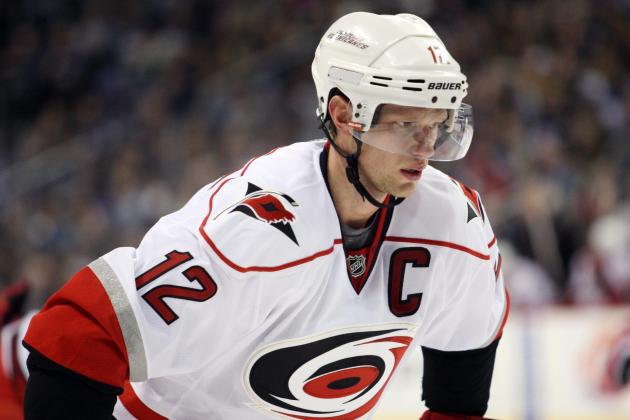 Bruce Fedyck-USA TODAY Sports

2013 Prorated Stats: 82 GP, 31 G, 60 A, 91 P
Team captain Eric Staal had a fantastic spring, averaging well over a point-per-game pace and leading one of the NHL's best lines in scoring.
2013-14 Projected Stats: 77 GP, 28 G, 55 A, 83 P
It's hard to believe that Staal will duplicate his 2013 numbers for yet another campaign, but we expect him to at least come close. The franchise cornerstone will turn the prime age of 29 in October and has never played with linemates as good as he has now.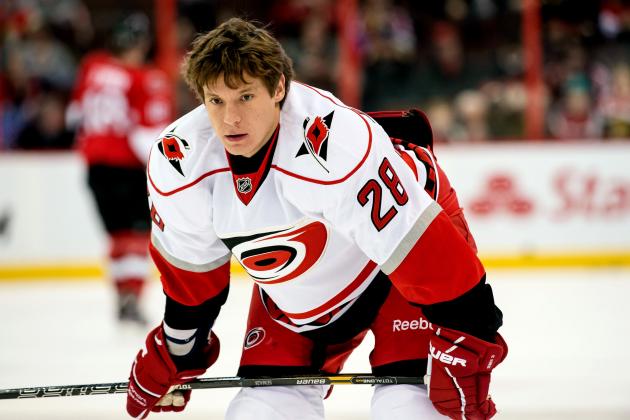 Marc DesRosiers-USA TODAY Sports

2013 Prorated Stats: 75 GP, 22 G, 53 A, 75 P
As tremendous as Alexander Semin's first year in Carolina was, it actually could have easily been a lot better. The Russian winger hit the post with uncanny regularity as his shooting percentage bottomed out at a mediocre 8.7 percent.
2013-14 Projected Stats: 78 GP, 36 G, 43 A, 79 P
If Semin had fielded a shooting percentage equal to his 13.5 percent career average in 2013, he would've scored 20 goals rather than the 13 he really tallied—or, in prorated terms, about 35 lit lamps.
That's roughly where we project him to fall this coming season as he re-establishes himself as one of the NHL's top 15 forwards in the "G" column.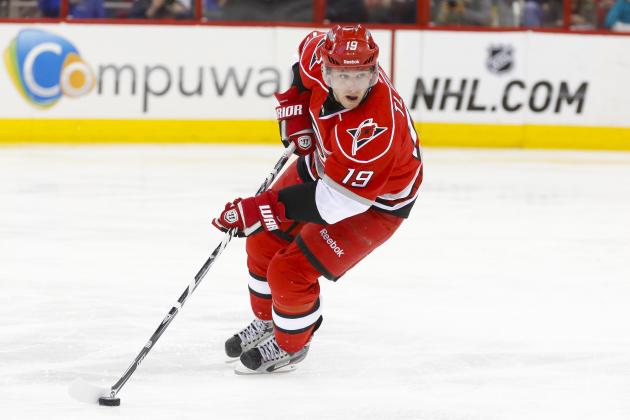 James Guillory-USA TODAY Sports

2013 Prorated Stats: 81 GP, 39 G, 25 A, 64 P
Jiri Tlusty's shooting percentage luck was exactly the opposite of Semin's in 2013; he scored on a whopping 19.7 percent of his 117 SOG. It was still a groundbreaking campaign for the 25-year-old, however, as he—in just 47 appearances—shattered his career bests across the board.
2013-14 Projected Stats: 82 GP, 27 G, 31 A, 58 P
Tlusty gets a lot of help from his two superstar linemates, but he's still undeniably talented on his own. Another stellar, consistent year from the Czech winger could help him begin to gain more league-wide limelight.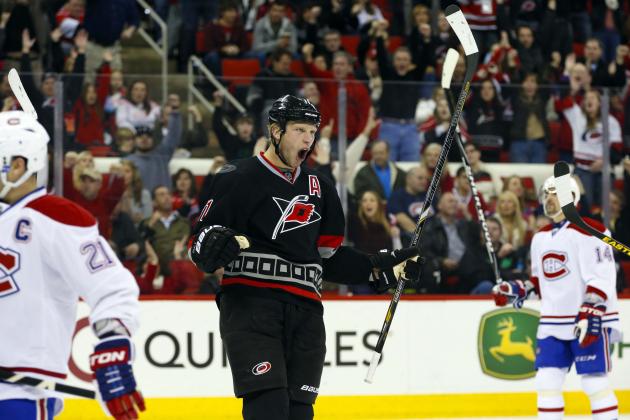 James Guillory-USA TODAY Sports

2013 Prorated Stats: 81 GP, 17 G, 36 A, 53 P
Jordan Staal's expectations were simply too high in 2013; the merely 24-year-old forward needed some time to adjust to top-six minutes. Considering the circumstances, he still recorded decent numbers in the box score.
2013-14 Projected Stats: 79 GP, 17 G, 40 A, 57 P
No. 11 is never going to be the offensive powerhouse his older brother is, but he should be capable of producing elite numbers in the assist column most years moving forward.
Instead, watch for Jordan to take massive steps forward in his defensive acumen in 2013-14 after posting a brutal minus-18 rating this past campaign.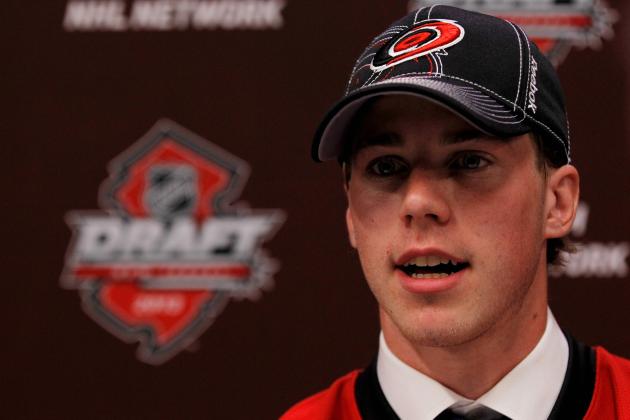 Mike Stobe/Getty Images

2013-14 Projected Stats: 81 GP, 17 G, 28 A, 45 P
No. 5 overall selection Elias Lindholm should enter training camp as Carolina's third-line center, but he'll have the opportunity to unseat Jeff Skinner or Tuomo Ruutu for a valuable top-six role if he's capable of shifting to wing.
We don't anticipate Lindholm's rookie numbers quite equaling Skinner's 2010-11 Calder Trophy stat line (31 G, 32 A)—he won't get as much playing time, and his playing style is, after all, much more conservative than No. 53. Nonetheless, the Swedish forward seems poised for nothing short of an all-around terrific first season.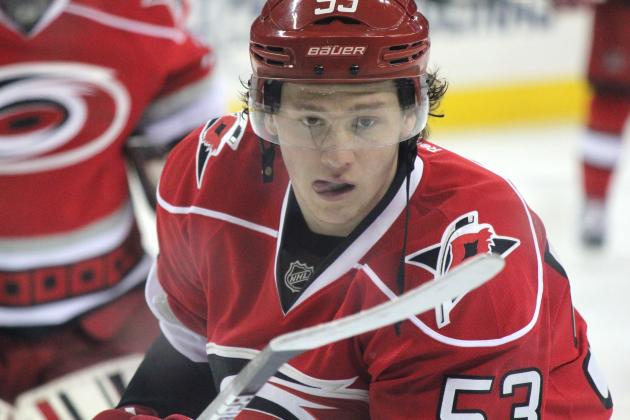 2013 Prorated Stats: 71 GP, 22 G, 19 A, 41 P
Skinner's production fell off the rails swiftly after a roaring run of 14 points in 13 games to start the season. The 21-year-old again struggled with concussion complications. His tendency to become increasingly and excessively reckless when trailing also came to the forefront and led to an absolutely horrendous minus-21 rating.
2013-14 Projected Stats: 61 GP, 23 G, 21 A, 44 P
When he's healthy, Skinner is as dynamic as always.
But when he's not—as is becoming common—Skinner often does more harm than good to himself and the team.
The NHL's version of Darren McFadden could be in for another frustrating and perhaps trade rumor-laden campaign.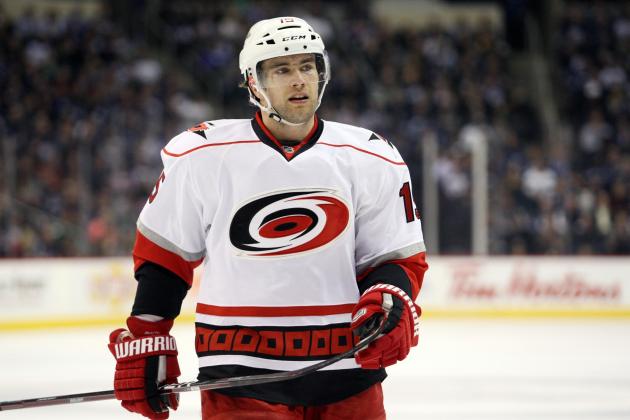 Bruce Fedyck-USA TODAY Sports

2013 Prorated Stats: 29 GP, 7 G, 8 A, 15 P
Ruutu missed most of the 2013 campaign recovering from winter hip surgery, but he returned earlier than expected and showed few signs of recurring ailments. The 30-year-old Finnish winger scored at a clip right around his career pace in 15 appearances.
2013-14 Projected Stats: 70 GP, 15 G, 19 A, 34 P
Ruutu is decently capable in the offensive zone and should be among the team's more consistent nightly contributors, but his real impact lies in the physical game—Ruutu will undoubtedly run away with the team lead in hits.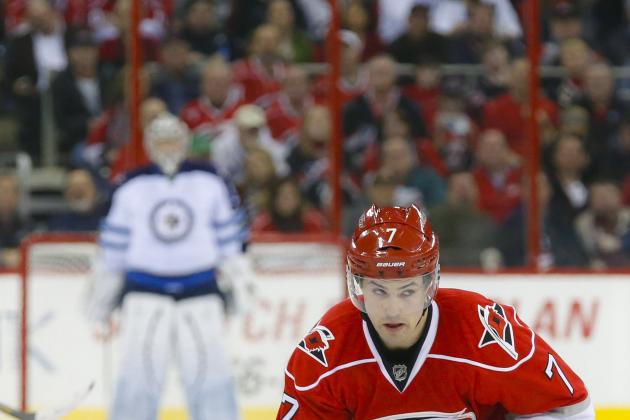 James Guillory-USA TODAY Sports

2013-14 Projected Stats: 78 GP, 11 G, 21 A, 32 P
Former 12th overall pick Ryan Murphy is likely to begin the season as the team's seventh defenseman, but inevitable injuries to those around him should give Murphy's puck-moving abilities the chance to shine.
Murphy, 20, stands to receive an utterly humongous serving of power-play ice time, and his stat line should reflect it.
By season's end, we figure him to be the Hurricanes' top-scoring blueliner.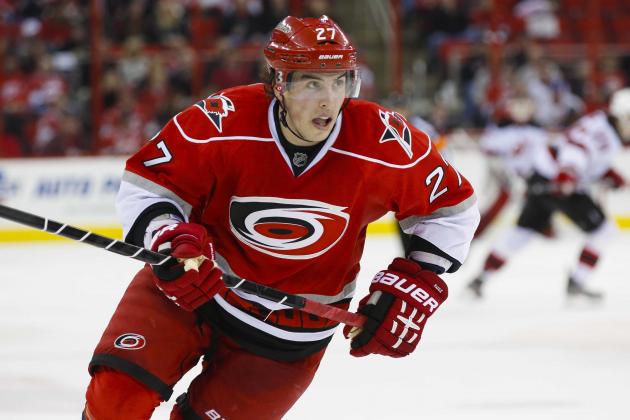 James Guillory-USA TODAY Sports

2013 Prorated Stats: 64 GP, 8 G, 17 A, 25 P
While fighting through some injury issues, Justin Faulk proved himself an extremely viable No. 1 defenseman in 2013.
2013-14 Projected Stats: 81 GP, 10 G, 20 A, 30 P
The coming season could be Faulk's time to truly emerge as the centerpiece of Carolina's defense. The 21-year-old will be eating up a full 30 minutes per game; another stellar campaign in all three zones could place him on both the U.S. Olympic team and possibly the Norris Trophy voting list, as well.
James Guillory-USA TODAY Sports

2013 Prorated Stats: 78 GP, 14 G, 14 A, 28 P
Injuries forced Patrick Dwyer onto the Hurricanes' second line on many nights in 2013. He's not experienced with that type of workload and his plus/minus rating (minus-seven) suffered as a result, but he did display a significant offensive potency never before seen in the 30-year-old defensive-minded winger.
2013-14 Projected Stats: 80 GP, 9 G, 11 A, 20 P
For now, it seems safe to believe that Dwyer did indeed take a step forward with his attacking play in 2013.
If he can reach the 20-point milestone even when returned to his conventional spot in the bottom six, the 'Canes' concerns about depth scoring could be eased considerably.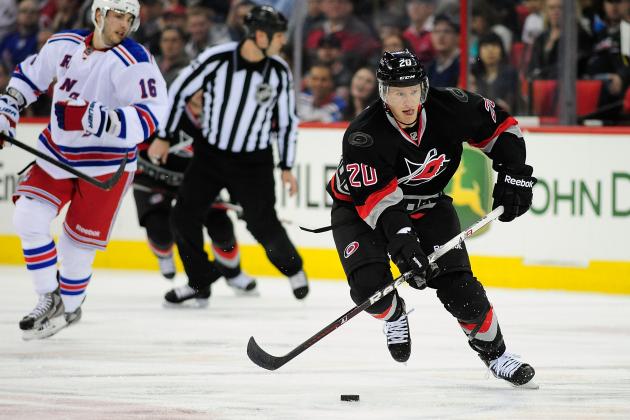 Grant Halverson/Getty Images

Riley Nash and Zac Dalpe appear poised for breakout years; Drayson Bowman must rebound from a disappointing 2013; new additions Aaron Palushaj and Nathan Gerbe will face a tough fight for NHL appearances.
Meanwhile, Andrej Sekera, Mike Komisarek and Brett Bellemore will seek to gain noteworthy defensive roles while Joni Pitkanen's health remains a huge issue.
For every 'Canes skater not discussed in the previous slides, our 2013-14 stat projections fall in the chart below.
| | | | | |
| --- | --- | --- | --- | --- |
| Player | GP | G | A | P |
| F Riley Nash | 75 | 9 | 10 | 19 |
| D Andrej Sekera | 73 | 4 | 14 | 18 |
| D Joni Pitkanen | 40 | 7 | 10 | 17 |
| F Zac Dalpe | 71 | 8 | 8 | 16 |
| F Aaron Palushaj | 60 | 4 | 10 | 14 |
| F Drayson Bowman | 67 | 5 | 8 | 13 |
| D Jay Harrison | 74 | 3 | 9 | 12 |
| D Tim Gleason | 77 | 1 | 8 | 9 |
| F Nathan Gerbe | 22 | 3 | 1 | 4 |
| F Kevin Westgarth | 40 | 2 | 2 | 4 |
| D Mike Komisarek | 55 | 1 | 3 | 4 |
| D Brett Bellemore | 26 | 1 | 2 | 3 |
| F Victor Rask | 5 | 1 | 1 | 2 |
| F Brett Sutter | 6 | 1 | 0 | 1 |
| D Michal Jordan | 7 | 0 | 1 | 1 |
| F Jeremy Welsh | 3 | 0 | 1 | 1 |
| F Nicolas Blanchard | 3 | 0 | 0 | 0 |
| F Chris Terry | 2 | 0 | 0 | 0 |
| D Mark Flood | 1 | 0 | 0 | 0 |
| F Brock McGinn | 1 | 0 | 0 | 0 |
| F Jared Staal | 1 | 0 | 0 | 0 |