Predicted Landing Spot for Remaining Impact Hitters on the Market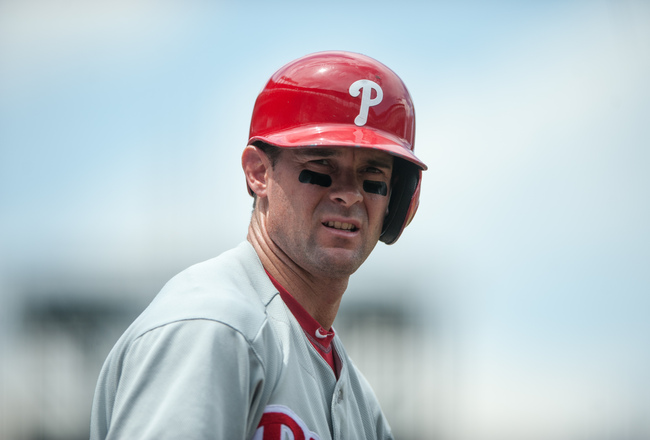 Dustin Bradford/Getty Images
With the MLB trade deadline now just a few days away, contenders will look to put the finishing touches on their postseason roster push in the days ahead, and there are still plenty of solid players on the market.
While the crop of available hitters is relatively thin, there are a handful of veteran bats that could make a difference down the stretch. What follows is a look at the top remaining bats on the market and what uniform I see them wearing come August 1.
Only players I view as having a better than a 50-50 chance of being moved are included in this article. As a result, extension candidate Chase Utley and the likes of Hunter Pence, Kendrys Morales and Michael Morse are not listed.
CF Justin Ruggiano, Miami Marlins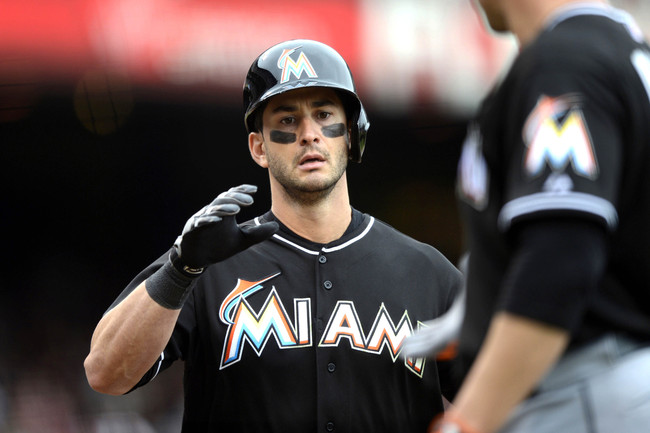 Bob Stanton-USA TODAY Sports
2013 Stats: .201/.280/.367, 12 HR, 32 RBI, 32 R, 12 SB
After posting a .909 OPS with 13 home runs and 14 steals in 288 at-bats in 2012, 31-year-old Justin Ruggiano has not had quite the same impact in the Marlins lineup this season.
However, he's still a solid power/speed threat and is currently tied for the team lead in home runs and second in steals. He's by no means anyone's first choice, especially considering the market is made up mostly of outfielders, but he could be a solid consolation prize on deadline day.
Landing Spot: San Francisco Giants
They're just 46-56 on the season, but the Giants are still just eight games back in the NL West race. That's likely reason enough for them not to sell. There's a hole in the outfield with Angel Pagan on the DL, and the recent acquisition of Jeff Francoeur isn't the answer. Ruggiano could be a solid buy-low pickup.
RF Nate Schierholtz, Chicago Cubs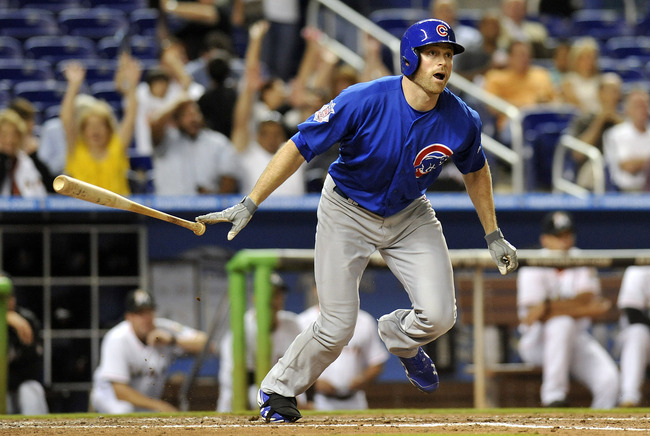 Steve Mitchell-USA TODAY Sports
2013 Stats: .281/.341/.529, 13 HR, 42 RBI, 39 R
Signed to a one-year, $2.25 million deal in the offseason, Nate Schierholtz has been a pleasant surprise for the Cubs this season and perhaps their most consistent hitter.
He's under team control through the end of next season, so the Cubs don't necessarily need to trade him, but his value may never be higher than it is now, and he likely doesn't factor into the team's long-term plans regardless.
Landing Spot: Nowhere
The Cubs have already moved Matt Garza, Scott Feldman, Carlos Marmol, Alfonso Soriano and Scott Hairston heading up to the deadline, and closer Kevin Gregg is all but a sure thing to move as well. They don't necessarily need to deal Schierholtz, and his asking price is likely higher given his extra year of control. My guess is he winds up staying put.
1B Justin Morneau, Minnesota Twins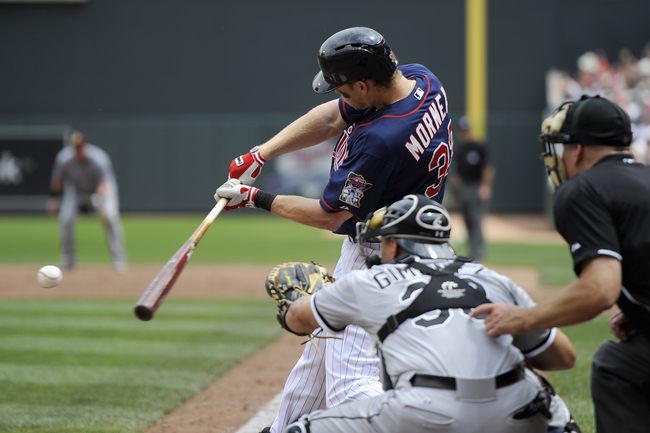 Hannah Foslien/Getty Images
2013 Stats: .264/.323/.388, 7 HR, 52 RBI, 41 R
A member of the Twins for his entire 11-year career, Justin Morneau has worked his way back from concussion issues to post solid numbers the past two seasons, though he's not the MVP-caliber run producer he once was.
As a left-handed bat with some pop, there's certainly a market for him, though a .173/.264/.309 month of July has taken a bite out of his potential value. He has 10-5 rights, so he could veto any move, but a deal to a contender where he could showcase himself prior to hitting free agency could be a good move.
Predicted Landing Spot: Texas Rangers
With offseason signing Lance Berkman shelved since the beginning of July with a hip issue and mulling the idea of shutting it down for the season, a veteran bat like Morneau makes sense for the Rangers. They've already gone all-in with the deal for Matt Garza, so a move to add another power bat seems like a smart one.
CF Marlon Byrd, New York Mets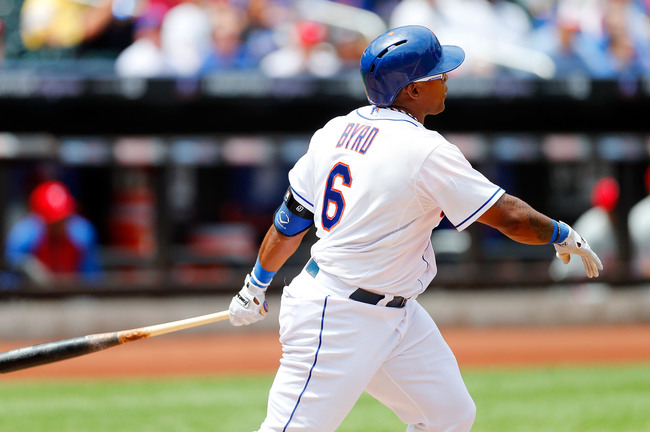 Jim McIsaac/Getty Images
2013 Stats: .281/.327/.514, 17 HR, 58 RBI, 46 R
Signed to a minor league deal in the offseason and coming off a year that saw him hit just .210/.243/.245 prior to being suspended for PEDs, little was expected from Marlon Byrd entering the season.
He's been one of the biggest surprises of the season though, as he has the second-most home runs of any offseason free-agent signing and has continued his hot play with a .337/.366/.579 month of July.
Predicted Landing Spot: Nowhere
For whatever reason, the 46-54 Mets seem intent on keeping Byrd, despite the fact that they're currently 10.5 games back in the NL East. They'll no doubt continue listening to offers, but according to Andy Martino of the New York Daily News, the plan is still to hold on to him, and my guess is that's what the Mets will do.
3B Michael Young, Philadelphia Phillies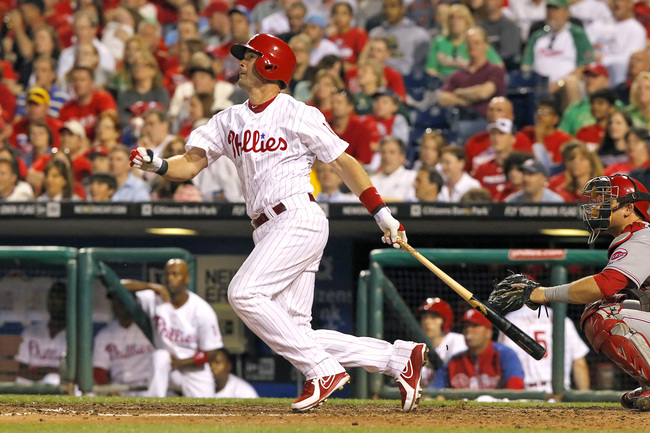 Hunter Martin/Getty Images
2013 Stats: .278/.344/.404, 7 HR, 32 RBI, 38 R
Acquired from the Rangers in what was a salary dump move of sorts, Michael Young has shown he still has something left in the tank this season, though at 36, he's certainly not the player he used to be.
The Phillies are nine games back in what has been a disappointing NL East, so they likely won't aggressively sell, but the free-agent-to-be Young could be one piece they decide to move with Kevin Frandsen capable of stepping in as a decent replacement.
Predicted Landing Spot: Boston Red Sox
Expected to take the next step towards stardom this season, Will Middlebrooks instead found himself demoted after a terrible start to the season. Jose Iglesias (.338/.386/.422) has thrived in his place, but the team could opt to move him back to his natural position of shortstop, move Stephen Drew (.223/.307/.389) to the bench and slide Young in as the everyday third baseman.
LF/DH Raul Ibanez, Seattle Mariners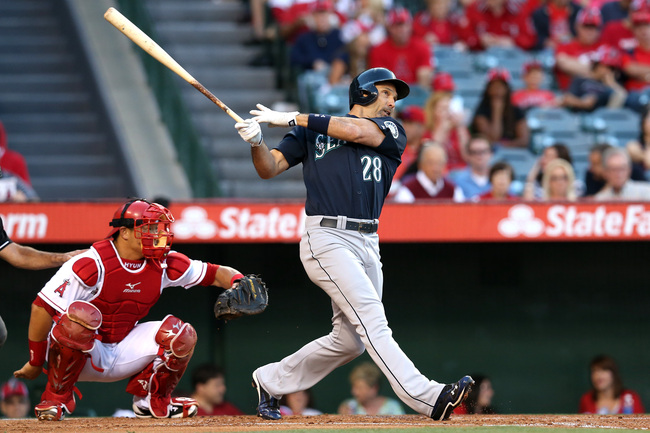 Stephen Dunn/Getty Images
2013 Stats: .254/.309/.545, 24 HR, 56 RBI, 40 R
Despite a solid season with the Yankees that included some postseason heroics, teams weren't exactly beating down the door to acquire Raul Ibanez in free agency this offseason, and he wound up signing a one-year, $2.75 million deal with the Mariners.
That's proven to be one of the biggest steals of the offseason, as he's led all free agents in home runs, and his .853 OPS ranks 13th among qualifiers in the American League. As a veteran bat with good pop and a solid postseason resume, he'd be a terrific pickup for any contender.
Predicted Landing Spot: Nowhere
Thanks to a 9-2 stretch, the Mariners have an outside chance at posting a winning season. For a team on the rise, that would be a nice end to the season. Ibanez and pitchers Joe Saunders and Oliver Perez look like the most likely pieces to be moved if the M's do sell, but my guess is they stand pat and make a run at 82 wins.
RF Alex Rios, Chicago White Sox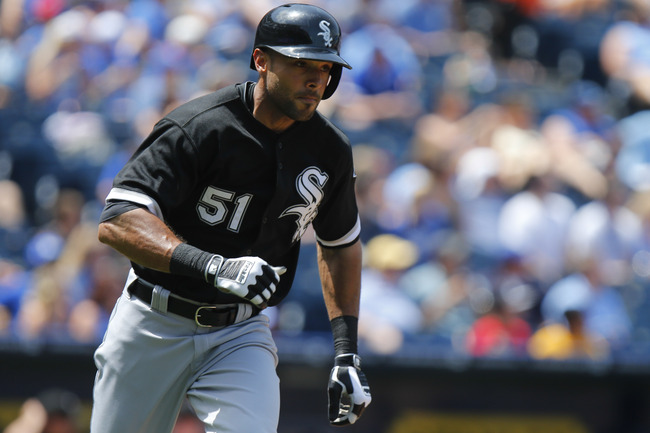 Kyle Rivas/Getty Images
2013 Stats: .273/.327/.432, 12 HR, 49 RBI, 51 R, 21 SB
With Matt Garza and Alfonso Soriano off the market, it looks like the other Chicago team now holds the market's top pitching and hitting trade chips in Jake Peavy and Alex Rios, respectively.
Rios is signed for $12.5 million next year with a $13.5 million option and $1 million buyout for 2015, so he's not the easiest player to move, but he's the only true impact bat on the market right now and will likely be moved as a result.
Predicted Landing Spot: Pittsburgh Pirates
Even with the injury to Jason Grilli, the Pirates look to be legitimate contenders this season. They acquired a controllable veteran with a decent amount of money owed at the deadline last year in Wandy Rodriguez, and adding Rios' bat to the lineup in right field would be a major pickup as they look to break their postseason drought.
Keep Reading