The NHL's 10 Greatest Logos of All Time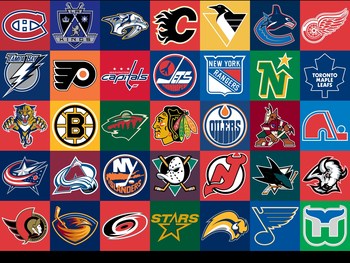 I needed a little break from writing and reading about the NHL playoffs, so I figured I'd go down another road and do an article I've always wanted to do - My 10 favorite NHL logos off all time, with a brief overview of each one.
Keep in mind I'm only including main or 3rd jersey/team logo's. Not secondary shoulder logos or anything like that.
I'd also like to know what some of your favorite NHL logos are, so tell me a few of your favorites in your comments ;)
#10 Ottawa Senators (1992-1997)
My 10th favorite NHL logo of all time is the first modern day Ottawa Senators logo.
The Senators used this classic logo from their inaugural season in 1992 through 1997 before eventually giving it an update, and then scrapping it altogether in 2007 for a new 3D version.
What I like most about this logo is it's Medieval times look to it. I'm big on Medieval movies so that's where my love for this logo stems from.
#9 Los Angeles Kings 3rd (1998-2002)
In at #9 is a logo the Los Angeles Kings used for 4 years from 1998 through 2002.
This logo may have a lot of similarities to traditional soccer logos or badges in England and some other countries in Europe, but it still maintains a traditional hockey look to it, and I really like the blend of it all, especially the purple, silver and black color combination which is my favorite 3 color combination.
#8 New Jersey Devils (1992-Present)
My 8th favorite NHL logo is the current New Jersey Devils logo which was slightly updated in 1992 (the black outlining was once forest green).
This logo is very simple with nothing more than an N connected into a devils tail and horns shaped into the J.
The simplicity is the great thing about it because it keeps a mature look to it.
If it had anything more added to it I'd probably hate it.
#7 Boston Bruins (2008-Present 3rd)
At #7 is the current logo of the Boston Bruins 3rd jersey which debuted at the beginning of this season in 2008.
My original favorite Bruins logo was this familiar kind, only with the brown coloring and the generic looking bear - the original one used in the early 1930's.
It wasn't long until this one not only became my favorite Bruins logo, but one of my favorite logos of all time.
I like this logo so much because it's original (to the original) and has that rugged look to it. Bears are also one of my favorite animals.
#6 New York Rangers 3rd (1996-2007)
In at #6 is the the New York Rangers 3rd jersey logo used from 1996 through 2007.
What can I say? It's Lady Liberty. A historical figure that defines one of the greatest cities in the world, meshed into the fabric of the hockey team representing that city.
I'm not a big fan of original 6 teams using a completely different jersey logo, but if they do, this is how they should be done.
#5 Toronto Maple Leafs (1938-1967-Present 3rd)
My 5th favorite NHL logo is one of the many different looking Toronto Maple Leafs logo's.
This particular one was used from 1938 through 1967 (the last time the Leafs won a Cup) as their main logo. They use this same logo on their 3rd jersey's today.
I love old school looks and nothing says old school more in hockey than a crisp looking Leafs logo.
#4 Hartford Whalers (1979-1992)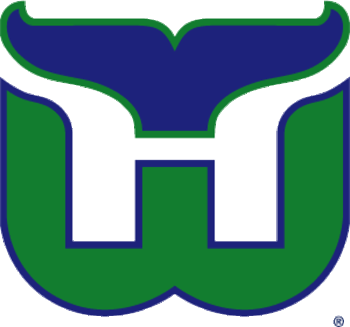 My 4th favorite logo is the first primary logo used by the Hartford Whalers from their inception into NHL in 1979, up until 1992 when the logo got a face lift.
If you're unfamiliar with this logo, it's a whale's tail connected into an H connected into a W. Many people have a hard time seeing all of that, believe it or not.
This logo is known an all time classic by most hockey fans, and it's no different with me.
This logo, in my opinion, is the most unique in the NHL history.
#3 Chicago Blackhawks (1937-1955)
My 3rd favorite NHL logo is one of the many similar Chicago Blackhawks vintage logos.
This one was the Hawks primary logo from 1937 until 1955.
This logo in particular is my favorite of all the Blackhawks logos because it is on my favorite NHL jersey of all time, so that plays a big part with my love for this logo.
#2 Detroit Red Wings (1932-1934)
Coming in at #2 is arguably the most recognizable hockey logo, the Detroit Red Wings.
Like all the other original 6 team logos, this Red Wings logo used from 1932 until 1934 is just one of many different, yet similar types.
This is one of my favorite NHL logos because it represents the motor city (Detroit) in a unique way, and it also represents one of the marquee American hockey franchises.
I chose this one over the other Wings logos because it's more compact. I think the logo looks better this way with shorter wings compared to the updated versions with longer wings.
#1 Buffalo Sabres (1970-Present 3rd)
My all time favorite NHL logo is the original Buffalo Sabres logo, originated in 1970 and now being used as the primary logo for their 3rd jerseys.
Everything about this logo screams intimidation, and that's why I love it so much. Of course the artwork is top notch as well.
I'm also a big fan of the blue and mustard colors used together.
It blows my mind the Sabres use an ugly looking slug as their main jersey logo instead of this.
Keep Reading