Biggest Takeaways from Los Angeles Kings' 2013 Development Camp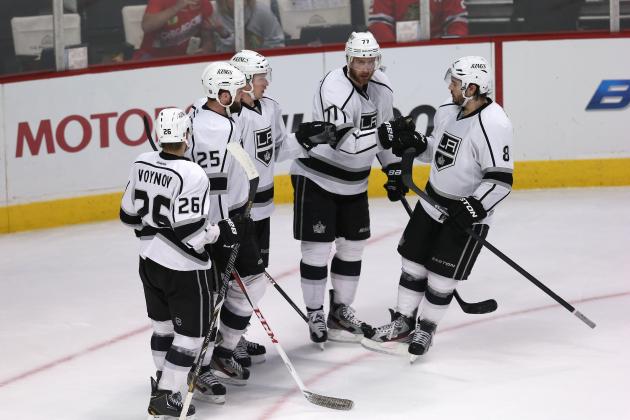 Jonathan Daniel/Getty Images

The Los Angeles Kings recently wrapped up their 2013 development camp. Considering the team's depth, many fans may not be paying close attention to the Kings' prospects when, in fact, they should be.
With restricted free agents like Jordan Nolan and Trevor Lewis agreeing to short-term deals and veterans such as Willie Mitchell nearing the end of their careers, some prospects may make their NHL debuts sooner than expected.
The development camp included players drafted between 2009 and 2013, players signed as free agents and even a few unsigned guests.
With that in mind, here are the biggest takeaways from the Kings' 2013 development camp.
Stats courtesy of HockeyDB.com.
Contract information courtesy of CapGeek.com.
Begin Slideshow

»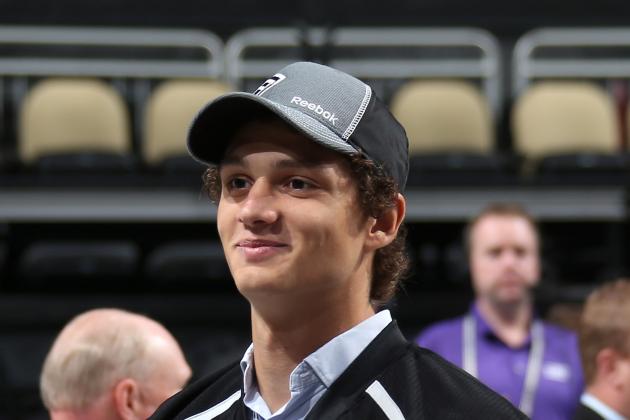 Bruce Bennett/Getty Images
Nikolai Prokhorkin at the 2012 NHL entry draft.
According to the roster provided by LAKingsInsider.com, there were three key players missing from development camp. The reason for each absence has not been made official.
The players include Linden Vey, Nicolas Deslauriers and Nikolai Prokhorkin.
Vey, a 22-year-old right winger/center, and Deslauriers, a 22-year-old defenseman, are two of L.A.'s top prospects. Both have spent two full seasons playing with the AHL's Manchester Monarchs, which may explain why they didn't attend development camp.
Prokhorkin, on the other hand, has played just eight games for the Monarchs. He's spent most of the past three years playing in the KHL and other Russian leagues. The 19-year-old was selected 121st overall by the Kings in 2012.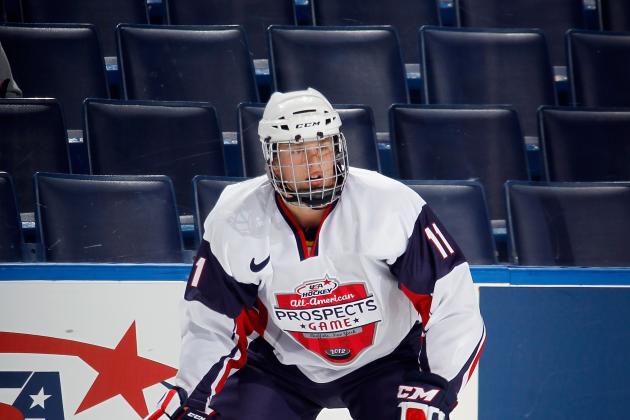 Bruce Bennett/Getty Images
Hudson Fasching at the U.S. All-American Prospects Game.
It's a problem that general manager Dean Lombardi tried to address at last month's draft.
That is, the Kings' lack of young right wingers.
Lombardi was able to make one strong addition, drafting Valentin Zykov 37th overall with the team's first pick in the draft. The 18-year-old Russia has experience playing on both the right and left side.
The Kings also selected two right wingers in the fourth round. Justin Auger of the Guelph Storm was drafted 103rd and Hudson Fasching of the U.S. national development team went 118th overall. (Note: Fasching did not attend development camp.)
Right wingers attending camp included Nic Dowd, a seventh-round pick in 2009, Thomas Hyka, a sixth-round pick in 2012, and Brian O'Neill, a free agent signed in March of 2012. These three, along with Auger and Fasching, are still years away from seeing NHL action.
Drafted 37th overall, Valentin Zykov was ranked seventh in the final CSS ranking of North American skaters and was projected to go in the first round by some experts.
He was willing to leave Russia to play in the QMJHL with the Baie-Comeau Drakkar, thereby proving his interest in the NHL. Not only that, Zykov was dominant in his first season recording 40 goals and 35 assists for 75 points in 67 games. Those stats helped earn Zykov the CHL Rookie of the Year honors.
At camp Zykov put forth a strong effort, taking the first step toward what could be a long NHL career. He has solid hockey sense, good hands, a great shot and at age 18 stands 6'0" and weighs over 200 pounds. The only thing holding Zykov back is his skating.
If he can become faster and more agile, Zykov could become a top-six forward in the NHL.
There were a number of players at camp who were never drafted. Included in that mix were Kurtis MacDermid and Scott Sabourin, two prospects that fans should take note of.
Kurtis MacDermid
MacDermid played in just nine games with the OHL's Owen Sound Attack in 2011-12, due to injury and illness. He was passed on in the 2012 NHL draft but managed to get an invitation to the Kings' development camp. Not long after that the Kings signed the defenseman to a three-year, entry-level contract.
Back at camp again this year, MacDermid spoke about seeing Matt Greene play live, in an interview with John Hoven of MayorsManor.com:
When I was down in LA I saw Matt Greene playing live for the first time. I just love the way he plays. He's physical and has a big presence factor. He's really good at simple plays too. That's just the type of guy I want to play like.
At 6'4", 205 pounds, MacDermid certainly has the potential to play the same style as Greene. Although it will likely be a few years before he gets the opportunity to do so in the NHL.
Scott Sabourin
Sabourin is a 20-year-old winger who spent the majority of the past three seasons playing for the Oshawa Generals. His production spiked in 2013 as he recorded 50 points in 65 games. That caught the attention of the Kings organization, as Sabourin was signed to an AHL deal.
Far from the most skilled player on the ice, Sabourin has proved to be a gritty power forward who isn't afraid to drop the gloves.
Although he couldn't display all of his abilities at camp, Sabourin did show some promise, even scoring a scrimmage-winning shootout goal.
He may be a long way from seeing NHL action, but watch for Sabourin to be a regular in Manchester's lineup next season.