Ranking the Best Free-Agency Signings in Sacramento Kings History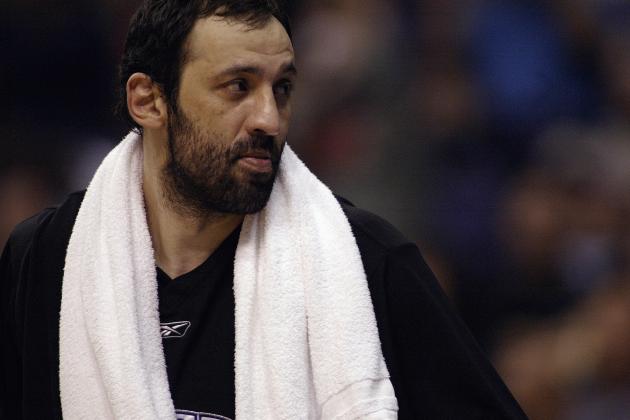 Lisa Blumenfeld/Getty Images
Vlade Divac is one of the more recognizable free agents to sign with the Kings.
Throughout their history, the Sacramento Kings have acquired most of their marquee players either through trades or the draft. However, the team has also made a few splashes in free agency over the years.
The franchise's most successful signings have come in all forms. Some may have signed big-money deals that ended up panning out; others have been nabbed for relatively small deals that they ended up outperforming.
In compiling this list, I tried to weigh a few different factors. I looked into whether or not the Kings got bang for their buck. I did this by cross referencing how much money a player was paid by the team against how many win shares were produced. I even made a small equation, dividing the total win shares by the total sum of money (in terms of millions) earned.
However, I also contemplated the overall value a player brought to the team. So in some cases, other players may have had better outputs compared to the money spent, but their overall effect on the team was much smaller.
It shouldn't have to be emphasized, but I'll make the point anyway: Only players acquired through free agency were considered. That crosses off most of the franchise's best players, including Chris Webber, Mitch Richmond, Peja Stojakovic, Mike Bibby, DeMarcus Cousins and Tyreke Evans, among others.
Finally, only players during the Sacramento era were included. Anybody that signed before the team moved to Sacramento doesn't count.
With that, let's get to the best free-agent signings in Sacramento Kings history.
All stats and salary data used come via Basketball-Reference.
Begin Slideshow

»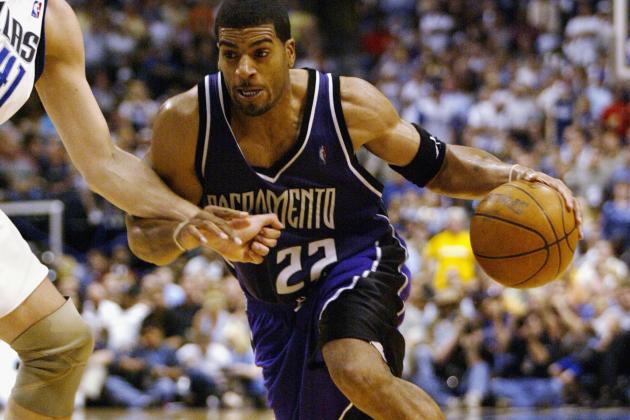 Ronald Martinez/Getty Images

Vernon Maxwell
V-Max only played one season for the Kings. However, he came at a relatively cheap cost of $1 million and was a fairly productive player.
Maxwell was a spark plug off the bench for the Kings, averaging 10.9 points in 21.0 minutes of action. He also did an excellent job spacing the floor, as he posted a career-high .346 three-point percentage in his lone season in California's capital.
Had Maxwell stayed longer with the Kings, he'd likely be higher on the list. As it is, his one season produced 1.6 win shares. In terms of bang for buck, Sacramento did well with this signing. Yet Maxwell's overall production doesn't compare with other players on the list.
Total win shares: 1.6
Combined salary: $1 million
Win shares per $1 million spent=1.6
Jim Jackson
Jim Jackson only spent the 2002-03 season in Sacramento. Yet his contract brought more value than any other considering what the Kings paid to get him.
Jackson came in on a veteran's minimum contract and proved to be one of the better bench players on the team. He only averaged 7.7 points, but he was incredibly efficient, knocking down 44.2 percent of his total field goals and 45.1 percent of his three-point attempts. He was also a solid perimeter defender at the 3, which helped fill a deficiency on the roster.
Jackson, like Maxwell, would be much higher on the list if he played longer in Sacramento. Yet even in his one year, he produced 2.5 win shares and was only paid $791 thousand. He also gave more bang for buck than any player included on the list.
Total win shares: 2.5
Combined salary: $791 thousand
Win shares per $1 million spent=3.16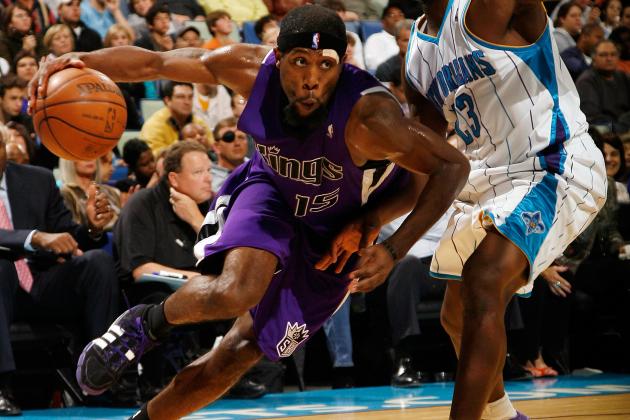 Chris Graythen/Getty Images

To be clear, this refers to the first time Salmons played with the Kings. Not to mention he was acquired via trade this second time around, so it wouldn't qualify even if Salmons was playing better.
Sacramento signed prior to the 2006-07 season, and he played two-plus years with the franchise before being shipped off to the Chicago Bulls at the trade deadline in 2009-10.
Salmons was extremely productive during that first run with the Kings. averaging 13.1 points, 4.0 rebounds, 3.0 assists and 1.0 steals. He also posted a field-goal percentage of .470 and a three-point percentage of .384.
Not to be lost in the shuffle was Salmons' play as a perimeter defender. He could be downright nasty at times, and most Kings fans will never forget the battles he'd have guarding Kobe Bryant.
During the two-plus years Salmons spent with the Kings, he earned $11.6 million. And for that money, Sacramento got 12.3 win shares worth of production.
Total win shares: 12.3
Combined salary: $11.6 million
Win shares per $1 million spent=1.06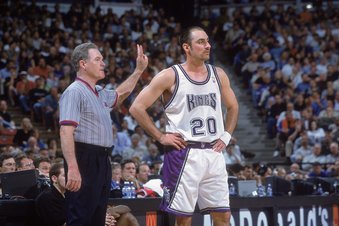 Brian Bahr/Getty Images

Jon Barry was one of the more difficult signings to gauge. On the one hand, he was incredibly productive given the amount of money Sacramento paid him. On the other hand, he was a role player, so his overall output doesn't match up with players that either had longer tenures with the team or were higher on the depth chart.
Barry was signed prior to the 1998-99 season and spent three seasons with the Kings. Of the three, the 1999-00 campaign was his best. During that year he averaged 8.0 points, 2.6 rebounds and 2.4 assists in 20.7 minutes per game. Perhaps most remarkable was his marksmanship, highlighted by his .465 field-goal percentage, .429 three-point percentage and .922 free-throw percentage.
Overall, Barry posted 9.0 win shares with the Kings. And during that time, Sacramento paid him a total of $4.13 million. Some players behind him on the list, like John Salmons, may have had more overall production. And Jim Jackson certainly provided more bang for buck. Yet Barry was able to find a happy medium, providing three productive seasons at a minimal cost.
Total win shares: 9.0
Combined salary: $4.13 million
Win shares per $1 million spent=2.18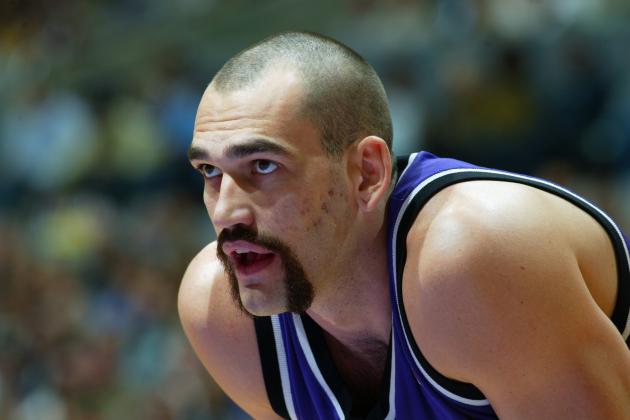 Lisa Blumenfeld/Getty Images

Kings fans may remember Pollard more for his quirky personality and hair styles than for his output on the court. Yet he was productive over parts of five seasons with Sacramento, and his defensive presence on the interior helped provide in an area the team was lacking.
Signed midway through the 1998-99 season, Pollard began having an impact immediately. He averaged 11.4 points, 11.4 rebounds and 2.5 blocks per 36 minutes during that initial campaign. He also had similar output during his entire tenure with the Kings, averaging 10.6 points, 10.7 rebounds and 1.7 blocks per 36 minutes.
His ability to provide as a defender was probably his calling card with Sacramento, with Pollard averaging a defensive rating of 98 over the five seasons and posting 9.5 defensive win shares.
Overall, Pollard had 19.4 win shares with Sacramento, and the Kings only had to pay him $14.4 million for that production. Mainly he's this high on the list because his aggregate production significantly trumps that of the players behind him, even if they provided more bang for buck.
Total win shares: 19.4
Combined salary: $14.4 million
Win shares per $1 million spent=1.26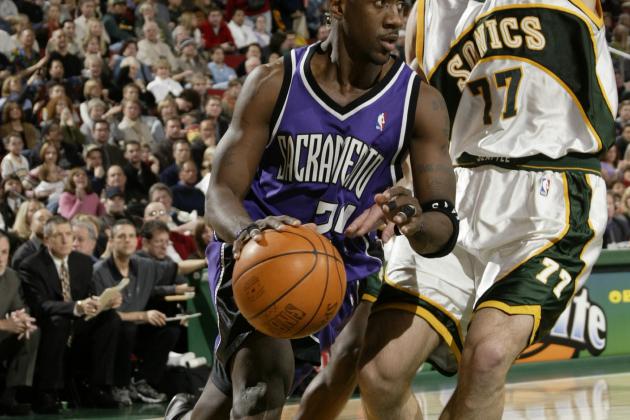 Otto Greule Jr/Getty Images

Bobby Jackson arrived in Sacramento without much fanfare. But by the time he left, Jackson was recognized as one of the best reserves in the NBA.
Jackson signed with the Kings during the offseason prior to the 2000-01 season. He would spend five years in Sacramento and average 11.4 points, 3.3 rebounds and 2.4 assists.
Not to be overlooked was his versatility. Jackson was a combo guard and very capable at both the 1 and 2. This gave coach Rick Adelman plenty of options, allowing him to spell either Mike Bibby or Doug Christie without losing much when they were on the bench.
Beyond his abilities on offense, he was also a very good defender, posting an average defensive rating of 103 and 1.6 steals per 36 minutes. That enabled the team to employ him with Christie when it was looking for a defense-heavy rotation and with Bibby when it was looking for a spark on offense.
Jackson is most remembered in Sacramento for his 2002-03 campaign. During that season, he averaged 15.2 points, 3.7 rebounds and 3.1 assists in 28.4 minutes per game, garnering the NBA's Sixth Man of the Year award.
Over his five years with the Kings, Jackson posted 18.5 win shares, and the team paid him a grand total of $13.4 million. Others behind him on the list may have provided more bang for buck, and Pollard produced slightly more win shares. But Jackson possessed the versatility and name recognition that those other players didn't.
Total win shares: 18.5
Combined salary: $13.4 million
Win shares per $1 million spent=1.37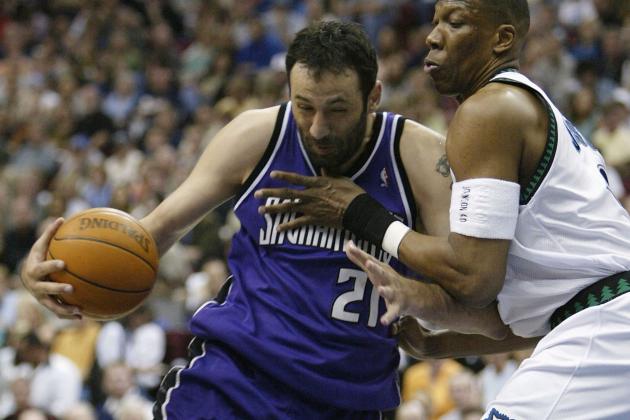 Elsa/Getty Images

Could the best free-agent signing in Sacramento Kings history be anyone other than Vlade Divac? Divac's No. 21 jersey is one of three numbers retired in Sacramento history. Those other two players, Chris Webber and Mitch Richmond, are the franchise's best players since moving west, but neither of those players were acquired via free agency.
Divac's signing, prior to the 1998-99 season, brought legitimacy to the organization. While not a top-level free agent, his profile was larger than anyone the franchise had signed in a long time...maybe ever. And not only did he have the name recognition of a good NBA player, he also had the production to go along with it.
Divac did it all for the Kings. He could score, averaging 11.4 points in Sacramento. The Serbian could rebound, pulling down 7.8 boards per game. And, man, could he pass. His 3.7 assists per game, while very solid for a center, don't even do him justice. There were times the offense would even run through Divac from the high post.
He received accolades that no other Sacramento free agent's had, earning a spot on the 2000-01 All-Star team. And perhaps most importantly, he was incredibly dependable, missing only six combined games during his six campaigns with the Kings.
Overall, Divac posted 39.4 win shares with the Kings and was paid $62.5 million. In terms of bang for buck, every other player on the list provided more. But nobody comes close to his overall production or played as big of a role in elevating the franchise.
He was there during the peak years and was a key cog on all the teams that comprise the Kings' golden era in Sacramento. Without a doubt, he's the best free-agent signing in the franchise's history.
Total win shares: 39.4
Combined salary: $62.5 million
Win shares per $1 million spent=0.63