The Atlanta Braves have a commanding lead in the NL East, but general manager Frank Wren would be wise to add a starting pitcher and a reliever before next Wednesday afternoon—or, in other words, before Major League Baseball's trade deadline.
Atlanta's pitching staff isn't horrible, but it could be better. The rotation is the 16th best in baseball this season in terms of WAR, according to FanGraphs. The bullpen has been a little bit better, as it ranks 12th in the game in WAR, per FanGraphs. The Braves could use a second-half boost in both areas.
The team's biggest need this summer is another left-handed reliever. Jayson Stark of ESPN reports Atlanta has targeted players such James Russell from the Chicago Cubs, Scott Downs from the Los Angeles Angels, Mike Dunn from the Miami Marlins, and Oliver Perez and Charlie Furbush from the Seattle Mariners.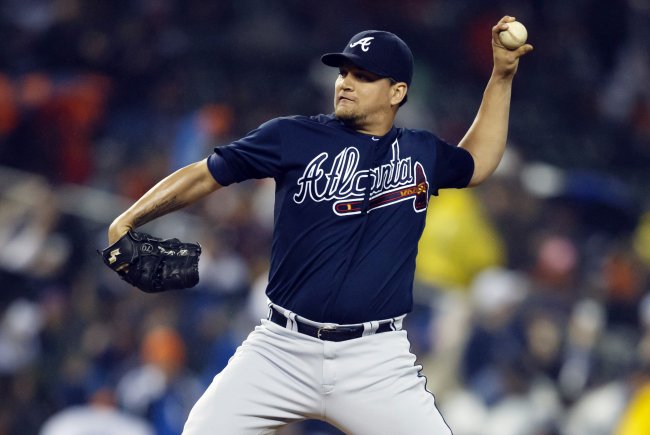 Rick Osentoski-USA TODAY Sports
The Braves only have one lefty in the bullpen at the moment: Luis Avilan. He's the lone option since Eric O'Flaherty and Jonny Venters are both out for the rest of the season.
Russell would arguably be the best solution to the problem for the organization. I recently wrote he'd be a great fit.
Atlanta may not be satisfied with the right-handers in the bullpen either, though. Mark Gonzales of the Chicago Tribune reports that Braves scouts are expected to be looking at Jesse Crain at U.S. Cellular Field over the weekend. Crain is currently on the disabled list with a strained shoulder but could rejoin the club on Sunday, per Gonzales.
In 38 appearances, the right-hander has allowed just three earned runs across 36.2 innings. If you're trying to do the math in your head, I'll lend you a hand. His ERA is 0.74 this season, which would be the lowest of his career by a wide margin if the season ended on Wednesday. He's also walked just 11 batters while striking out 46.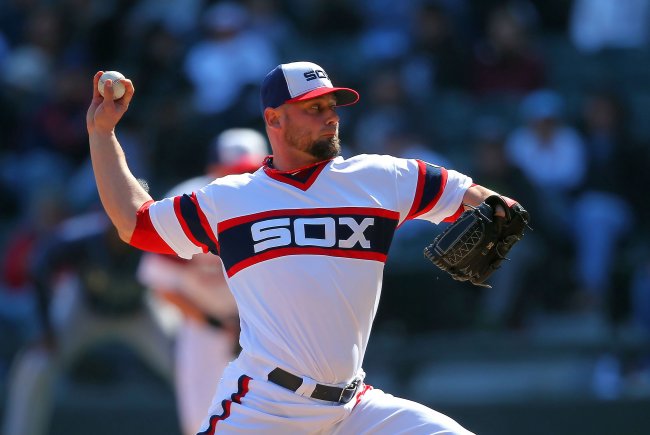 Dennis Wierzbicki-USA TODAY Spor
Crain usually handles the eighth-inning duties for the
Chicago White Sox
, but it's unclear as to what role he'd play with the Braves, if a trade were to happen. Atlanta has been using Jordan Walden in the eighth this year, and he has a 2.25 ERA in 32 innings of work this season, his first with the team.
Either way, the bullpen would be better with Crain in it.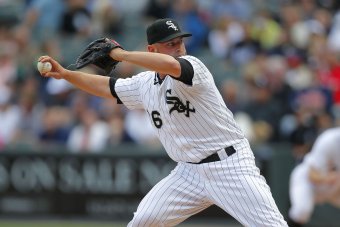 Dennis Wierzbicki-USA TODAY Spor
But if the Braves are going to talk with the White Sox about acquiring Crain, the franchise might as well see if they can land
Jake Peavy
at the same time.
Gonzales also notes
that the scouts will be watching Peavy pitch. He's scheduled to take the mound on Thursday for Chicago.
Atlanta just got a good look at what Peavy is capable of. The veteran pitched against the Braves this past Saturday and had a good amount of success. He allowed two earned runs (four total) in six innings of work while striking out three and not walking a single batter. It wasn't his best, but it was far from his worst.
On the season, Peavy is 7-4 through 12 starts with a 4.19 ERA in 73 innings of work. He's averaging 8.51 strikeouts and 1.85 walks per nine innings for the White Sox this year, his fifth with the club. Before coming to Chicago in the middle of 2009, Peavy spent his entire career in the NL with the San Diego Padres.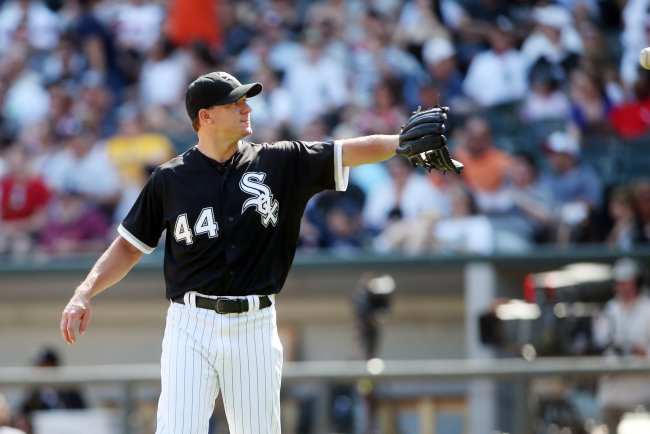 Jerry Lai-USA TODAY Sports
But do the Braves need another starting pitcher?
While the rotation's numbers aren't great, Atlanta could use someone to take the spot of Paul Maholm, who was recently put on the disabled list with a wrist contusion. Peavy would be the team's No. 2 guy—behind Tim Hudson—and when Maholm is healthy again, he'd pitch out of the bullpen.
Here's what the starting rotation might look like with Peavy in it:
Projected Atlanta Starting Rotation

| | | | | | | | |
| --- | --- | --- | --- | --- | --- | --- | --- |
| Player | W-L | G | IP | K/9 | BB/9 | ERA | WAR |
| Tim Hudson | 7-7 | 20 | 123.2 | 6.26 | 2.40 | 4.08 | 1.5 |
| Jake Peavy (w/ CWS) | 7-4 | 12 | 73.0 | 8.51 | 1.85 | 4.19 | 1.3 |
| Kris Medlen | 6-10 | 20 | 119.0 | 6.81 | 2.50 | 3.78 | 1.0 |
| Mike Minor | 9-5 | 20 | 130.0 | 8.52 | 1.94 | 2.98 | 2.5 |
| Julio Teheran | 7-5 | 19 | 119.0 | 7.56 | 1.89 | 3.25 | 1.3 |
Statistics courtesy of FanGraphs
It's the perfect scenario. The Braves will be improving their starting rotation by adding one of the better veterans in the league. The bullpen will be getting better with the addition of Crain. Lastly, the team no longer has to add a lefty to the bullpen since Maholm will turn into a reliever. You can't beat that, can you?
What about price?
Should the Braves look to acquire Peavy and Crain?
Well, it's unclear what Chicago would be looking to get in return for Peavy and Crain, but one would assume it would be a lot. These are two of the White Sox's top pitchers, and while the team is struggling, the front office isn't going to just give them away for nothing.
Peavy is under contract through next season, and Crain will be a free agent after this year. In my opinion, it would take a top-15 prospect as well as a few minor leaguers. The Braves could sweeten the deal for Chicago by eating most of Peavy's remaining contract, and that could mean not having to give up as good of a prospect.
There's no doubt that the Braves could figure out a way where the White Sox would receive an appropriate return for the two pitchers. If Atlanta can persuade Chicago to make a deal, the Braves would become instant favorites in the NL. They'd have one of the best pitching staffs in the league.
All statistics in this article were obtained via FanGraphs unless otherwise noted. All injury information was obtained via Baseball Prospectus and all contract information was obtained via Cot's Contracts.