The top snooker players in the world are convening in Cali, Columbia, to compete in the 2013 Snooker World Championships, which begin on July 26 and end five days later on July 30.
Winner of the gold medal in 2009, English snooker master Nigel Bond will attempt to repeat as champion, but he'll be up against some stiff competition.
All in all, 16 players will compete for the chance to win the gold medal at the 2013 World Games, and all of them are highly skilled snooker veterans.
For the uninitiated, snooker is a form of billiards that was invented by British soldiers stationed in India during the 19th century.
As noted in the rule book, players use a cue to strike the balls, of which there are 22 of them—one white (the cue ball), 15 red (worth one point) and six of various colors, worth from two to seven points.
Players compete head to head, with the winner being the person who manages to score more points than his/her competitor.
Here's a quick look at the entire field scheduled to compete in the 2013 Snooker World Championships, as noted by snooker.org, followed by a preview of three players with a chance to win the event.
16-Man Field at the 2013 Snooker World Games

| | | | | |
| --- | --- | --- | --- | --- |
| Player | Nationality | | | |
| Pankaj Arjan Advani | India | | | |
| Omar Al Kojah | Syria | | | |
| Igor Almeida Figueiredo | Brazil | | | |
| Nigel Graham Bond | England | | | |
| Alex Borg | Malta | | | |
| Manuel Peter Francisco | South Africa | | | |
| Lu Haotian | China | | | |
| Aditya Snehal Metha | India | | | |
| Saleh Mohd Mohammadi | Afghanistan | | | |
| Brendan James O'Donoghue | Ireland | | | |
| Joseph Raymond Perry | England | | | |
| Dechawat Poomjaeng | Thailand | | | |
| Ajeya Prabhakar | USA | | | |
| Noppon Saengkham | Thailand | | | |
| Hossein Vafaei Ayouri | Iran | | | |
| Liang Wenbo | China | | | |
snooker.org
Nigel Bond, Great Britain
As mentioned in the opening, Bond is the defending champion, having won the gold medal in the 2009 World Games in the city of Kaohsiung, Taiwan.
The former No. 5 player in the world, Bond has a history of competing well in big events, including his most recent victory at the 2012 World Seniors Championship.
Though there are plenty of up-and-coming players in the field who have been more consistent of late, Bond's veteran savvy and experience will serve him well. Expect him to make a push for the semifinals, at least.
Dechawat Poomjaeng, Thailand
Known on the pro circuit as Mr Poombastic, Poomjaeng was a crowd favorite at the 2013 Betfair World Snooker Championship, though he didn't get past the second round in that tournament.
A relative newcomer in the professional snooker community, he burst onto the scene with a big win in the 2010 IBSF Snooker World Championship. Since breaking into the game, Poomjaeng has worked his way up the ranks to become the 64th-ranked player in the world.
One of the most quirky players in the world, Poomjaeng isn't afraid to wear his emotions on his sleeve, as noted by Matthew Norman of The Telegraph:
Twice, when Walker invited him to the stage, he turned right instead of left, and strolled purposefully to the wrong table. When later, while frantically imploring the white not to roll into a pocket by waving his arms, he knocked over a bottle of water, a folk hero was born.

Incessantly fidgeting, smiling broadly, and gurning to a degree unseen in Sheffield since the vampirical glory days of Ray Reardon, if not since David Blunkett's tenure as council leader, this sweet-natured japester endeared himself to the Crucible crowd as few before.
Even if he doesn't win, Poomjaeng is a player you must watch in order to fully appreciate, and he always makes an impression.
Pankaj Advani, India
Ryan Pierse/Getty Images
From the land where snooker was born, Pankaj Advani is a formidable player who has won two gold medals in the Asian Games. He's also the first Indian to reach the quarterfinals in a world-ranking event, which he accomplished at the Welsh Open, as noted by BBC.com.
In addition to being an excellent player (No. 73 in the world), Advani is working hard to spread his love for the sport to others.
He spoke about his desire for snooker to be televised in India, as noted by BBC.com's Shamoon Hafez:
Snooker is becoming more popular and people are following the sport, but it is not on television. That will be the key now. It would make a huge difference and will improve the game in the country.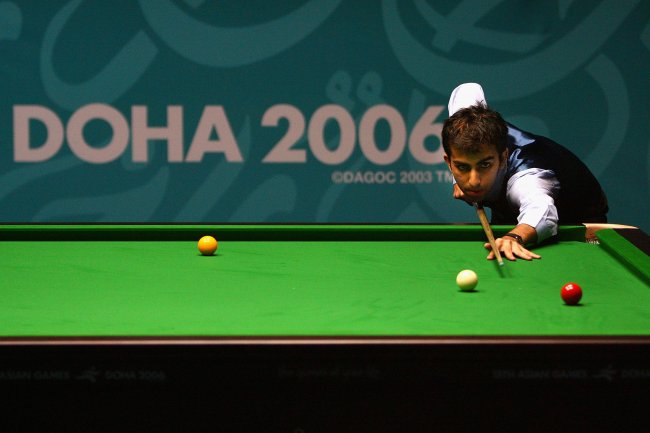 Ryan Pierse/Getty Images
A deep run at the 2013 World Games would certainly help his cause. With continued success comes more opportunities to reach others, and Advani will work hard to give himself the best chance to accomplish his goals.
Follow me on Twitter @JesseReed78