Arizona Cardinals' All-Time Roster: Offense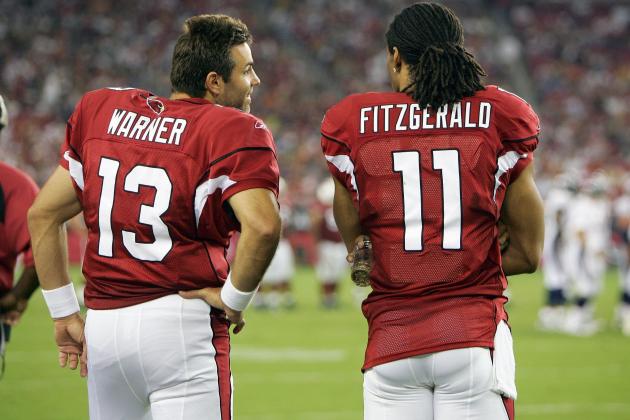 Jeff Gross/Getty Images
Kurt Warner and Larry Fitzgerald are shoo-ins for the all-time team.
With so much talk of the new NFL season being upon us, conversations have shifted from players who will be added to the 90-man roster for training camp to ones who will make the cut for the final 53-man roster to open the 2013 season.
The Arizona Cardinals are the league's oldest continuously run organization, remaining in constant business since 1898.
That means two things: 1) the team has the largest following of still-alive fans (yes, kidding) and 2) there have been a bevy of good players to don Cardinal Red over the years—Charley Trippi, Dan Dierdorf and Dick "Night Train" Lane, to name a few.
Some stayed in Chicago/St. Louis/Phoenix-Glendale longer than others did; all who made the roster had an impact on their respective team.
This edition covers the offensive side of the ball. How many current Cardinals made the cut?
You know how to find out.
Begin Slideshow

»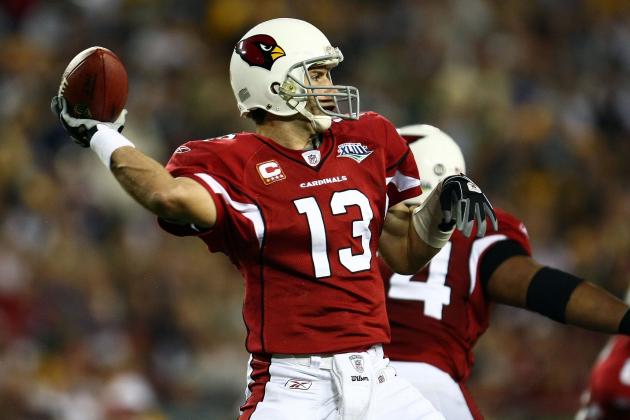 Chris McGrath/Getty Images

(3): Kurt Warner (starter), Neil Lomax, Jim Hart
Analysis: Quarterback wins, while important, are not what makes a good field general. These three combined for a 161-170-7 (.476) record and played on some bad teams. But would you want anyone else in the huddle if your team needed a long touchdown drive?
Kurt Warner (2005-2009) started 57 games for the Cardinals over five seasons, the bulk of which came in 2008 and 2009. Those two seasons for Warner were two of the best in his career. The only thing missing from them was a Super Bowl victory—that was possible until a toe drag ruined it.
Neil Lomax (1981-1988) was the first starting quarterback for the Phoenix Cardinals. He did much of his work in St. Louis, however, before Bill Bidwill moved the team 1,500 miles. Only six quarterbacks threw more touchdown passes during the 1980s than did Lomax; his 136 came in eight seasons, from 81 to 88.
But no one was sacked as much as Lomax was during the decade—he went down 362 times. In fact, no quarterback has been sacked in one decade as often as Lomax was during the '80s. The next closest to him is Jeff George, who was sacked 340 times during the '90s.
Jim Hart (1966-1983) is the franchise's all-time leading passer. Longevity, consistency and leadership are all good qualities to have if you are an NFL quarterback, and Hart had them all in his day. He was tough, even for the era in which he played, when every player was expected to take crushing blows and get right up and run—not walk—back to the huddle.
Hart comes from a different era indeed, when running the ball was still a top priority and passing was just becoming more prominent.
Mark J. Rebilas-USA TODAY Sports
Team president Michael Bidwill with Hall of Famer Charley Trippi.
(4): Ottis Anderson (starter), Charley Trippi, Stump Mitchell, Ollie Matson
Analysis: Ottis Anderson (1979-1986) is the Cardinals' all-time leading rusher, with 7,999 yards in his eight seasons. He is also the all-time leader in yards from scrimmage, at 10,494—that is, until a certain wide receiver notches another 27 receiving yards this season.
Mr. Charley Trippi (1947-1955) was inducted into the Pro Football Hall of Fame in 1968 for his time with the Cardinals. His rookie season of 1947 was the lone championship season in franchise history. Trippi started nine games that year, finishing second on the team with 401 rushing yards. He averaged 4.8 yards per carry, however, and led the team in receptions with 23.
He is one of three players in NFL history—and the only one in the Hall—with 1,000 career yards rushing, receiving and passing (George Taliaferro and Bob Hoernschemeyer are the others). He averaged 5.1 YPC for his career, tops in franchise history for backs with at least 200 carries.
Current Cardinals running backs coach Stump Mitchell (1981-1989) is second on that list (4.72) and is also the franchise's second-leading rusher, with 4,649 yards. He played with Anderson for six seasons, which tells you something about the run game in the '80s.
Ollie Matson (1952-1958) is the return man of the all-time roster. Not for the number of returns while in a Cardinals uniform, because he returned only 86 kickoffs. But his franchise record six returns for touchdown translates to an amazing 6.98 percent of all kicks returned for a score. That is the definition of efficient special teams play.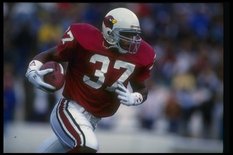 (1): Larry Centers
Analysis: One of just 10 NFL players with at least 2,000 yards rushing and 5,000 yards receiving, Larry Centers (1990-1998) did it all for the Cardinals' offense during his stay in the Valley.
He will be forever remembered for hurdling Dallas Cowboys safety Darren Woodson during a Monday Night Football game in 1996 and was immortalized in the movie Jerry Maguire because the film crew was there filming scenes with Tom Cruise and Cuba Gooding Jr.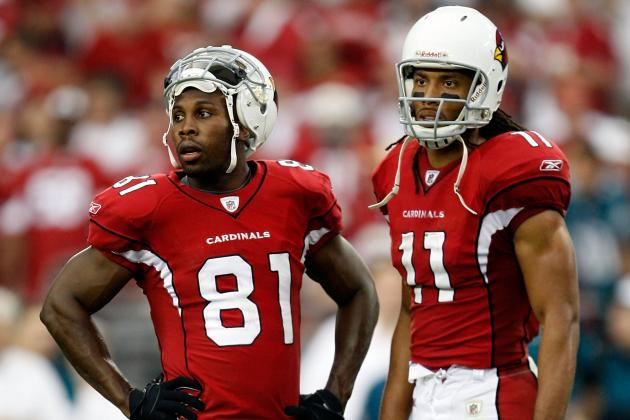 Jamie Squire/Getty Images

(5): Larry Fitzgerald and Anquan Boldin (starters), Roy Green, Sonny Randle, Frank Sanders
Analysis: As alluded to earlier, Larry Fitzgerald (2004-Present) is 27 yards away from passing Ottis Anderson for the most yards from scrimmage in franchise history. He is No. 2 in the NFL in receiving yards since he came into the league; the Indianapolis Colts' Reggie Wayne has 11,164 yards, which is 751 more than Fitz's 10,413.
Some Cardinals fans still are upset over the Anquan Boldin (2003-2009) trade, and they like him even less now that he's in San Francisco. But that doesn't mean he is not one of the best receivers in Cardinals' history. Boldin was the all-time leader in receptions until Fitzgerald passed him in 2010.
Speedy receivers tend to contribute in more than one way, and Roy Green (1979-1990) is no exception. He is among the most productive wide receiver/kick returner combination players in NFL history and is one of four players to average at least 15.0 yards per reception (minimum 500 receptions) and 20.0 yards per return (minimum 50 returns)—along with Bobby Mitchell, Drew Hill and Anthony Miller.
He held all major franchise receiving records until Fitzgerald and Boldin came along.
Sonny Randle (1959-1967) is probably a name not many Cardinals fans remember because of when he played. But the man who sits No. 9 on the franchise's all-time receiving yards list (5,438) and No. 3 on its receiving touchdowns list (60) produced at a time when passing was secondary to rushing.
From a guy you've never heard of to a guy every Cardinals fan should remember, Frank Sanders (1995-2002) averaged 62 receptions and 822 yards per season while in Arizona. He wore No. 81 before Boldin claimed it and stole fans' hearts with acrobatic catches and his trademark tough-as-nails on-field appearance.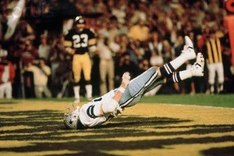 Jackie Smith ended his NFL career by dropping a game-tying TD in Super Bowl XIII.
(2): Jackie Smith (starter), Doug Marsh
Analysis: Tight ends have not had the best success wearing Cardinal Red, no matter the team's location. Jackie Smith (1963-1977) was a good option for many years while the team was in St. Louis, and his 40 touchdown receptions are a team tight end record.
Doug Marsh (1980-1986) is the only other tight end with at least 2,000 receiving yards for his Cardinals career, mainly because no other tight end has stuck around long enough to make a difference. His 19 receiving touchdowns are second to Smith on the tight ends leaderboard.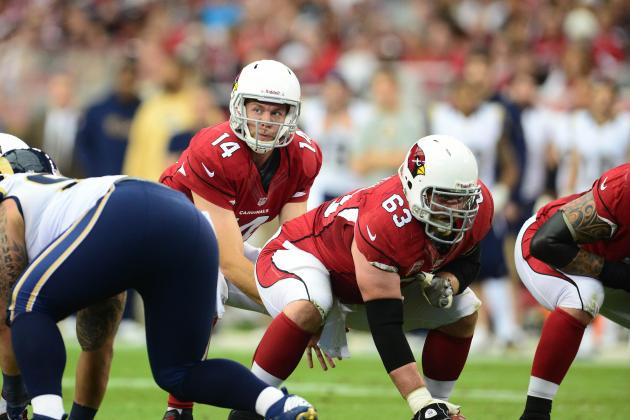 Mark J. Rebilas-USA TODAY Sports

(5): LT Luis Sharpe, LG Irv Goode, C Lyle Sendlein, RG Ken Gray, RT Dan Dierdorf
Analysis: Die-hards and season ticket holders at the stadium know Dan Dierdorf (1971-1983) was a long-time member of the Cardinals' offensive line. Others think of him as a game-day broadcaster for CBS.
He was selected to six Pro Bowls, including five straight from 1974 to 78. He also made three consecutive All-Pro teams from 76 to 78.
Luis Sharpe (1982-1994) started a franchise-record 189 games and made three Pro Bowl appearances, from 1987 to 89.
Irv Goode (1962-1971) and Ken Gray (1958-1969) combined to play in eight Pro Bowls of their own. Not many pass-rushers got by them while the two manned the guard spots from 62 to 69, as seven of their eight Pro Bowls came in that span—five from Gray and two from Goode.
Then, there's Lyle Sendlein (2007-Present). Before missing the final five games of the 2012 season with a torn MCL, Sendlein had played in all but one snap since becoming the full-time starting center for the 2008 season. That's 5,311 of a possible 5,312 snaps, during which time he absorbed countless hits and shoves from 300-pound giants (snaps stats via ProFootballFocus).
In fact, Sendlein played nearly the entire Week 12 game against the St. Louis Rams with that torn MCL. He's a warrior, no doubt.
All stats provided by Pro-Football-Reference.com unless otherwise stated.