Which Players Will Make Final Cut for Canada's Preliminary Olympic Roster?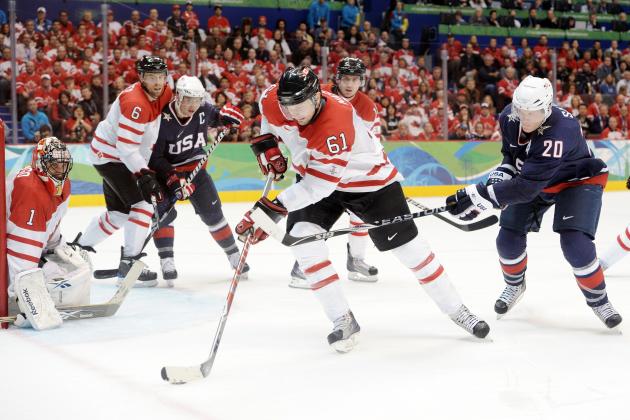 Harry How/Getty Images

Earlier this week, Hockey Canada took its first step towards hammering out its final roster for the anticipated 2014 Sochi Olympics, which could be arguably the most talented team ever assembled.
The preliminary roster, which lists all of the Canadian players invited to next month's orientation camp (via the NHL), includes 14 skaters and one goaltender from the Olympic gold-medal squad from 2010 in Vancouver.
Heading into camp, there are a number of players that have already secured their spots on the team, but at the same time, the vast majority of the 47 invitees have something to prove before they'll be booking their tickets to Russia.
Here's a look at each player with a chance of making the team, broken down into categories based upon where they stand in relation to the rest of the camp's invitees.
Begin Slideshow

»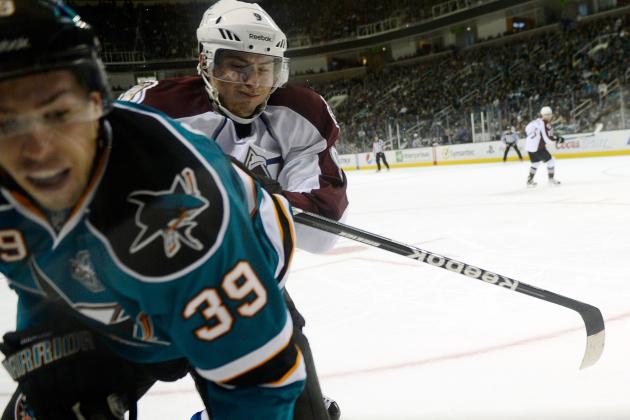 Thearon W. Henderson/Getty Images

These players enter the orientation camp as the most unlikely candidates to make the team, primarily because of either a lack of international experience, or simply an immense amount of talent at the given position.



Forwards

Logan Couture

Matt Duchene

Chris Kunitz

Andrew Ladd

Milan Lucic

Brad Marchand

For Couture and Duchene, this is simply a numbers game, as they're both very skilled players, just simply not quite as dynamic as the other offensive dynamos Canada has to choose from. In the cases of Kunitz, Ladd, Lucic and Marchand, all four bring scoring potential and a good amount of sandpaper, but it won't be enough to vault them above the rest of the field.



Defensemen

Jay Bouwmeester

Travis Hamonic

Marc Methot

Marc-Edouard Vlasic

All four of these guys are quality NHL defensemen, but none is skilled enough with the puck to play on the big ice, with the exception of Bouwmeester. However, Bouwmeester's inconsistency since joining Calgary cost him a spot on the 2010 Olympic team after being selected for Turin in 2006, so there's virtually no shot of him making the team this time around.



Goaltending

Braden Holtby

It's unfortunate to have to put the Capitals' promising young stopper here, but due to his blatant lack of experience in comparison to the other four invitees, he'll simply be happy to know he's on Canada's radar. The only way Holtby has a chance at being taken over Corey Crawford or Mike Smith as Canada's third goaltender is if Steve Yzerman and company decide to bring him along for the ride in order to begin grooming him for the future.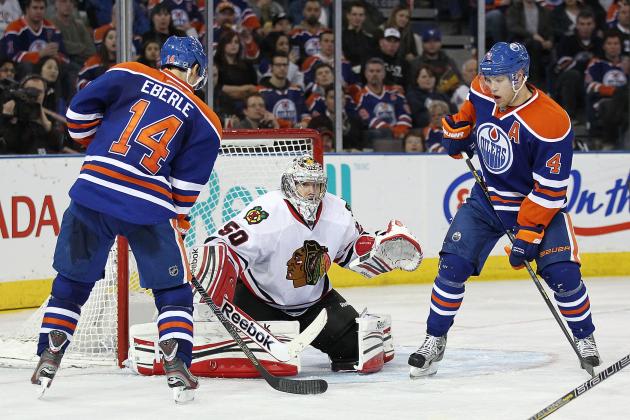 Perry Nelson/Getty Images

As dark horses, these players have outside chances at earning a spot on the team, but for whatever reason—be it age, inconsistency or simply the existence of players who fit certain roles more seamlessly—these NHL standouts face reasonably long odds in the final selection process.
Forwards
Jordan Eberle
Taylor Hall
Joe Thornton
Of this group, Hall and Eberle probably have the best chance, though if former Olympian Thornton has a strong start to the season, he could play his way into contention. Unfortunately for this group, Canada simply has other players that fit the identity of this team more effectively. In the cases of basically all of these forwards, Yzerman will have other options to choose from that bring a more intense physical approach to the ice.
Defensemen
Karl Alzner
Dan Hamhuis
Both Alzner and Hamhuis are solid defensive rearguards who both have the necessary mobility and physicality to be solid members of the Canadian defense corps. However, neither will be on the inside track heading into camp, as there are simply more diversely skilled players available for the choosing.
Goaltending
Mike Smith
At this point, Corey Crawford has the be the guy that has the edge over both Holtby and Smith, so unless something unexpected happens, it'll be Crawford, Luongo and Price.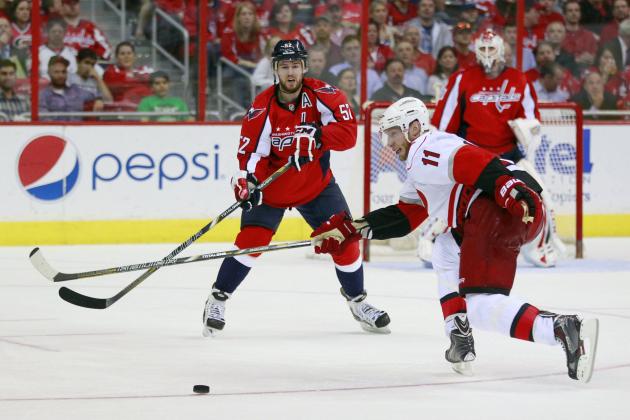 Geoff Burke-USA TODAY Sports

Heading into camp, this group is squarely on the bubble, meaning that their chances are roughly 50-50 to make Yzerman's final cut. The upside for this group is that if they start the season playing their best hockey, there could be room for them on this roster.
Forwards
Patrice Bergeron
Jeff Carter
James Neal
Mike Richards
Patrick Sharp
Jordan Staal
Martin St. Louis
Of these seven, at least four or five will make the team (assuming the nine ranked above them do as well, and the nine ranked below them do not), and each of the players in this group brings something different to the table.
For now, Bergeron is the closest to a sure thing, with Richards, Carter and Sharp just behind him, and there's a reason for that. Staal and Neal have both had success in postseason play, but not to the same degree that the previously mentioned four have, at least lately. Obviously Bergeron and Richards, as returning members of Team Canada, have a leg up, but Sharp and Carter figure to earn spots as well.
It's also worth noting that Carter was the final cut from 2010 squad, so one has to assume he'll come storming out of the gates this season. If Jordan Staal starts the season playing strong two-way hockey, he'll edge Neal out for one of the final spots up front.
Martin St. Louis is a possibility as well, because he does play for Yzerman's NHL club in Tampa Bay and has built up a dangerous partnership with Steven Stamkos, who will be a fixture on Canada's power play regardless.
Defensemen
Dan Boyle
Mike Green
Dion Phaneuf
Alex Pietrangelo
Marc Staal
The defense corps on this team will be as deep as any group Hockey Canada has ever put together, and that's why there are so many guys on the bubble heading into the season. If Yzerman elects to go with a puck-moving blueliner with offensive ability, Green might have the edge over Boyle after the Capitals star's resurgence last season, but Phaneuf's physical game may earn him a look as well.
Beyond them, Alex Pietrangelo has a good chance at cracking the squad after serving as the Blues' top defenseman for the last two seasons. New York's Marc Staal also had a reasonably favorable chance, but unless he shows he's fully recovered from his eye injury, he still comes with some red flags attached.
Goaltending
Corey Crawford
After winning the Cup in dramatic fashion, Crawford enters the season as the most likely candidate to get the No. 3 role, but it's not a lock at this point. He's had some prolonged slumps in the past, so if he struggles in the early going, Holtby or Smith could conceivably leapfrog him on the depth chart.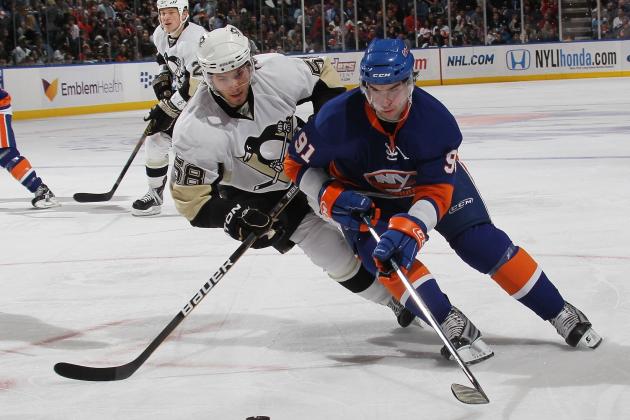 Bruce Bennett/Getty Images

The Canadian management team will have some very difficult decisions, but not with this group of players below, because they've done enough to be considered front-runners to make the team already. Barring anything such as a drastic drop in production or a worrisome injury, these guys will be there in Sochi.
Forwards
Claude Giroux
John Tavares
After the season Tavares had, it seems ludicrous to suggest that he isn't a slam-dunk for this team. Yet given how many superstars Canada has to choose from, if he has an extremely slow start, it's conceivable that he could be overtaken, though it's incredibly unlikely. Giroux only fits in this category because his play fell off a bit last season, but assuming he bounces back, he'll be headed to Russia.
Defensemen
Kris Letang
Brent Seabrook
PK Subban
Letang's postseason shortcomings are the only thing working against him, but regardless, he's emerged as a top-five NHL defenseman, so he's a virtual lock to make the team. Seabrook has all but sealed up his spot as well, but given that he's not a prolific point-producer like some of the other rearguards, he's probably not as secure as some of the other 2010 returning blueliners.
Aside from them, Subban figures to have come close to earning a spot already, because that's what generally happens when you're the reigning Norris Trophy winner.
Goaltending
None.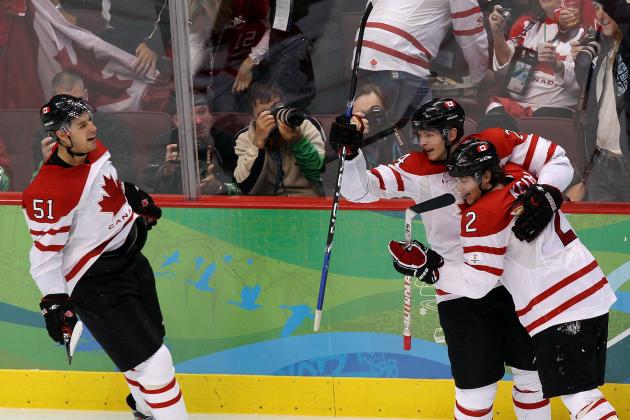 Alex Livesey/Getty Images

Even though the tournament is more than six months away, a few of Canada's brightest talents have their roster spots locked up regardless of how they perform to start the season. Unless anyone in this group is injured and unable to play, they will all be part of Canada's entry at the 2014 Olympic Games.
Forwards
Sidney Crosby
Ryan Getzlaf
Rick Nash
Corey Perry
Eric Staal
Steven Stamkos
Jonathan Toews
For obvious reasons, each of these seven forwards has done enough to justify being handed a jersey today, and they'll all be relied upon heavily in Sochi. Crosby will be the team's unquestioned leader on the ice, but this core group of forwards will all play big roles for Babcock.
Staal, Nash, Perry, Toews and Getzlaf all proved their worth at the 2010 Games, as all made big contributions, especially in big moments. In particular, Nash and Toews enjoyed coming-out parties in Vancouver, as each demonstrated an ability to adapt and take on unfamiliar roles.
Stamkos may not have made the team last time around, but as Canada's undisputed best sniper, there's no chance he doesn't get picked.
Defensemen
Drew Doughty
Duncan Keith
Shea Weber
Simply put, these three were Canada's best on the blue line in Vancouver, and since then, each has only gotten better. Weber is the prototypical two-way rearguard with a booming shot, a big frame and a snarly, physical style.
Beyond him are two fleet-footed puck-moving rearguards in Duncan Keith and Drew Doughty, who have each become NHL stars for their flair at both ends of the rink; both will be counted upon to play big minutes in Russia.
Goaltending
Roberto Luongo
Carey Price
These are Canada's No. 1 and No. 2 goaltenders, because at this point, there just aren't any better options out there. It's unclear who will start the weight of the games, but unless Luongo falters early on with the Canucks, after winning gold in 2010, one has to figure it's his job to lose.
It is worth noting that Price has played lights-out at times over the course of the last two seasons, so if he starts out more strongly in 2013-14, he could win the starting job over Luongo.