The 10 Worst NHL Jerseys Of All Time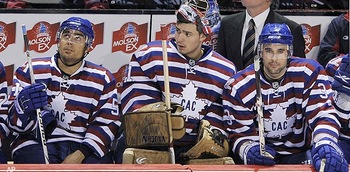 The National Hockey League was founded in 1917. Being around for so long has made for some very interesting jerseys to be worn by different teams. One has to question why some of these jerseys were ever worn by a team or at least wonder how they were possibly thought up.
Of the 10 jerseys in this list, only one team appears twice, and that is the Vancouver Canucks. Most of these jerseys were also worn up until the '90s with the exception of a few. Not too surprising though, most of these were also only worn for a couple of seasons mainly due to the outcry from fans who were embarrassed by their team wearing them. Another surprising fact is that four of these jerseys were regularly worn by their team and six of them were third jerseys.
So without wasting any more time, here are the 10 worst jerseys of all time in the NHL. As always, feel free to voice your opinions down below.
10. Boston Bruins Third Jersey 1996-2006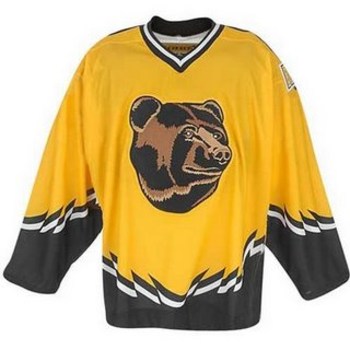 This jersey worn by the Bruins as an alternate jersey usually during matinee games was one of the worst in Bruins history.
It debuted in 1996 and lasted until 2006. To begin with, yellow isn't the most intimidating color. To make matters worse, the bear on the front didn't look too scary either. Thankfully this horrific jersey has since been replaced.
9. Ottawa Senators 1930-1934
To be fair to the Senators, this jersey was worn in the early 1930s when there weren't many designs for jerseys.
Still, they could have come up with a better design than this, one must think. With a basic design like a barber pole, just different colors and a large O on the front, these jerseys only lasted four years. They will clearly go down as one of the worst in Senators history.
8. Dallas Stars Third Jersey 2003-2006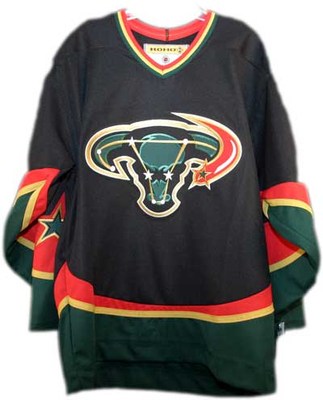 This jersey is the most recent of all the jerseys on this list and one of the worst. To begin with, the color scheme is a monstrosity. With green, yellow, red, and black all together it was pretty ugly. The logo was supposedly a bull with the stars logo on the side. These jerseys somehow lasted three years until they were finally replaced.
7. Los Angeles Kings Third Jersey 1995-1996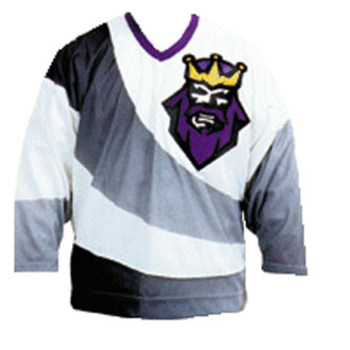 This jersey debuted by the Kings in 1995 only lasted one year. It had a terrible color scheme with gray, white, and black. The logo looked like an angry purple king with a crown. These didn't exactly strike fear in other teams and the fans sure didn't like them either.
6. Vancouver Canucks 1978-1985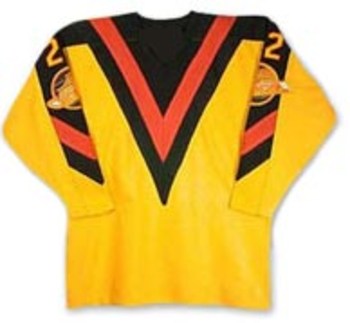 These jerseys worn by the Vancouver Canucks were the longest-worn jerseys on this list.
Vancouver played with these jerseys for seven years. Some people said these jerseys looked like they were puke-stained. They were just an ugly yellow with a V coming down the front with the old Canucks logo on each arm sleeve. Surprisingly this wasn't the worst jersey worn by the Canucks.
5. New York Islanders 1995-1997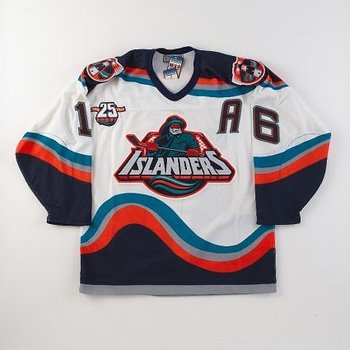 These jerseys worn by the Islanders were easily the worst in franchise history.
The logo was what looked like an angry fisherman sometimes called the Gortman's fisherman holding a hockey stick in front of a net. To make matters worse, when the Islanders would play on the road, most notably against the Rangers, the fans would chat "we want fish sticks" in reference to the Gortman's fisherman.
4. Montreal Canadiens 1912-1913
This jersey was worn by the Canadiens for only one year. Like the Senators jersey, we have to cut the Canadiens a little slack as they wore these jerseys in 1912.
They could have come up with something a little better though. These jerseys made the Canadiens players look like barber polls or prisoners. Thankfully, the Canadiens have come up with better uniforms since these monstrosities.
3. Vancouver Canucks Third Jersey 1995-1997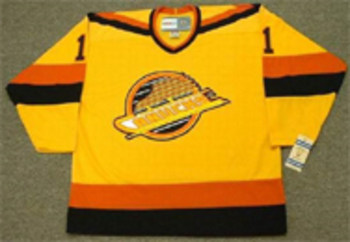 This third jersey worn by the Canucks in the late '90s was even worse than the one they wore back in the early '80s. It had an interesting color scheme with yellow, red, and black.
The Canucks were big on yellow back then I guess. The logo was said to look like a waffle iron although it was supposed to just be a circle with the word "Canucks" going across it. Thankfully these lasted only two years.
2. Anaheim Mighy Ducks Third Jersey 1995-1996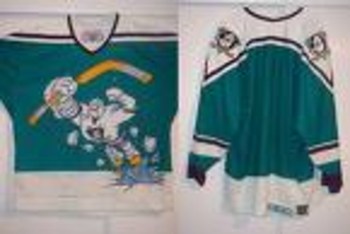 These jerseys worn by the Anaheim Ducks were by far the worst ever in franchise history. They were worn for only one year. These jerseys were turquoise colored with white trimming. The logo was a duck coming out of the ice like Superman. It's safe to say these jerseys weren't at all intimidating or good and they were quickly canned.
1. Phoenix Coyotes Third Jersey 1998-2003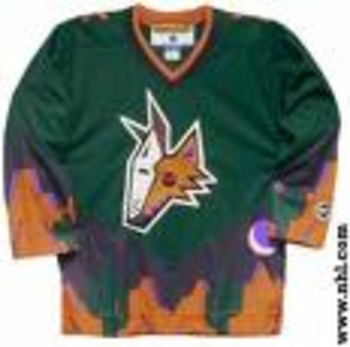 This is the worst jersey of all time in the NHL.
To begin with, I'm not even sure how this jersey lasted for five years. The Coyotes introduced this alternate jersey in 1998. It featured a green and light brown color scheme with cactus's on the bottom. The logo featured a coyote with half its face covered with a hockey mask. This jersey was terrible and thankfully was retired in 2003.
Keep Reading

Boston Bruins: Like this team?