Stock Up, Stock Down for New York Yankees' Top 10 Prospects for Week 16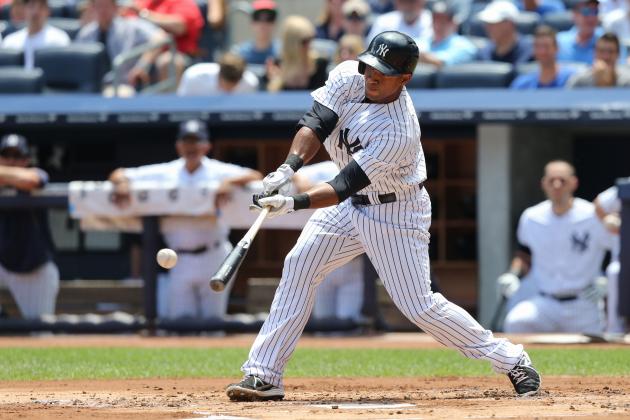 Anthony Gruppuso-USA TODAY Sport
Zoilo Almonte, a former staple of this list, went down with an ankle injury this past week.
It was yet another injury-riddled week for the New York Yankees. Former mainstay on this list, Zoilo Almonte, went down with a sprained ankle, Derek Jeter went to the disabled list with a Grade 1 quad strain and Alex Rodriguez's debut was delayed because of that same quad strain.
Several players from down on the farm were called up to fill the roster. Brent Lillibridge, a player far from a prospect, took the spot of Jeter. Thomas Neal, another player not exactly in prospect territory, was called up to take the spot of Almonte.
Melky Mesa, a prospect that falls just outside of the team's top 10, was called up when infielder Alberto Gonzalez was designated for assignment.
None of the team's top 10 were called up, though, and not a single one was moved to a different level of the farm system as a result of the flurry of other moves. Such was to be expected. Of the team's 10 best prospects, only Jose A. Ramirez is in Triple-A Scranton/Wilkes-Barre. It's not often that players can make a seamless transition from Double-A to the bigs, hence the Yankees' reasoning to leave them in the minors.
It was another rough week for the Yankees in terms of injuries and record (they lost two of three games to the Boston Red Sox in the week's only action). Luckily, they had some bright spots in the minors to smile about.
Begin Slideshow

»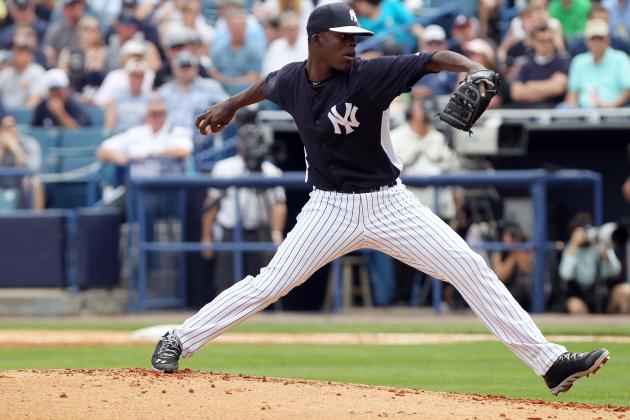 Kim Klement-USA TODAY Sports

2013 Stats: 15 GS (16 G), 2-6, 3.44 ERA, 70.2 IP, 75 K, 35 BB
Last Week: 1 GS, 5.0 IP, 6 H, 2 BB, 3 R (3 ER), 2 SO
Jose Ramirez was a hard-luck loser last week. He certainly could have pitched better, but he pitched well enough to deserve a win.
Despite allowing eight baserunners in five innings pitched, he was successful in limiting the damage. Ramirez allowed just three earned runs, leaving the game up to his lineup. Unfortunately, they could not provide enough run support.
Ramirez only struck out two, but that speaks to the other ways in which he was able to work his way out of jams. Generally one who relies on strikeouts, Ramirez used his pitches to induce weak contact. His defense then made the plays necessary to keep his ERA from raising even more than it did.
This was only Ramirez's seventh start at Triple-A after making eight starts with Double-A Trenton. His results were much better at the lower level, but this type of growing pain is a good sign. I'm sure the Yankees would rather Ramirez undergo these pains now rather than when he gets called up to the MLB team—something that is inevitable to happen within the next season or so.
He has simply too much talent to stay in the minors for too long.
Stock: Even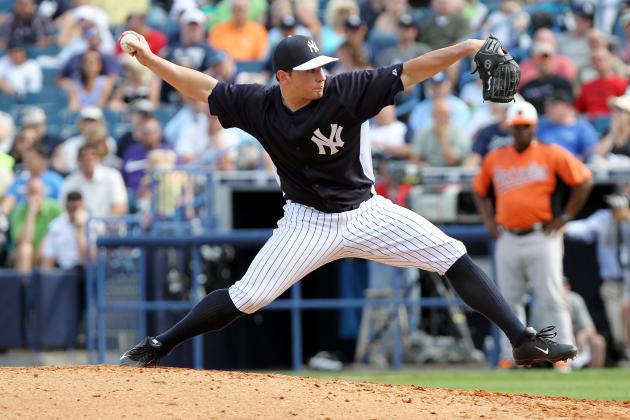 Kim Klement-USA TODAY Sports

2013 Stats: 23 G, 2.72 ERA, 36.1 IP, 46 SO, 20 BB
Last Week: 1 G, 1 IP, 1 SO
Mark Montgomery is back to pitching after spending time on the disabled list, but the Yankees are still cautious about giving him a ton of work right out of the gate. For the second straight week, Montgomery made just one appearance for the Gulf Coast League Yankees.
He was perfect in his lone inning of work, striking out one while barely breaking a sweat.
The organization's top relief pitcher has an amazing slider, and that pitch is part of the reason why many experts believe that he will be the eventual closer for the Yankees. David Robertson may have that job after the season, but it could be Montgomery's to lose in the long run.
Montgomery began the season in Triple-A, so it's only a matter of time before he works his way back up there. Once he does, he could be a candidate for September call-ups. Without that injury, he may have already cemented his role in the Yankee bullpen.
Stock: Up
2013 Stats: 17 GS (19 G), 1-2, 3.57 ERA, 68 IP, 66 SO, 13 BB
Last Week: 1 GS, 4.0 IP, 2 H, 1 BB, 1 R (1 ER), 6 SO
Jose Campos pitched a great game last week, allowing just one run and allowing just three baserunners in four strong innings. The start featured exactly why the Yankees are so high on Campos, as he posted a high strikeout total and a low walk total.
Campos averages nearly 5.1 strikeouts for every walk, a mark that shows his maturity as a pitcher. It could be a few seasons before he's in New York, but it's easy to foresee such a future for a pitcher with that kind of talent.
This past week builds off an equally impressive week prior. During that week, he made two starts, pitched eight innings and allowed just one run while striking out seven. It seems as if the good starts just keep piling up for Campos.
The Venezuelan has never pitched higher than Single-A, though he could get a promotion to Tampa by the end of the season if he keeps up this type of production.
Stock: Up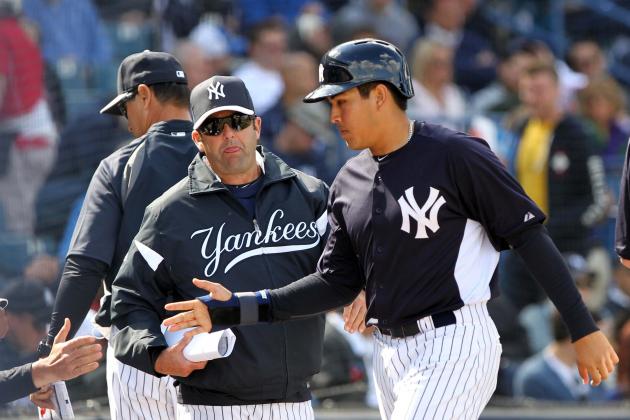 Kim Klement-USA TODAY Sports

2013 Stats: 96 G, .241/.336/.329, 4 HR, 37 RBI, 15 2B, 3 3B
Last Week: 7 G, 7 H, 3 RBI, 6 BB, 8 K
Ramon Flores had a semi-productive week in Double-A for the Trenton Thunder, albeit a quietly productive one.
Flores recorded a double and a triple amongst his seven hits while driving in three. It was definitely a great week for his on-base percentage, as he reached base 13 times in seven games. The left-handed outfielder finally recorded a strong string of games after a poor week prior.
One of the best things to take out of this week for Flores is that he played in all seven games, even if he only received one at-bat on July 17. A negative to take from this week would be that his hits came in spurts.
Despite tallying seven hits, he went two games without recording a single hit. What the Yankees will want to see from him moving forward is a hit streak that moves past two or three games.
Stock: Even
2013 Stats: 64 G, .236/.288/.363, 3 HR, 30 RBI, 16 2B, 4 3B, 14 SB
Last Week: 6 G, 8 H, 1 2B, 1 HR, 6 RBI, 3 SB
Angelo Gumbs had a great week for Double-A Trenton. For a player whose batting average and on-base percentage had been lacking all season long, Gumbs made a serious effort to reverse his fortunes after recording eight hits and getting on base 10 times (two walks) in six games.
Gumbs recorded two hits in four separate games to equal eight hits, with the high point of his week coming on July 18. He hit a home run, drove in three and stole a base. Unfortunately, the low point of his week came the following day. In five at-bats, he struck out four times.
The young second baseman has been a prospect that has shot up the ranks over the course of the season, even if he doesn't have the flashiest stats. He still has a ton to work on, but his speed and ability to excite definitely work in his favor.
He may be one of the only people in the organization secretly hoping that Robinson Cano is playing for a different team come next season.
Stock: Up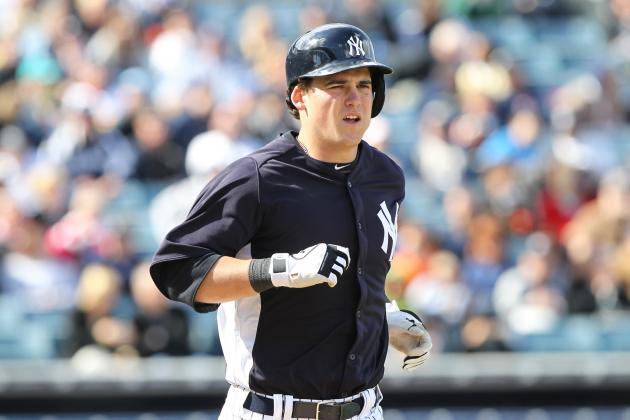 Kim Klement-USA TODAY Sports

2013 Stats: 81 G, .254/.344/.367, 6 HR, 39 RBI, 15 2B, 41 BB
Last Week: DNP
Tyler Austin did not have a good week, as he was sent to the Double-A disabled list because of a sore right wrist. He had not played since July 12. No structural damage was reported, but an MRI was scheduled in an effort to make sure that there was nothing seriously wrong with one of the team's top prospects.
It's unclear as to how long he had been hampered by the wrist injury, though he initially complained about the pain during that game on July 12. It would make logical sense as an explanation for his struggles this season. Prior to 2013, the right fielder had never hit less than .286 at any of his stops in the minors. In his two professional seasons, the lowest he hit was .322 in 2012.
Austin hasn't flashed nearly as much power as usual, either. Prior to this season, he had launched 23 long balls in two seasons. After hitting 17 in 110 games last season, having six through 81 games is a clear drop off.
For the sake of the Yankees, Austin better heal up and get back to producing when he returns from the disabled list.
Stock: Down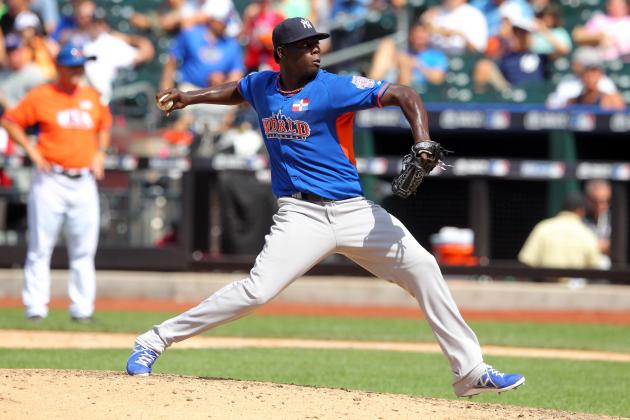 Brad Penner-USA TODAY Sports

2013 Stats: 16 GS (17 G), 6-4, 3.84 ERA, 82 IP, 111 SO, 32 BB
Last Week: 1 GS, 3.0 IP, 4 H, 4 R (3 ER), 4 BB, 3 SO
It was an important week for Rafael De Paula, as he made an appearance in the MLB Futures Game at Citi Field during MLB's All-Star Game festivities the previous week. It was interesting to see how he'd build off his strong performance.
De Paula struggled, however. Making his first appearance (other than the Futures Game) since June 30, De Paula allowed three earned runs and eight baserunners in just three innings pitched. He did strike out a batter per inning, but he was wild and unreliable—hence his early exit.
Luckily for him, the poor performance did not result in a loss.
The right-hander is one of the team's fastest-rising prospects, and he has the potential to be an impact arm in the majors. That won't be for a while, though, and that's not just because he's currently pitching at High-A Tampa. He'll need to work on his effectiveness and control before being considered for the big club.
Stock: Down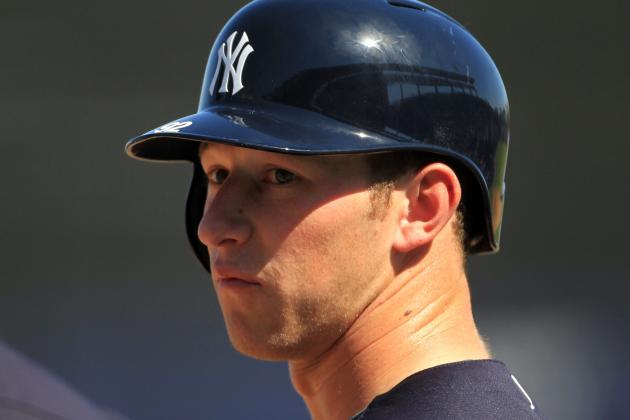 The Star-Ledger-USA TODAY Sports

2013 Stats: 85 G, .260/.322/.386, 5 HR, 41 RBI, 17 2B, 5 3B, 92 SO, 10 SB
Last Week: 6 G, 9 H, 0 BB, 2 2B, 1 3B, 1 HR, 6 RBI
Slade Heathcott did not have a bad week by any stretch of the imagination, but there's one glaring issue that could be preventing him from progressing up through the Yankees' system. He continues to show a reluctance to work walks, walking just 29 times on the season and not a single time last week.
On the bright side, he recorded nine hits, four of which went for extra bases. He also recorded six RBI in as many games. He had three multi-hit games, including a three-hit game on July 18.
Heathcott is currently at the highest level of the system amongst the Yankees' top three outfielders (Tyler Austin and Mason Williams), though his skills are not yet as polished as either other player. It's a matter of age and experience that separates him from the others.
The left-hander from Texarkana, Texas needs to cut down on his strikeouts and work on his plate discipline. That aside, he did have a strong week.
Stock: Up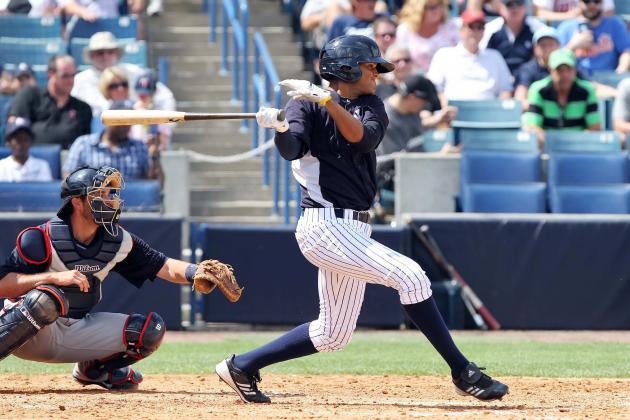 Kim Klement-USA TODAY Sports

2013 Stats: 79 G, .274/.345/.375, 3 HR, 20 RBI, 19 2B, 2 3B, 11 SB, 48 R
Last Week: 6 G, 11 H, 3 2B, 2 RBI
It's official: Mason Williams is on fire.
The Yankees' top outfield prospect played in six games last week for High-A Tampa, recording an astounding 11 hits. The best part about his performance? He recorded a hit in every game and has recorded a hit in each of his last nine games.
Williams has raised his average from .266 to .274 over the last week and is finally starting to get hot. He's not known for having much power, but the three doubles are a sign that he's staying consistent with his gap power. The two RBI were also a nice touch in adding to his season total.
The speedster was caught stealing in his only attempt last week, and the fact that he's been caught seven times on the season could worry some Yankee fans. As he gets older, though, he'll learn to be more efficient on the bases. He just needs to learn how to pick his spots more effectively.
Stock: Up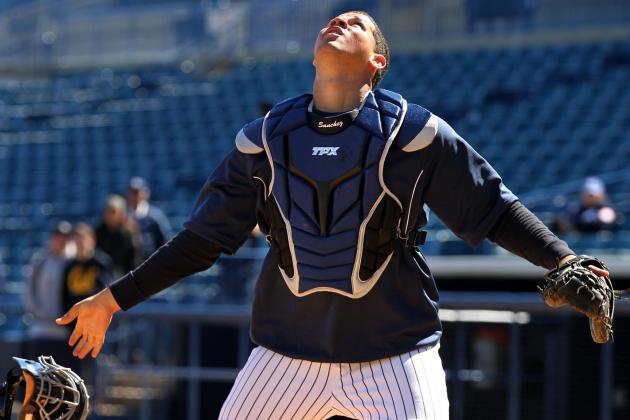 The Star-Ledger-USA TODAY Sports

2013 Stats: 83 G, .267/.328/.453, 13 HR, 61 RBI, 21 2B, 59 SO, 28 BB
Last Week: 5 G, 5 H, 1 2B, 1 RBI
Gary Sanchez continues his quite production at the dish after last week's steady (yet unexciting) performance. Sanchez did produce a mini four-game hitting streak during the five games he played last week, but failed to make an impact in the run production department.
He tallied just one extra-base hit and one RBI. He hasn't homered since July 9 and has only driven in three runs over the past 10 games. Sanchez is one of the top offensive catching prospects in baseball, but he'll need to hit better to keep that title.
He has been fantastic this season for the most part, though. The Yankees really have no reason to be disappointed in their young catcher. He has plenty of room to grow offensively and already projects to stay behind the plate for at least the foreseeable future. It's hard to say anybody can be the next Jorge Posada, but he has the tools to take a crack at such a distinction.
Stock: Even