Luis Suarez Transfer News and Rumours Tracker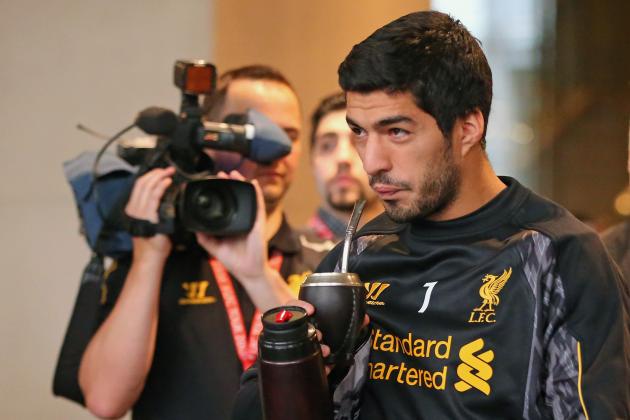 Scott Barbour/Getty Images

The Luis Suarez saga rumbles on with little to no clear sign yet that the Uruguayan will get the move away from Liverpool that he appears to be craving.
We've covered the developing story across a summer littered with interviews, claims, rumours and counter rumours, but so far the forward remains a Liverpool player and his club seem determined to keep things that way.
Manager Brendan Rodgers has been very vocal in his desire to keep last season's top scorer with the Reds. There appears to be little sign that they are ready to let him go lightly as the club rejected a £30m bid from Arsenal for the former Ajax man.
With Rodgers claiming that only a transfer fee in the region of the £55m it cost Paris Saint-Germain to buy Edinson Cavani from Napoli would even be considered by the Reds, it remains to be seen whether the likes of Real Madrid decide to get involved in a bidding war for the forward's services.
Begin Slideshow

»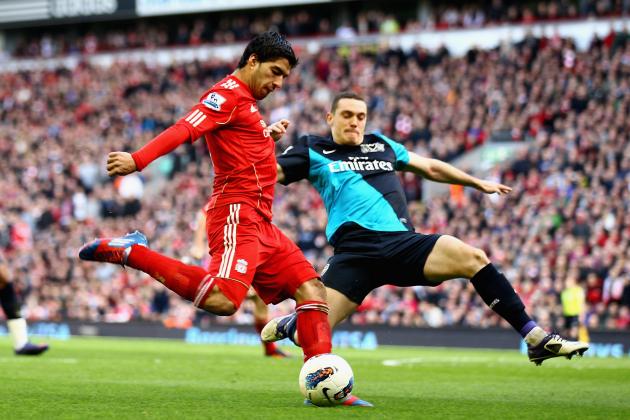 Clive Mason/Getty Images

Arsenal continue to make their interest in Suarez known, and according to Daily Mirror reporter John Cross—an Arsenal specialist—that admiration is a two-way street.
The apparent collapse of the Gunners' move for Real Madrid forward Gonzalo Higuain has seen them focus their attention on Suarez, even though their only bid for him fell well below Liverpool's valuation of the forward.
According to Cross, noises from the Suarez camp have encouraged Arsenal to firm up their interest in the Uruguayan, who has expressed his desire for Champions League football.
Arsenal believe that a bid of £40m would be enough to get Suarez, or at least ignite a row between him and Liverpool that would be tough to come back from.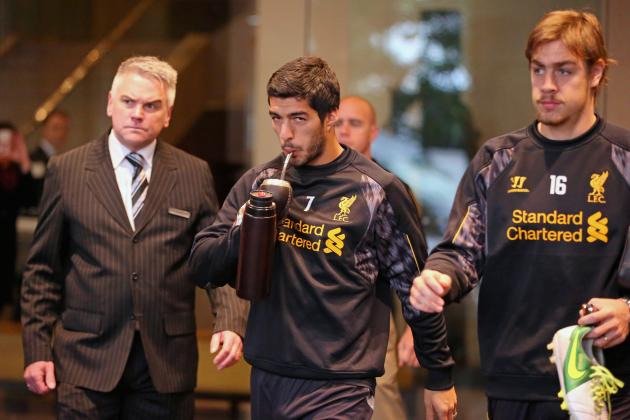 Scott Barbour/Getty Images

Liverpool beat an Indonesia XI 2-0 in Jakarta on the first match of their preseason tour on Saturday, and when they set off for the second leg of their journey their headline-grabbing forward was already waiting for them.
Suarez arrived in Australia before the rest of the squad touched down to play Melbourne Victory in front of 95,000 fans at the Melbourne Cricket Ground on Wednesday. Inevitably, the stories followed him.
As reported by the Daily Telegraph, Brendan Rodgers has confirmed that Suarez will play some part against the A-League side despite his almost complete lack of training since coming back from the Confederations Cup in the summer. He'll make his first Reds appearance since the bite on Chelsea's Branislav Ivanovic which ended his 2012-13 season.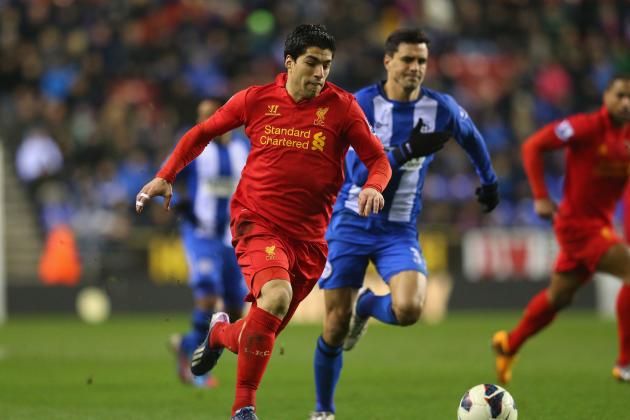 Alex Livesey/Getty Images

Rodgers remains strong-minded over the idea of a Suarez sale, but the Northern Irishman has admitted that the forward does have a price.
That price hasn't yet been met though, and so the Reds boss is adamant that his player will stay at the club according to this report in The Independent.
When asked whether he feels that Suarez will remain a Red, Rogers replied:
"Yeah, very much so.

"He's a player that obviously is talked about and there's been a been a lot of speculation over the course of the off-season.

"But the reality is that he's a player that's very much valued at Liverpool.

"Unless there's any sort of offer that comes in which is anywhere near his value then there's nothing to consider and we haven't had that.

"So at the moment, in this present moment in time, he's back in, he's reported as he should do for training at the right time.

"He's had a good rest and he's now looking forward to getting fit with the rest of his team."
Although admitting he has a value, Rodgers simply doesn't want to sell him, saying:
"I didn't say we would sell him. I said that every player has a value and a worth. Doesn't mean you've got to sell them."
The manager outlined that he will have a long conversation with the forward when the time is right, saying:
I haven't had it [the conversation] yet. We only arrived late last night.

"He was obviously here earlier coming from a different part of the world but as we've always been as a club and certainly as a manager and a coach I'm quite relaxed about it.

"Luis was out here as expected. He's an integral part of our squad. We'll chat at some stage like I do with all the players.

"He'll join training today with all the other players and over the course of these next few weeks we'll all communicate but him and I have been in regular communications throughout the summer."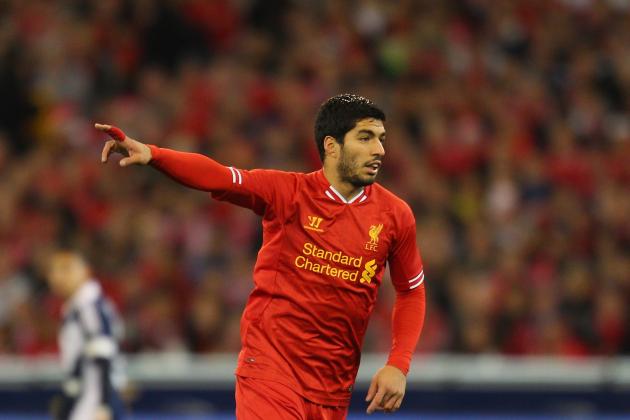 Scott Barbour/Getty Images

In arguably the biggest development in the whole Suarez saga thus far, a unique bid of £40,000,001 might just have put Arsenal in the box seat to land their man.
As reported by The Guardian, the Gunners believe their their odd offer is enough to activate a release clause in the Uruguayan's contract, which Arsenal think means that any offer over £40m for the forward has to be accepted by Liverpool.
The Reds think differently though, and were about to dramatically demonstrate so...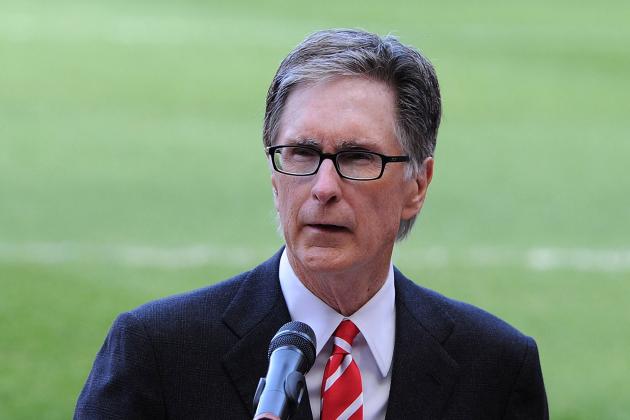 Handout/Getty Images

The £40m plus £1 deal was instantly rejected by Liverpool, suggesting that the club feel as though the clause in Suarez's contract doesn't stipulate that they have to accept.
Reds owner John W Henry was seemingly less than impressed with the Gunners' tactics, and he took to Twitter to reveal his surprise at the bid in an amusing fashion.
@John_W_Henry tweeted:
What do you think they're smoking over there at Emirates?

— John W. Henry (@John_W_Henry) July 24, 2013
The tweet received a mixed reaction, with most taking it in good humour and as a sign that Liverpool are upset with the actions of Arsenal in this frequently messy saga so far.
The Reds believe that the Suarez clause merely means that they have to inform the player of a bid, not accept it, but the Gunners' move could well have been designed to drive a wedge between the forward and his club.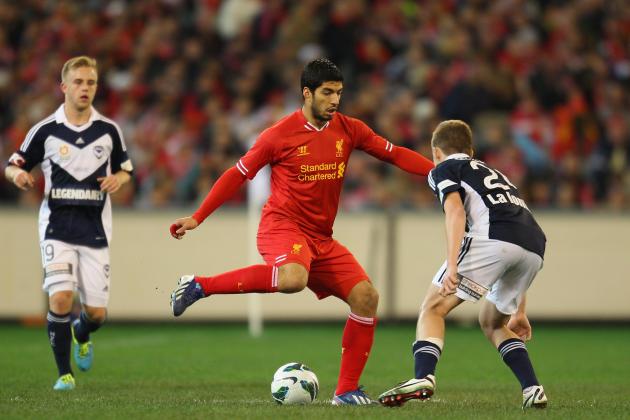 Scott Barbour/Getty Images

Amidst all of the claim and counter-claim, it has almost been forgotten that Suarez is still a Liverpool player.
The Uruguayan made his first return to the pitch since biting Chelsea's Branislav Ivanovic in Liverpool's friendly against Melbourne Victory at a sold-out Melbourne Cricket Ground.
Playing the last 20 minutes, Suarez's body language was less than impressive but a lot of that can be put down to this being his first match back after a summer break, and he didn't let that put him off a trademark twist and turn which set up Iago Aspas to score Liverpool's second goal in the 2-0 win.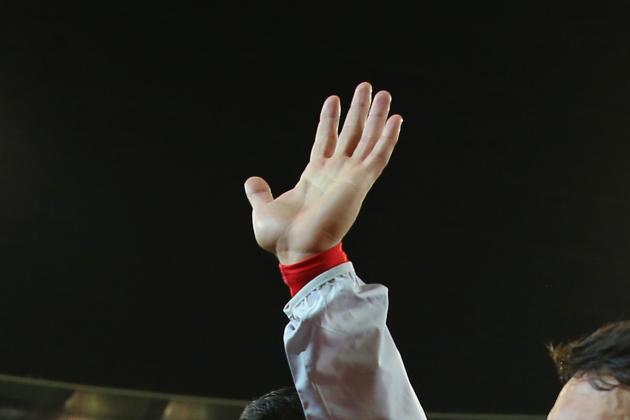 Scott Barbour/Getty Images

As per the now widely-discussed clause in Suarez's contract, the forward can be made aware of transfers and can talk to interested clubs, but Liverpool aren't obliged to accept a bid.
That is made clear in this report from the BBC, who claim that Suarez will hold talks with Arsenal but that the Reds have no intention of accepting the bid currently on the table from the Gunners.
Arsenal must hope that once they've sat down with Suarez they can convince him to move to the Emirates Stadium, and so the Uruguayan would then make life very difficult for Liverpool should they attempt to keep him at the club, hence the £40,000,001 bid in the first place.
The Anfield club seem determined not to budge from their valuation of Suarez as a £50m+ player though, and so the saga looks like rumbling on.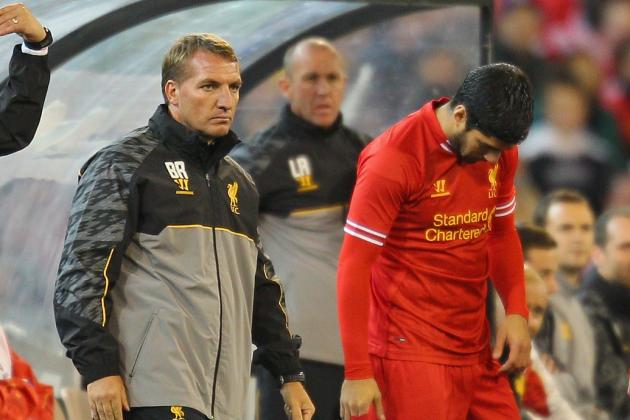 Scott Barbour/Getty Images

Perhaps sensing that his chances of keeping Suarez are slipping away, Liverpool boss Brendan Rodgers has urged the forward to stay loyal to a club who have stood behind him and backed him on a couple of high-profile occasions before.
Quoted in The Guardian, Rodgers said:
"The only talks there have been are between Luis and myself. There's no doubt the market nowadays is very small so Luis will always be linked with top clubs but I think the support he's received from the supporters and the people of the city of Liverpool has been unrivalled.

"In the period of time he's missed a lot of games for various reasons and the people have stood by him like a son and really looked after him. So I'm sure that, whatever happens in the coming weeks, that will be on his mind because it's certainly something you can never forget."
Rodgers, Liverpool and those fans can only hope that those memories convince the forward that Anfield is the best place for him.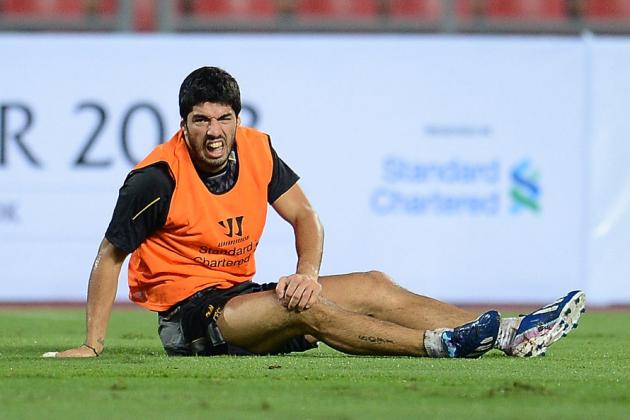 Thananuwat Srirasant/Getty Images

They've gone up again...
Despite Liverpool's insistence that Suarez will only be sold for a bid in excess of of £50m, Arsenal still seem to believe that a deal can be done for less.
According to the Daily Mirror, the Gunners upped their most recent bid to £42.5m and want a deal to be done inside a week.
If anything this only appears to be wasting everyone's time, and although there has been no reaction to the supposed bid from either party you'd suspect that it would be rejected along with the others.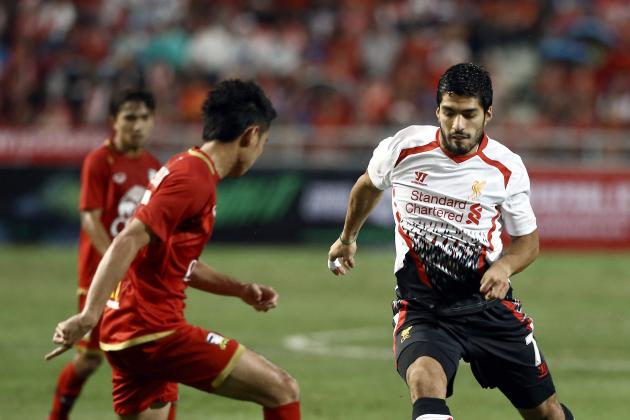 Stanley Chou/Getty Images

The third and final match on Liverpool's pre-season tour of south-east Asia and Australia provided Suarez with a second chance to see just how popular the club is overseas.
The Uruguayan appeared for the final half an hour of the match against Thailand in Bangkok, after goals from Philippe Coutinho, Iago Aspas and Steven Gerrard had sent the Reds on the way to a 3-0 win.
Suarez sent a header against the crossbar from a Gerrard free-kick in the closing stages, and whilst a goal would have at least been a welcome respite from the usual headlines, he'll now head back to Liverpool and into yet more transfer stories.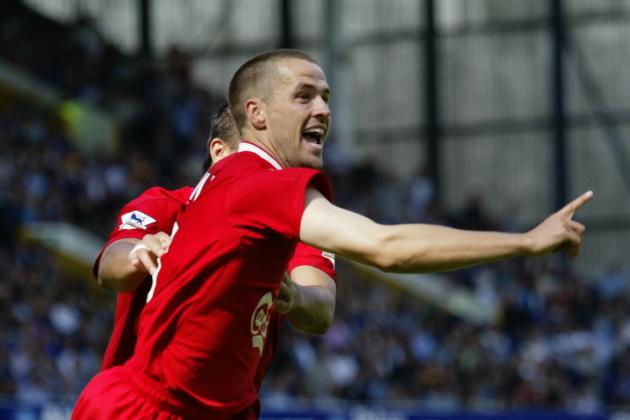 Clive Brunskill/Getty Images

Joining the queue of football people ready to have their say on Suarez was Michael Owen, the former Liverpool forward who claimed that he'd be "surprised" if one of his predecessors chose to move to Arsenal.
Owen, who made a move from the Reds to Real Madrid nine years ago, claims that a move to Spain would make more sense for Suarez.
He told the BBC:
"Arsenal are a fabulous club and have got a great heritage, but Liverpool are as big - if not bigger.

"I'd be very surprised if he were to move to Arsenal. Madrid or Barcelona would make more sense."

"I'm struggling to understand why he would leave and stay in England with Liverpool being the stature they are."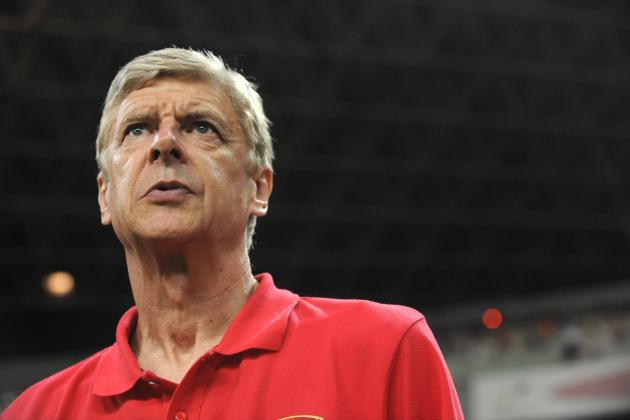 Masashi Hara/Getty Images

All summer Arsenal have sought to adopt aggressive tactics in finally securing some big money targets which their fans would welcome.
But after losing out on Gonzalo Higuain and becoming frustrated in their pursuit of Suarez, there was a change of tack from Arsene Wenger when he was speaking on his club's pre-season tour.
Wenger, quoted on the Sky Sports website, said:
"We are ready to do quick deals but all the transfers do not depend only on us. But we are prepared to wait. It looks unlikely before the Emirates Cup.

"We still have a strong squad but we are there on the market to try to strengthen our team. With or without additions we can be title challengers next season."