Stock Up, Stock Down for Chicago Cubs' Top 10 Prospects for Week 16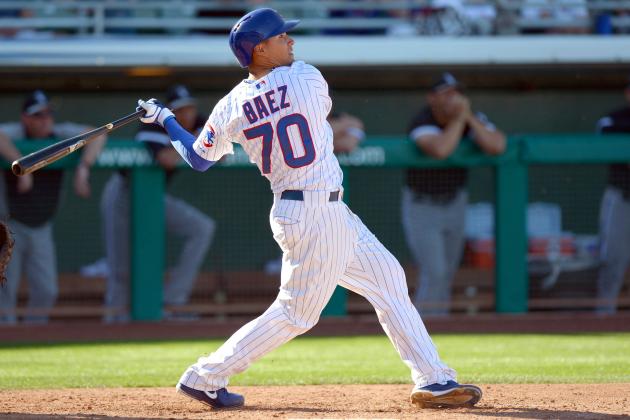 Jake Roth-USA TODAY Sports

With the MLB trade deadline a little over a week away, the Chicago Cubs are expected to be as active as anyone, with Matt Garza, Kevin Gregg, Alfonso Soriano and others potentially on the move.
What has already been a vastly improved farm system will no doubt be even better by the time the calendar turns over to August. Much of the top talent is still in the low minors, but last week did see Junior Lake make his big league debut.
For now, here is an updated look at how the team's top 10 prospects currently in action performed last week, and whether their stock is trending up or down.
Note: Top prospects according to Baseball America Prospect Handbook.
*No. 3 prospect RF Jorge Soler (fractured left shin) is currently sidelined and will not be included until he's active. He was hitting .281/.343/.467 with eight HR and 35 RBI at the time of the injury.
*No. 4 prospect SP Arodys Vizcaino (recovering from Tommy John surgery) is currently sidelined and will not be included until he's active.
*No. 5 prospect CF Brett Jackson (strained quad) is currently sidelined and will not be included until he's active. He was hitting .223/.300/.367 with six HR and 23 RBI at the time of the injury.
*No. 9 prospect RP Kyuji Fujikawa (Tommy John surgery) is sidelined for the remainder of the season.
Begin Slideshow

»
2013 Stats
.287/.356/.380, 20 2B, 4 3B, 2 HR, 37 RBI, 52 R, 20 SB
Overview
With Brett Jackson looking more and more like a bust and Junior Lake recently called up to the majors, Matt Szczur may be the next outfield prospect to reach Chicago.
The former two-sport star at Villanova was the classic raw athlete when the Cubs drafted him in the fifth round of the 2010 draft, but he has made strides as a baseball player since day one. He's on the 40-man roster, so a September call-up is a very real possibility.
Last Week's Stats
3-for-17, 1 2B, 2 R
Stock
Down
2013 Stats
18 GS, 9-3, 3.20 ERA, 39 BB, 107 K, 112.2 IP at Double-A
1 G, 0-0, 0.00 ERA, 0 BB, 2 K, 2 IP at Triple-A (Promoted on July 18)
Overview
After making 25 appearances out of the Chicago bullpen in 2012, Alberto Cabrera was sent to Double-A this season to work as a starter, and he has thrown the ball as well as any arm in the system so far this season.
He was promoted to Triple-A on July 18, and he could find himself in Chicago after the dust settles on the trade deadline. At the very least, he'll join the team when rosters expand in September, and he'll be auditioning for an Opening Day roster spot next year.
Last Week's Stats
1 G, 2 IP, 0 ER, 1 H, 0 BB, 2 K
Stock
Up
2013 Stats
.254/.307/.440, 24 2B, 2 3B, 12 HR, 48 RBI, 37 R
Overview
Christian Villanueva entered the 2012 season ranked as Baseball America's No. 100 prospect, and he was the big piece of the package the team acquired for right-hander Ryan Dempster at the deadline.
His 85/21 strikeout-to-walk ratio isn't great, and his power is still developing, but there is no doubt some potential is there, as he has 38 extra-base hits and his 24 doubles are good for second in the Southern League. However, he has his work cut out for him to not be passed by Kris Bryant on the depth chart.
Last Week's Stats
3-for-16, 1 2B, 1 RBI, 2 R
Stock
Down
2013 Stats
1 GS, 0-0, 0.00 ERA, 0 BB, 4 K, 3 IP at Rookie League
1 GS, 0-1, 7.71 ERA, 4 BB, 2 K, 2.1 IP at Low-A (Promoted July 17)
Overview
After dealing with lengthy visa issues and stopping off in Arizona to make an appearance in the Rookie League, Juan Paniagua finally made his full-season debut roughly a year after signing with the Cubs for $1.5 million.
He made four appearances for the team's Dominican Summer League team, allowing just four hits and no runs while striking out 13 in 12.1 innings of work, and then threw three scoreless innings in his lone AZL appearance. While his Kane County debut was a shaky one, it's just good to see the 23-year-old finally suiting up for the team and starting on his path toward the big leagues.
Last Week's Stats
1 GS, 2.1 IP, 3 R, 2 ER, 2 H, 4 BB, 2 K, L
Stock
Down
2013 Stats
.284/.358/.478, 26 2B, 2 3B, 13 HR, 46 RBI, 51 R, 22 SB
Overview
No Cubs prospect has improved his stock more this season than shortstop Arismendy Alcantara, and he now looks like a potential long-term piece of the puzzle, be it with a move to second base or elsewhere.
He represented the Cubs in the Futures Game and launched a solo home run into the second deck down the right field line in the fourth inning. His 26 doubles lead the Southern League, while his 13 home runs rank sixth and his 22 steals are good for seventh.
Last Week's Stats
6-for-17, 3 2B, 1 RBI, 4 R
Stock
Up
2013 Stats
.250/.338/.378, 27 2B, 6 HR, 37 RBI, 44 R
Overview
Still only 19 years old, Jeimer Candelario has dealt with some ups and downs in this his third pro season, but he has played much better of late and shown the offensive potential that made him a top prospect entering the year.
He has an advanced approach at the plate well beyond his years and experience level, and with a .270/.372/.459 line over his last 10 games, including six extra-base hits, he's playing some of his best baseball of the season right now.
Last Week's Stats
5-for-22, 2 2B, 1 HR, 5 RBI, 3 R
Stock
Even
2013 Stats
.292/.361/.456, 18 2B, 14 HR, 62 RBI, 42 R
Overview
With a 6' and 250-pound frame, it's no surprise that Dan Vogelbach has some of the best raw power in all of the minors. After posting a 1.051 OPS with 21 home runs and 17 doubles in 245 at-bats last season, he's continued to rake this year.
He raised his average a full 15 points last week with five multi-hit games, and when all is said and done, he should wind up with some of the best numbers in the system at the end of the year. The team has no reason to rush him with Anthony Rizzo entrenched at first base, but he could have a Matt Adams-type impact once he reaches Chicago.
Last Week's Stats
12-for-23, 1 2B, 4 RBI, 3 R
Stock
Up
2013 Stats
13 GS, 5-5, 3.10 ERA, 22 BB, 74 K, 69.2 IP at Low-A Kane County
4 GS, 2-1, 2.86 ERA, 8 BB, 18 K, 22 IP at High-A Daytona (Promoted on June 20)
Overview
Taken with the No. 43 overall pick in last year's draft, Pierce Johnson has moved quickly to this point, with the potential to be a solid middle-of-the-rotation arm and a high floor.
With a couple of postponed games the past two weeks, the Daytona rotation has been shuffled a bit and Johnson was skipped last week having already thrown 91.2 innings on the season. If he can close the year strong, he'll likely open 2014 in Double-A, with a potential big league debut in the second half.
Last Week's Stats
Did Not Pitch
Stock
Even
2013 Stats
.330/.373/.478, 13 2B, 4 3B, 3 HR, 21 RBI, 36 R
Overview
Sidelined by a broken hamate to open the season, Albert Almora didn't make his season debut until May 22, but he has managed to solidify his status as a top prospect nonetheless.
Ranked as the No. 16 prospect in the game in Baseball America's Midseason Top 50 list, Almora profiles as a jack-of-all-trades type who does a little bit of everything offensively, plays plus defense in center field and provides some leadership in the clubhouse. He should move quickly, despite being just 19 years old.
Last Week's Stats
8-for-25, 1 3B, 2 RBI, 4 R
Stock
Even
2013 Stats
.274/.338/.535, 19 2B, 4 3B, 17 HR, 57 RBI, 59 R, 12 SB at High-A
.216/.259/.490, 4 HR, 8 RBI, 6 R at Double-A (Promoted on July 6)
Overview
So far this season, 20-year-old Javier Baez has looked every bit the part of a top prospect, and with his recent promotion to Double-A, he could be in line for an everyday big league job by next season.
Ranked as the No. 10 prospect in baseball in Baseball America's Midseason Top 50 list, he possess some of the best bat speed in all of minor league baseball, and he has already translated that into impressive power numbers. A September call-up is not out of the question, and if not, a 2014 debut seems likely.
Last Week's Stats
4-for-17, 2 2B, 1 HR, 3 RBI, 3 R
Stock
Even