Stock Up, Stock Down for Philadelphia Phillies' Top 10 Prospects for Week 16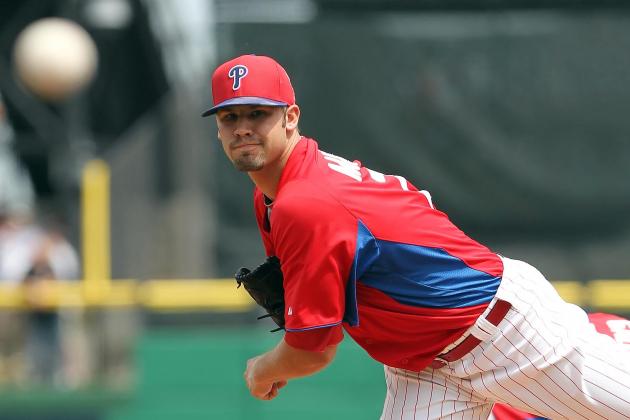 Kim Klement-USA TODAY Sports

Following June's First-Year Player Draft and the first half of a majority of minor league seasons, we now have an updated ranking of the Philadelphia Phillies' top 10 prospects.
The new ranking, according to Bob Brookover, Matt Gelb and Marc Narducci on Philly.com, sees both new names and some shuffling of previously highly ranked prospects.
Between Jonathan Pettibone losing his prospect status, Darin Ruf's first taste of Triple-A and the Phillies having a first-round draft choice for the first time since 2010, the updated rankings feature three new names.
Additionally, between injuries and outstanding seasons so far, some players' rankings have either increased or decreased since prior to the season.
Which players are now considered top 10 prospects? Which players have seen their ranking improve based on their first-half performances?
Let's take a look at whose stock is up, whose stock is down and who is new to the list following Week 16.
*All statistics courtesy of MiLB.com unless otherwise noted.
Begin Slideshow

»
Stats: 70 games, .305 BA, 11 HR, 39 RBI, 83 H, .380 OBP
Last Week: 9 hits in 26 at-bats, 2 2B, 1 HR, 3 RBI
Stock: Up
Kelly Dugan debuts as a top-10 prospect following a first-half performance that saw him jump from High-A ball to Double-A while showing more power than he previously had in his minor league career.
Dugan, a second-round draft choice in 2009, has had to deal with his share of injuries since entering the Phillies' farm system.
However, despite a few setbacks, Dugan edges out Carlos Tocci to become the Phillies' highest-ranked outfield prospect.
Dugan batted .308 with 10 home runs, 36 RBI and a .401 OBP in the Florida State League before being promoted to Double-A.
Since joining the Eastern League, Dugan is batting .255 with 14 hits in 14 at-bats. This season marks the first time he has played in High-A ball and Double-A.
A left-handed batter, Dugan hit his first home run in Double-A this past week and now has just one fewer than his total of 12 from all of last season. Staying healthy will be crucial, however, especially after he missed most of April earlier this season.
But after batting .300 in the South Atlantic League last season and reaching Double-A this season, the 23-year-old still has a chance to reach the major leagues.
Stats: 17 games, .391 BA, 4 RBI, 25 H, 4 SB, .451 OBP
Last Week: 8 hits in 21 at-bats, 1 2B, 1 3B, 3 RBI
Stock: Up
Prior to the draft, Crawford was considered a high school prospect who had a strong chance of sticking at shortstop throughout his minor league progression.
Offensively, Crawford is off to an outstanding start in the Gulf Coast League. He currently has the highest batting average in the league and also ranks among the leaders in OBP.
At 18 years old, Crawford's fast start is a great sign, but he likely will not reach any higher than the New York-Penn League if he is promoted this season.
However, a strong offseason and training camp next season could potentially see him begin next year in the South Atlantic League at 19 years old.
Although his power still needs to develop, Crawford's early results should give the Phillies plenty of reason for optimism towards Jimmy Rollins' possible successor, and his development could cause Roman Quinn to eventually move to the outfield.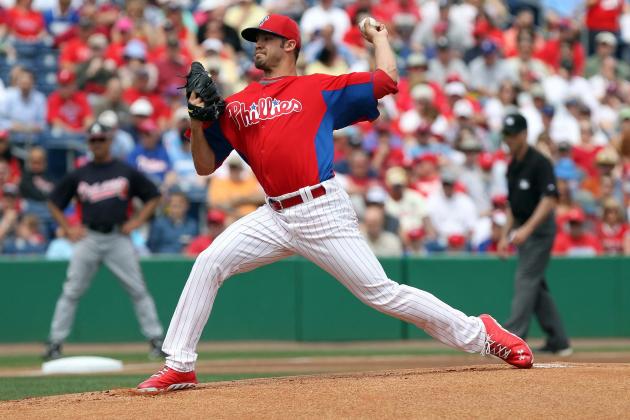 Kim Klement-USA TODAY Sports

Stats: 10 GS, 48.2 IP, 12 BB, 37 K, 4.62 ERA
Last Week: 1 GS, 4 IP, 0 BB, 5 K, 0 ER
Stock: Up
Adam Morgan's return from a rotator cuff tear took another step this past week, as the left-hander made his second start in the Gulf Coast League.
Morgan's start lasted one more inning than his one from the previous week, and his five strikeouts to no walks, and no earned runs given up, were great signs.
In seven innings during his rehab stint, Morgan has eight strikeouts and has not walked a batter.
If he can continue to rehab at this rate and return to Triple-A within the next few weeks, Morgan should make enough starts to keep himself in consideration for a major league rotation spot at some point next season.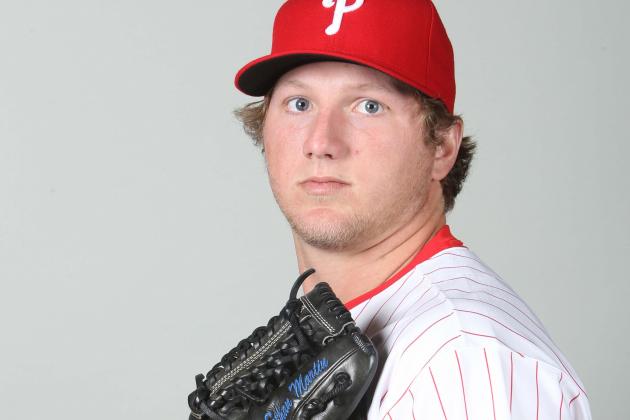 Kim Klement-USA TODAY Sports

Stats: 19 GS, 103.2 IP, 61 BB, 93 K, 4.60 ERA
Last Week: 1 GS, 6 IP, 3 BB, 6 K, 1 ER
Stock: Even
Ethan Martin took the loss in his lone start this past week, but gave up just one earned run despite seeing his walk total increase from the previous week.
After striking out eight batters last week, Martin struck out six this week while giving up just one earned run and walking three batters. Martin walked just one batter the previous week.
Martin's ERA in July now stands at 4.76, but he is on pace to walk his fewest number of batters in a month since May.
His high walk total is part of the reason why he was not promoted from the International League to fill a major league rotation spot this season, and it could be a reason why he remains there next season.
However, if he can show signs of improvement, there's a slight chance Martin could receive consideration as a September call-up to help out of the bullpen if the Phillies remain in contention and still need relief help.
Al Messerschmidt/Getty Images

Stats: 36 games, .179 BA, 3 HR, 16 RBI, 22 H, .229 OBP
Last Week: Did not play, injured
Stock: Even
Tommy Joseph is having more trouble staying on the field.
After batting .273 with three hits in three games at Double-A, Joseph suffered a shin contusion and landed back on the disabled list on July 14, according to Marc Narducci on Philly.com.
Joseph's season will make the Phillies' decision on Carlos Ruiz, as far as whether to entertain trade offers now or offer a contract extension in the offseason, very difficult.
In the meantime, Joseph must get back on the field and continue the progression that saw him reach Triple-A this season and put him on the cusp of the major leagues.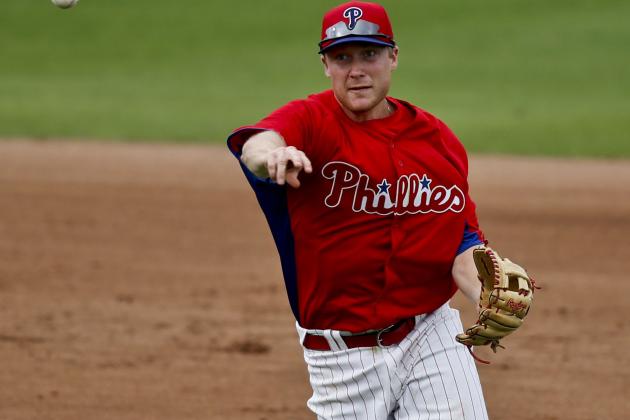 Derick Hingle-USA TODAY Sports

Stats: 96 games, .283 BA, 10 HR, 56 RBI, 105 H, .343 OBP
Last Week: 2 hits in 13 at-bats
Stock: Even
Cody Asche only appeared in three games this week while playing in the Triple-A All-Star Game.
Asche is now batting below .300 for the month of July, but had a solid .288 batting average prior to the All-Star break.
Despite having a lower batting average than last season, Asche is about to exceed his home run and walk totals from 2012. He will also, however, soon exceed his strikeout total from last season.
With a full week in the International League, Asche will have a chance to push his average back towards the .290 mark while nearing an opportunity to takeover third base in Philadelphia either later this season or next.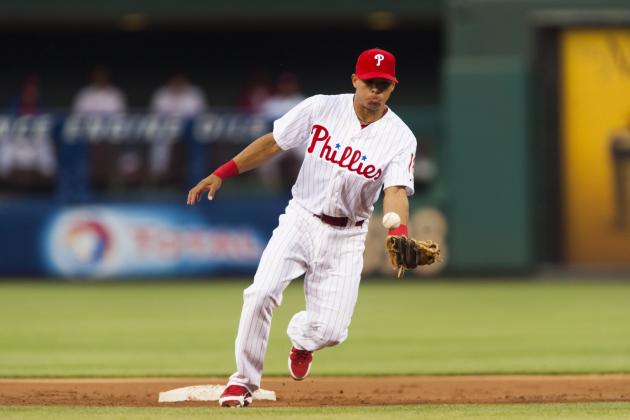 Howard Smith-USA TODAY Sports

Stats (MiLB): 87 games, .312 BA, 2 HR, 32 RBI, 105 H, 29 SB, .376 OBP
Last Week (Triple-A): 6 hits in 20 at-bats, 1 2B, 2 RBI
Stock: Down
Cesar Hernandez, the third new addition to the Phillies' top-10 prospect rankings as compared to the preseason list, saw his future with the Phillies take an interesting turn this past week.
Prior to Ben Revere's injury, Hernandez was being sent to Double-A to work on playing center field in order to give him more versatility.
With Revere injured and the Phillies currently carrying three catchers, a solid showing by Hernandez both offensively and defensively could put him in the running for another promotion if the Phillies can't find another outfielder.
Hernandez would have joined Cody Asche at the Triple-A All-Star Game if he had not been sent to Double-A to work on playing center field.
The switch-hitter has already received one promotion this season, and is batting .328 in July at Triple-A. He also batted .306 prior to the All-Star break.
Hernandez is batting above .300 against both right- and left-handed pitchers and has already drawn more walks than he did all of last season.
He also ranks among the best in the International League in average, stolen bases and hits.
If he can keep this up, Hernandez could have a spot with the Phillies either this season or next and provide the team with multiple defensive options.
Stats: 67 games, .238 BA, 5 HR, 21 RBI, 62 H, 32 SB, .323 OBP
Last Week: Did not play, injured
Stock: Even
Roman Quinn has not played since June 24 due to a wrist injury, but he maintains a high ranking in one of the first looks at the Phillies updated prospect rankings.
Quinn's batting average dipped after he batted .304 in May, but he ranked among the South Atlantic League leaders in stolen bases prior to his injury.
If he can improve his average upon his return and finish the season strong, Quinn should stay on track with his progression.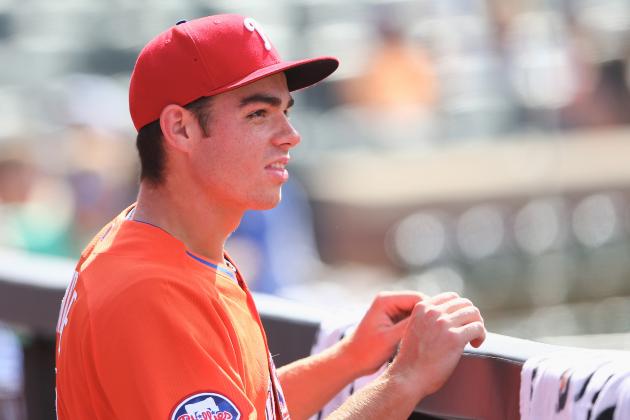 Elsa/Getty Images

Stats: 19 GS, 104.1 IP, 51 BB, 114 K, 3.19 ERA
Last Week: 1 GS, 7 IP, 2 BB, 7 K, 1 ER
Stock: Up
The winning pitcher in the XM Sirius All-Star Futures Game, Jesse Biddle actually drops to No. 2 among Phillies prospects according to the updated rankings.
Despite the drop, Biddle still won his first game since May this past week by striking out seven in seven innings and maintaining his Eastern League strikeout lead over former Phillies prospect Trevor May.
Biddle walked two and gave up just one earned run in the start, and is now holding batters to an outstanding .197 batting average.
The left-hander now has as many strikeouts this month as he did in all of June, and has walked just six batters.
If he can continue to perform like he did this past week with more consistency, Biddle should remain in line for a promotion to Triple-A next season, putting him one step away from the major leagues.
Stats: 91 games, .320 BA, 21 HR, 70 RBI, 119 H, .360 OBP
Last Week: 9 hits in 29 at-bats, 1 2B, 3 RBI
Stock: Even
Following an outstanding first half to the season, Maikel Franco takes over the top ranking among Phillies prospects in these updated rankings.
Franco's batting average actually dipped this past week, but he is still batting .370 since being promoted to Double-A, and .395 against right-handed pitchers.
Although he has not hit a home run in his past few games, Franco did have two multi-hit games this past week. He is also batting .323 with runners in scoring position in Double-A.
Franco still has some areas to work on, as he has drawn just two walks in 108 at-bats in Double-A and already has more strikeouts than he had all of last season.
However, if he can keep this up, either he or Cody Asche could switch positions, with both playing in the major leagues as early as next season.