Biggest Factors Keeping Tottenham from Winning the Premier League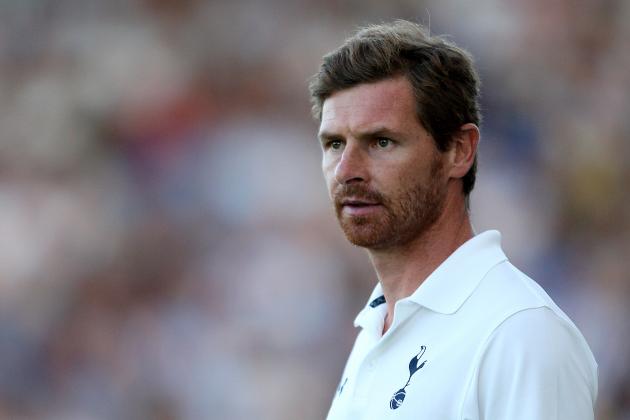 Stephen Pond/Getty Images

Tottenham has been on a steady rise these past few seasons, but there a number of factors still keeping the London side from winning a Premier League title.
The competition they face, both domestically and in Europe, as well as a lack of Premier League title-winning experience are just two of those factors. Though Spurs have generally been in the race for fourth place in the last few seasons, they've shown what they're truly capable of at various periods during that time.
Spurs have made two signings so far this summer, bringing in Brazilian star Paulinho and another Belgian in the form of Nacer Chadli.
Those additions will certainly improve Tottenham's prospects, but there is still more for the London side to overcome.
Here are the biggest factors keeping Tottenham from winning the Premier League.
Begin Slideshow

»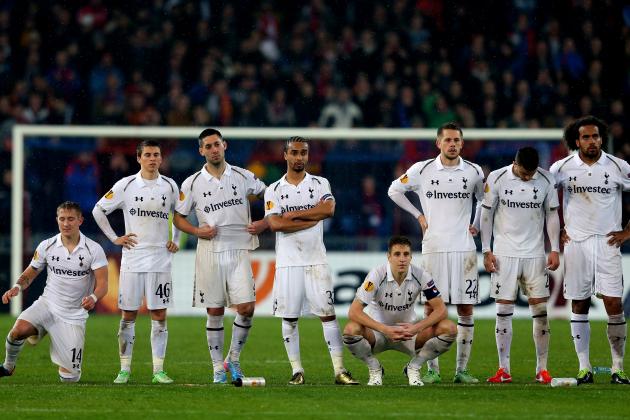 Julian Finney/Getty Images

Any top team should be able to navigate the various cup competitions they enter and submit a title challenge. Interestingly enough, though, the last time there was a domestic double with a Premier League title, was when Chelsea won the FA Cup and Premier League in the 2009/10 season.
That shows the difficulty Tottenham faces.
If they have ambitious goals where the cups are concerned, and a club like Tottenham should, then any title challenge will be affected.
Tottenham participated in the Europa League last season, making it all the way to the quarterfinal before bowing out on penalties against Swiss side Basel. They only managed to make it to the fourth round in both the Carling Cup and the FA Cup.
Just as it was last year, when they traveled to Italy, Slovenia, Greece, France and Switzerland, the Europa League will place them all over Europe. That, and a schedule that isn't as friendly to top leagues as the Champions League, will make things difficult.
The FA Cup and Carling Cup present familiar but challenging situations themselves, and Spurs will usually expect to advance further than the fourth round in these competitions. They may help their title chances by using younger or fringe players in these competitions, but that won't please the fans unless a title is won.
Richard Heathcote/Getty Images

Despite managerial changes, and possibly incomplete squads in the case of two entrants, Manchester United, Manchester City and Chelsea are the realistic title challengers for next season. That's unlikely to change for the next few seasons.
You can be nice and add Arsenal and Liverpool to the mix as hopefuls, though Tottenham has a better chance than that duo when comparing squads.
That leaves Tottenham with five teams to contend with: two who can hamper a title challenge, and three who could well be in a race on their own. Last season, Tottenham had a record of four wins, two draws and two losses against these sides.
That's not too shabby, but the last two title winners, City and United, boasted better records—three wins more for City and one win more for United.
United, City and Chelsea may have an advantage psychologically or on the pitch, but they are not necessarily on top in the transfer market.
Spurs' captures of players like Hugo Lloris, Jan Vertonghen and Paulinho show they can get marquee players similar to these realistic contenders.
The fact that there are five teams capable of hindering Tottenham's challenge, or leaving them in the dust altogether, does not bode well. One also has to consider the smaller, dangerous teams like Swansea City and Everton that could play a part as well.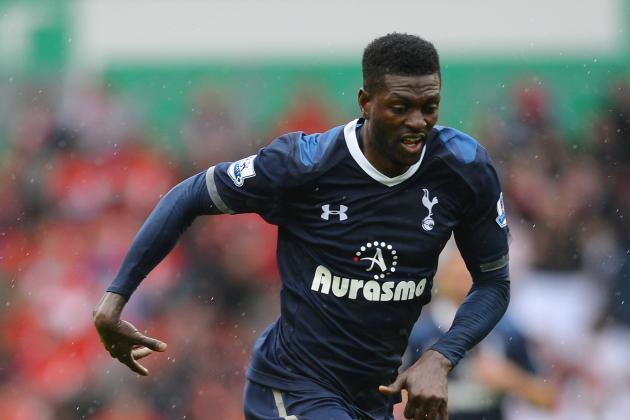 Laurence Griffiths/Getty Images

The aforementioned signing of Nacer Chadli will certainly help Tottenham's attack. The Belgian and fellow newcomer Paulinho, if he can add goals from midfield as expected, will help Gareth Bale, but Tottenham still needs a quality forward.
Emmanuel Adebayor and Jermain Defoe remain the only real options in that position for Tottenham, and they just won't cut it.
If one runs down the options their competitors have, then Tottenham is on par with fellow London clubs Chelsea and Arsenal in terms of forward options. That's not a good thing.
Chelsea have a wayward Fernando Torres; Romelu Lukaku is capable but is still not a world-beater and Andre Schurrle can play the position but will need to adjust. Arsenal have, well, Olivier Giroud and one forward, Lukas Podolski, playing as a winger while Theo Walcott is still waiting on his application for that role to be accepted.
On the other hand, Manchester United has Robin Van Persie and numerous options, Manchester City has Sergio Aguero, Edin Dzeko, Stevan Jovetic and Alvaro Negredo, while even Liverpool has Luis Suarez and Daniel Sturridge.
Whether one of Tottenham's current duo leaves and is replaced, or the pair are joined by a quality forward, they may have to rely on Bale again. That won't carry them to a title.
Roberto Soldado may be the one to solve that problem, with the Guardian's Sid Lowe reporting that Tottenham are close to a deal.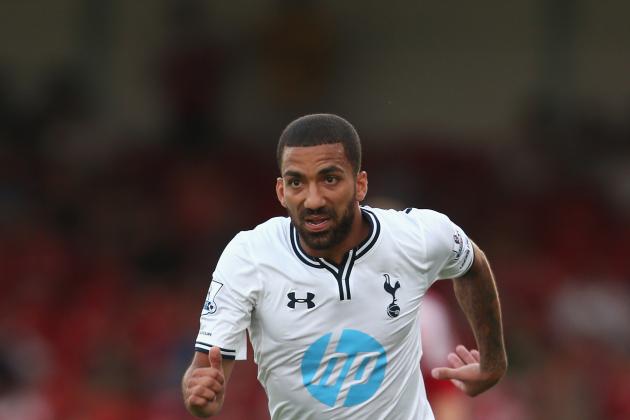 Mark Thompson/Getty Images

Consistency has been part of the problem for Tottenham these past few seasons, both for key players and the team as a whole.
Spurs' best stretch of play, and results, came between December 16, 2012 and March 3, 2013. They dropped eight points from a possible 36 but didn't lose at all during that period.
They went through an extremely bad patch of results before that and lost two consecutive games immediately after that period.
Injuries and form etc. play a part, but, again, comparisons with previous title winners showcase a consistency throughout the season. Though one could certainly argue about Manchester City's credentials in that respect.
Players like Aaron Lennon, Clint Dempsey, Gylfi Sigurdsson, Jermain Defoe and Emmanuel Adebayor will have to play at a productive level throughout the campaign. Especially if no others signings are made.
Andre Villas-Boas will have to get all the decisions right in terms of rotation to keep players on form, but if the motivation of a title is not enough to get dependable performances week in and week out, then that mission is futile.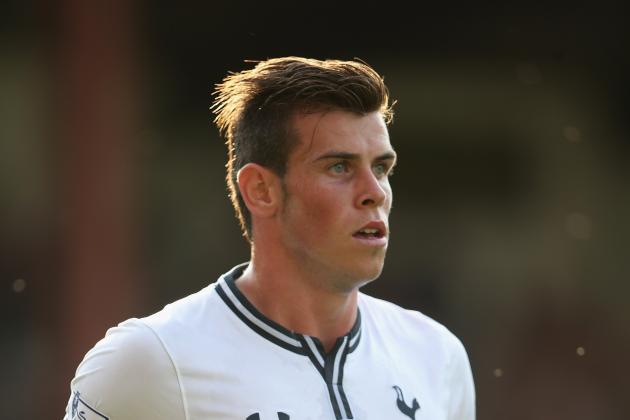 Mark Thompson/Getty Images

Unlike the other major contenders, and Arsenal, Tottenham boast no players with the experience of winning the Premier League. In Arsenal's case, that experience lies solely with a manager who is now being constantly questioned by a good number of his fans.
Scott Parker was at Chelsea during their 2004/05 triumph but was nothing more than a backup player. While some players in the squad have won league titles in other countries (Mousa Dembele, Jan Vertonghen, Paulinho and Gomes fall into that category), that experience only helps so much in the frenetic Premier League.
Andre Villas-Boas brings his treble from Porto to the fold, but, again, the leagues cannot be compared. The ability and know-how to navigate tough stretches in the league, as well as other obligations, lies only with a few within the top sides.
Tottenham may be an exciting team, with a blend of pace, power, creativity and energy, but that alone won't get them to a title.
Manchester may have been in a similar situation, but the likes of Kolo Toure, Yaya Toure, Vincent Kompany, Nigel De Jong, Carlos Tevez, Edin Dzeko, Owen Hargeaves and even Mario Balotelli had all won elsewhere before. Tottenham's list pales in comparison.
For comparison, one could also point to Borussia Dortmund's recent history, but that would be flawed as well. There is still less competition for a title in the Bundesliga, and it could be argued that Dortmund have woken the sleeping giant that is Bayern Munich as a result of their triumphs.
There is no doubting that teams without experience can win trophies, but it is much harder. In Tottenham's case, the experienced competition around them makes it extremely difficult.