The United States rolled to a 5-1 win over El Salvador in the 2013 Gold Cup quarterfinals Sunday afternoon in Baltimore. It was a nice victory for the Americans, and Jurgen Klinsmann will have plenty of positives to take from this match after Team USA's ninth consecutive victory.
The United States were able to get on the board in the 21st minute after what was a great piece of strategy. The Americans executed a short corner, which allowed Landon Donovan to get free along the flank. He was bearing down on goal but then hit a great ball back to Clarence Goodson, who did well to hit it with his first touch and put the ball into net.
It was one of the rare occasions where you see a pre-planned play actually work on the pitch, noted Sports Illustrated's Brian Straus.
Rarely do you see a goal that clearly was drawn up on a whiteboard, or dirt during training, beforehand. That was pretty cool.

— Brian Straus (@BrianStraus) July 21, 2013
Men in Blazers podcast co-host Roger Bennett had plenty of praise for Donovan.
Landon. He is Risen. How many American players could do that?

— roger bennett (@rogbennett) July 21, 2013
All of Team USA's progress was almost undone five minutes later.
Nick Rimando came up with a great double save in the 26th minute. First he made a great reaction save and got a foot to a shot from close range by Andres Flores. Then, Rimando quickly got into position and sprawled out to knock away a shot from Rodolfo Zelaya. It was a brilliant piece of keeping from Rimando.
The Shin Guardian wasn't sure the 34-year-old was of this world:
Nick Rimando OCTOPUS PLASTIC MAN!

— Matthew T (@shinguardian) July 21, 2013
Brian Sciaretta of The New York Times Goal Blog accurately points out that Rimando is just the third-best keeper on the U.S. squad:
And just think: Rimando is the 3rd keeper for the #USMNT

— Brian Sciaretta (@BrianSciaretta) July 21, 2013
Just three minutes later, the United States got on the board again, courtesy of Joe Corona. It was a great individual effort, as he was able to get a couple of defenders on the ground after receiving a pass from Chris Wondolowski. That gave Corona time and opened up space with which he could much more easily place his shot in the bottom left corner.
U.S. Soccer has a nice summary of the goal:
Corona scores for the #USMNT to double the lead! Great finish! Ball arrived at the top of the area, he sidestepped his man & slotted home!

— U.S. Soccer (@ussoccer) July 21, 2013
After going up 2-0, the United States were really in control of the match. They were the clear aggressors and probably should have added another goal or two. The failure to do so would come back to haunt them, as Zelaya earned a penalty in the 38th minute.
Zelaya was clearly running away from goal, but DaMarcus Beasley impeded his run and sent him to the turf. Although it was a pretty soft penalty call, it was a penalty nonetheless. Beasley didn't give the official much of a choice.
The North American Soccer Network's Trevor Hayward thought the foul was further proof that Beasley is not a left-back who inspires confidence:
Not sure I'll ever be comfortable with Beasley at LB, even if that was a soft penalty #USMNT

— Trevor Hayward (@HeyHayward) July 21, 2013
Zelaya stepped up and executed a brilliant Panenka, sending Rimando the wrong way.
EPL Talk's Kartik Krishnaiyer thought the penalty was reminiscent of Andrea Pirlo's at the 2012 European Championship:
Pirloesque

— Kartik Krishnaiyer (@kkfla737) July 21, 2013
The first half ended at 2-1. Zelaya's goal really changed the complexion of the first 45. Before that goal, the United States had El Salvador on the ropes and could have killed the game off with another goal. Instead, the Americans couldn't find the back of the net, and a lapse in concentration led to a needless penalty and subsequent goal.
Jeff Bradley wondered how the first half would have gone had Rimando not made so many key saves:
Talk about missed #USMNT chances but there's no telling what this game would look like had Rimando not made those 2 big saves.

— Jeff Bradley (@JerseyJBradley) July 21, 2013
In the early stages of the second half, El Salvador were the team on the ascent. Zelaya was getting runs on goal, and Goodson and Matt Besler were having to do more and more. It looked like the American back line was going to break at some point.
And then Eddie Johnson made things a little less stressful.
The 29-year-old came on as a substitute for Wondolowski in the 60th minute. Literally seconds later, Johnson got on the end of yet another short corner from Donovan to put the U.S. up 3-1.
Ives Galarcep of Soccer by Ives has the exact amount of time Johnson was on the pitch before he found the back of the net with his header.
According to a USMNT official, Eddie Johnson was on the field for 14 seconds before he scored that goal. Pretty quick results there.

— Ives Galarcep (@SoccerByIves) July 21, 2013
With the two-goal lead, the pressure was off for the Americans. They were able to grow much more comfortable again on the pitch. The Salvadorians looked to have lost a bit of their fight.
When Donovan scored in the 78th minute, you knew the match was over. It was a deserved goal for Donovan, who rounded the keeper and fired into an open goal. Johnson deserves credit as well for his header to flick the ball on.
Sciaretta has Donovan's goal and assist totals since he came back to the national team:
Check that. 5 goals, 7 assists in 5 games for Donovan in his return to the #usmnt. Numbers rising like the national debt counter

— Brian Sciaretta (@BrianSciaretta) July 21, 2013
Mix Diskerud headed in a fifth goal in the 84th minute.
All in all, it was a good win for Team USA and probably their best performance of the Gold Cup so far. There were some tense moments when they were up 2-1, but the Americans held strong and took their chances well in the second half.
Klinsmann deserves a lot of praise for the overall game plan, preparation and result, particularly the Johnson sub.
Key Player Grades
Landon Donovan: A+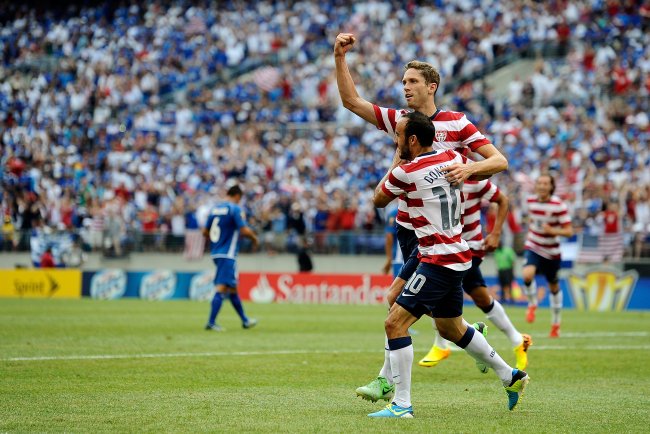 Patrick McDermott/Getty Images
Landon Donovan did just about everything. It was great that he was able to score, because he had done whatever he could short of getting a goal for most of the match. He found his teammates in attacking positions and provided some great service.
Donovan had a little bit to prove after taking his hiatus from the national team. Some veteran players might take umbrage with having to play in a minor tournament with what is largely a "B" side. Donovan, however, has been fantastic throughout the Gold Cup, and this just may have been his best performance.
Nick Rimando: A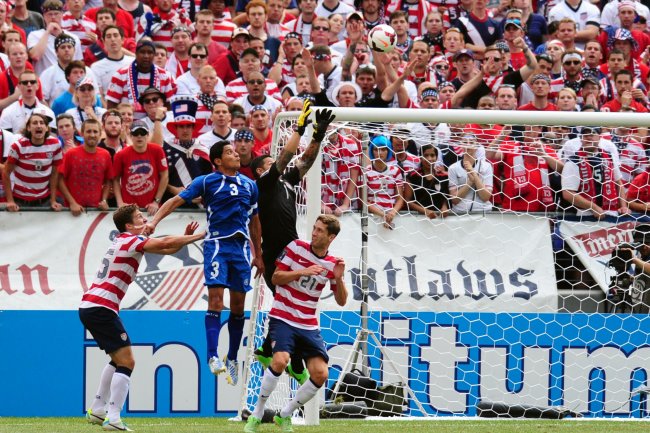 Evan Habeeb-USA TODAY Sports
Nick Rimando was massive when he needed to be. His double save in the middle of the first half changed the game. Had he not been there, who knows how this match would have unfolded.
It has to be reassuring for Jurgen Klinsmann to know that he has somebody like Rimando third on the depth chart. The United States have a great track record for producing goalkeepers, and Rimando is a prime example of why. He hasn't had a decorated national team career, yet he comes into the Gold Cup and pulls off world-class saves.
Rodolfo Zelaya: B+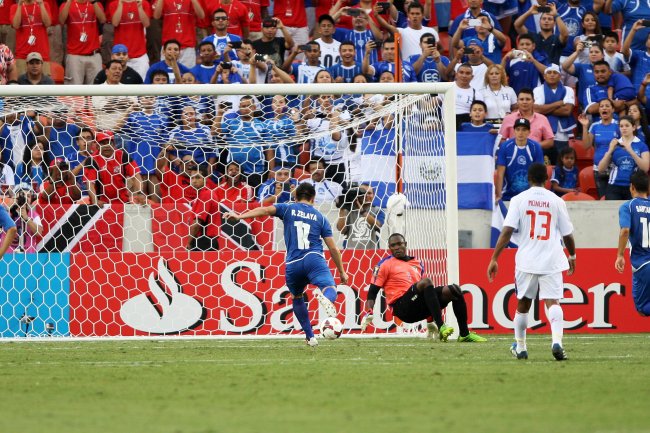 Troy Taormina-USA TODAY Sports
Rodolfo Zelaya was the best attacking threat for El Salvador. When he went off the pitch in the 73rd minute, the Salvadorians watched their best chance to get back into the match leave the game.
It was a nice piece of dribbling from Zelaya to earn the penalty in the first half. He was able to keep the play alive and let Beasley make the mistake that led to the foul. In the second half, Zelaya was also causing some major problems for the United States at the back.
Dagoberto Portillo: C

Despite surrendering five goals, you can't be too hard on Dagoberto Portillo. He made some nice saves, and this match would have been over much earlier had he not done so. Portillo was really let down by his defenders in the second half.
USA Grades
| | |
| --- | --- |
| Player | Grade |
| Nick Rimando | A |
| Michael Parkhurst | C+ |
| Clarence Goodson | B |
| Matt Besler (off '75) | B |
| DaMarcus Beasley | C+ |
| Kyle Beckerman | B |
| Mix Diskerud | B+ |
| Jose Torres (off '66) | C+ |
| Landon Donovan | A+ |
| Joe Corona | B+ |
| Chris Wondolowski (off '60) | B |
| Substitutes | |
| Eddie Johnson | B+ |
| Brek Shea | B- |
| Michael Orozco Fiscal | C |
El Salvador Grades
| | |
| --- | --- |
| Player | Grade |
| Dagoberto Portillo | B- |
| Xavier Garcia | C |
| Victor Turcios | C- |
| Mardo Henriquez | C- |
| Marcelo Posadas | C |
| Osael Romero (off '46) | D+ |
| Richard Menjivar | C+ |
| Darwin Ceren | C |
| Andres Flores | C |
| Lester Blanco (off '46) | D+ |
| Rodolfo Zelaya (off '73) | B+ |
| Substitutes | |
| Rafael Burgos | C- |
| Kevin Santamaria | C- |
| Gerson Mayen | C- |
What's Next
The United States will take on Honduras, who topped Costa Rica 1-0, in the semifinals on Wednesday in Dallas. If they continue playing this well, it's hard seeing Honduras stopping the United States as they push on to the final in Chicago.