Gold Cup Quarterfinals: Who Should the U.S. Start Against El Salvador?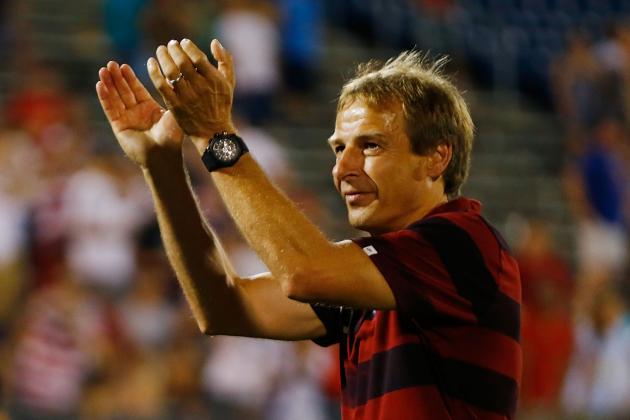 Jared Wickerham/Getty Images

The United States men's national team takes on El Salvador on Sunday afternoon in the Gold Cup quarterfinals.
Fielding a largely second-string roster, head coach Jurgen Klinsmann is using the tournament to evaluate U.S. players who may be able to push themselves onto the full national team just one year out from the 2014 World Cup in Brazil.
With that in mind, who should Klinsmann start?
Begin Slideshow

»
With Tim Howard and Brad Guzan having a stranglehold on the USMNT's goalkeeper position, Klinsmann needs to decide how to use the Gold Cup minutes in the net.
Should he give those minutes to the 34-year-old Rimando who would only feature for the full squad were they to suffer two disastrous injuries to Guzan and Howard at the same time? Or, would Klinsmann and the team benefit more from using those minutes to help train a new generation goalkeeper in Sean Johnson?
Johnson's remarkable save against Costa Rica helped lead to the game-winning goal and had he not made it, the U.S. would have likely lost the match, 1-0.
However, the U.S. wants to win the tournament and Rimando has vastly more experience.
With Johnson's chance to win the starting spot on hold until at least after the 2014 World Cup, Klinsmann faces a difficult choice.
With the U.S. through the group stage following their 1-0 victory over Costa Rica, Jurgen Klinsmann made four changes to the U.S. roster heading into the knockout rounds.
He added Matt Besler, Omar Gonzalez, Alan Gordon and Eddie Johnson while dropping Oguchi Onyewu, Herculez Gomez, Corey Ashe and Jack McInerney (Gonzalez will only join the team if they advance to the semifinals).
With Matt Besler widely expected to be given the start at center-back, all eyes are focused on who Klinsmann will partner with him.
Clarence Goodson gives the U.S. strength in the air and was surprisingly solid against Costa Rica after several shaky games with the full squad over the past year. He also appears to be Klinsmann's third-choice center-back after Besler and Gonzalez.
Orozco, after not featuring much for the full squad over the past year, has made a strong case for himself thus far in the Gold Cup. While often used at the club level, and for the U.S., at outside back, Orozco has been used in the middle and done well. He is certainly much more mobile than Goodson and Orozco has proved his own strength in the air, particularly on U.S. set pieces.
With the U.S.'s quality at center-back still a big question mark, it will be a big opportunity for whomever Klinsmann chooses.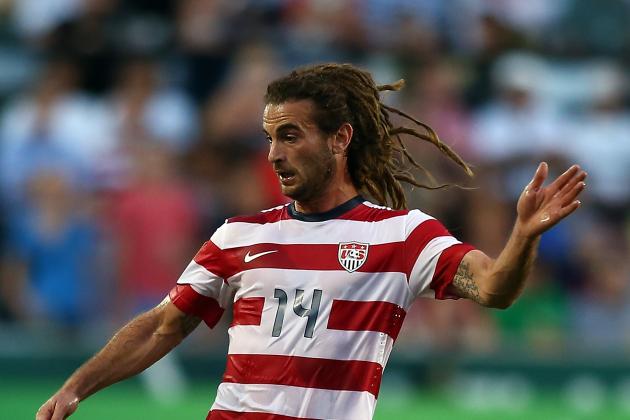 Jonathan Ferrey/Getty Images

It has been pretty obvious to most U.S. fans over his 16 caps earned in the Klinsmann era that Kyle Beckerman struggles at the international level. However, he is clearly a favorite of Klinsmann and, with no other natural holding midfielders on the roster, the U.S.'s only choice for natural No. 6.
So, should Klinsmann use him?
Against Costa Rica, Klinsmann went with the midfield that many fans had been calling for, starting Mix Diskerud and Stuart Holden together. The pair played well, but lacked the creative spark they had both displayed against Guatemala, Belize and Cuba earlier in the tournament.
Some of that was obviously because Costa Rica presented a side full of much more quality than those earlier sides, but some of it was because Holden and Diskerud were forced to drop further for the ball without a natural No. 6 behind them.
The U.S. clearly has better options than Beckerman in Michael Bradley, Jermaine Jones and Geoff Cameron when the full squad is assembled, but for the Gold Cup, the use of Beckerman would enable Holden and/or Diskerud to push further forward where the U.S. could utilize their playmaking skills.
With Jozy Altidore the U.S.' clear-cut first-team striker, a battle has ensued among his backups. Terrence Boyd and Juan Agudelo were somewhat inexplicably left off the Gold Cup roster and Jack McInerney apparently didn't impress Klinsmann enough in training to earn a single minute of playing time against Guatemala, Belize, Cuba or Costa Rica.
Herculez Gomez has been struggling with a knee injury since May and is now expected to miss another 4-8 weeks, according to ESPN (h/t Soccer by Ives).
That leaves Chris Wondolowski and Eddie Johnson among the favorites to start alongside Landon Donovan on Sunday.
Wondolowski was very impressive against Belize and Cuba, but struggled once faced with a better opponent in Costa Rica.
Eddie Johnson has been called into the squad, but when played at forward with the national team, he has struggled to make an impact. His best games with the U.S. against Antigua, Guatemala and Panama have come when he has played out of position on the wing.
So, should Klinsmann give Wondolowski another chance against a quality opponent to prove his worth, or play Johnson "out of position" as a forward knowing that Johnson likely won't play as a forward when the full team is assembled?
It's a difficult question without a good answer.
Follow me on Twitter @JohnDHalloran
Follow me on Facebook www.facebook.com/AmericanTouchline