British Open 2013 Results: Biggest Winners and Losers from Day 3 at Muirfield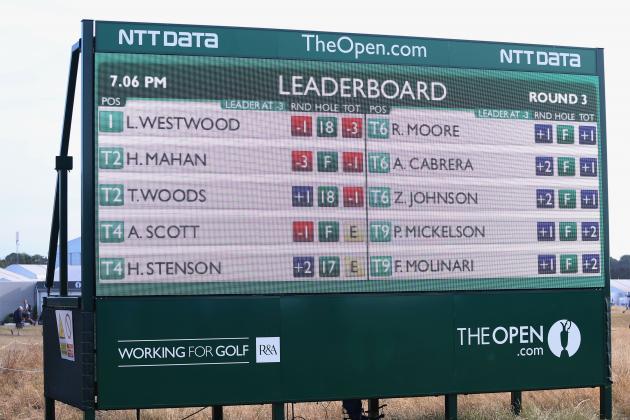 Andy Lyons/Getty Images

Like the two previous days of the 2013 British Open, Saturday was a struggle for the world's top players.
Englishman Lee Westwood survived the challenge, firing a one-under 70 to turn a one-shot deficit into a two-stroke lead heading into Sunday's final round at Muirfield.
Westwood's third-round effort was two better than playing partner Tiger Woods, who continues to show poise and patience in his effort to win a fourth Claret Jug and 15th career major title.
Things weren't quite so good for 36-hole leader Miguel Angel Jimenez, who shot a 77 and slid down the leaderboard.
Other contenders struggled, and several golfers, including Hunter Mahan, rose up the ranks with solid third-round efforts. In fact, Mahan's three-under 68 puts him in the final pairing Sunday alongside Westwood. Both are looking for their first career major title.
In the group behind them will be Woods and Adam Scott, both of whom are looking to add to their trophy total.
Overall, it was a classic third round at Muirfield. Here are the winners and losers heading into the much-anticipated closing act of the Open Championship on Sunday.
Begin Slideshow

»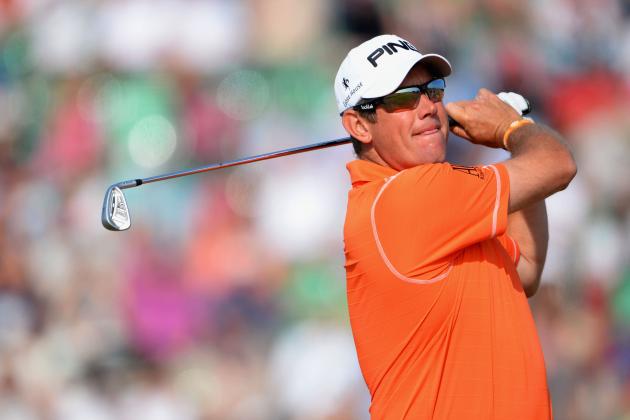 Stuart Franklin/Getty Images

Lee Westwood is 18 holes away from a career-defining accomplishment. He's also one strong showing shy of continuing the "Summer of Great Britain."
Playing alongside three-time Open champion Tiger Woods, Westwood fired an impressive one-under 70 to best the world's top-ranked player by two shots.
On Saturday, the Englishman was among the best of the contenders. He eagled the par-five fifth hole to take the lead for the first time and then enjoyed a three-shot lead after a birdie on the sixth hole. Woods would eventually catch Westwood at two-under when he bogeyed the par-three 16th.
A bogey-birdie exchange favoring Westwood on the par-five 17th, however, provided Westwood with the lead alone and a two-shot cushion heading into the final round.
Without a doubt, Sunday will be the biggest day of Westwood's career, set up by an outstanding effort Saturday on challenging Muirfield.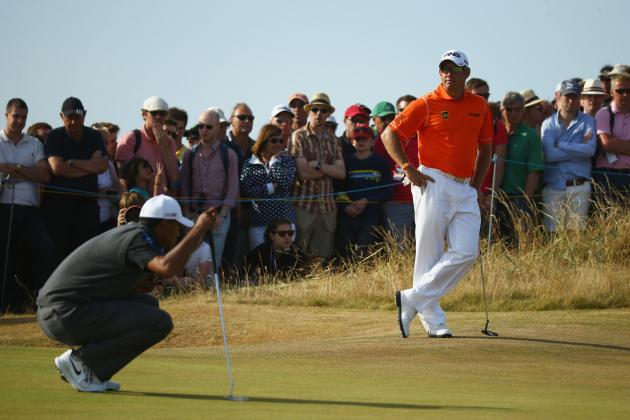 Matthew Lewis/Getty Images

Just as it did on Friday, Muirfield just keeps taking back anything it has given during the 2013 Open Championship.
When Saturday's third round ended, only three golfers were left under par as the lethal links layout continued to flex its muscles against the best players in the world.
After the first round on Thursday, there were 20 golfers under par. At the end of action Friday, that number was nine. Now just a trio—Tiger Woods, Lee Westwood and Hunter Mahan—find red numbers next to their names heading into Sunday's final round.
As a further testament to Muirfield's might, only 12 of the 84 players who teed it up Saturday managed to finish under par, highlighted by Hunter Mahan and Sergio Garcia, who got into contention with 68s.
Given the carnage of the first three rounds at the famed Scottish course, it's doubtful whether anyone will be left under par when the championship concludes tomorrow afternoon.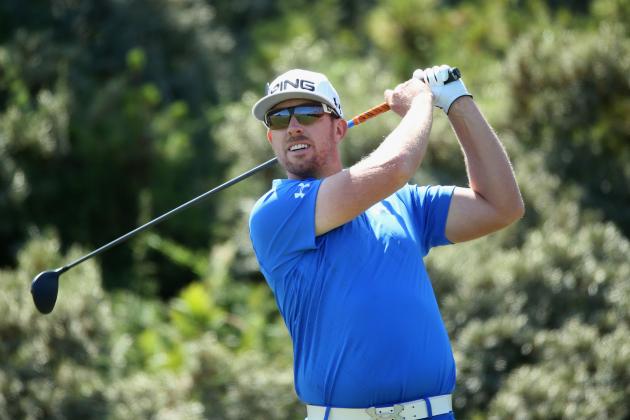 Andrew Redington/Getty Images

Hunter Mahan played perhaps the best round of the day, firing a three-under 68 to march up the leaderboard and grab a late start on Sunday for the second consecutive major championship.
Mahan, seeking his first career major title, birdied his first two holes of the third round and then added two more late in his day, even as Muirfield toughened against the contenders. At one-under for the championship he sits just two shots behind leader and final-round playing partner Lee Westwood.
Like many, Mahan gave a shot back on the par-three fourth but countered that with a birdie on the par-five ninth. After a birdie on the par-four 15th, Mahan rolled in a 20-footer from just off the green on the 17th.
The strong effort lifted Mahan up the leaderboard after starting the day five shots back at two-over. Hunter played in the final group at the U.S. Open but fell short of winning his first major.
After a strong Saturday at Muirfield, he'll have a second shot at a career triumph on Sunday.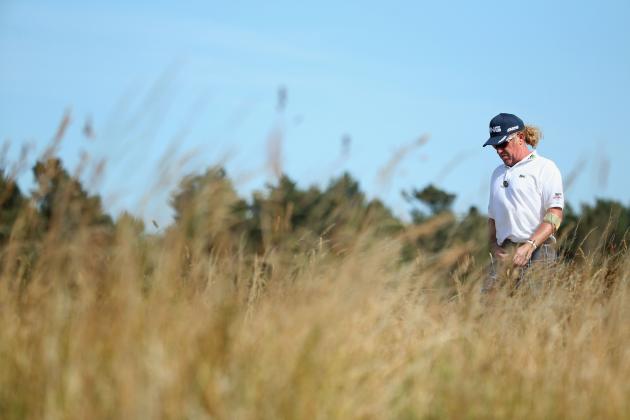 Andy Lyons/Getty Images

After spending Friday night as the toast of Muirfield, Miguel Angel Jimenez tumbled down the leaderboard on Saturday and is perhaps completely out of contention for a first major championship.
Jimenez began the day at three-under and leading the British Open by a stroke. By the time he signed off on the 18th hole Saturday, he was six shots behind leader Lee Westwood, and wondering who the driver of the truck was that hit him on Muirfield's front nine.
After a steady and relatively stress-free second round, Jimenez played the first eight holes Saturday in four-over par before finally getting his first birdie of the day on the par-five ninth.
While his play was suffering on the front, Jimenez was also placed on the clock for slow play, which didn't help his mental state midway through a difficult round of golf.
The 49-year-old failed to recover on the back nine, finishing the round with a 77.
In just 24 hours, the Spaniard's dream of a first-ever major made a significant left-hand turn.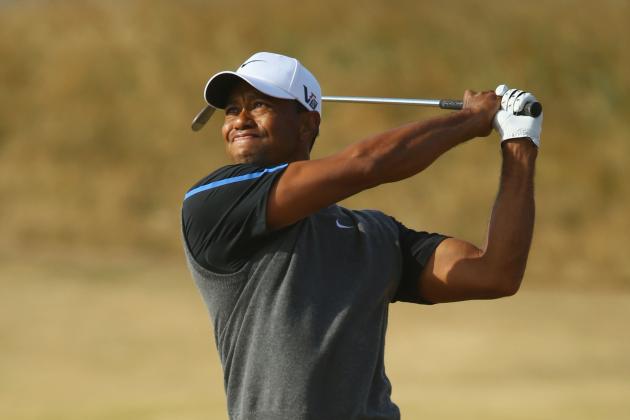 Matthew Lewis/Getty Images

For the second straight day, Tiger Woods proved just how powerful playing around par can be in the Open Championship.
Woods continued to be among the most steady and focused golfers at Muirfield, grinding to a one-over 72 Saturday as the majority of the contenders around him went much further south with their scores.
For his effort, Tiger enters the final round within two shots of leader Lee Westwood and with a strong opportunity to win a major championship for the first time since 2008.
Just as he did in the first two rounds of the British Open, Woods played conservative off the tee—hitting just one driver—and typically took what the course gave him throughout the third round.
His lone major mistake came on the 17th when he left his second shot in a cross bunker and ended up making bogey on the par five.
Considering how difficult Muirfield played Saturday, spectacular wasn't in the cards even for the world's best player.
Steady and patient worked just fine, however.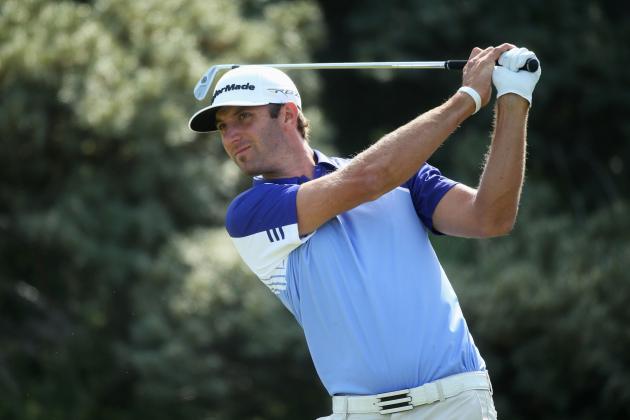 Andrew Redington/Getty Images

The 226-yard par-three fourth hole was an absolute beast on Saturday, and it claimed the scalps of quite a few players with championship intentions at Muirfield.
Dustin Johnson was a stroke off the lead when he took double bogey on the hole. Jordan Spieth also took double and wasn't heard from again after starting the day just six shots off the lead. Same goes for Charl Schwartzel.
Tiger Woods was leading at three-under par when he suffered bogey for the second straight day. Henrik Stenson needed to hole a 20-foot breaker to match that.
Overnight leader Miguel Angel Jimenez had to pull off a spectacular shot from the left bunker just to save par.
Indeed, the hole played over its par and was definitely the toughest at Muirfield on Saturday.
The hole offered a front-left pin placement that forced just about every player to favor the right side where a pair of bunkers and deep rough waited for wayward plays.
Those who managed the hole in par gained on the field. Many others, however, were not as fortunate.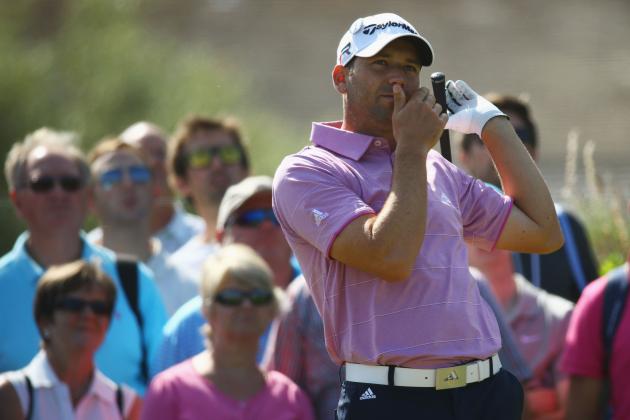 Matthew Lewis/Getty Images

The roller coaster ride that is Sergio Garcia took a ride upward on Saturday, just a day after the Spaniard nearly played himself out of the 2013 British Open.
After starting the day nine shots back at six-over par, Garcia fired a three-under 68 in the third round to get back into a measure of contention at three over for the championship. Garcia will begin Sunday six shots out of the lead.
Like his tournament, Sergio's Saturday at Muirfield was a wild ride. The Spaniard birdied six holes, including the closing 18th, but tempered that success with three bogeys. Those bogeys all came in a six-hole stretch in the middle of Garcia's round that also included three birdies.
Now that's Sergio in a nutshell.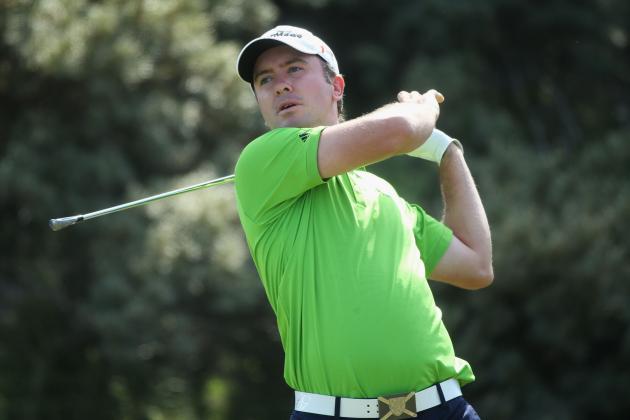 Andrew Redington/Getty Images

Heading to the par-four third hole, Martin Laird was at two under and within a stroke of the lead. By the time he putted in for a nine on the difficult hole, he had dropped 11 spots on the leaderboard and was six shots off the lead.
Laird hit his tee shot into the rough, and then his second shot went dead right and deeper into the high grass, drawing an unplayable lie.
After the drop, things only got worse as his approach came up short, eventually leading to other struggles and ultimately the gnarly nine.
It was a catastrophic hole Laird simply couldn't recover from. The Scot, who began the day two back at one under, went on to shoot an 81.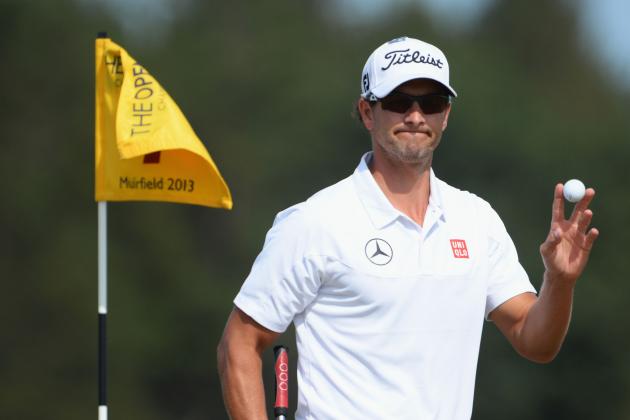 Stuart Franklin/Getty Images

Adam Scott was steady Saturday at Muirfield, and as a result, he is in serious contention to win his second major championship of the year.
Scott managed his way around the difficult links course beautifully, posting a relatively stress-free one-under 70.
The third-round effort left the 2013 Masters champion at even par and directly in the shadow of leader Lee Westwood heading into Sunday.
Scott bogeyed just two holes on the challenging Muirfield layout and countered with a trio of birdies, including one on the par-three 13th.
Things could have been even better for Scott had his birdie effort on the 18th stopped just a couple inches of the hole.
As it is, Scott's steady round has given him a chance on Sunday to make amends for his final-round collapse in last year's Open Championship. Given what he accomplished at Augusta National back in April, we're not betting against him.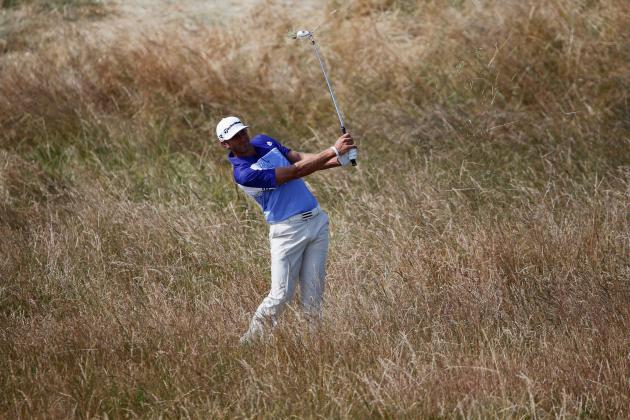 Rob Carr/Getty Images

Dustin Johnson keeps putting himself in contention at majors only to sabotage his chances of finally winning one with spectacular mistakes.
After beginning the third round of the British Open just a shot out of the lead, Johnson imploded with a front-nine 40 on Saturday, finishing the round at five-over 76.
The disappointing effort drops the American into a tie for 11th, six shots behind Englishman Lee Westwood heading into Sunday.
The front-nine troubles began with a double bogey on the par-three fourth and continued with three consecutive bogeys between the sixth and eighth holes.
A birdie on the ninth tempered the pain, but the damage was essentially done, and Johnson's hopes of winning a first career major are significantly damaged as a result.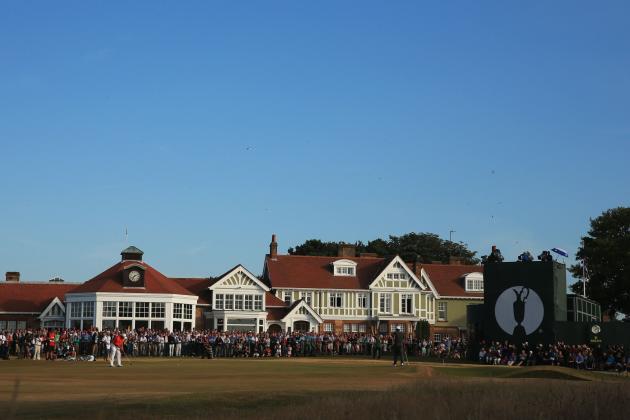 Matthew Lewis/Getty Images

Thank you, Saturday, for setting up one highly anticipated Sunday at the 2013 Open Championship.
Given how many players are left in contention and the quality of those golfers, Saturday's exciting third-round action has teed up a terrific final round with plenty of drama to expect.
Westwood is seeking his first major championship and the second straight by an Englishman. Tiger Woods is only two shots back and in the hunt for his first major title since 2008. He will be playing alongside defending Masters champion Adam Scott.
Don't forget about Hunter Mahan, who is playing in his second consecutive final pairing in a major championship.
In all, there are 17 players within six shots of the lead. If Muirfield has shown us anything this week, it's that no lead is safe and nothing should be ruled out.
Among the golfers within reach of Westwood's lead are the likes of Phil Mickelson, Zach Johnson, Angel Cabrera and even Sergio Garcia, who surged into contention with a third-round 68 on Saturday.
To be sure, the final round of the 2013 Open Championship will be one of the most anticipated in recent memory, and we have the action that unfolded on Saturday to thank for it.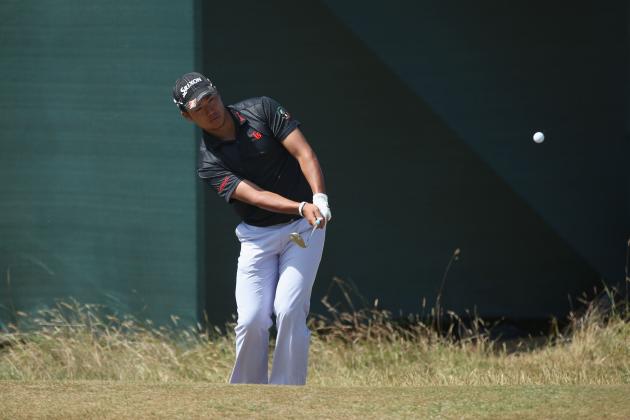 Andy Lyons/Getty Images

Midway through his round, Hideki Matsuyama was the rising story of Day 3 of the British Open. When he finally walked off the course, he was the face of slow play.
The young and talented Japanese golfer received a one-shot penalty late in his round Saturday for slow play, which turned an even-par effort into a far less exciting one-over 72.
The penalty, and some other late struggles at Muirfield, overshadowed Matsuyama's strong early performance that saw him get to three under on the day and even par for the tournament after a birdie on the par-four 11th.
Four bogeys coming in, including a six on the par-five 17th that would have been a five if not for the one-stroke penalty, stalled the Japanese golfer's progress and made it unlikely he will challenge for a first-career major on Sunday.
For young golfers, playing in major championships is a learning process, and Matsuyama certainly received a difficult lesson on Saturday at Muirfield.