5 Blockbuster Deals That the New York Yankees Should Be Proposing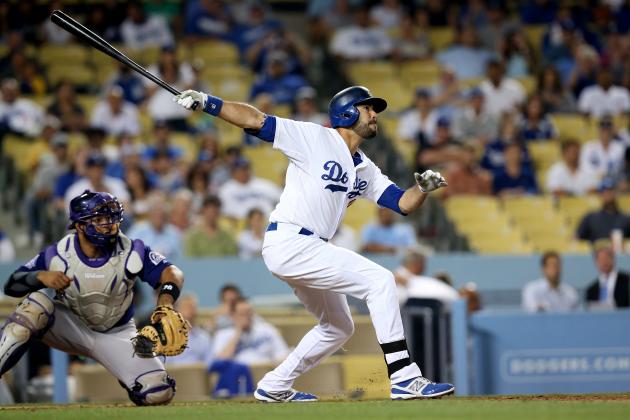 Stephen Dunn/Getty Images
Could Andre Ethier be on the move at the deadline?
New York Yankees general manager Brian Cashman has searched through the waiver wire and his own farm system to keep the team afloat despite a whirlwind of injuries.
Now that the July 31 trade deadline is less than two weeks away, Cashman will be calling a variety of teams to get a grasp on which players are available.
The Yankees, at 51-44, are six games out in the American League East and three games out of the American League Wild Card. But it would be a mistake to say they're in a bad position.
Reinforcements are coming.
Alex Rodriguez plans to rejoin the team on Monday, July 22, via USA Today, Derek Jeter is hoping to avoid another stint on the disabled list with a quad strain after playing in one game this season and Curtis Granderson is on the brink of rejoining the team as well.
Still, Cashman and the Yankees are in the market for a corner outfielder, a corner infielder and a catcher.
Currently 20th in the majors in runs scored, 24th in team batting average and 26th in slugging percentage, the Yankees desperately need offense. The only reason New York is seven games above .500 is because of the pitching.
Lacking trade chips, it will be difficult for Cashman to strike a deal this summer with very little availability in the trade market.
However, big names such as Lance Berkman, Kerry Wood and Ichiro Suzuki were added at the deadline in recent years, so here are some blockbuster moves Cashman should consider before July 31.
Statistics courtesy of FanGraphs and ESPN.
Begin Slideshow

»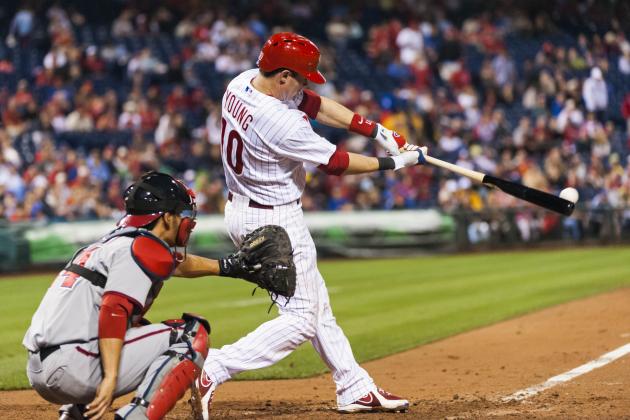 Howard Smith-USA TODAY Sports

Yankees Get: Michael Young
Phillies Get: Melky Mesa, Chase Whitley
Getting Michael Young gives the Yankees a versatile player who can play anywhere in the infield. In searching for help at the corners, Young would be the answer at both third and first base.
He provides serviceable offense with his 96 hits through 89 games this season. The 36-year-old is batting .288 with a .325 BABIP and .759 OPS.
A full no-trade clause could disrupt any possible trades with Philadelphia, but Young would be an immediate upgrade over the current infielders on the Yankees' roster. New York could use the offense of a career .301 hitter.
Young would balance a Yankees' lineup overloaded with lefties like Robinson Cano, Brett Gardner, Ichiro, Overbay and Travis Hafner with a steady bat from the right side.
Plus, most of Young's salary is being paid by the Texas Rangers, making him even more intriguing to Cashman.
The Phillies, after losing Ben Revere to a broken foot, are in need of a center fielder. While Melky Mesa is far from a sure thing, he's a step in the right direction for a team clinging to playoff hopes. Mesa's speed is what makes him valuable.
Due to the Yankees' strong outfield prospects, Mesa could be made expendable, even for a rental player like Young. Mesa has nine home runs and 22 RBI with a .700 OPS at Triple-A Scranton Wilkes-Barre this season.
Though the Phillies are more in the market for an MLB-ready bat, the 26-year-old Mesa is a quality option for the future.
Whitley, on the other hand, can bolster the Phillies' bullpen. As a reliever, the 6'3" Whitley has a 3.72 ERA in Triple-A this season, striking out 34 batters in 36.1 innings.
He has been on the brink of the majors for awhile and made an impact in spring training, but the Yankees have had a strong bullpen without the need for another arm.
This trade is in favor of the Yankees getting a proven player, but might also be worth it for the Phillies, who are frantically looking for bullpen and outfield help.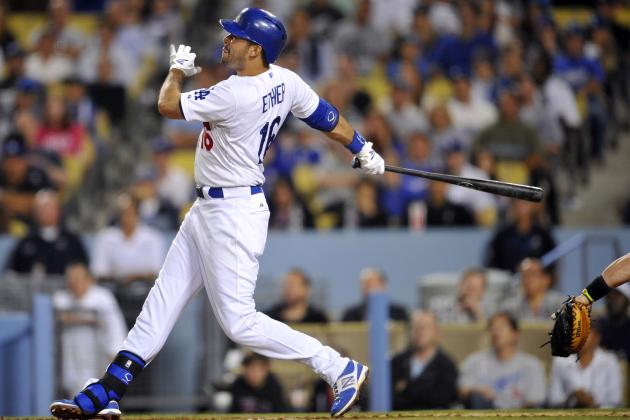 Gary A. Vasquez-USA TODAY Sports

Yankees Get: Andre Ethier
Dodgers Get: Joba Chamberlain, Dellin Betances, Dan Johnson
This trade would benefit both teams.
The Dodgers are in need of relief pitchers and Chamberlain would fill that void. Los Angeles' outfield is crowded with the emergence of Yasiel Puig, so Ethier will be expendable.
Though the Yankees would ideally like a right-handed outfield bat, Ethier is a power threat who could have a field day with the short porch in right field at Yankee Stadium. His numbers are down this year, but Ethier could benefit from a change of scenery.
Through the first half of the season, Ethier is hitting .268 with five home runs and 26 RBI. However, his batting average on balls in play is .306 while he possesses a 103 wRC+.
The Dodgers would likely have to send cash to New York to make this trade work. Jon Heyman of CBSSports.com said earlier this summer that up to half of Ethier's remaining $71.5 million contract over four years will have to be eaten.
If the Dodgers agree to eat Ethier's salary, Cashman should jump at the opportunity to acquire him.
Chamberlain had his best success with Don Mattingly on the Yankees' bench. A reunion could bolster the once-electrifying pitcher's fading career. His fastball is consistently in the mid-90s, but he has had trouble locating his pitches far too often.
If he can hit his spots with that same velocity, the Dodgers' bullpen would get an immediate boost.
Betances could also slide into the Los Angeles bullpen. As a reliever for the Yankees' Triple-A affiliate Scranton Wilkes-Barre. Betances has a 1.91 ERA with 48 strikeouts in 37.2 innings pitched.
The Yankees have been slowly developing Betances, but with their other young arms who are just about ready for the majors, Betances may not fit into Cashman's plans.
Johnson would provide the Dodgers with a backup option, and insurance, to Adrian Gonzalez at first base.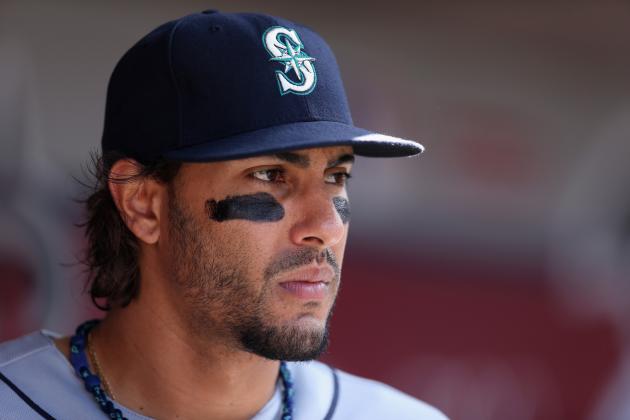 Jeff Gross/Getty Images

Yankees Get: Michael Morse
Mariners Get: Nik Turley, David Adams
Due to Michael Morse's subpar season in Seattle, the Mariners will take whatever they can get for him.
Double-A pitcher Nik Turley, plus David Adams, who played 35 games in the Yankees' infield, should be enough for Cashman to pry Morse from the M's.
Turley has a 7-5 record with the Trenton Thunder, striking out 96 batters over 89 innings.
Morse has been sidelined since June 20 with a strained quad. In 56 games, Morse clubbed 11 home runs and holds a 109 wRC+. Though he struggled for the majority of the season, his weighted on-base average (wOBA) is still a mediocre .332.
A healthy Morse will fit the Yankees' need for a right-handed power bat and he has the ability to play both first base and a corner outfield position. If manager Joe Girardi sees fit, Morse could also be the designated hitter.
He doesn't cost much, with just over $3 million coming his way the rest of the season, and is a perfect rental player for Cashman.
A line-drive power hitter who can spray the ball all over the park, Morse will thrive in Yankee Stadium. Cashman would hold onto his top prospects while providing offensive support and positional variety to the roster.
This trade would add depth behind 36-year-old Lyle Overbay and give Morse the chance to be in the lineup on a consistent basis.
This could be a steal for Cashman. If Morse is healthy, he could provide the Yankees with upwards of 10 home runs in the second half of the season.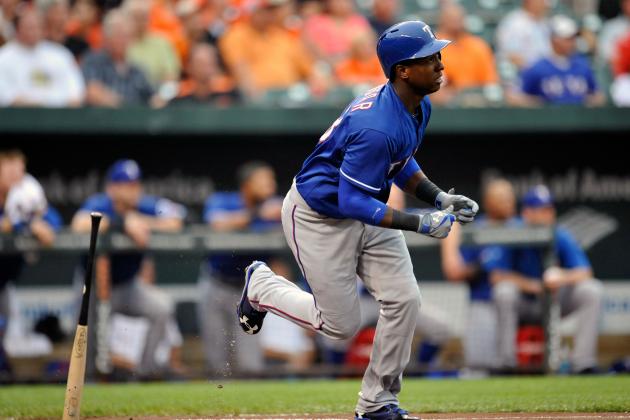 Joy R. Absalon-USA TODAY Sports

Yankees Get: Jurickson Profar, Craig Gentry
Rangers Get: Phil Hughes, Preston Claiborne, JR Murphy, Ronnier Mustelier, Mason Williams, Joba Chamberlain
If this trade were to happen, Yankees general manager Brian Cashman would get his infielder of the future.
With the Rangers having Adrian Beltre, Elvis Andrus and Ian Kinsler, that leaves no room for Profar in the coming years.
Profar, the No. 1 ranked prospect at the beginning of 2013, will have to change positions in order to see the field in Texas or else wait for an injury to another player.
He won't come cheap. Cashman would have to give up top prospect Mason Williams, major leaguers Hughes and Chamberlain, as well as more prospects.
The question is how untouchable is Profar? Well, he has been relatively overhyped. Tim Cowlishaw of The Dallas Morning News opines that the Rangers will trade Profar by next winter.
Throughout his minor-league career, Profar never hit above .290. He's not a power threat, but has tremendous strength for a 165-pound infielder.
Most importantly, Profar gets on base. In 2012, he had a 127 wRC+ with 135 hits, including 88 singles, while playing with the Rangers' Double-A team.
Craig Gentry would provide outfield depth and is a right-handed bat for Girardi to use when one of his outfielders needs a day off.
The return package would have to be off the charts, and with the Yankees, that means six names. Texas reportedly had interest in Chamberlain in the spring. With their pitchers struggling to stay healthy, Hughes may be the next best option if they fail to acquire Matt Garza from the Chicago Cubs.
JR Murphy is a catcher with a good bat. He's hitting .303 in Triple-A Scranton with an .844 OPS. Needing outfield help after the departure of Josh Hamilton, Ronnier Mustelier and Mason Williams, Texas should be intrigued.
Mustelier, a 28-year-old Cuban defector, has electric pop in his bat and can play all three outfield positions as well as third base. Williams, just 21 years old, is still in Class-A Tampa, but has tremendous potential and is the Yankees' No. 1 farmhand.
New York would give up a lot, something they're unaccustomed to doing, but the chance to acquire Profar would be too good to pass up.
Gary A. Vasquez-USA TODAY Sports

Yankees Get: Mark Trumbo
Angels Get: Phil Hughes, J.R. Murphy, Cito Culver, Vidal Nuno
While some think it would be crazy for the Angels to trade slugger Mark Trumbo, the reality is that Los Angeles has an overload of outfielders and not enough pitchers.
If the Angels, who are 11 game back in the American League West, get off to a slow start in the second half of the season, we could see a trade involving one of their excess outfielders.
According to Joel Sherman of the New York Post, Cashman wants a player who will be under team control if they unload Hughes.
Trumbo fits the bill.
Under control until 2016, the 27-year-old Trumbo is an elite power hitter with 21 home runs already this season. He's hitting .245 with 98 strikeouts, but Trumbo would boost a poor offensive Yankees' team.
He is able to play both corner outfield spots, both corner infield positions or be the designated hitter. The Angels recently made Trumbo their DH because he isn't strong in the field by any means.
Trumbo has 82 home runs over the past two-and-a-half seasons. The Angels are locked into Albert Pujols, Josh Hamilton, C.J. Wilson and presumably Mike Trout. The money that Trumbo will be seeking down the road simply won't be there.
In a down season, it's time the Angels got something in return for Trumbo.
The Angels need arms and prospects. Cito Culver is a young shortstop who still needs to be developed. The 20-year-old is in the midst of his best season with Class-A Charleston RiverDogs. He has a career-high seven home runs and 25 RBI.
Vidal Nuno is a major league-ready prospect who appeared in five games for the Yankees this season, filling in for injuries before being sent back to Triple-A Scranton. In Scranton, Nuno has a 1.44 ERA while holding opponents to a .157 average.
In this deal, Hughes gets to go home to California and play in a more fly-ball friendly ballpark. He is a strikeout pitcher, but when opponents make contact, the ball goes in the air. At Yankee Stadium, any fly ball is dangerous.
Murphy, a strong-hitting catcher, gives the Angels an additional prospect who is just about ready for the majors.
This trade, believe it or not, benefits both teams while giving the Yankees the big bat they need to make a push in the season's second half.