Examining Cincinnati Bengals' Offseason and Key Preseason Positional Battles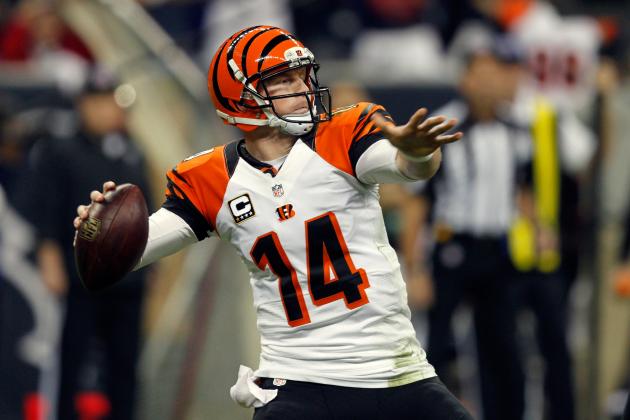 Bob Levey/Getty Images

Following a 10-6 regular season and a second straight first-round exit from the playoffs, the Cincinnati Bengals went to work to solidify a talented young roster in preparation for increased success in the AFC North this season.
Having made tremendous strides in the last two seasons, the Bengals didn't need to make any drastic changes. With the changing shape of the division (as the Pittsburgh Steelers and Baltimore Ravens retooled aging rosters), Cincinnati was already in good position to challenge for the division crown in 2013.
As such, the Bengals didn't need to make a big splash in free agency. Despite having plenty of cap space to make additions, they opted, instead, to focus on in-house affairs and adding additional talent through the draft.
And they did extremely well at that.
With few glaring positional needs and a big opportunity to add to a terrific cast of youthful talent, Cincinnati went to work from the first round to the last in identifying value and making the most of its selections. When all was said and done, the Bengals had put together one of the most impressive draft classes of any team in the league.
We'll evaluate those selections later in this article.
While the Bengals didn't make a lot of free-agent deals, they did re-up linebacker Rey Maualuga to a new two-year contract and gave offensive tackle Andre Smith a new three-year, $18 million deal to stay with the team.
In addition, Cincinnati added former Pittsburgh Steelers linebacker James Harrison after the division rivals chose to cut ties. Harrison has struggled with injury issues the last couple seasons, but he still has plenty to offer to a team looking to usurp the Steelers and Ravens as the preeminent AFC North powerhouse.
But there really wasn't much more free-agent activity to speak of. The Bengals didn't need to make a big splash in free agency, and that continuity will prove to be a major factor in the team's sustained success.
We'll take a closer look at additional offseason moves in the following slideshow, as well as a detailed analysis of the Bengals' draft class and a few positions to keep an eye on as the season draws near. Read on.
Begin Slideshow

»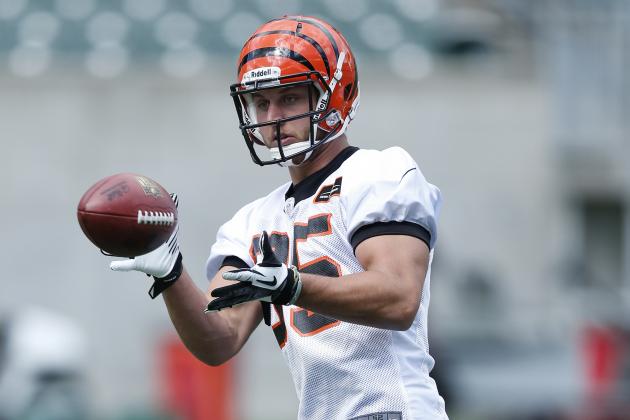 Joe Robbins/Getty Images

Round 1 (Pick 21): TE Tyler Eifert, Notre Dame
Round 2 (Pick 37): RB Giovani Bernard, North Carolina
Round 2 (Pick 53): DE Margus Hunt, SMU
Round 3 (Pick 84): S Shawn Williams, Georgia
Round 4 (Pick 118): LB Sean Porter, Texas A&M
Round 5 (Pick 156): OT Tanner Hawkinson, Kansas
Round 6 (Pick 190): RB Rex Burkhead, Nebraska
Round 6 (Pick 197): WR Cobi Hamilton, Arkansas
Round 7 (Pick 240): OT Reid Fragel, Ohio State
Round 7 (Pick 251): C T.J. Johnson, South Carolina
Grade: A
Value was the key to Cincinnati's impressive draft class this year.
While the Bengals certainly didn't turn a blind eye to positional needs, they seemed intent on maximizing value with each selection, locking up a handful of players well beyond their expected draft positioning.
In the first round, the Bengals targeted a player who was long expected to be destined for a selection in the top half of the first round in Notre Dame tight end Tyler Eifert. Eifert didn't impress at the combine, but his football abilities far outweigh his physical attributes.
Eifert is a long, lean tight end who transitioned from wide receiver to tight end at Notre Dame. Following that switch, Eifert asserted himself as a premier pass-catching tight end who offers the Bengals a versatile middle-of-the-field weapon for Andy Dalton.
Jermaine Gresham has steadily improved as the team's starting tight end, but Eifert adds another element to the position. Don't be surprised if the Bengals field multiple-tight-end sets much more regularly this season.
In the second round, Cincinnati selected North Carolina running back Giovani Bernard, a versatile three-down runner who also excels at catching the ball out of the backfield.
Given BenJarvus Green-Ellis' shortcomings in that facet, Cincinnati did well to add another element to the offense, just as it did in acquiring Eifert in the first round.
The Bengals added a second running back in the sixth round in Nebraska's Rex Burkhead, but given the presence of Bernard Scott and Cedric Peerman, it's hard to envision a scenario in which Burkhead sees significant action this season.
Perhaps, the best value pick Cincinnati made this year came in the second round in the form of SMU defensive end Margus Hunt—a player many considered the most physically gifted player in this draft class.
At 6'8" and 277 pounds, it wasn't shocking to see Hunt bench press 38 reps at the combine. What was shocking, however, was the fact that he ran a 4.6-second 40-yard dash and displayed explosiveness few would expect from a hulking defensive lineman.
Hunt has limited football experience, though, and many teams likely viewed him as a developmental prospect. As such, he fell to No. 53 and into the Bengals' lap.
Cincinnati's impressive draft class continued with the selections of safety Shawn Williams and linebacker Sean Porter, both of whom add some depth to positions the Bengals desperately needed some. While Williams could be in line for significant playing time as the team's third safety, Porter will be competing with Harrison and Vontaze Burfict and Aaron Maybin for snaps this season.
To round out the draft class, the Bengals also selected a trio of offensive linemen to augment an already impressive unit that ranked 11th in run blocking last season, but came up well short of expectations in pass protection (28th), per Football Outsiders.
None of the three are likely to see much playing time this year short of injuries further up the depth chart, but in a physical division like the AFC North, that's not out of the realm of possibility.
In all, it was a terrific draft class for the Bengals, who keyed in one value and also filled some positional needs. When all was said and done, Cincinnati walked away with an impressive haul that deserves top marks.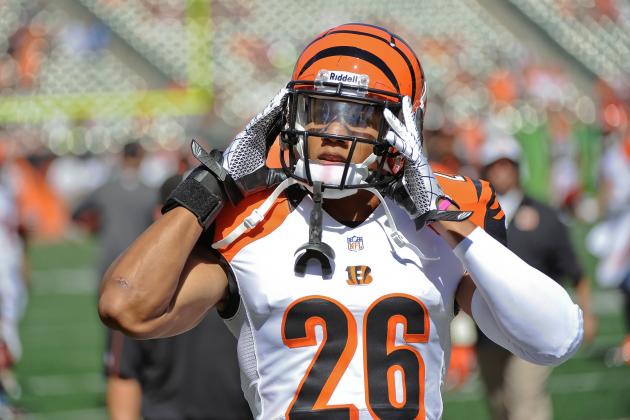 Jamie Sabau/Getty Images

Cincinnati's defensive line steals the spotlight when discussing the team's strengths—and for good reason. With Geno Atkins, Michael Johnson and Carlos Dunlap providing a tremendous pass rush, the Bengals' secondary has been able to avoid the pressure it, otherwise, would be under to make some serious improvements.
Cincinnati has some quality pieces in its secondary, but several question marks remain—namely at the safety position.
Taylor Mays has never lived up to expectations after being selected in the second round of the 2010 draft. Despite tremendous measurables, Mays just hasn't shown the defensive prowess to be anything more than an in-the-box safety in the NFL.
Still, the Bengals have yet to add a safety capable of permanently usurping the USC product long-term, and, as it stands, he'll likely be in line for the starting strong safety role again this season—at least until another player proves he's worthy of the spot.
That may not be the best news for Bengals fans, but Reggie Nelson is back as the team's starting free safety, providing a little stability to the back end of the defense. With Nelson and third-rounder Shawn Williams in the fold, there's at least a little reason to be hopeful.
If Williams proves capable of making a smooth transition to the speed of the NFL, he could very well replace Mays as the team's starting strong safety. After a 2012 campaign that saw Mays lose the job to cornerback Nate Clements, Mays really doesn't have much ground to stand on.
But apart from Nelson, Mays and Williams, the Bengals don't boast a ton of depth at the safety positions. 2012 fifth-round pick George Iloka and 2010 undrafted free agent Jeromy Miles sit behind the trio on the depth chart, but neither player has much experience to speak of.
Time will tell if Cincinnati's safety group can take positive strides in 2013, but a strong cornerback group could very well aid in that process.
2012 first-round corner Dre Kirkpatrick will be expected to bounce back from an injury-plagued rookie campaign this season to lock down the position group opposite Leon Hall. If healthy, the pair can be arguably the best cornerback duo in the division.
Re-signing veteran Terence Newman certainly helps to add depth to the group as well, especially with Adam Jones still in the mix. Should all four corners remain healthy in 2013, there won't be a team on the schedule capable of exploiting the position.
Brandon Ghee and Jeromy Miles will also be in the sub-package mix, but there's really no reason to look past the aforementioned group. As it stands, the Bengals should field a very competitive group of corners this season in hopes of offsetting a safety position with some big question marks.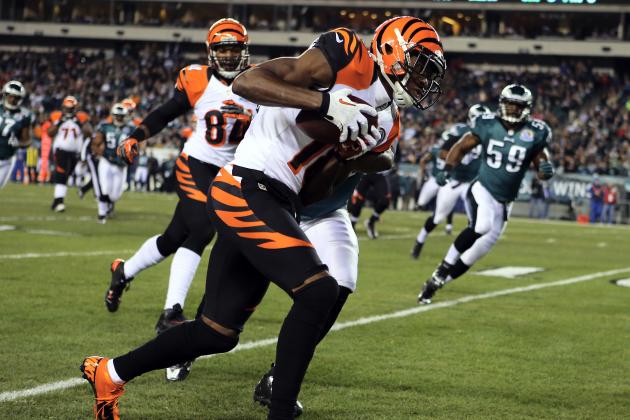 Elsa/Getty Images

With A.J. Green in the fold, the Bengals are capable of fielding an extremely dynamic passing attack.
The former first-round pick established himself as a top-five NFL receiver with consecutive 1,000-yard seasons to start his career, including a 1,350-yard, 11-touchdown campaign a season ago. At 6'4" and 207 pounds, few cornerbacks are capable of keeping Green under wraps.
But Cincinnati fields a lot of youth behind Green, and the team's receiving corps needs to continue making strides this season to keep pace with some of the better passing attacks in the league.
Mohamed Sanu enters training camp as the team's No. 2 receiver—and for good reason. Despite seeing action in just nine games last season, the versatile wideout finished his season on an extremely strong note with four touchdowns in his last three games before suffering a stress fracture in his foot.
In his stead, Marvin Jones stepped in to fill the No. 2 role and did a solid job, tallying 110 yards and a touchdown in the Bengals' final two regular-season contests. He isn't likely to challenge for the No. 2 spot if Sanu is healthy, though, and Jones will also have some competition for the slot receiver role from Andrew Hawkins.
Hawkins was, arguably, Cincinnati's most consistent producer behind Green last season, catching at least two passes in all but one of the team's regular-season games. He finished the year with just 533 yards and four touchdowns on a paltry 10.5 yards per catch, but Hawkins has shown enough reliability to be considered a candidate for an expanded role in 2013.
While the Bengals' receiving corps only features one truly dynamic playmaker, Green, Sanu, Jones and Hawkins comprise a solid group of targets for Andy Dalton. As such, it's going to be hard for rookie Cobi Hamilton and free-agent signee Brandon Tate to see much playing time this season.
Still, Tate is a more-than-serviceable fifth option and should also see some time on special teams, and both players provide noticeable depth at the receiver position. Along with Gresham and Eifert, Dalton will have no shortage of quality targets in 2013.
With a running game sure to be bolstered by the addition of Giovani Bernard, the Bengals should have no problem finding offensive balance this season. For that to happen, though, their receiving corps is going to have to continue improving.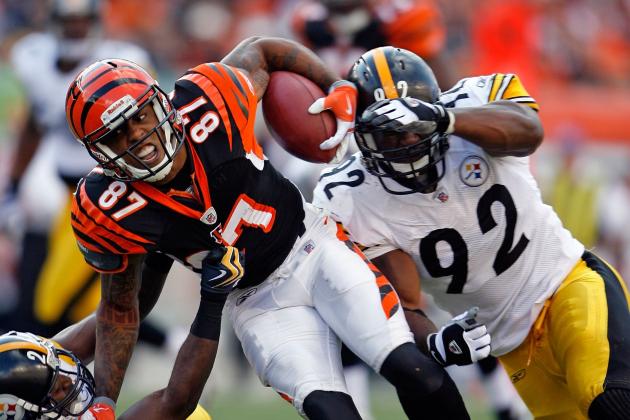 Andy Lyons/Getty Images

Cincinnati's defensive line is the engine that fuels the team's defensive success, and while the Bengals fielded a solid linebacking corps last season, it greatly benefited from the tremendous play of Atkins, Dunlap, Johnson and Domata Peko.
That should continue to be the case in 2013, as two of the team's three starting linebackers will return to their respective positions this season.
The Bengals re-signed middle linebacker Rey Maualuga to a two-year contract after a terrific 122-tackle campaign a season ago. 2012 was easily the USC product's best performance of his career, and he earned every penny of the $6.5 million deal.
Vontaze Burfict also returns in 2013, on the heels of a similarly impressive breakout season. Despite going undrafted last year, due to character concerns, the Arizona State product held it together last year to record 127 total tackles from the weak-side linebacker position.
Easily one of the more intimidating linebacker duos in the league—perfect for the AFC North—Maualuga and Burfict are poised for more success this season, especially with the addition of James Harrison.
The Pittsburgh transplant was released by the Steelers this offseason as the team attempted to shed salary and avoid the pitfalls of fielding an oft-injured veteran in a starting role. Harrison still has to prove he has enough left in the tank to be successful in Cincinnati, but he's going to get that shot.
Harrison looks like the clear favorite to start at the strong-side linebacker position—a terrific spot for the dominant pass-rusher, given defensive coordinator Mike Zimmer's propensity for running a lot of blitz packages through that position.
Harrison has played in a 3-4 nearly his whole career, but Zimmer knows how to get the most out of his defenders. In the Bengals' 4-3 front, Harrison will still be able use his pass-rushing skills to his advantage as the team's primary edge-rusher from the second level.
Harrison doesn't have to be an elite player to make the Bengals better, however. His presence is a massive boost considering the depth he provides to the linebacking corps.
With Harrison in the fold, Cincinnati won't have to rely on Aaron Maybin or rookie Sean Porter to shoulder a heavy workload at the outside linebacker positions.
Maybin, largely considered a bust following his first-round selection in 2009 and subsequent failures with the Buffalo Bills and New York Jets (36 career tackles), probably isn't the player Zimmer wants to rely on as a starting option.
Porter has the talent to be a massive producer at the NFL level, but he's untested and would be joining an already young core of starters at the position. With Harrison assuming the strong-side linebacker role, Porter can ease his way into the mix.
It's hard to find a position that is really going to yield a serious personnel battle this offseason, and linebacker is no different. That's both a testament to the Bengal' recent success in team building and a ringing endorsement to what the Bengals can do in 2013.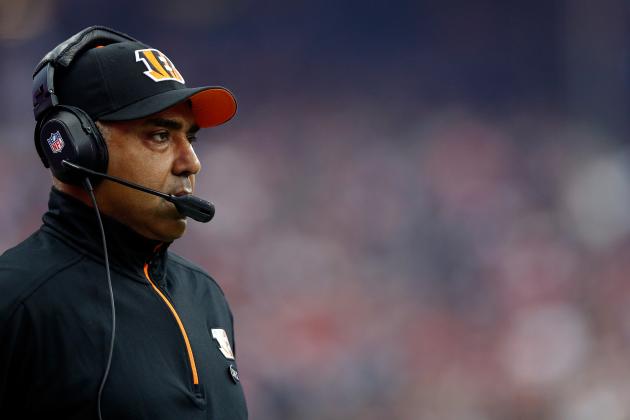 Scott Halleran/Getty Images

*For a complete look at Cincinnati's 2013 schedule, check out NFL.com.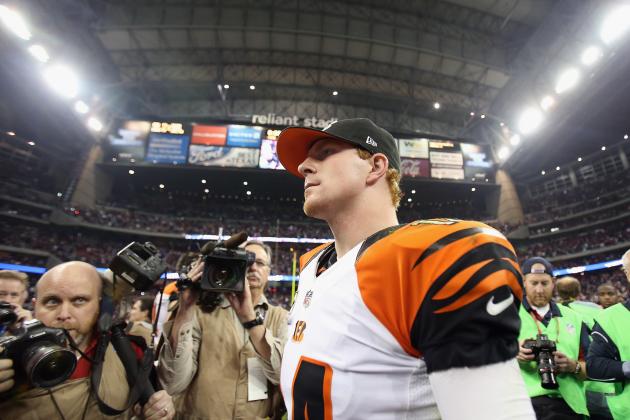 Ronald Martinez/Getty Images

The Bengals have tons of young talent, but their success this season is, once again, going to depend on their signal-caller.
Andy Dalton has made some strides toward being am extremely successful NFL quarterback, but he came up short in the playoffs each of the last two seasons, throwing four interceptions and no touchdowns in those contests.
But Dalton has shown all the signs of being the quarterback the Bengals need to break through the barrier. Their success in 2013 will rely largely on how he performs.
Dalton got plenty of help this offseason in the form of a couple young running backs and pass-catchers, though, and the team's offense has the potential to be even more potent than in the last two years. Paired with an ever-improving defense that could lead the AFC North this season, the sky is the limit.
Prediction: 10-6, Second in AFC North
Realistically, the Bengals could win anywhere from nine to 12 games this season, but a brutal 2013 schedule suggests a potential finish near the bottom end of that spectrum.
Along with always difficult contests against the Ravens and Steelers, the Bengals also face the NFC North this year as well as the New England Patriots and Indianapolis Colts. All things considered, splitting that section of the schedule would be a very positive sign.
At this point in the year, projections are rarely accurate. I think Cincinnati has the talent to win the division ahead of the Steelers and Ravens, but it's hard to write off the defending Super Bowl champs based on a few offseason losses.
Expect the Bengals to at least match their 2012 success this season while securing a playoff berth as either the AFC North representative or a wild-card contender.