Projected Buffalo Bills' Final 53-Man Roster, Training Camp Edition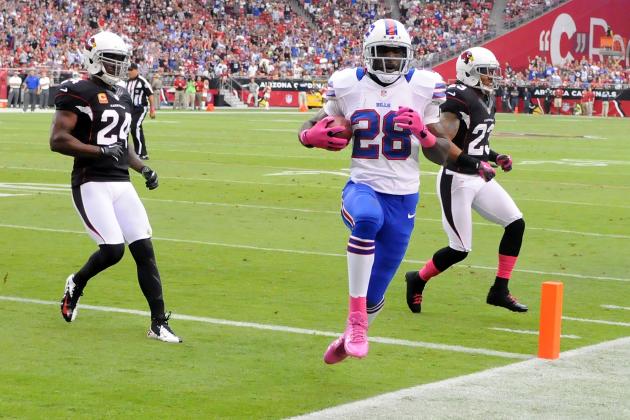 Norm Hall/Getty Images

The 2013 Buffalo Bills got a major facelift from their depressing 2012 campaign, as plenty of newcomers will see the field in prominent roles this season.
While staples like C.J. Spiller, Stevie Johnson, Kyle Williams, Mario Williams and Eric Wood haven't gone anywhere, Buffalo will have an entirely new look this year.
Training camp will give fans their first glimpse at the players the Dougs—Whaley and Marrone—added this offseason while providing the coaching staff ample time to critique before cuts are to be made.
Here's an early projection for the Bills' final, 53-man roster. You know, the team that'll host the New England Patriots in Week 1.
Begin Slideshow

»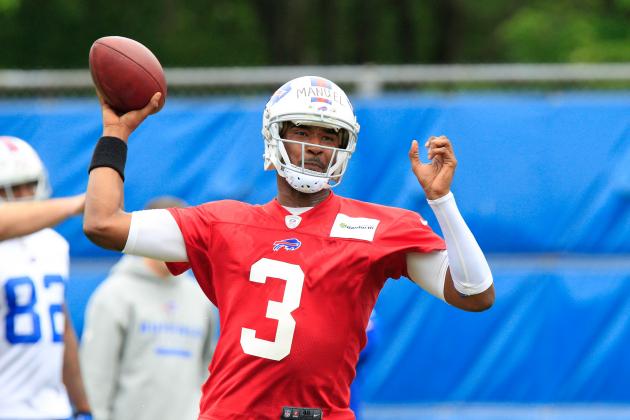 Kevin Hoffman-USA TODAY Sports

(3): EJ Manuel, Kevin Kolb, Jeff Tuel
Analysis: Kevin Kolb should start training camp as the No. 1 due to his NFL experience. But if EJ Manuel eventually plays up to par with the veteran, one has to believe the first-round pick will win what should be a heated battle for the starting quarterback job.
Jeff Tuel is entrenched as the No. 3 signal-caller but is nothing more at this point.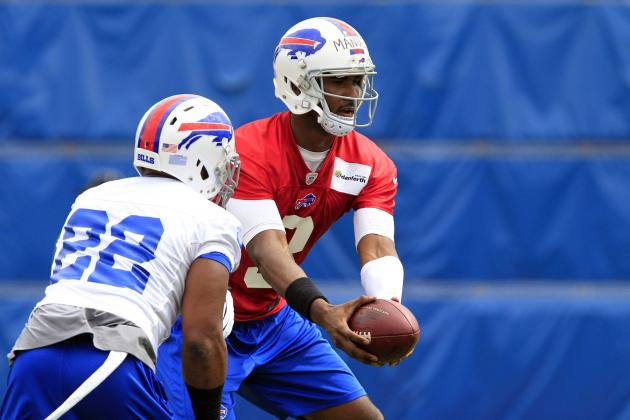 Kevin Hoffman-USA TODAY Sports

(3): C.J. Spiller, Fred Jackson, Tashard Choice
Analysis: C.J. Spiller is one of the most efficient and downright electrifying running backs in the NFL. Expect him to be the focal point of the Bills offense in 2013. Can't forget about Fred Jackson, though. If healthy, he's a sneaky runner in the open field and is a tremendous pass protector. He'll complement Spiller well.
Tashard Choice isn't much more than a situational runner who'll spell Spiller and Jackson on rare occasions.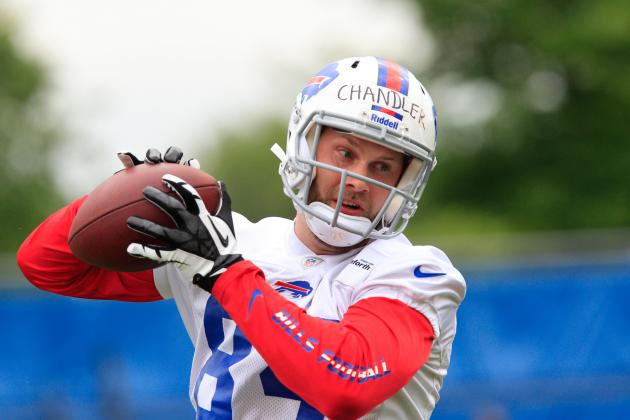 Kevin Hoffman-USA TODAY Sports

(4): Scott Chandler, Dorin Dickerson, Lee Smith, Chris Gragg
Analysis: It'll be interesting to see how Scott Chandler plays in 2013 coming off a late-season ACL tear. Before his injury, the underrated red-zone target had 43 receptions for 571 yards and six touchdowns.
If fully healthy, he should be the No. 1 tight end.
Don't sleep on Dorin Dickerson and Chris Gragg, though. Both are in the H-back mold and could be used in a variety of ways by offensive coordinator Nate Hackett.
Lee Smith should stick as the primary blocking tight end.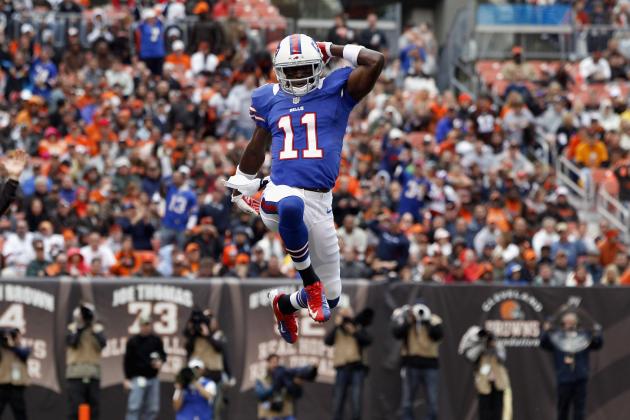 Matt Sullivan/Getty Images

(6): Stevie Johnson, Robert Woods, T.J. Graham, Marquise Goodwin, Da'Rick Rogers, Marcus Easley
Analysis: After the offseason purge at the wide receiver position, there's plenty of uncertainty with the receiving corps.
Stevie Johnson, well, he's the unquestioned No. 1, but the spots behind him are totally up for grabs. Robert Woods should win the No. 2 job, and T.J. Graham and Marquise Goodwin could emerge as legitimate downfield threats who also are primarily featured in the screen game.
Then there's Da'Rick Rogers. The ultimate wild card. With his size, speed and strong hands, he could garner considerable playing time on the outside, especially if Johnson's prominently featured in the slot where those basketball moves should be more lethal than ever.
If Rogers stays out of trouble—how do you get in trouble at camp?—and exhibits his complete skill set to Buffalo's coaches, he simply cannot be cut. Marcus Easley, Kevin Elliott and Brandon Kaufman will likely fight for the final receiver spot, but Easley's special teams prowess will be the final determinant that gets him on the 53-man.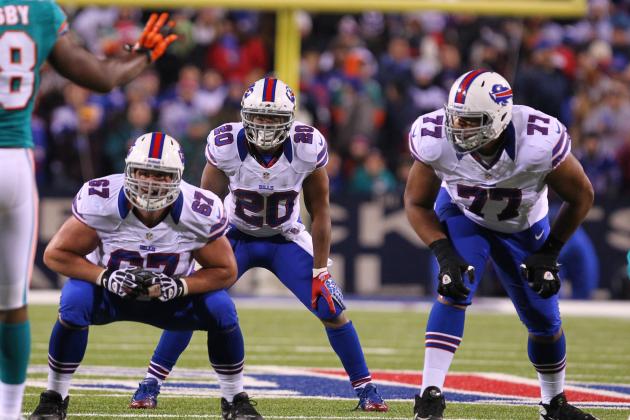 Timothy T. Ludwig-USA TODAY Sports

(4): Cordy Glenn, Chris Hairston, Erik Pears, Sam Young
Analysis: In his rookie season a year ago, Cordy Glenn looked great, then got hurt, then was just slightly above average. While his kick slide may never be lightning quick, he's a mountain of man who uses deceptive power and athleticism to win at the point of attack.
If head coach Doug Marrone—a former offensive lineman himself—can teach Glenn the intricacies of pass-blocking, Glenn could become one of the better young left tackles in the AFC.
Chris Hairston and Erik Pears will duke it out for the right tackle job, with Sam Young ultimately finding himself as the awesomely named swing tackle.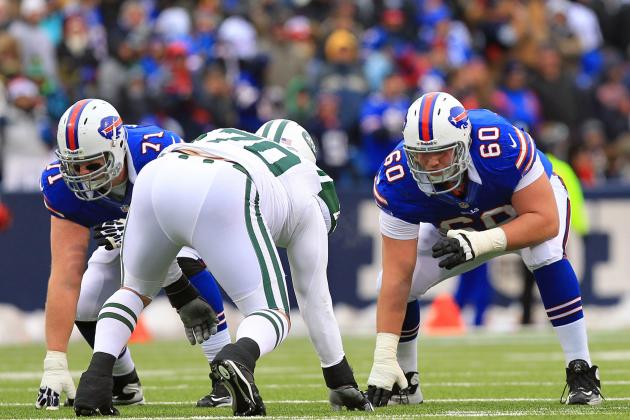 USA TODAY Sports

(4): Kraig Urbik, Doug Legursky, Zebrie Sanders, David Snow
Analysis: With Andy Levitre in Nashville with the Titans, someone's going to have to fill the void his departure created at left guard.
Doug Legursky was far from special during his time in Pittsburgh with the Steelers, but he has started 17 games in his career, and the experience factor should help him in this positional battle.
In the first two games of the year in 2012, Kraig Urbik was Buffalo's best offensive lineman, but he got dinged with an ankle injury and really wasn't the same after. At 6'5'' and 325 pounds, Urbik's a legitimately mauling guard who gets out on screens well.
Zebrie Sanders could stay out at tackle, but don't be shocked if the Bills try him at guard.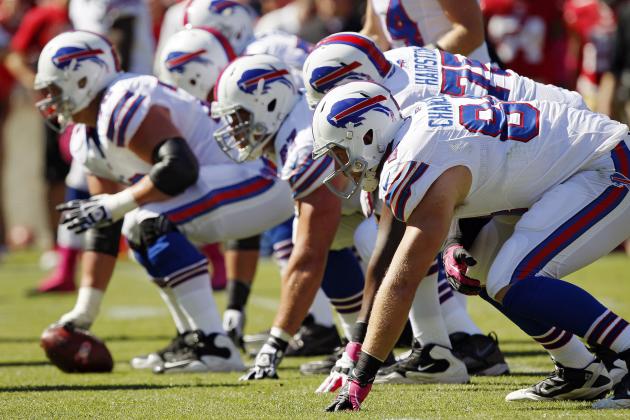 Brian Bahr/Getty Images

(2): Eric Wood, Colin Brown
Analysis: Eric Wood has yet to play a full 16-game schedule for the Bills. It's unfortunate for Buffalo, because when he's not sidelined, he's one of the better centers in football.
Colin Brown's his immediate and only insurance, although, in theory, some of the backup guards could kick inside in an emergency situation.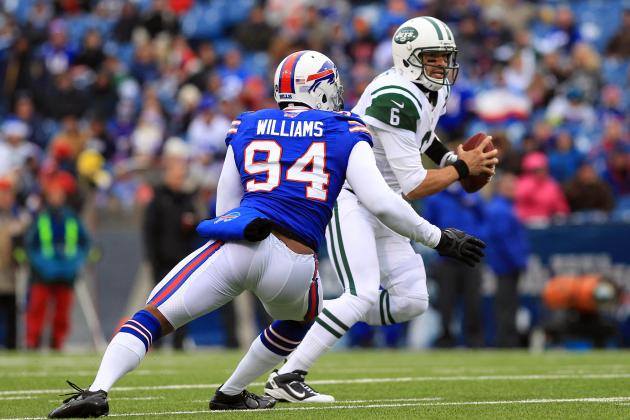 USA TODAY Sports

(3): Mario Williams, Mark Anderson, Jarron Gilbert
Analysis: This is where things get tricky. Will Mario Williams be a defensive end or an outside linebacker? Staying with the traditional, easy-to-understand 4-3 alignment for this position, these will be the only three "defensive ends" heading into the season.
Williams will be moved around often and sent on stunts and delayed blitzes—basically anything to conjure up some confusion along the opposition's offensive line, something Dave Wannstedt refused to do a year ago.
Mark Anderson is returning from a knee injury he suffered early in 2012, and he should be utilized similarly to that of Williams.
Gilbert's familiarity with Pettine's system will help his cause considerably.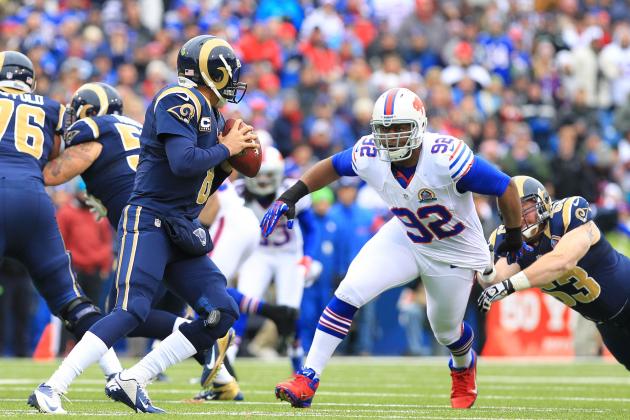 USA TODAY Sports

(5): Kyle Williams, Marcell Dareus, Alan Branch, Alex Carrington, Torell Troup
Analysis: The foursome of Kyle Williams, Marcell Dareus, Alex Carrington and Alan Branch formulates the strength of the Buffalo defense.
Those four will be used up and down the Bills defensive front in 2013, and if they all avoid injury, they all should be continual line-of-scrimmage disruptors.
Due to the 3-4 alignment that's a major part of Mike Pettine's defensive system, former second-round pick and forgotten man, Torell Troup should make the roster, as he's got the size (6'3'', 327) to plug the middle as Buffalo's nose tackle.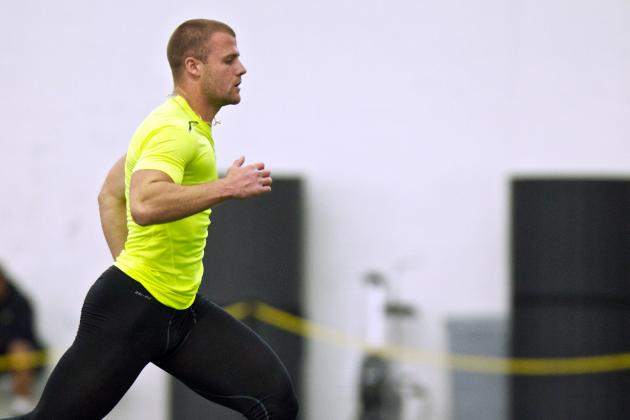 Jaime Valdez-USA TODAY Sports

(7): Nigel Bradham, Manny Lawson, Jerry Hughes, Kiko Alonso, Bryan Scott, Arthur Moats, Keith Pough
Analysis: The highly athletic Nigel Bradham leads the Bills linebacking corps into the Mike Pettine era, yet 2013 rookie Kiko Alonso may ultimately be more critical to the team's defense.
Bradham can do it all from a physical standpoint; he just needs to decipher plays quicker and be more decisive.
Manny Lawson and Jerry Hughes were added in the offseason but will likely have differing roles. Lawson's more of a 4-3 outside linebacker who can drop into coverage and is strong against the run. Hughes is more of a 3-4 outside linebacker who will mainly be asked to get after the quarterback.
We mustn't forget Bryan Scott, a converted safety who can match up with tight ends down the field and loves help in run support.
The wild card of this group is Arthur Moats. He's undersized and has been asked to play just about every linebacker position since being drafted; however, Pettine could look to tap into his natural pass-rushing ability to get the most out of him.
Thomas J. Russo-USA TODAY Sports

(5): Stephon Gilmore, Leodis McKelvin, Ron Brooks, Justin Rogers, Nickell Robey
Analysis: Stephon Gilmore is one of the NFL's young, bright stars, although his statistics and general play from the 2012 season wouldn't indicate that.
Expect Mike Pettine to feature him as the Darrelle Revis of Buffalo's defense, a man-to-man specialist asked to be extremely physical at the line of scrimmage when facing the opposition's No. 1 wideout every week.
Leodis McKelvin has enough athleticism to be an average No. 2 corner, but his ball skills have always been lacking.
After that, it's a toss up. Ron Brooks and Justin Rogers have experience covering the spot, and although Nickell Robey is exceptionally small at 5'7'' and 170 pounds, he's as feisty as they come and exudes athleticism.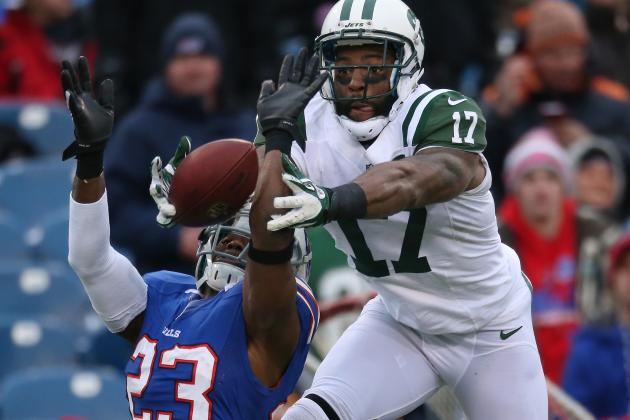 Tom Szczerbowski/Getty Images

(4): Jairus Byrd, Da'Norris Searcy, Duke Williams, Aaron Williams
Analysis: As the Jairus Byrd holdout continues, Da'Norris Searcy becomes the most seasoned veteran in the Bills safety grouping.
Duke Williams has a hard-hitting, complete game, and although it may take time for Aaron Williams to make the switch from corner, he should be more comfortable at the position he played in college.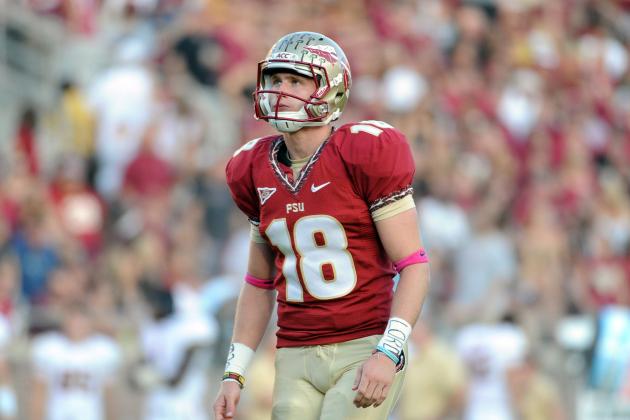 Melina Vastola-USA TODAY Sports

(3): Dustin Hopkins, Shawn Powell, Garrison Sanborn
Analysis: Yes, the Rian Lindell era is over in this projection. Wipe away the tears. Although he represents $2.7 million in dead money, the Bills will be willing to eat that dough to allow the Dustin Hopkins era to begin. He's young and has a huge leg, something that'll help on kickoffs, an area in which Lindell recently struggled.
Shawn Powell could be pushed a bit by Brian Stahovich, but he'll be the punter, and long snapper Garrison Sanborn rounds out Buffalo's Florida State specialist trio.