6 Detroit Lions Players Who Will Surprise in Training Camp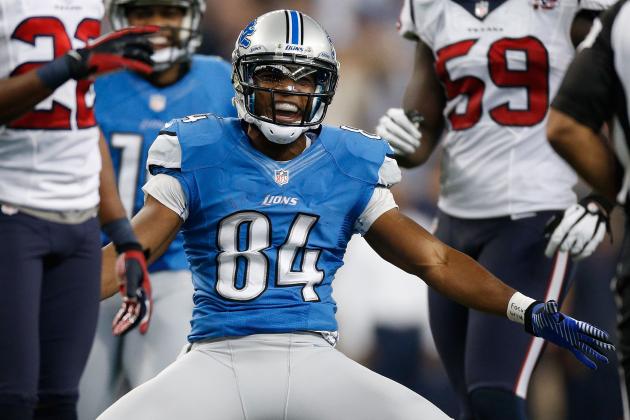 Gregory Shamus/Getty Images

It happens every single year: Some player enters training camp as a relative unknown and leaves as a fan favorite.
Sometimes, it's a strong preseason performance that does it, or it's a lot of media coverage during camp. Maybe it will be defensive coordinator Gunther Cunningham with one of his infamous overzealous player comparisons (h/t Tim Twentyman, DetroitLions.com).
Sometimes, the nature of the surprise changes. It could be a completely unheralded player making the roster out of nowhere or a role player moving into stardom or some other jump in notoriety.
Regardless of how or why, somebody is about to become a much bigger part of this Lions team than anyone expected, and these are the six guys most likely to do it.
Begin Slideshow

»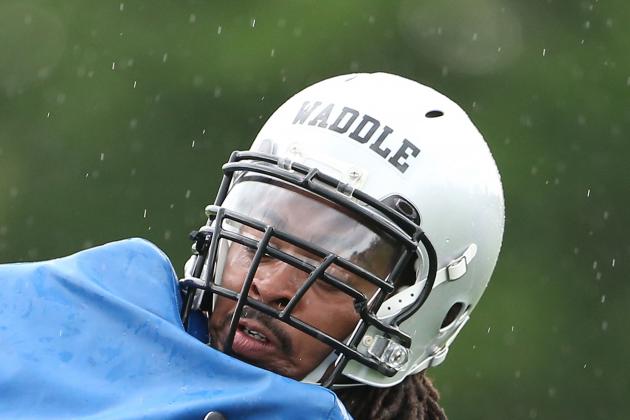 Leon Halip/Getty Images

Fact No. 1: With only Riley Reiff, Jason Fox, and Corey Hilliard relatively assured of a roster presence in 2013, the Lions could use a little more depth at tackle.
Fact No. 2: LaAdrian Waddle played 38 consecutive games at left tackle in the pass-happy Texas Tech offense. He weighs 321 pounds, but carries a little too much of it around his midsection.
In short, Waddle is a player with good size and strength, and, generally, all the physical tools he needs to be a successful NFL tackle. He couples that with a great deal of experience at the college level.
But despite all his experience, Waddle's game still needs refinement. Texas Tech runs a quick-passing scheme that doesn't force its linemen to hold blocks for very long, so Waddle may need some work figuring out how to block a defender for four or five seconds at a time.
Still, Waddle is, perhaps, the most physically impressive tackle on the Lions squad, and he exhibits reasonably good footwork for his size. If he can put all of his physical tools together, the Lions may have a valuable depth player or even eventual starter on their hands.
Leon Halip/Getty Images

This may not qualify as much of a surprise for some. Ryan Broyles, who was a second-round pick for the Lions in 2012, already carries some expectations for this season.
But those expectations have likely been lowered by consecutive ACL injuries and a relatively pedestrian rookie year.
That said, Broyles has already returned from his ACL injury to participate in minicamps, and his year of acclimating to the NFL game (as well as an automatic bump on the depth chart as a result of the Titus Young saga) should serve him well in improving upon his 2012 performance.
Broyles makes the list not simply because he will be good. The Lions are already expecting that. Broyles is on the list because he could end up being even better than advertised.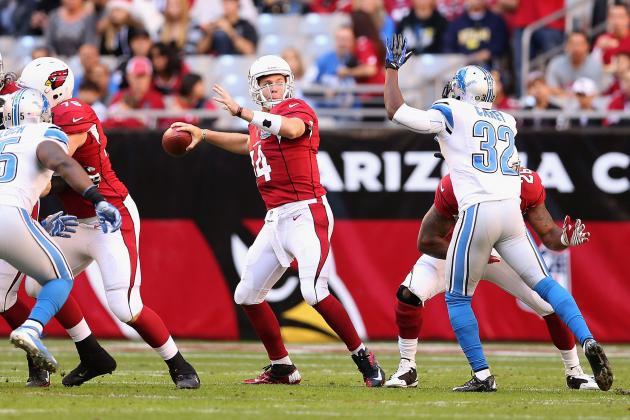 Christian Petersen/Getty Images

Back in March, Bleacher Report's own Matt Miller ranked Don Carey as the 35th-best safety in 2012.
That's 10 spots higher than Louis Delmas and three higher than 2010 fifth overall pick and two-time Pro Bowler Eric Berry (who admittedly had a down year in 2012).
Now Carey is taking first-team reps with Delmas still recovering from injury, so there must be something there.
Carey started six games for the Lions in 2012 to very little fanfare. At the time, he was mostly just considered the last reasonable option for an otherwise depleted secondary. But Carey actually played quite well, with the majority of his mistakes coming primarily from a lack of experience.
This season, Carey comes as an insurance policy for Delmas's knees, and if he picks up where he left off in 2012, he may not even represent a dropoff in talent from Delmas.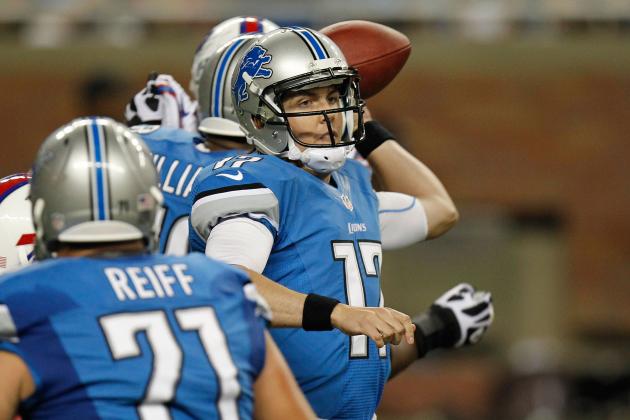 Gregory Shamus/Getty Images

One of the biggest knocks on Kellen Moore in his career is a general lack of arm strength.
Like speed, arm strength is one of those things that mostly comes naturally. It can't be taught or greatly modified, though it can be increased in small amounts with training.
Moore appears to have undergone some of that training, as he looks, early on, "to have improved his arm strength," according to Justin Rogers of MLive.com.
Moore will have his hands full trying to beat out Thaddeus Lewis for the Lions' final roster spot, but if his arm strength has improved over last season, that's a big advantage he takes into the roster battle along with a year of experience in the Lions' system.
Should Moore bring those things together, he should be greatly improved over last season, perhaps even enough to be considered a long-term option. He already has a mind for the game, it's just the NFL experience and physical tools that need to follow.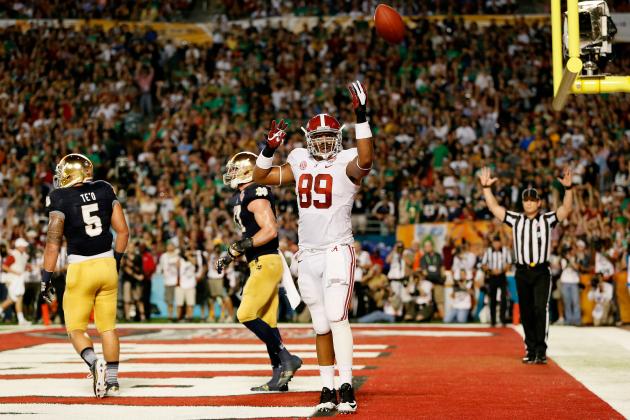 Kevin C. Cox/Getty Images

The storyline surrounding Michael Williams seems to be that he's a great blocker and completely worthless as a receiver.
As someone expected to replace blocking utility man Will Heller, that's acceptable. But Heller caught a touchdown pass for the Lions in the playoffs. He wasn't a frequent receiver, but he was an acceptable one at times.
The same will most likely be true of Williams. Because receiving isn't a key component of Williams' game, it will likely be surprising to see him catch anything. But Williams caught 24 passes as a senior at Alabama, to the tune of four touchdowns.
Just because Williams isn't a dangerous, downfield threat at tight end, doesn't mean he can't catch.
Riley Reiff played the role of "extra blocker" for the Lions in 2012, which meant he had to report in as an eligible receiver a bunch of times. But the Lions never used him as a receiver.
Now that Reiff is the left tackle, perhaps Williams will play the "extra-blocker" role. And if that's the case, maybe he could actually catch a pass or two. Just think of him as another wrinkle in the offense.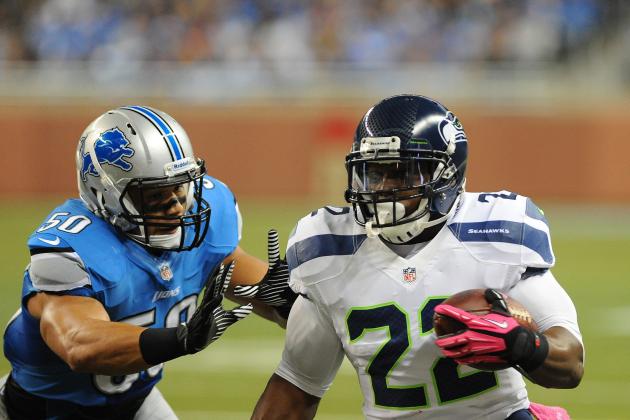 Al Messerschmidt/Getty Images

Travis Lewis is, perhaps, the least-heralded of the Lions' options at outside linebacker.
Ashlee Palmer is the favorite for the position, having been around the team as a reserve and special teamer since 2010.
Tahir Whitehead is the highest-drafted of the Lions' three prospects for starting outside linebacker (the Lions traded into the fifth round to get him in 2012).
Lewis, then, is what? He's not the youngest, the highest-drafted or the most experienced. During the 2012 draft process, he was considered a fifth-round pick, and, perhaps, even a little underrated at that. He showed good speed and great instincts at Oklahoma, a recipe that put him constantly around the football.
The Lions drafted Lewis in the seventh round, and, to this point, he has only gotten opportunities on special teams. But he has enough raw talent to beat out both Whitehead and Palmer for the starting job.
Will he actually be the Lions' starter? It's impossible to say, but he will give it a better run than most are expecting.