Arsenal FC: Best Pictures of the Gunners' Premier League Preseason Training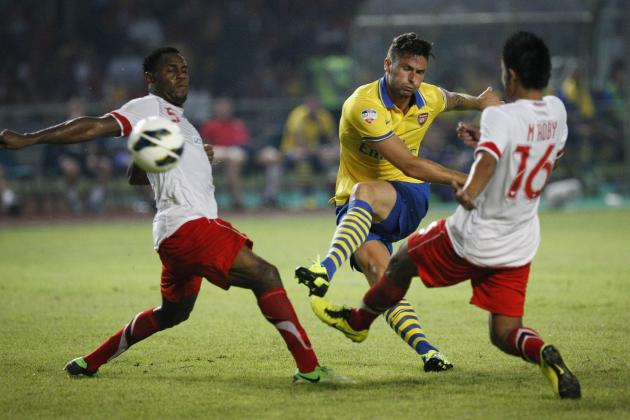 Ulet Ifansasti/Getty Images

Arsenal have started their Premier League preseason on fire. While Manchester City, Manchester United and Everton have all struggled in their first games under their new managers—Manuel Pellegrini, David Moyes and Roberto Martinez respectively—and Tottenham Hotspur have yet to kick a ball, the Gunners destroyed an Indonesian Dream Team 7-0.
It would be fair to say that Arsene Wenger was more than happy with the early outing.
Here, Bleacher Report looks at some of the best pictures to come from Arsenal FC during preseason training. Enjoy the good, the bad, the ugly and, most importantly, the funny.
Begin Slideshow

»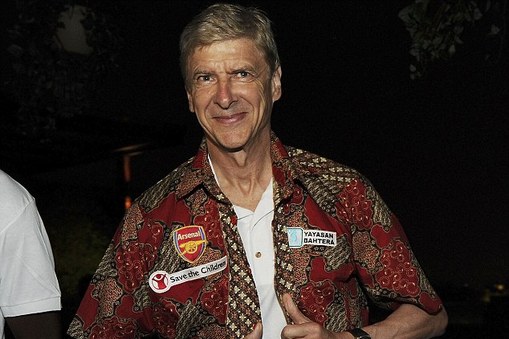 Robertus Pudyanto/Getty Images
From Getty Images via the Daily Mail
No, this is not the new Arsenal gear. For that beauty you'll have to go to the next slide...
Arsene Wenger can be forgiven for wearing this uniquely designed shirt as he is trying to tie down a new contract with Arsenal.
Sky Sports have Le Prof as saying:
I am committed to staying longer at this club. I've already had a chat with Ivan. It went very well, not a problem.

The link with PSG is there because I'm French and I know the owners. But if that was the case then I would be there already. I'm not at PSG because my heart is with Arsenal.
While he may be trying to tie down that contract, just don't ask him to wear a tie with that shirt!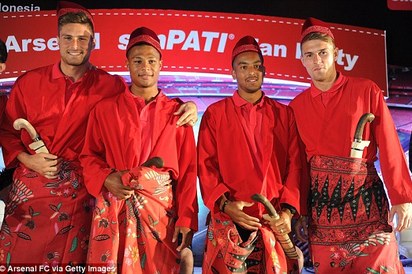 Chris Brunskill/Getty Images
From Getty Images via the Daily Mail
Olivier Giroud and Theo Walcott never looked so threatening!
The secret is out. If Arsenal want opposition defenders to avoid their strikers in the Premier League next season all they have to do is give them dresses and big knives!
Judging by the smile on Olivier Giroud's face, he must be thinking about next season already.
Robertus Pudyanto/Getty Images

Players heading out onto the pitch with a child in tow has become something of a tradition in friendlies and major games.
But never has it been used to such comedic effect.
Check out the 6'6" Per Mertesacker doing his best with a toddler. Still, the child is probably taller than Theo Walcott!
That being said, the Giant German does think the Gunners have what it takes to challenge for the title next season. Sami Mokbel of the Daily Mail quoted Mertesacker as saying: "I would say that consistency is the most important thing. If we can do that then we should be challenging for trophies and titles"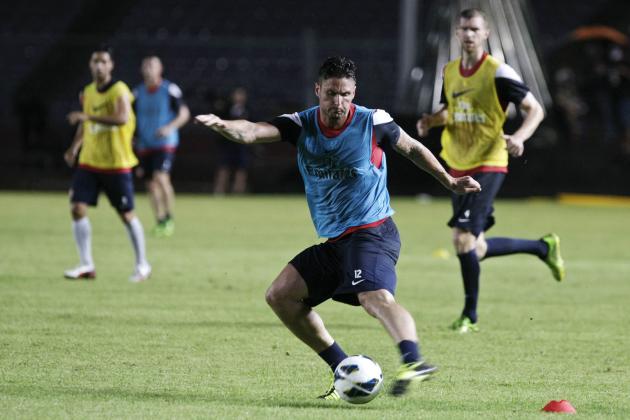 Ulet Ifansasti/Getty Images

Olivier Giroud can be more than happy with his goals during Arsenal's 7-0 romp over an Indonesian Dream Team.
The out-of-luck and under-pressure French striker enjoyed a tough first season with the Gunners. This summer his team have been linked with high-profile strikers like Luis Suarez, Gonzalo Higuain and Wayne Rooney, as the Daily Mirror's John Cross reports.
Giroud's good showing in Jakarta, where he scored twice, prompted Arsene Wenger to speak highly about the striker.
Speaking to Mirror Sport after the match, Wenger had this to say:
I like Olivier very much. He scored 17 goals in his first season in England. He needed to adapt and I'm sure he will respond.

It's been a very positive night for us. Everyone did very well, we played with pace, good passing and technical skill and we could also test some of our young players tonight.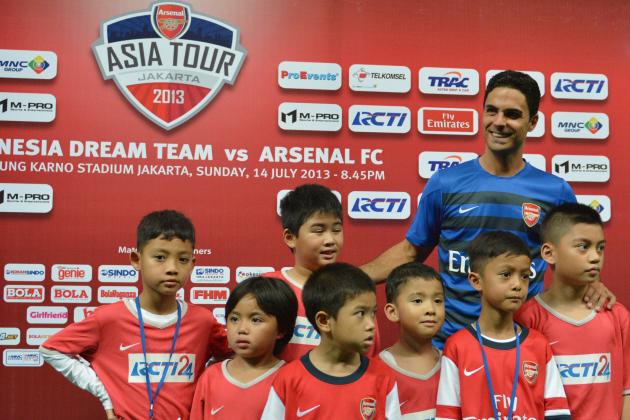 Robertus Pudyanto/Getty Images

No, this is not Mikel Arteta with the rest of the minute Arsenal midfield!
The uncapped Spanish midfielder has been a beacon of consistency for the Gunners since he joined from Everton in 2011. The stylish 31-year-old is one of Wenger's most experienced players and will be expected to guide the likes of Alex Oxlade-Chamberlain next season.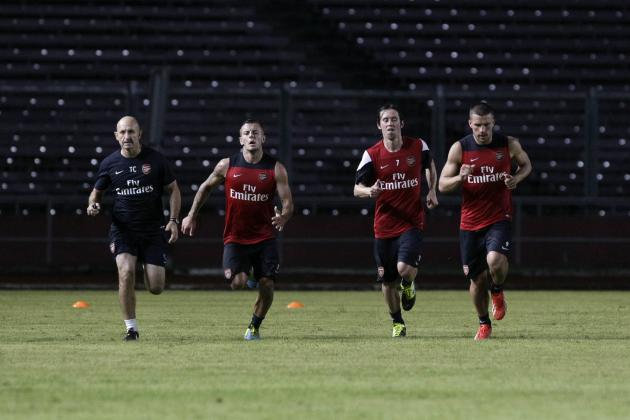 Ulet Ifansasti/Getty Images

Here we have a pic of the Arsenal team going through their paces.
For the uninitiated, the Gunners are doing the dreaded Bleep Test. In preseason training this is about as tough as it gets. Doing it in a humid country like Indonesia can make it twice as hard.
Check out this YouTube video of Sporting Kansas City to see the Bleep Test in action. I've done it myself, and it's tougher than tough!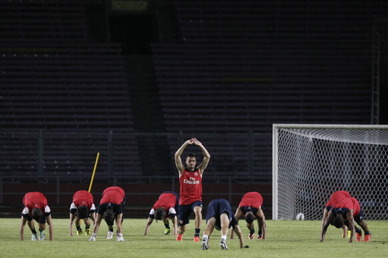 Ulet Ifansasti/Getty Images

After doing the Bleep Test you always deserve a well-earned rest.
Arsenal's team are stretching out their calf muscles although why Giroud has decided upon a different exercise is anyone's guess.
On second thought, he is showing pure survival instinct in case Gonzalo Higuain or Luis Suarez trot out to meet their new teammates!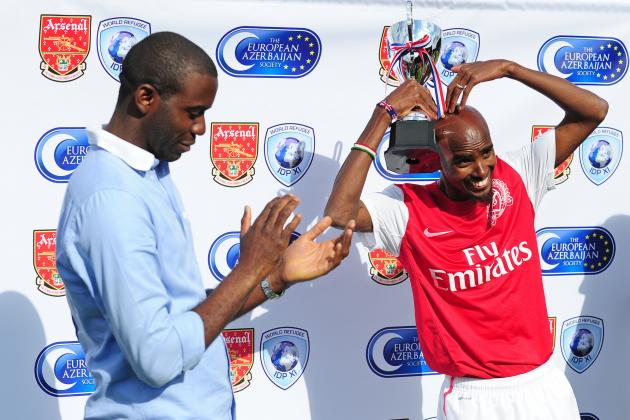 Getty Images/Getty Images

On June 24 an Arsenal legends team played against a Refugee XI at Barnet FC.
The special event organized by Tony Adams saw many ex-Arsenal legends return for the good cause.
Ian Wright, Ray Parlour, Gus Caeser, Michael Thomas, Paul Davis, David Hillier, Vince Bartram, Perry Groves, Stephen Hughes and Olympic champion Mo Farah all played some part for the Gunners.
The highlight of the day was in seeing Fabrice Muamba take up the managerial duties for the Refugee XI.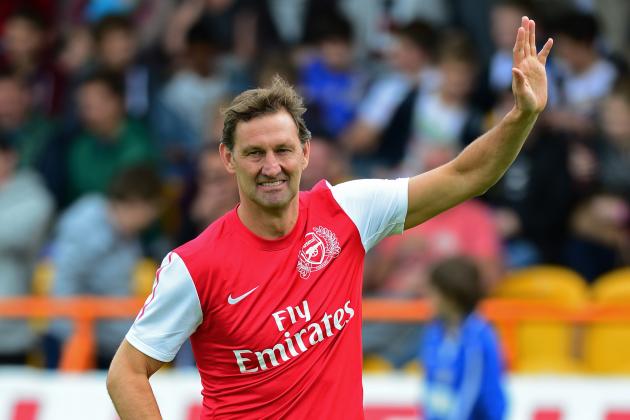 Getty Images/Getty Images

Tony Adams helped organize the event and made an appearance to great cheers from the watching crowd.
In the run-up to the event, the ex-Arsenal captain criticized Arsenal heavily to Ian Ridley of The Sun by stating they had no chance of winning the Premier League title. He also said that he had offered to join the Arsenal board but never received a response. Adams said:
It's time that Arsenal won something again, even the FA Cup or League Cup. But I can't see it, to be honest.

They are still not good enough in certain areas of the team. And they are miles off the title.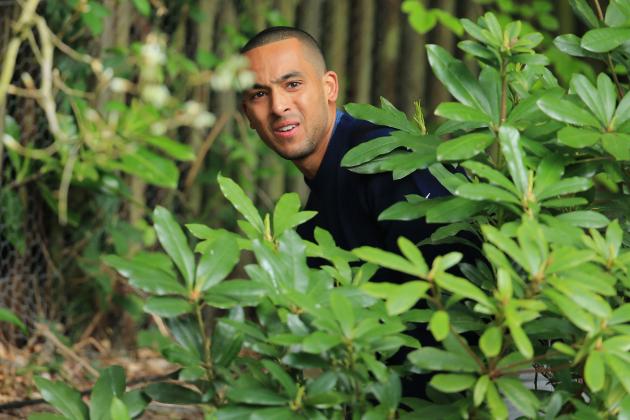 David Cannon/Getty Images

Away from the pitch Theo Walcott likes to play a little bit of golf.
Judging by this picture, the England striker might be best served sticking with his football career!
Although, his shooting was pretty wayward last season, and he's lucky that Golf's rules don't apply in football. Otherwise he would have been playing a lot of passes from Row Z...