Liverpool Lines Run Deep: Kopites On Bleacher Report
May 8, 2009
"I would love to be there," exclaimed a fellow Liverpool fan standing close to me as Steven Gerrard slotted the penalty past Aston Villa reserve Keeper Guzan to make it 5-0 at Anfield on March 22.
I wouldn't have agreed less with him as we live thousands of miles away from the team that we support day in and day out.
I remember my schemes of getting a glimpse of the holy ground, Anfield, as I learnt that Liverpool was just not across my nation (that being India) and the only possible means of transport to the city would not be by bus or car but by an airplane.
My grandest scheme the 'Trip to Anfield' fund was then put into motion when I was 11 years old. Savings from any source of money, the biggest source being pocket money, were kept in a secret location by me for a grand collection.
But the Fund fell apart from loss of focus, thanks to the frantic spending on football accessories during my teens, and lack of sources of money. The Fund has been recently been revived by me to meet the impossible target of seeing Heaven(Anfield).
But I am not the only one with such experiences.
I wasn't surprised to see a host Kopites passionately writing about the team they have stood by. B/R also has a host of writers who have been following and supporting the team through out the world from any part of the world.
So, I asked some of them three simple questions.
Q1) How did you get acquainted with Liverpool?

Answers to this question were quite amazingly varied as Kopites shared their bonding with one of the biggest clubs in Europe. B/R Scribe Myles Cameron, who resides in the United States, was an avid football player during his childhood.
His choice of supporting Liverpool FC was like being different from the crowd who were making the numbers for United. In the absence of a proper soccer league he, along with his friends, was always seen kicking the ball during lunch time and playing in the local leagues.
The want of emulating professional footballers led him to watch the English Premier League for guidance and example. But the choice of support of an EPL team was based on research and not accepting the herd mentality.
Myles chose Liverpool over Manchester United by examining history and reading about Legendary Managers Bill Shankly and Bob Paisley.
                    Bob Paisley
                      Bill Shankly
'You Will Never Alone' had such a 'spine tingling' and 'heart pounding feeling' that it was the final assurance to assure this Kopite, away from the holy land, to support the Red's.
                            'You Will Never Walk Alone' Sung by Liverpool Fans.
On the contrary, B/R Analyst Jamie Ward had never any immediate football influence from his family when he was growing up. All the more his father hated football and his brother was a 'Fair weather' fan who would change teams every season before realizing the ultimate truth that he did not like football.
But that did not deter this Kopite from kicking the ball in the garden or against the garage wall and watching football on television whenever he was allowed. Most of his childhood hours were devoted towards learning of how to control the ball at a speed and teaching himself to return the ball with one touch.
Hard work of this sort would later make him fan of Steve MacManaman - as his usual position on the field was on the wings due to his pace and good ball control - and Kop Legend Bruce Grobbelaar as he loved playing in front of the goal.
His moment of support came in the form of a second hand items in a box.
He was only eight when his father came home with a box containing a 1975 Liverpool FC home kit, match day scarves, a commemorative mirror of Anfield and old Liverpool match day programmes.
That was enough to make him a red supporter. Jamie's support began by watching the reds on television.
Although his first memories of Liverpool were the FA Cup Final defeat to Wimbledon and the 1989-89 league title loss to Arsenal and Michael Thomas.
Michael Thomas Scoring the most important goal for Arsenal.
Arsenal won the 1988-89 League Title at Anfield.
But changing teams was not an option for him despite seeing his team failing to win a trophy in his first year of support. His unflinching support paid off, in the form of being mesmerized by players like John Barnes, Ian Rush, Peter Beardsley, Ray Houghton and John Aldridge, who he secretly believed was Ian Rush's brother.
If that was not it, he loved the way Liverpool played under Kenny Dalglish and still remembering him jumping up and down near the touchline. Hillsborough unfortunately slipped away from his attention during those times as he knew nothing of Liverpool's successful history and their rivalries with other clubs.
But as he actually started to understand and appreciate football and the way Liverpool played, it coincided with Liverpool's decline. He still wonders to this date, if his support was a bad luck for the club.
But 22 years from the day of his introduction to the box of items, ask him which team he supports. His answer would have been the same, be it when he was eight or twenty nine years of age.
However B/R Scribe Johny Riley had a family divided between Liverpool and Everton FC supporters. So it was only a matter of time of choosing between the two.
His uncle got to him first, telling him how important it was to support Liverpool FC. It was quite an influence for any Kopite to have.
But the Kopite to have the most influence on choosing Liverpool FC as his team, is B/R Scribe Jay Blackburn. His love affair began when he was seven and was convinced by an Anfield Insider.
He spent most of his childhood in a local pub as his mother worked for long hours. And that was how he met the Anfield insider, who was well known to his mother as he was a regular visitor to the pub and lived quite near to Anfield.
He might have not been a supporter of any club, let alone Liverpool, but football was the mainstay of his times. This was reinforced with the fact that his uncle played for the Arsenal youth team and was good friends with George Best.
Although Liverpool were certainly a great team in those days, as he had seen them lift their first of five European Cups, but it was a phone call and later a personal confrontation from the Anfield insider that convinced him.
He recalls the day of the phone call as "running around an empty pub like a lunatic" as he was being chased by the landlord's Labrador. His lunatic run was interrupted by his mother who placed the receiver of the phone to his ears.
The voice on the other side was the same squeaky voice of the Anfield insider. Such was the impact of the conversation that he "proceeded to run around screaming and hollering like a lunatic again" except the fact that the Lab wasn't chasing him now.
A few days later the insider confronted him in person along with his friend, who also happened to be a certain Ireland international and Arsenal Player, as they came for lunch and pint in the pub.
It served as a pivotal moment for this Kopite to support Liverpool FC for life. And if you're wondering who the insider might have been, then it was the then Liverpool FC Captain and English International Emlyn Hughes.
Emlyn Hughes lifting Liverpool's First European Triumph of 1965-66
Q2) How have you been supporting Liverpool since then?

Support has never been an issue for Kopites. If you're wondering then just ask Myles who never fails to miss a Liverpool FC match, be it a UCL or EPL match, on TV.
The support doesn't stop there reading, writing and visiting the Official site of Liverpool FC satiates this Kopites support hunger. But it's the visit to Anfield that still hasn't been fulfilled for Myles.
Although he has been to Europe on many occasions, and even had discussions with people about Liverpool FC in pubs and other places, he has never set foot on the Holy Land. He dreams of watching his beloved reds from the Kop with his wife and child.
All the while Jamie's support for Liverpool was something he was proud of, even though others around him did not share the same view about his passion. However in his own way he was the most passionate supporter of the club, not for moment realizing that how big it would one day become.
But all was not well on the other end. Jamie was never allowed to buy new football shirts or any other form of memorabilia as he was told that the things that were bought were good enough for him.
But that did not deter the eight year old from getting a hold of an old Liverpool shirt from a boot sale and he wore it every year. Other than that he would just watch them at every opportunity he could have.
On TV thanks to SKY, as it came out, or listening to his club's football play on the radio at his friend's house. His real contributions, towards the club, started when he was in his late teens as he started to earn and pay for his own things.
Nowadays Jamie contributes much more in the form of memberships, football shirts from the club shop and subscription of LFC.TV. Being a through and through Red, Jamie would defend the club to the death against anyone who criticizes the club unjustly.
That's one of the reasons Jamie's articles carry positive message so as to promote a good image for people who may read them and wish to join the support of the club. But Jamie is also a Football Purist who won't blindly support the team if they seem to cross over the line from right to wrong.
As he approaches his thirties he feels that his passion for the club increases on a daily basis. Although his twenty two years of support has been a roller coaster ride, with many lows rather than highs, he is quite excited about the resurgence of the club under manager Rafael Benitez.
His dream move to permanently settle near the banks of Mersey in Liverpool were halted by the birth of his son, but he still hopes of those days when he would regularly visit Anfield (or Stanley Park) for watching the team he has supported for twenty two years.
However the most important thing on his list is to get a tattoo of the Shankly gates across his shoulders and a liver bird on his chest, just close to his heart. But for Johny supporting the Reds has been "at times with one eye peaking out from between my hands".
His early days, especially in school, were spent between a crowd of Manchester United fans as his family had moved to Lancashire after his birth. He still remembers the resistance he, along with fellow Kopites and a handful of Bolton fans, put up against the Manchester United crowd.
Even at the university the numbers of Kopites were outnumbered but nevertheless he, along with fellow reds, was always watching the team in the bar. Fast forward to the present and Johny gets irked by the media bias against Rafael Benitez and Liverpool as he observes that the major British media outlets are located solely in London and Manchester makes a fair press an "elusive mistress".
One of the reasons why this Kopite joined Bleacher Report. Following Liverpool for so many years, superstition has not been an out of context for him.
He felt guilty for not watching the Champions League final of 2007 from the same location as he did in 2005.
Contrasting Emotions: Liverpool were the beaten finalist against AC Milan in 2007 in another European Cup Final.
But had Liverpool got themselves through to this year's final in Rome, you definitely could have a good guess were Johny would have seated himself for it. Yes that's right, 85 miles to the same bar as he did in 2005.
For Jay being a Kopite has been like "Contradictions and Opposites". He has felt the highest of highs of our incredible successes and the lowest of lows of our heart breaking tragedies.
He feels that he is a part of a dying breed of Liverpool fans that were around the good times and bad. The transition has been of a replacement of Kopites of yester years being replaced by the new ones who haven't seen Liverpool lift a League Title.
Jay feels that the fan of tomorrow has never experienced the total and complete domination of the team in the English league as it was during his times. It's one of the reasons why Jay feels that Liverpool should win the trophy so that tomorrows fan would be able to see a Liverpool captain lift the trophy or see the team taking to the pitch with a guard of honor by the opposition on the last day of the season.
Q3) How would you describe the experience of being associated with Liverpool?

When you are supporting one of Europe's biggest clubs it can be both triumphant and heartbreaking at times.
Myles certainly knows that.
Even if his childhood was spent in enduring taunts and ridicule from his friends (whenever Liverpool lost a match, especially against Manchester United), Myles never lost his cool. Listening constantly to remarks of how "Liverpool have never won and will never win the Premier League", does not make him angry or even get frustrated.
Rather Myles gives his detractors a broad smile while simultaneously thinking of Liverpool's 18 league titles, 5 European Cups and the 'Miracle' of Istanbul. As Myles grew older, such taunts became less of an issue.
All the while Myles has met many Kopites throughout Europe with some of his best friends in college being Liverpool FC supporters. But a defeat can ruin a perfect day for him, so does a victory which can make his week or a year in the case of Liverpool's double, this year, over Chelsea and Manchester United.
Steven Gerrard makes it 2-1 from the spot at Old Trafford en route to a 4-1 against Manchester United.
Fernando Torres makes it 1-0 as he heads the ball past Petr Cech.
Liverpool won 2-0 against Chelsea FC at Anfield completing a famous double over Chelsea
In the end if as long as his 'Mighty' reds continue play, he knows that he will never walk alone. If Liverpool's victory does make one Kopite very happy, then you can always guess that it's Jamie.
Jamie's support for Liverpool is a "24 hour thing". Ask him were does Liverpool FC prioritize in his list of important things.
It's Numero Uno.
Jamie's girlfriend is still in awe at how much it affects him and his mood when Liverpool win, lose or draw. That's not all, she pretends not to be with him in pubs when Jamie is jumping up and down, and screaming with joy in a crowd of complete strangers.
25th of May, 2005 always remains one of his best nights of his life.
Steven Gerrard Lifts Liverpool's Fifth European Trophy in Istanbul on 25th May,2005.
Liverpool FC staged one of the most sensational comebacks in a European Final, when they overturned a HT deficit of three goals against AC Milan.The tie was decided on Penalties which Liverpool won by a margin of 4-2.
He considers the night of Istanbul and the day when he became a father as "Life changing experiences". Apart from his family, nothing has lasted 22 years in his life.
So the emotion's he has experienced all along the way has tied him to Liverpool FC for life. He feels proud about being associated to the people who make Liverpool 'Special'.
Support On A European Night at Anfield.
This picture was taken during Liverpool's European Title winning Campaign in 2005.
Also seen in the picture is the famous banner "MAKE US DREAM".
The clubs anthem "You Will Never Walk Alone" speaks volumes for him. However Jay's association, who feels the emptiness and sadness surrounding the club, in regard to, Hillsborough and Heysel tragedies which he witnessed during his times.
Liverpool fans display 'Amicizia' (means 'Friendship' in Italian) towards the away section fans of Juventus.
Liverpool and Juventus were drawn against each other 20 years after the Heysel Tragedy in 1985.
      The 20th Anniversary of the Hillsborough Tragedy 
Jay is not the one to shy away from expressing his disgust at seeing the so called Liverpool fans making airplane impressions at Old Trafford. He feels that being a Liverpool fan is like "all the emotion that you can feel being wrapped up into a little ball and have the Liver bird stamped on it".
For Jay, Liverpool will always be more than just a football club. Association with Liverpool has been bad for Johny's blood pressure.
Having witnessed the greatest UEFA Cup Final (Liverpool FC 5-4 Deportivo Alaves), greatest European Cup Final (Liverpool FC (pen) 3-3 AC Milan) and the greatest FA Cup Final (Liverpool FC (pen) 3-3 West Ham United), Johny is hoping for the most incredible comeback in the English Premier League.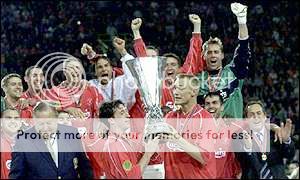 Liverpool's Robbie Fowler and Sami Hyppia lift the UEFA Cup Title.
It's a bird ! No, it's a plane ! No, mate that's a Steven Gerrard  goal bound strike ! 
Steven Gerrard struck a sensational 30 yard screamer against West Ham in the final minutes of stoppage time of the 2006 FA Cup Final.
Liverpool would win the tie on Penalties
It's often frustrating but sometimes inspiring for Johny. However he is glad that he is a Liverpool FC fan.
Even I wouldn't agree less.
One of the Greatest 'You Will Never Walk Alone' sung by Liverpool fans after Liverpool defeated Chelsea FC en route to their first European Final under Rafael Benitez in 2005.