Minnesota Vikings' Final 53-Man Roster, Training Camp Edition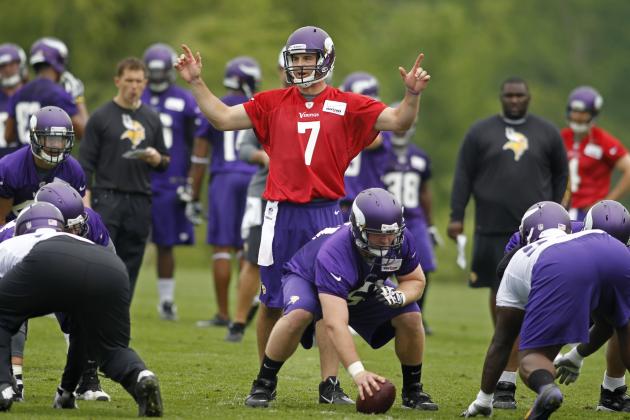 Bruce Kluckhohn-USA TODAY Sports
Many are calling this a make-or-break season for quarterback Christian Ponder.
The Minnesota Vikings will have plenty of turnover from the 2012 roster that finished the season with a 24-10 playoff loss in Green Bay to the Packers to the team that opens the 2013 season in Detroit.
Gone are cornerback Antoine Winfield, wide receivers Percy Harvin, Michael Jenkins and Devin Aromashodu, middle linebacker Jasper Brinkley, and punter Chris Kluwe—all were released, traded or left to sign with other clubs.
There are going to be some exciting battles to pay close attention to during training camp as the final roster takes shape.
There's sure to be one or two veterans released that no one saw coming. They end up as either a salary cap casualty or are squeezed out by an up-and-coming rookie who demonstrates more potential and who the Vikings don't want to lose in an attempt to move to the practice squad.
It's always an exercise in futility to predict the final 53-man roster before training camp even begins. Injuries and the signing of players cut from other NFL camps can have a huge impact on the team that steps onto the field in Week 1.
Nevertheless, here's a pre-training camp prediction of the Vikings' final roster by position.
Begin Slideshow

»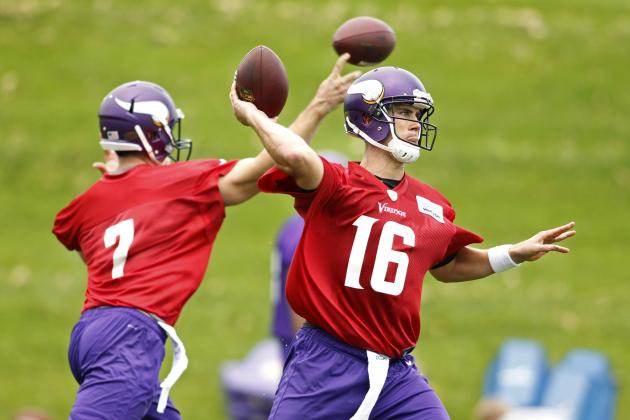 Bruce Kluckhohn-USA TODAY Sports

Starter: Christian Ponder
Backup: Matt Cassel
Clipboard holder: McLeod Bethel-Thompson
Analysis: About the only question to be answered here is whether or not free-agent rookie James Vandenberg has any chance of beating out Bethel-Thompson as the third-string quarterback.
Don't expect any battle for the starter's role—head coach Leslie Frazier has made that very clear. Ponder will be the starter, and Cassel the backup.
While there are a lot of fans who feel Cassel is a better quarterback, a look at both their stats prove they are very much the same quarterback. Even though Cassel has been in the league six more seasons, it's almost eerie how close their stats are.
Ponder has a 46.1 winning percentage with a 12-14 record, while Cassel's winning percentage is 46.8 percent with a 29-33 record. Ponder's completion percentage is 59.2 percent; Cassel's is 58.9 percent. Cassel has a slight edge in passer rating (80.4, compared to 77.1 for Ponder). About the only advantage Cassel has is experience, and it won't be enough to unseat Ponder at this point.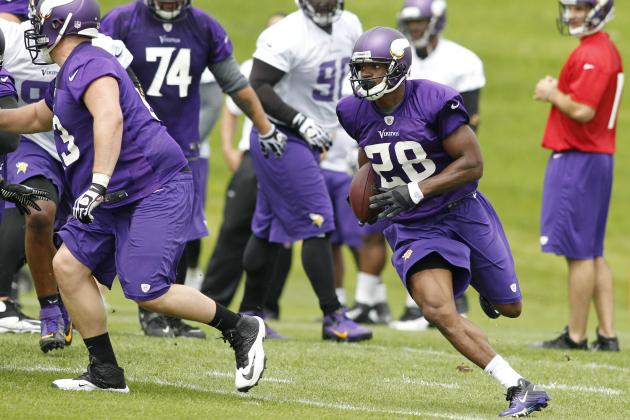 Bruce Kluckhohn-USA TODAY Sports
Adrian Peterson has his sights set on another 2,000-yard season.
Starter: Adrian Peterson
Backup: Toby Gerhart
Third String: Matt Asiata
Analysis: In 2012, the Vikings tied the mark for the most rushing yards in a season with 2,634 yards. Interestingly enough, they set the very same mark in 2007 in Peterson's rookie season.
The running game begins and ends with Peterson. If he can remain healthy, there's no reason for another running back on the roster. Last year, coming off surgery to repair both the MCL and ACL in his left knee, he led the Vikings with 2,097 yards and carried the ball 348 times, the second most in his career.
With Peterson's success, his backup, Gerhart, ended up with the fewest carries in his three seasons. He finished 2012 with only 50 rushes for 169 yards. A very capable runner, the 2009 Heisman Trophy runner-up could still wind up being traded if another team is hit with a major injury at running back.
Asiasta earned his way onto the roster last season during camp by leading the team with 134 rushing yards. With only three carries last season, he has not done anything for the Vikings to lose faith in the former undrafted free agent from Utah.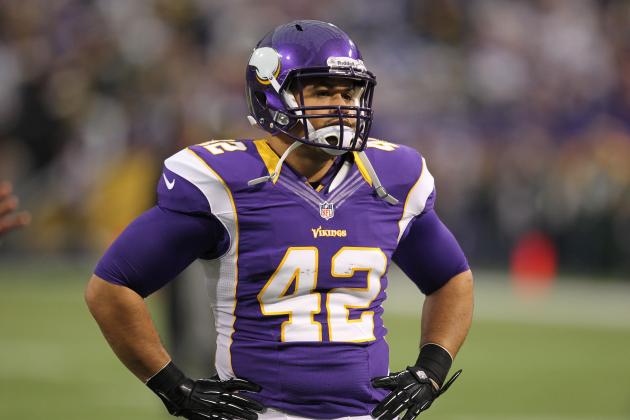 Brace Hemmelgarn-USA TODAY Sport

Starter: Jerome Felton
Analysis: There's no reason to think anything changes here.
The Vikings signed Felton to a three-year, $7.5 contract this offseason to keep the Pro Bowl fullback blocking in front of Adrian Peterson.
In the event of an injury, look for tight end Rhett Ellison to fill in at fullback until either Felton can play again or a long-term solution is found.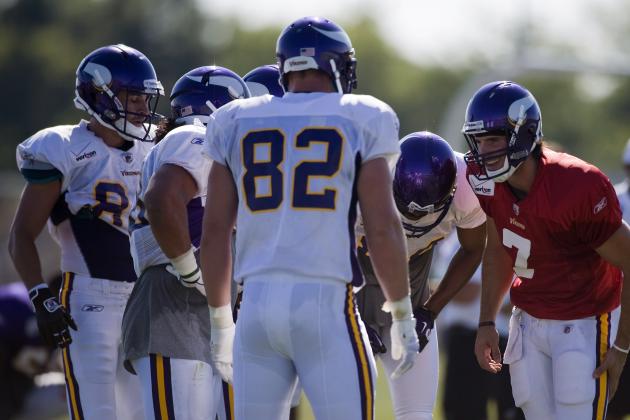 Hannah Foslien/Getty Images
Expect a breakout season for Kyle Rudolph who led the Vikings with nine touchdown receptions in 2012.
Starter: Kyle Rudolph
Backup: John Carlson
Third string: Rhett Ellison
Analysis: The Vikings are poised to have a very good trio of tight ends. Rudolph led the team with nine touchdown receptions last season and was named the Pro Bowl MVP. He caught five receptions for 122 yards and a touchdown in the annual all-star event.
Coming into the league in the same draft as Ponder, look for Rudolph to become one of Ponder's favorite targets in 2013.
After missing the 2011 season with an injury, Carlson suffered a knee injury during training camp that hampered his 2012 season. In his first three years with the Seahawks, he averaged 46 receptions and four touchdowns. The Vikings will give him a chance to prove he can still play at that level.
As a rookie, Ellison played in 15 games, starting seven of them. He brings versatility to the team with the ability to play fullback and tight end. There's a reason the Vikings gave him No. 40 the year after longtime Viking Jim Kleinsasser retired.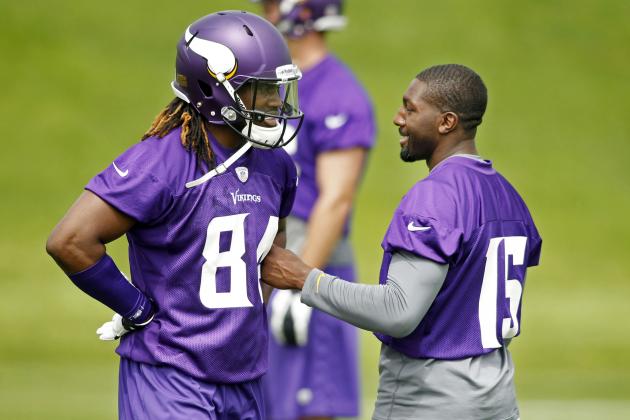 Bruce Kluckhohn-USA TODAY Sports
Cordarrelle Patterson (84) and Greg Jennings (15) are both new additions to the Vikings.
Starters: Greg Jennings (FL) and Jerome Simpson (SE)
Backups: Cordarrelle Patterson, Jarius Wright, Joe Webb and Adam Thielen.
Analysis: This position gets the biggest facelift this year. Only two players are holdovers from last season in Simpson and Wright. One of the biggest surprises will be Webb making the transition from quarterback. He makes the roster because of his athleticism and versatility, as well as his ability to return punts and kicks.
Simpson will open the season atop the depth chart, but only until first-round draft pick Patterson refines his route running. As the leader in all-purpose yards at Tennessee last season, it will be difficult to keep Patterson off the field.
Wright shined last season after getting the opportunity to play in the final seven games. He finished with 22 receptions for 310 yards and two touchdowns. His 65-yard reception against Green Bay in Week 17 was the longest on the season.
The Vikings need to decide whether to carry an extra wide receiver or an extra cornerback. These are the two positions with the most transition over last season. Going with an extra wide receiver opens the door for Thielen.
Sure, this is a feel-good story for a local kid from a NCAA Division II school that just happened to play its games where the Vikings hold training camp. Thielen was invited the Vikings' rookie minicamp without a contract. After what the team saw, it signed him to a three-year, $1.49 million contract.
While at Minnesota State, Mankato, Thielen did it all. He led the team with 74 receptions in 2012, tying the school record. He also returned punts and kickoffs for the Mavericks, finishing third all time in punt returns and punt-return yardage.
The one name that plenty of fans may be wondering about is Greg Childs. Attempting to come back from patellar tendon tears to both knees, Childs' best bet will be to wind up on the Vikings' practice squad. This will give him the opportunity to continue to develop and showcase his talent while the Vikings can see if his knees will hold up. If he makes it through training camp, he will be one of the last players cut.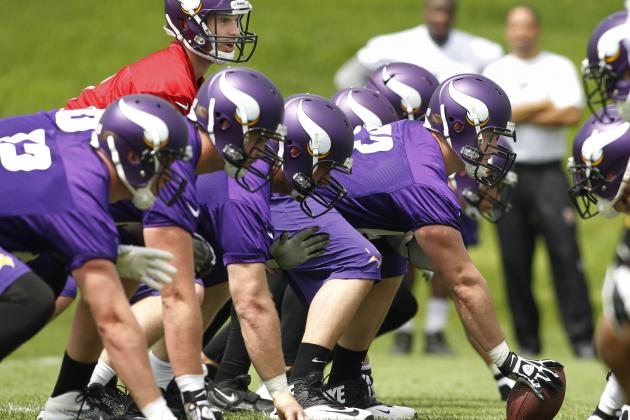 Bruce Kluckhohn-USA TODAY Sports

Starters
LT: Matt Kalil
LG: Charlie Johnson
C: John Sullivan
RG: Brandon Fusco
RT: Phil Loadholt
Backups
Joe Berger
Jeff Baca
Seth Olsen
Analysis: After the success the Minnesota Vikings had last season, there's no reason to change the starting offensive line. In fact, it will be the first time the same five players started alongside each other in consecutive seasons since the 2009 and 2010.
Things shake up a bit in the backup roles. Notice was served to the likes of DeMarcus Love, Troy Kropog, Kevin Murphy and the plethora of practice squad players when the Vikings drafted two offensive linemen in this year's draft.
Berger makes the squad because of his experience and versatility. The seven-year veteran enters his third season with the Vikings as the main backup to Sullivan at center.
Sixth-round draft pick Baca also makes the team because of his ability to play multiple position along the line. At UCLA, he played both guard and tackle.
Olsen, who was with the Vikings briefly in 2010, brings some experience to the team having started five games the last two seasons.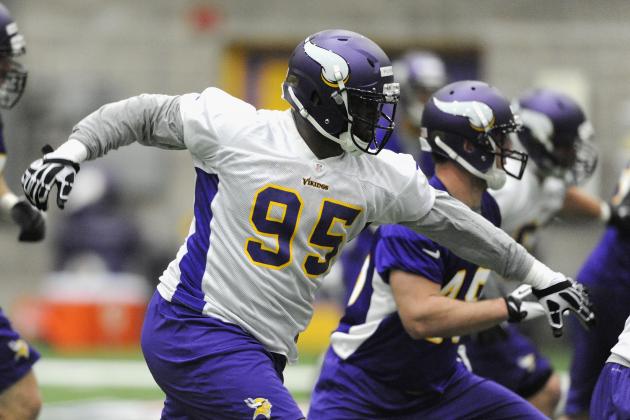 Hannah Foslien/Getty Images
It's going to be very difficult to keep first-round draft pick, Sharrif Floyd off the field.
Starters
RDE: Jared Allen
DT: Kevin Williams
NT: Sharrif Floyd
LDE: Everson Griffen
Backups
RDE: Lawrence Jackson
DT: Christian Ballard
NT: Letroy Guion
LDE: Brian Robison
Analysis: Allen and Williams are a given to start at their respective positions. After that, things get shaken up a bit.
With the three top defensive ends all playing on the last year of their contract, the Vikings will not be able to re-sign them all. As the youngest of the three, Griffen has the greatest upside for the Vikings and will finally break into the starting lineup.
A lot depends on how quickly the Vikings' top pick blows away the competition. Floyd is slated to be Williams' backup, but if the Vikings put the top four linemen on the field, it may be very difficult to keep Floyd on the sideline.
As the dominoes fall around the interior of the line, it means the end of Fred Evans' six years with the Vikings. Guion, who started 15 games last season, moves back into a backup role at nose tackle. Ballard, who can play at either tackle or end, gets the nod because he is only 25 years old.
Jackson wins the battle for the last backup spot along the line. A former first-round pick of the Seahawks, he started 24 games his first two seasons. A backup in Detroit the last three years, he averaged four sacks and 27 tackles per season.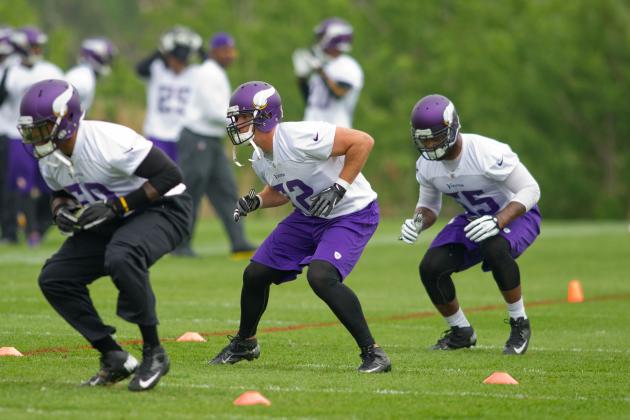 Bruce Kluckhohn-USA TODAY Sports

Starters
SLB: Chad Greenway
MLB: Desmond Bishop
WLB: Erin Henderson
Backups:
Larry Dean, Audie Cole, Gerald Hodges, Michael Mauti.
Analysis: A lot is going to depend on how well Bishop is able to return from a ruptured hamstring. After missing all of last season, he is the key to the Vikings' linebacker situation. If his hamstring doesn't hold up, then the entire linebacker landscape changes drastically. Here's hoping for the best.
The surprise of this group is either Mauti making it all the way back from his third ACL injury or Audie Cole holding on for the second consecutive year. Both players will make their mark on special teams as the Vikings decide to go young and part ways with veterans Marvin Mitchell and Tyrone McKenzie.
Dean, a special teams standout, easily returns for his third season with the Vikings after making the team as an undrafted free agent in 2011.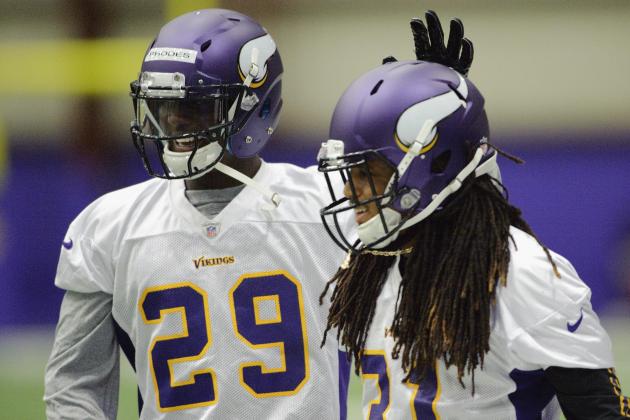 Hannah Foslien/Getty Images

Starters: Chris Cook and Xavier Rhodes
Backups: Josh Robinson, Jacob Lacey, A.J. Jefferson and Marcus Sherels
Analysis: This will be the toughest call in camp for the Vikings. The top three corners are going to be Cook, Rhodes and Robinson; after that, things get difficult.
Lacey brings the most experience to the team, and the Vikings are going to need some veteran leadership. Coming into the league one year ahead of Cook, Lacey has twice as many starts (36). His six career interceptions are more than the rest of the cornerbacks currently on the roster combined.
Jefferson is going to have really work hard to earn a spot on the team. With such a young group of players, his experience gives him a slight edge after starting seven games in each of the last two seasons.
The toughest prediction is around Sherels. If no one can unseat him as the primary punt returner, then he makes the team. He will need to prove that he can provide at least mediocre coverage if called upon to play defense.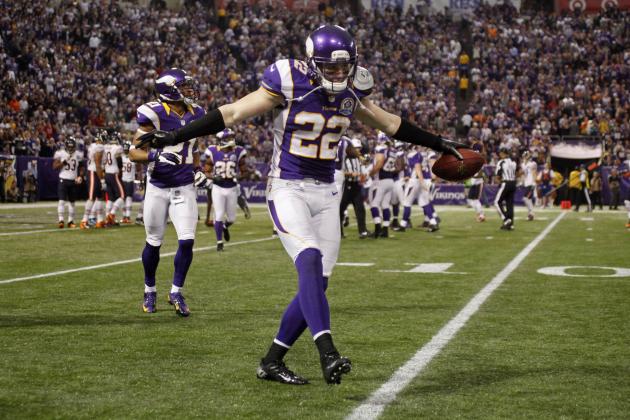 Bruce Kluckhohn-USA TODAY Sports

Starters: Harrison Smith and Mistral Raymond
Backups: Jamarca Sanford, Robert Blanton and Andrew Sendejo
Analysis: This was one of the most improved positions in 2012, mainly behind the play of Smith. He tied for the team lead in interceptions with three and demonstrated the ability to make the big hit on opposing receivers. The only question surrounding this position is who starts alongside him.
Last season, Raymond earned the right, but an injury opened the door for Sanford to have one of his best seasons.
Blanton and Sendejo also make the final roster, mainly because the competition for the final two spots includes a couple of undrafted rookies and experience wins in these battles.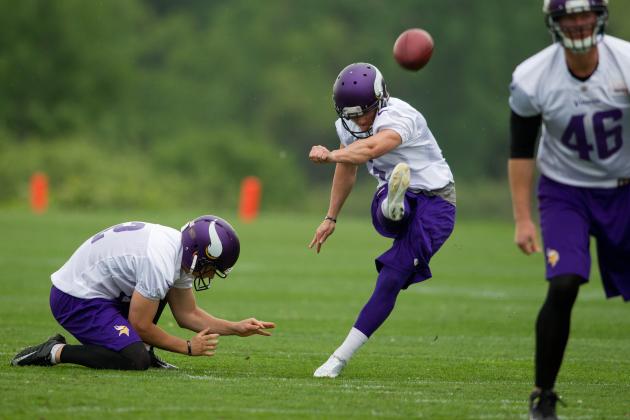 Bruce Kluckhohn-USA TODAY Sports

Kicker: Blair Walsh
Punter: Jeff Locke
Long snapper: Cullen Loeffler
Analysis: This is the easiest trio of players to predict—there is no competition for any of these guys. Walsh enters the season a perfect 10-of-10 last year on 50-yard field-goal attempts. The biggest concern could be with Locke taking over for Chris Kluwe as the holder.
Drafted in the fifth round, Locke, like Walsh, will have no competition as a rookie. The Vikings made sure of that when they released P.J.Conley and Kluwe immediately after the draft. Conley was originally signed to provide some competition at punter.
Like most teams, the Vikings carry only one long snapper, and Loeffler has held that position since 2004.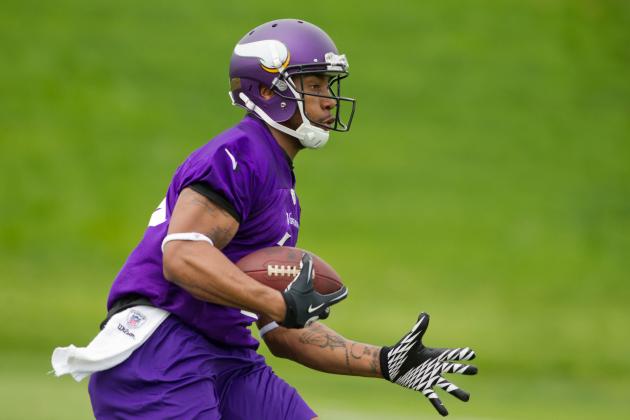 Bruce Kluckhohn-USA TODAY Sports

There will be a huge collective sigh from the following players who were on the roster bubble to make the team.
Joe Webb (WR)
Adam Thielen (WR)
Lawrence Jackson (DE)
Christian Ballard (DT)
Seth Olson (OL)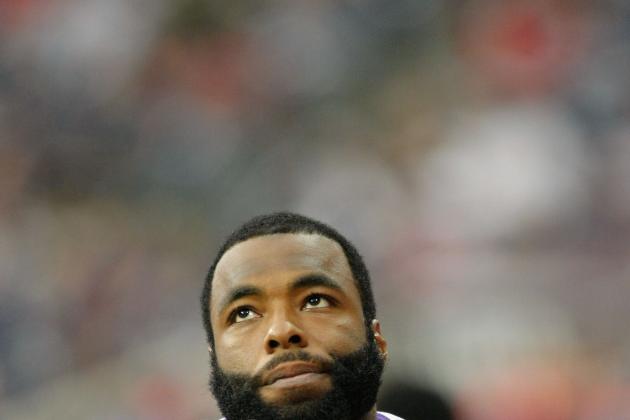 Brett Davis-USA TODAY Sports

For those players that just missed the cut, there will be plenty of looking back and wondering what could have been done better, or differently, to change the outcome. The following players will be looking to find a spot on another team or hoping to be assigned to a practice squad somewhere so they can continue their dream of playing in the NFL.
Marvin Mitchell (LB)
Tyrone McKenzie (LB)
Brandon Burton (CB)
Greg Childs (WR)