Burning Questions for Cleveland Browns Training Camp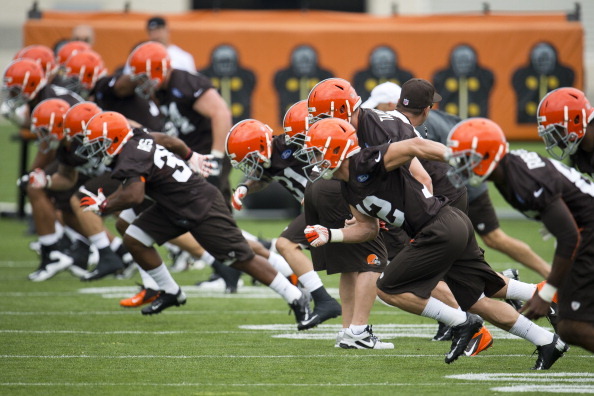 Jason Miller/Getty Images

It's the dawn of a new era in Cleveland...again.
There's an entirely new regime in Cleveland. A new owner in Jimmy Haslam. A new general manager in Mike Lombardi. A new coaching staff, headlined by head coach Rob Chudzinski and coordinators Norv Turner and Ray Horton.
It's this group that will be tasked with leading the Browns out of the AFC North cellar, a goal that more than one staff has failed to achieve in recent years.
As one would expect with a team that's been constantly rebuilding for the past 15 years, there are any number of burning questions that must be answered before the Browns open the season on September 8 against the Miami Dolphins.
Here's a look at some of the biggest ones.
Begin Slideshow

»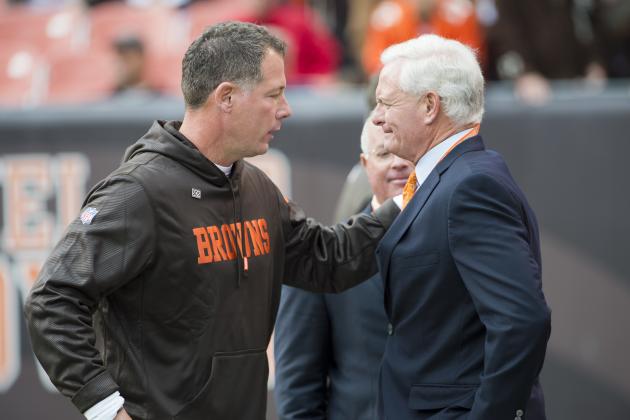 Jason Miller/Getty Images

Haslam's tenure as owner of the Browns hasn't gotten off to best of starts.
Back in April, the FBI raided the corporate headquarters of Haslam's Pilot Flying J Corporation, as part of an investigation into claims that Haslam and and his company bilked customers out of millions of dollars in fuel rebates.
Haslam has repeatedly denied any wrongdoing, but as Tom Breckenridge of The Cleveland Plain Dealer reports, a number of lawsuits have already been filed by trucking companies who claim they were ripped off.
Also, ESPN reports that there is a "plan in place" for Haslam to retain ownership of the Browns if he's indicted, and Haslam has vehemently stated that he has no intention of selling the team he only recently bought.
For now this appears to be an issue circling well above the heads of the Cleveland players. However, this whole thing could go from nuisance to bona fide distraction if Haslam is indicted and the NFL takes action against him that affects the day-to-day operations of the team.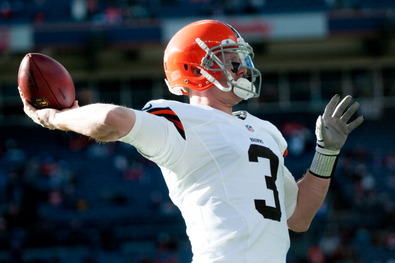 Dustin Bradford/Getty Images

The Cleveland Browns turned some heads last year when they selected (then) 28-year-old Oklahoma State quarterback Brandon Weeden with the second of their two first-round picks in the 2012 NFL draft.
Unfortunately, Weeden didn't turn many heads in his first season under center, throwing more interceptions than touchdown passes, posting a passer rating of less than 75 and ranking as the worst starting quarterback in the NFL according to Pro Football Focus (subscription required).
With that said, Chudzinski appears committed to giving Weeden one more shot, and at least one pundit believes that Weeden could be set for bigger and better things in 2013.
Evan Silva of Rotoworld recently reported that ESPN's Ron Jaworski, as part of his review of all 32 starting quarterbacks in the NFL, believes that Weeden can become a "rock solid starter" in Norv Turner's offense.
"For a rookie, Weeden showed uncommon poise and calm in the pocket" with "consistently solid" mechanics. Jaworski was also impressed with Weeden's "ability to sit on his back foot and drive the ball with velocity." Added Jaworski, "There's no question in my mind that his throwing skill set and Turner's quarterback-friendly system will mesh effectively."
Granted, it will still fall on Weeden to find the open man and get the ball to him quickly and accurately, but Jaworski's assessment at least gives fans of the team some hope that the Browns didn't squander yet another high draft pick.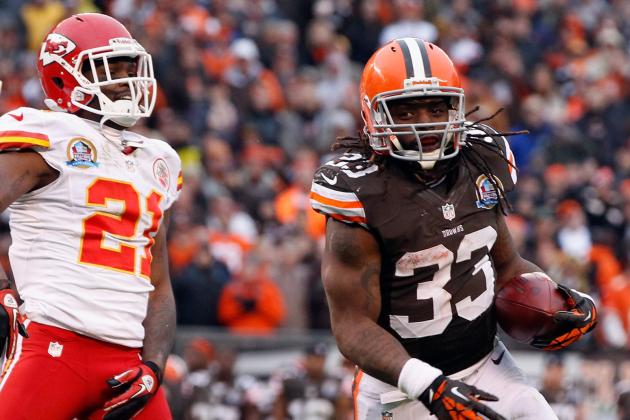 Matt Sullivan/Getty Images

With their other pick in last year's first round, the Browns traded up to select Alabama running back Trent Richardson, and much like with Weeden things didn't quite go as planned.
Richardson did manage to score 13 touchdowns as a rookie, but rib and knee injuries limited Richardson to under 1,000 yards on the ground and a paltry 3.6 yards per carry.
Richardson's history of battling nagging injuries dates back to his days with the Crimson Tide, and they've followed him into his second NFL season as well.
The 23-year-old was forced to sit out OTAs and minicamps with an injured shin, and there have been reports that Richardson might not be ready for the start of minicamp.
However, Mary Kay Cabot of The Cleveland Plain Dealer reported that Richardson has already begun running, and is on track to report with the veterans on July 24th.
With that said, though, it would hardly be surprising to see the Browns take it very slowly with the young ball-carrier, given that the team is counting on Richardson to be a cornerstone of the offense in 2013.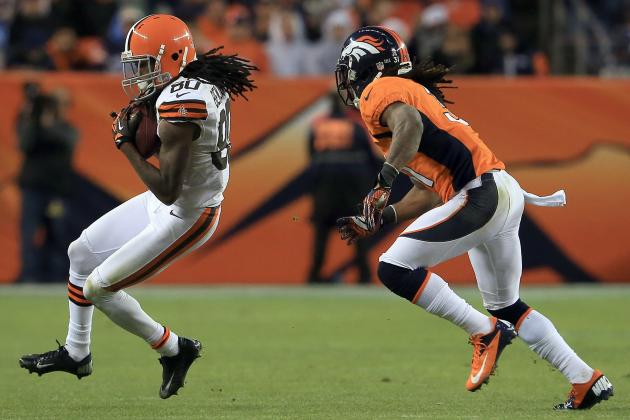 Doug Pensinger/Getty Images

For the past several seasons, the Cleveland offense has been hamstrung by a lack of reliable talent at the wide receiver position.
The team appeared to have finally turned a corner in that regard in 2012. The Browns chose Baylor's Josh Gordon in the second round of the 2012 supplemental draft, and Gordon went on to a solid rookie season, reeling in 50 passes for a team-leading 805 yards and five touchdowns.
However, Gordon's penchant for getting into trouble appears to have followed him to the NFL.
The 22-year-old will miss the first two games of the 2013 season after violating the NFL's substance abuse policy, and Tony Grossi of ESPN reported back in June that despite that wake-up call Gordon has been partying with "the wrong crowd" in South Florida.
Simply put, the Browns can't count on Gordon being around, which means that someone is going to have to pick up the slack.
The addition of veteran slot receiver Davone Bess will help, and if Weeden's recent comments are any indication then there might another youngster ready to take his game up a notch.
That youngster is second-year pro Travis Benjamin. who Weeden praised after OTAs according to Nate Ulrich of The Akron Beacon Journal.
Travis had at least as many catches if not more than anybody in camp. His route running is phenomenal, probably because he's so fast. Guys have to honor him running by them. He's been getting in and out of breaks so well. Whether it's in-breaking routes or out-breaking routes, he's really found a knack of getting separation and giving me a chance to complete some balls. He's had a lot of catches this camp. He's stuck out.
Benjamin is the likely starter with Gordon out, especially if he can carry his strong workouts into training camp and the preseason.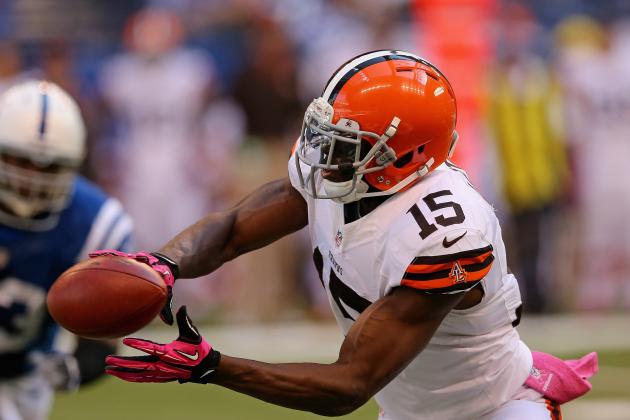 Jonathan Daniel/Getty Images

Of course, it would help the Browns immensely at wide receiver if the player they drafted two years ago to be a starter finally started playing like one.
Greg Little was the Browns' second-round choice in 2011, and since entering the NFL the 6'2", 220-pounder has drawn the ire of Browns' fans, due mostly to an eye-popping 23 dropped passes in two years.
Little has reportedly re-dedicated himself to his craft in the offseason, and the former North Carolina standout recently told Matt Florjancic of the team's website that he's found a role model in veteran wideout Davone Bess.
He's a pro. He's one of those guys that's first-in, last-out, and that was good for him to come into our room and bring that with him. I think he compliments our room well, and what he's able to do inside and on third downs, he's proven he can be a playmaker. Just talking with him and seeing how he runs routes and what he's thinking when he's running routes is really what we've been talking about. He's just added a little bit more to my game as well.
Granted, no one can fix the concentration problems that cause Little to drop the easy catches and make the difficult ones but Little, but if he can right the ship this season it would be a huge boost to the Cleveland passing game.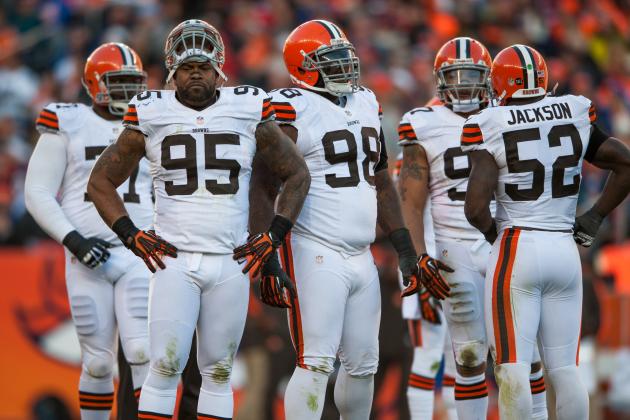 Dustin Bradford/Getty Images

New defensive coordinator Ray Horton brings with him an aggressive 3-4 defense to the Browns, and fans of the team should be looking for some big things from Cleveland's defensive linemen in 2013.
Or perhaps I should say they'll be looking at some big defensive linemen.
It's not exactly a shocker, as linemen in a 3-4 defense are there to occupy blockers more than to wreak havoc in their own right, but even by 3-4 standards the Browns are going to have a beefy front three.
That's in large (to pardon the pun) part due to the fact that two of Cleveland's three linemen (nose tackle Phil Taylor and tackle-turned-end Ahtyba Rubin) tip the scales at well over 320 pounds. However, both players also display surprising quickness for men of their size, especially Taylor, who college coach Steve Achuff told Steve Doerschuk of The Canton Repository "moves like a cat."
The Browns also added free agent Desmond Bryant (the runt of the litter at 310 pounds) in the offseason, and if that trio can win more battles than they lose at the point of attack then the linebackers behind them will clean up.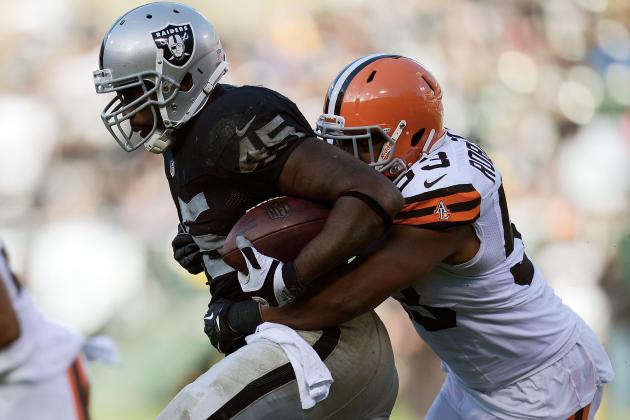 Thearon W. Henderson/Getty Images

About those linebackers behind that robust defensive line.
Three of the four linebackers in Horton's 3-4 appear set. Free-agent signee Paul Kruger will man one of the outside linebacker spots, flanked by a combination of converted defensive end Jabaal Sheard and rookie first-round pick Barkevious Mingo.
Standout linebacker D'Qwell Jackson will hold down one of the inside linebacker positions, and for the time being it appears that the second starter at inside linebacker will be second-year pro Craig Robertson.
Robertson topped 90 tackles in 2012 after joining the team as an undrafted free agent. However, those tackle numbers can be misleading, as Robertson was ineffective according to Pro Football Focus, grading out 35th among 4-3 outside linebackers.
Now Robertson will slide inside, into a role that he's undersized to play. For example, Navorro Bowman of the San Francisco 49ers and David Harris of the New York Jets, who both play the same position Robertson will man in 2013, each weigh between 15-20 pounds more.
Robertson doesn't see his size (or lack of it) as a disadvantage according to Tom Reed of The Cleveland Plain Dealer.
Inside, outside, linebacker is linebacker. At the end of the day it's about getting to the ball. That's how you make plays – you run to the ball. It doesn't matter where you line up. I'm always going to get after it.
If Robertson falters the Browns could be in trouble, as behind him are a lot of untested young players such as L.J. Fort and Tank Carder.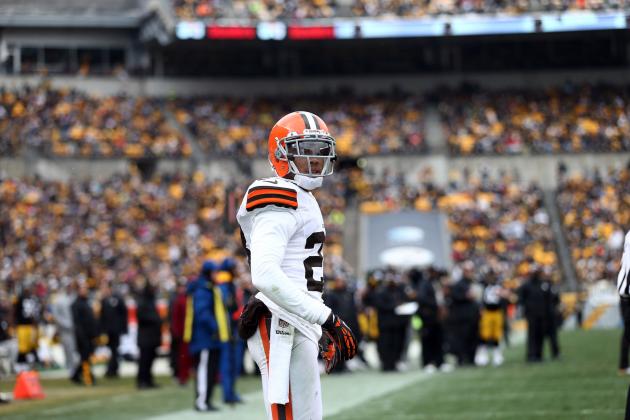 Karl Walter/Getty Images

In Joe Haden, the Browns have one of the best young cornerbacks in the National Football League, a player well on his way to becoming one of the truly elite options at his position.
Now the Browns need to find him a batterymate.
Dimitri Patterson, the second starter at cornerback in 2012, is no longer with the team.
Injuries and a four-game suspension for Haden last year resulted in an increased role for 24-year-old Buster Skrine. Skrine had over 80 tackles in 2012, but that was because the player he was covering always made the catch. Per Pro Football Focus, only six cornerbacks in the NFL allowed a higher completion rate than Skrine's 73.1 percent.
That leaves rookie Leon McFadden, the Browns third-round draft choice in 2013.
At 5'10", many consider McFadden a bit on the small side to play one of the outside slots, believing him better suited for the nickelback spot.
However, Dallas Cowboys tight end Gavin Escobar, who played with McFadden at San Diego State, thinks that McFadden would do just fine as a starter according to Matt Florjancic of the Browns' website.
I was going against him, and I wouldn't say he'd lock me down, but he's strong. He's strong for his size, and he can jump too. I think he'll be fine going up against those strong receivers. I didn't go up against him a lot, being a tight end, but when I did go up against him, I always told the quarterback I was open. In reality, it was good competition.
The Browns also signed free agent Chris Owens, but he's no bigger than McFadden, so the starting job opposite Haden may well be McFadden's to lose.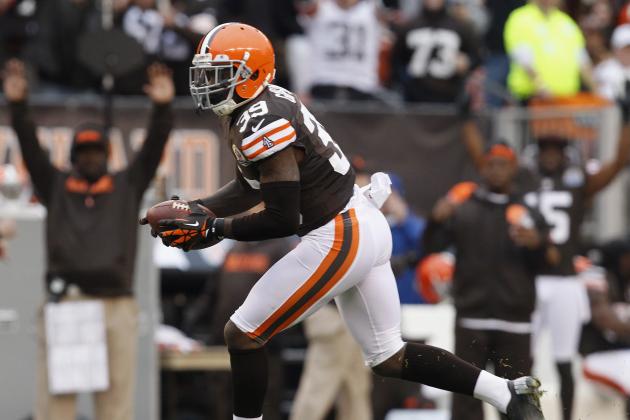 Matt Sullivan/Getty Images

The questions facing the Cleveland secondary don't stop at cornerback.
Fourth-year pro T.J. Ward is entrenched at strong safety, but the free safety spot is still very much in the air, with a trio of players fighting to win the job.
Second-year pro Tashaun Gipson is the nominal favorite to win the job after starting three games last year. An undrafted free agent out of Wyoming, Gipson recently told Tom Reed of The Cleveland Plain Dealer that he's heading to camp with the mind-set that he's the starter, stating that "You've gotta have confidence. Confidence is key."
However, Gipson will face challenges from a couple of players. Special teams star Johnson Bademosi is making the move from cornerback to free safety this year, and the Browns took Notre Dame's Jamoris Slaughter in the sixth round of April's draft.
With Slaughter returning from a serious injury and Bademosi changing positions the job is probably Gipson's to lose, but there isn't going to be much margin for error for the 22-year-old.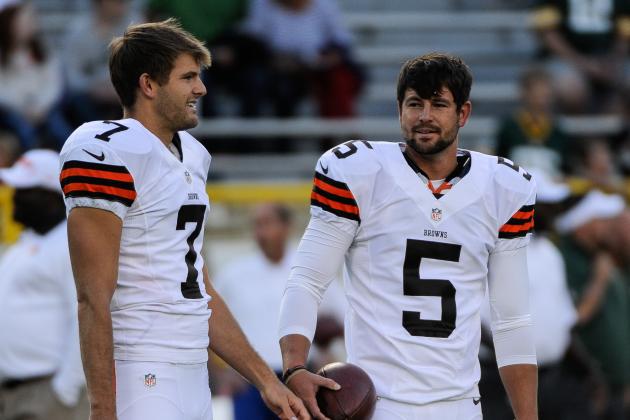 Benny Sieu-USA TODAY Sports

At first glance, the "battle" to be the punter for the Browns may not seem to have much importance. After all, a glamour position it isn't.
However, having an effective punter can be a vital part of the field position game, and if the Browns are going to improve in 2013 they need every edge they can get.
Unfortunately, neither of the punters that the Browns have in camp exactly inspires the warm and fuzzies.
In fact, neither punter the Browns have on the roster was even in the NFL last year.
Spencer Lanning will be trying for the fifth time to latch on with an NFL team this year, while T.J. Conley sat out the 2012 season after averaging just under 43 yards a kick for the New York Jets in 2011.