Bubble Watch for Atlanta Falcons' Training Camp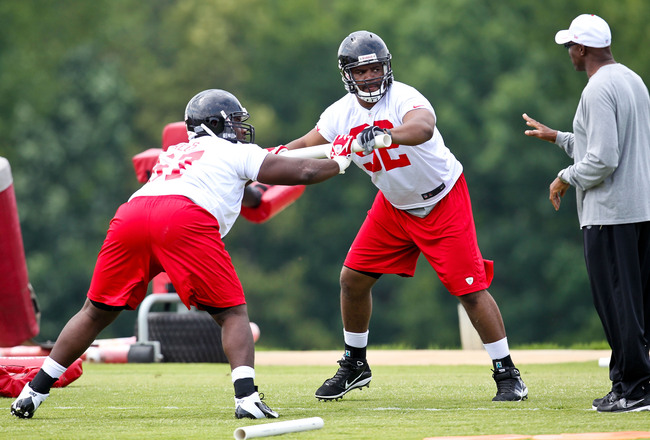 Robertson and Regis will compete for a spot
Daniel Shirey/Getty Images
The Atlanta Falcons have one of the best teams in the NFC again this year. And that's top to bottom, one to 53. However, there are quite a few battles for players who are on the fringe. The bubble if you will.
The Falcons bubble players are all over the roster and have an impact mainly on special teams and in reserve roles.
Here are just 10 players who are on the Falcons bubble for training camp.
Sean Renfree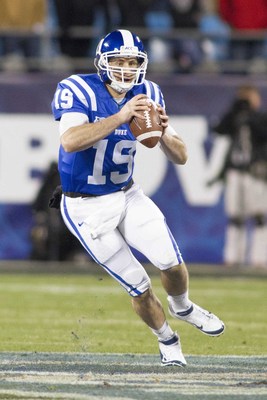 USA TODAY Sports
Experience: Rookie
Depth Chart Position: 3rd-String Quarterback
Analysis
When it comes to the bubble for NFL teams, the third-string quarterback always seems to be the one that leaves the most questions. He's always either an undrafted free-agent rookie or someone who was drafted late with the intention of never playing.
Renfree hopes to be one of these third-string guys. He will have to beat out Seth Doege for that final roster spot. Whether it's Doege or Renfree who steps up and wins the job, the Falcons should have a very good group of quarterbacks in 2013.
Antone Smith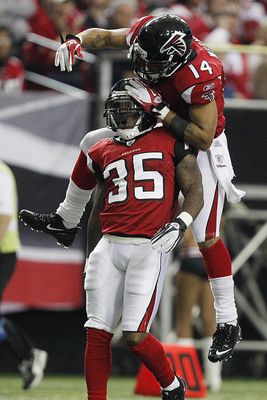 Josh D. Weiss-USA TODAY Sports
Experience: 4 Years
Depth Chart Position: 4th Running Back and Special Teams Ace
Analysis
Antone Smith has played in Atlanta for four seasons—one of which was on the practice squad. And in those four seasons, he's provided a total of one carry for negative-three yards and hasn't caught a ball yet. Even on special teams, he's provided just 13 tackles over three years active.
With Ronnie Wingo as an option to compete with him and other running backs also competing, there's no reason to think Smith has a spot locked down as the final running back.
Kevin Cone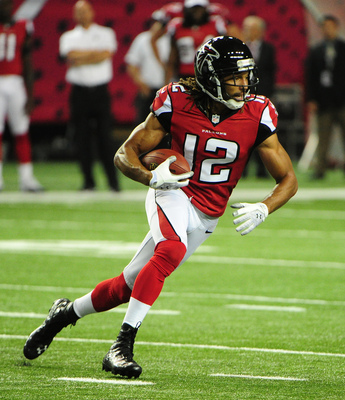 Scott Cunningham/Getty Images
Experience: 2 Years
Depth Chart Position: 5th Wide Receiver
Analysis
Kevin Cone is a monstar on special teams. However, in his two seasons as a wide receiver in Atlanta, he's proven to be nothing but a blocker and was targeted only once in the passing game.
No matter how good of a gunner you are, there's always going to be someone better at the primary job. And with multiple competitors from Marcus Jackson to Martel Moore to Tim Toone, it looks to be Cone's last year on the training camp roster.
Tommy Gallarda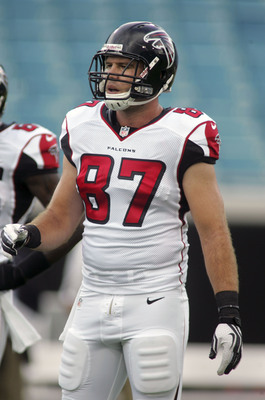 Phil Sears-USA TODAY Sports
Experience: 2 Years
Depth Chart Position: 3rd Tight End
Analysis
After an injury Tommy Gallarda got during the 2012 season, the Falcons brought back Chase Coffman. Coffman has shown the ability to provide a receiving option that Gallarda can't.
But Gallarda's real strength is as a blocker. Then the Falcons took Levine Toilolo in the 2013 draft, and he's almost on par as a blocker with Gallarda. So combine Toilolo's all-around ability with Coffman's receiving ability, and the writing is on the wall for Gallarda.
Harland Gunn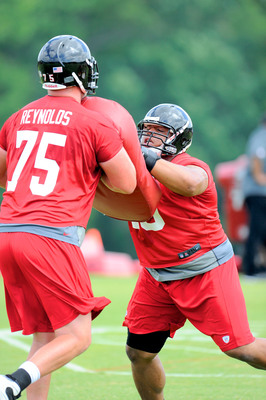 Dale Zanine-USA TODAY Sports
Experience: 1 Year
Depth Chart Position: Backup Guard
Analysis
Harland Gunn was a backup guard for the Falcons in 2012. He's going to have to earn his spot on the roster again this season, and it's looking very unlikely that he will unless the team keeps 10 offensive linemen.
Gunn will be competing with Phillipkeith Manley and Jacques McClendon for the final guard spot on the roster, and it will be unlikely for him to come back to Atlanta's active roster this season.
Ryan Schraeder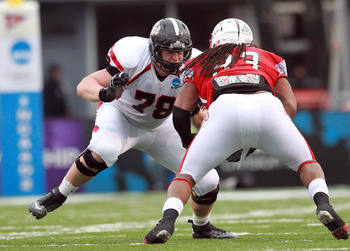 USA TODAY Sports Images
Experience: Rookie
Depth Chart Position: Backup Left Tackle
Analysis
Ryan Schraeder is a very technically sound, athletically gifted offensive tackle. He's got the feet and intelligence to play left tackle as a reserve.
He will have to beat out Alex Savoie and Terren Jones for the final tackle roster spot. However, there's no reason for the Falcons to not give him every shot to earn it.
Cliff Matthews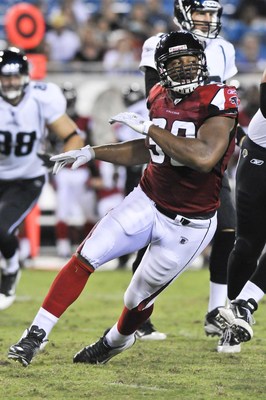 Fernando Medina-USA TODAY Sports
Experience: 2 Years
Depth Chart Position: Final Defensive End
Analysis
The Atlanta Falcons will likely keep five defensive ends on the roster. However, Cliff Matthews looks to be the sixth-best guy at the position. If he can show value as a 3-technique defensive tackle in some sets, he will force a sixth end on the roster.
Matthews has a ton of special teams ability, and the team has already put two full years of resources into the former Gamecock's development.
Robert James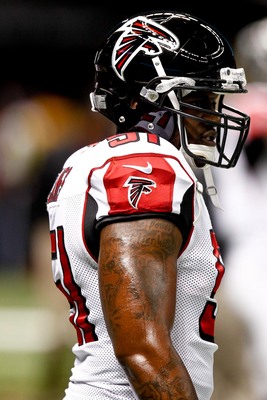 Derick E. Hingle-USA TODAY Sports
Experience: 5 Years
Depth Chart Position: Final Linebacker on the 53-Man Roster

Analysis
Robert James was an average-at-best special teams player and was rightfully limited in his defensive snaps during the 2012 season. He's an athletic player, but he will have to win his job again in 2013.
James is nearing the point where he could be completely expendable for the Falcons. Paul Worrilow, Pat Schiller and even Brian Banks look to all usurp James' role on special teams from him.
Dominique Franks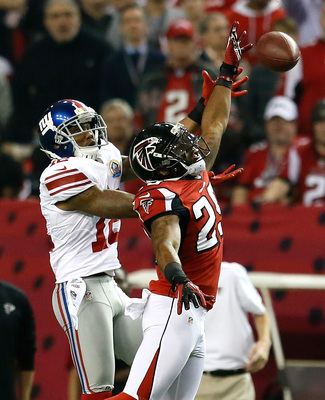 Kevin C. Cox/Getty Images
Experience: 3 Years
Depth Chart Position: 5th Cornerback/5th Safety

Analysis
Dominique Franks is a legitimate reserve for both cornerback and safety. His versatility combined with his playmaking ability ensures that he can have a shot at the roster.
Add in Franks' value as a returner, and he will definitely compete for a role as a reserve. But he will have to get better as a gunner in 2013 because it's very unlikely that he will earn the starting role at punt returner again.
Shann Schillinger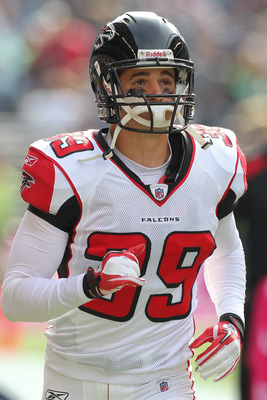 Otto Greule Jr/Getty Images
Experience: 3 Years
Depth Chart Position: Backup Strong Safety

Analysis
As a safety, Schillinger has been nothing more than mediocre at best. He's made his bones on special teams and would have only made the roster in 2012 if the Falcons kept five safeties.
They didn't, but Schillinger got injured so the team put him on injured reserve. He has another two safeties to fend off this year. And at this point, he's completely expendable—especially in the last season of his rookie contract.
All stats used are either from Pro Football Focus's Premium Stats, ESPN, CFBStats or the NFL. All contract information is courtesy Spotrac and Rotoworld. All recruiting rankings come from 247Sports.com.
Scott Carasik is a Featured Columnist for Bleacher Report. He covers the Atlanta Falcons, NFL and NFL Draft. He also runs DraftFalcons.com.
Keep Reading

Atlanta Falcons: Like this team?