Bubble Watch for Green Bay Packers Training Camp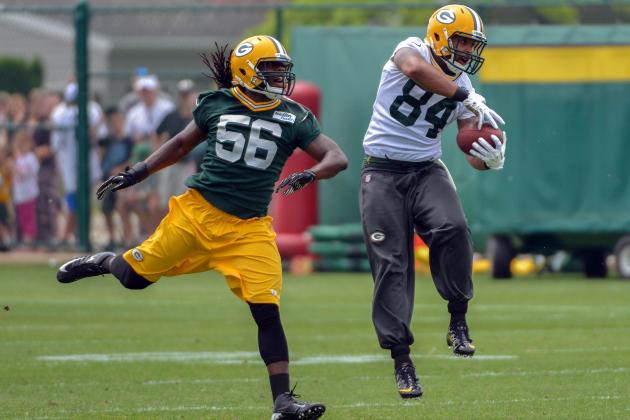 Benny Sieu-USA TODAY Sports

As is the case at 31 other training camps, the Green Bay Packers enter the start of the 2013 season with a number of players on the roster bubble.
Whether it's because of depth, new additions or failed expectations, these players can't feel secure about their position on the roster. On the bubble, players need a strong showing during the month of August to win a spot on the final 53-man roster.
In the following slides, I'll break down the eight players I feel are on the roster bubble as the Packers begin training camp.
Begin Slideshow

»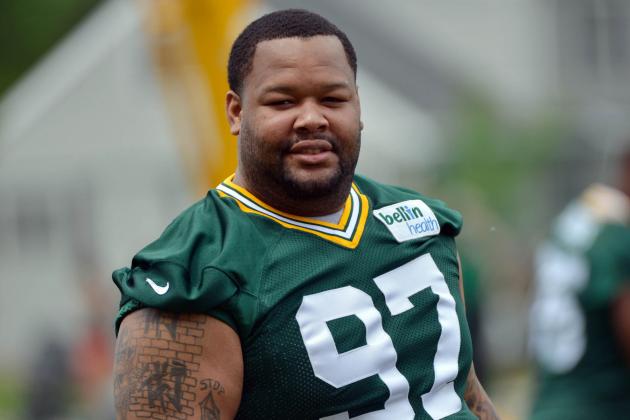 Benny Sieu-USA TODAY Sports

Experience: Fifth season

Depth Chart Position: Backup defensive line

Analysis: There was a time when Jolly, a former sixth-round pick in 2006, was the Packers' best defensive lineman. On the NFL's No. 2 run defense in 2009, Jolly started at defensive end and was a force.
However, a string of run-ins with the law has cost the 325-pounder each of the last three seasons.
Now 30 years old and without a snap played since January 2010, Jolly faces long odds to make the Packers' 53-man roster. Adding to the depth by drafting Datone Jones and Josh Boyd in April also make it unlikely that Jolly is able to stick.
While Jolly is a great story after beating his demons, the Packers simply can't afford to carry an extra body at a position that features just two players on over half of the defensive snaps.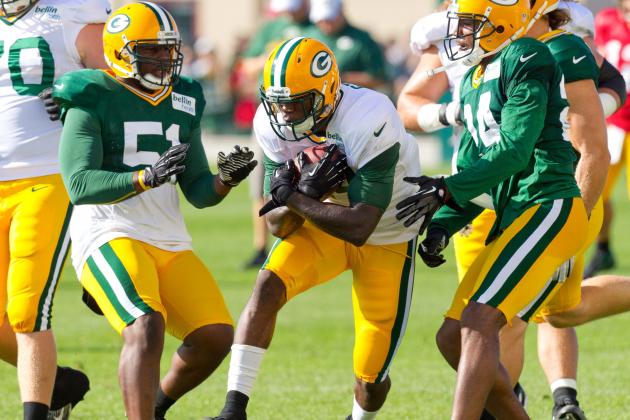 Jeff Hanisch-USA TODAY Sports

Experience: Fourth season

Depth Chart Position: Backup running back

Analysis: Believe it or not, Starks is now the the oldest member of the Packers' rebuilt running back group.
The 27-year-old was once an important piece to Green Bay's Super Bowl run, and he occasionally flashes the natural talent that had people excited about his future in 2010. However, injuries and inconsistency have now made Starks an afterthought.
Since his rookie season, Starks has missed a total of 13 games while rushing for just two scores. Playing for a coach that demands availability, Starks enters training camp with one more chance to prove he belongs.
The picks of Eddie Lacy and Johnathan Franklin ensure that Starks must stay healthy during training camp to stick around in 2013.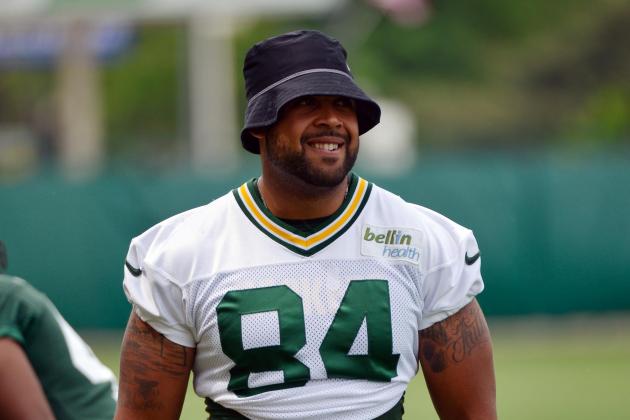 Benny Sieu-USA TODAY Sports

Experience: Third season

Depth Chart Position: Backup tight end

Analysis: The former John Mackey Award winner simply hasn't developed as a move tight end in the NFL.
Over 26 career games, Williams has just nine receptions, and he's failed to establish a clear-cut role in the Packers offense. One could go as far as to say Williams lacks an identifiable go-to trait; he's small for a tight end and underwhelming athletically at the position.
And while he always seems to impress in helmets and shorts, Williams hasn't been able to replicate his development once the pads come on and the real games begin.
The Packers now have a number of intriguing tight end options, making it imperative for Williams to impress during camp. It's time for him to take the next step—or for the Packers to move on.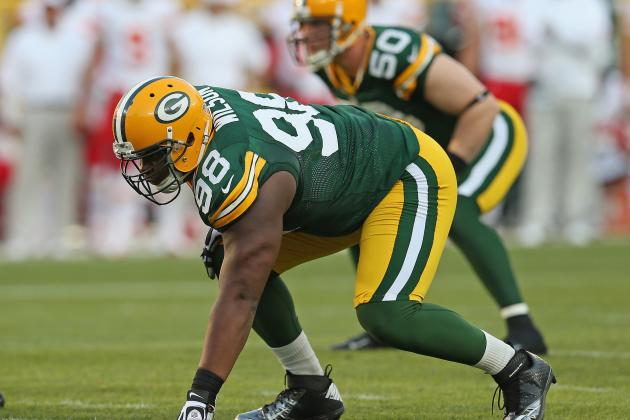 Jonathan Daniel/Getty Images

Experience: Fourth season

Depth Chart Position: Backup defensive lineman

Analysis: Wilson started seven games at defensive end last season, and he's proven to be a capable anchor against the run.
However, the numbers are starting to work against the former seventh-round pick.
The Packers will expect to have first-rounder Datone Jones as a starter in 2013. Fifth-rounder Josh Boyd figures to have an opportunity to find a rotational role. Is there room on the 53-man roster for a player like Wilson, who is steady but replaceable?
The Packers will have tough decisions to make up front on the defensive side.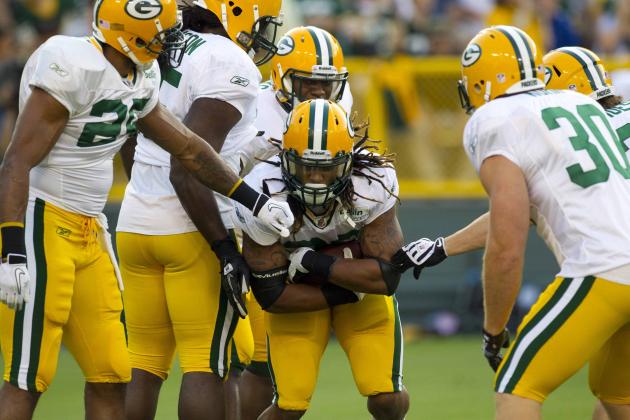 Jeff Hanisch-USA TODAY Sports

Experience: Third season

Depth Chart Position: Starting running back

Analysis: Green's situation is a difficult one to assess as he enters his third NFL season. He blew out his knee during his rookie season, and it certainly appeared that the explosion and one-cut ability was still lacking from his game in 2012.
What kind of player could Green be if the knee is back to 100 percent?
The Packers were concerned enough about the running back position this offseason to draft not one, but two backs, making it obvious that the team wasn't comfortable leaning on Green in 2013. It's also worth noting that he's a former third-round pick, so it's possible general manager Ted Thompson isn't ready to cut Green loose.
However, he needs a healthy training camp, and the Packers need to see returned explosion for Green to feel comfortable about making the team.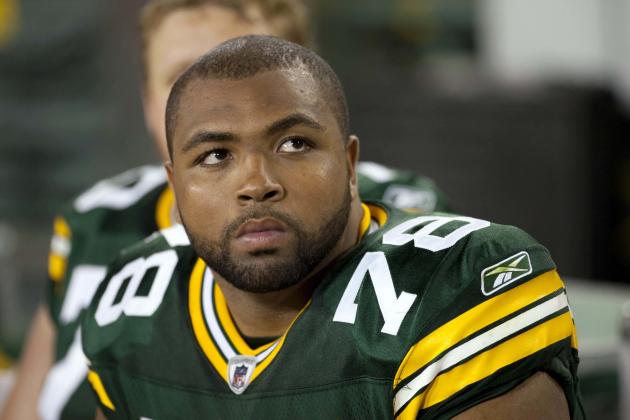 Jeff Hanisch-USA TODAY Sports

Experience: Third season

Depth Chart Position: Backup offensive tackle

Analysis: In a perfect world, Sherrod would enter training camp healthy and then win the starting right tackle job with a seamless transition back to the playing field.
But such a scenario seems unlikely at best; the former first-round pick has missed the better part of two years after a horrific lower leg injury suffered during his rookie season.
The Packers have been mostly quiet about his recovery this offseason. If Sherrod can't complete a full training camp or looks incredibly rusty upon return, don't the Packers have to at least think about cutting ties? The team has some depth at offensive tackle. Sherrod should get some leeway as a former top pick, but he has a lot to prove in training camp.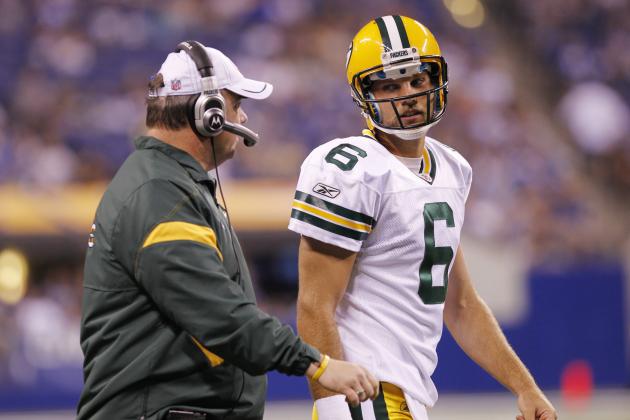 Joe Robbins/Getty Images

Experience: Fourth season

Depth Chart Position: Backup quarterback

Analysis: At some point, the Packers want former seventh-round pick B.J. Coleman to be Aaron Rodgers' backup. "When?" is the real question.
Harrell has to be considered the backup right now, but that could change by the end of August. While well-versed in Mike McCarthy's offense, Harrell has a noodle arm and is limited athletically.
Coleman is superior in nearly every way physically, but he lacks the experience in the offense. In Year 2, the playbook should come easier for Coleman—making it entirely possible that Harrell loses his hold on the backup job.
In that scenario, the Packers would likely cut Harrell and then keep Matt Brown on the practice squad as the de facto No. 3 quarterback.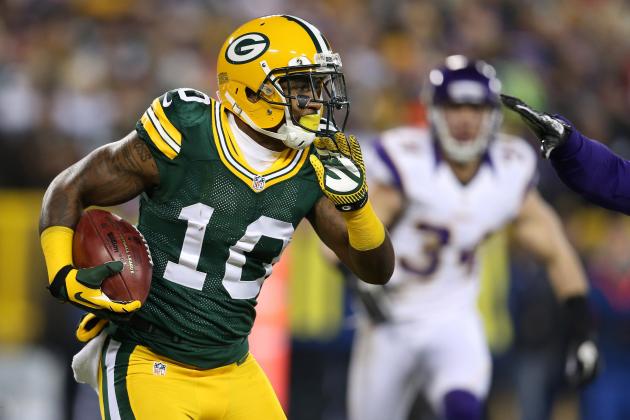 Andy Lyons/Getty Images

Experience: Second season

Depth Chart Position: Backup receiver/returner

Analysis: Ross is known more for his disastrous fumble against the San Francisco 49ers last January than anything else. The 25-year-old was signed from the practice squad to help fill in as a returner for Randall Cobb, but his botched punt return was a turning point in the loss to the 49ers.
The Packers may want to continue limiting Cobb's touches on special teams next season, and Ross would figure to be the top candidate to take over those opportunities.
However, Green Bay won't give up on Cobb as a returner if no one steps to the plate and earns the staff's trust.
We also know very little about Ross's ability as a receiver. The Packers might be better off rolling with the young, promising receivers at the end of the depth chart and letting someone like Johnathan Franklin or Micah Hyde return punts for Cobb.