Washington Capitals' Biggest Takeaways from the Start of Free Agency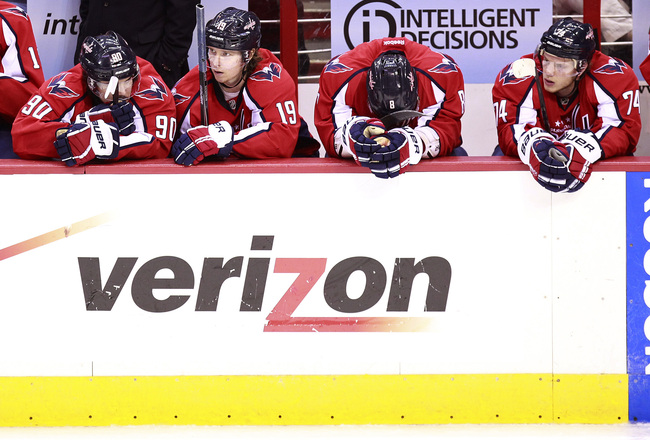 Can the Caps recover from a rough start to free agency?
Geoff Burke-USA TODAY Sports
The beginning of free agency has not been kind to the Washington Capitals.
Truth be told, it has been rather ugly.
Virtually right after free agency started, things started to go downhill for the Caps.
NHL.com first reported that Mike Ribeiro, one of the most consistent and solid performers for the Caps this past season, had signed a four-year, $22 million deal with the Phoenix Coyotes.
In other words, the Caps found themselves right back in the market for a second line center.
Then, NHL.com also reported that fan favorite Matt Hendricks was on his way to Nashville, along with Viktor Stalberg and Matt Cullen.
To make matters worse, one of the best free-agent centers available—and a man who could have been an excellent replacement for Ribeiro—Tyler Bozak re-signed with the Toronto Maple Leafs for five years and $21 million.
As for other viable second-line center options, another former Caps rival took away one of the better options when the Tampa Bay Lightning signed Valtteri Filppula to a five-year, $25 million contract.
With the Caps needing a second line center to replace the now departed Ribeiro, and with Mikhail Grabovski still available as a solid option for a second line center, the Caps instead entered into one-year, two-way, contracts with defenseman Tyson Strachan, right winger Matt Watkins, and goaltender David Leggio.
With Ribeiro leaving, Bozak staying in Toronto, Filppula going to Tampa, Grabovski still available, Karl Alzner and Marcus Johansson still needing to be re-signed and the Caps seemingly missing the boat entirely as far as free agency is concerned, there is every reason for Caps' fans to be very anxious about the direction of the team and what the prospects are for the 2013-14 season.
About the only thing that has gone right for the Caps in free agency so far is that they were able to rid themselves of the cap hit otherwise known as Jeff Schultz, who was then signed to a one-year deal by the Los Angeles Kings.
So what are Caps' fans to take away from a rather rough start to free agency?
Here are the three biggest things I have noted.
Free Agents Do Not Consider the Caps a Contender for the Stanley Cup Any Longer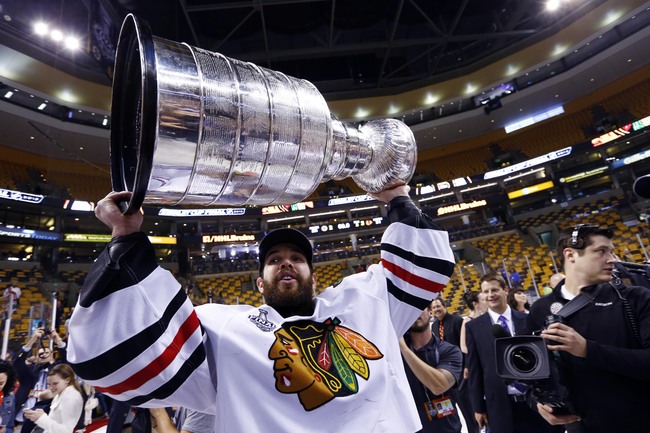 Are the Caps still a contender for the Stanley Cup?
Greg M. Cooper-USA TODAY Sports
As disturbing a thought as this might be for many Caps' fans—myself included—to admit, the teams' best chances at winning a Stanley Cup may have passed them by.
Judging from the way free agency has gone so far, it sure looks like the top free agents feel that way. None of the top free agents, thus far, have signed on with the Caps. From what I can tell, none of them really wanted to.
I know. None of us are privy to whatever sorts of discussions general manager George McPhee might have had with any of the top free agents. All we know for sure is that the Caps lost Mike Ribeiro and Matt Hendricks and have done next to nothing to replace them.
Could it be that the best players do not want to come to Washington because they have lost faith that the Caps can compete for the Stanley Cup?
One has to wonder.
Think about the Vincent Lecavalier situation. After Lecavalier was a buyout casualty of the Tampa Bay Lightning, head coach Adam Oates met with the long time former Tampa star and, as reported by The Washington Post, felt as though Lecavalier would fit in nicely with the Caps.
Instead, Lecavalier signed with the Caps' new divisional rival, the Philadelphia Flyers, a team that did not even make the playoffs in 2013. True, the Flyers were willing to go where the Caps were not by offering Lecavalier a five-year, $22.5 million deal, and that has to be taken into consideration.
If you isolate that one transaction, it does not seem like much of a big deal. Once you add it in to the bigger free agency picture, then you have to begin to wonder if Washington is still considered a Cup contender by the top free agents.
Daniel Alfredsson, the longtime captain of the Ottawa Senators, signed a one-year deal with the Detroit Red Wings and left the Sens because he felt the Wings gave him a better chance at winning a Cup.
A player like Alfredsson could have helped the Caps, the Caps could have probably afforded him and the length of the contract was just right. Was Washington even considered by Alfredsson as a viable option? Did he consider the Caps to be a legitimate contender for the Cup?
Who knows?
Then think about the other players who signed on or remained with their present teams. I am talking about players like Nathan Horton, Stephen Weiss, David Clarkson, Tyler Bozak, Valtteri Flippula, Michael Ryder, or even Derek Roy or Jarome Iginla.
As best as I can tell, the Caps were not seriously in the running for any of these players.
Then there was the press conference on July 8 where McPhee seemingly tried to convince himself that this year's free agency class just was not good enough to invest in. As reported by Katie Carrera of The Washington Post, McPhee apparently thinks his team is fine just the way it is.
As McPhee said to Carrera:
We went through the process and analyzed every player and said does this player fit in with us and at what price and everything else. You keep coming back and saying he's not better than what we have. Or he might be a touch better than what we have, but the guy we have is a good player at the right price. Why do that? We like our team. We're a solid NHL team.
A solid NHL team? Perhaps.
An elite one? That's another issue entirely and players know it.
The sad truth of the matter is that the Capitals might not be considered good enough for many of the top free agents to invest in them any longer.
The Youth Movement Is in Full Swing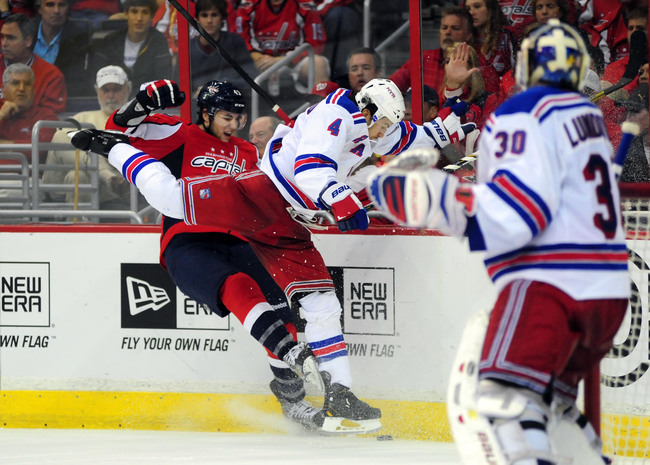 It seems obvious that Tom Wilson is going to get lots of playing time this season.
Evan Habeeb-USA TODAY Sports
With the comments made by McPhee at the July 8 press conference, it is now pretty clear that the Caps are not planning on doing anything in free agency and they will go with what they have.
One thing the Caps do have are some talented young players and prospects who are quite obviously going to get some playing time this coming season.
I believe it is safe to assume that we are going to get a healthy dose of Tom Wilson this coming season. Wilson was taken with the No. 16 overall pick in the 2012 NHL draft by the Caps.
Most figured it would be a couple of years before we actually saw Wilson skate with the Caps. Instead, when the team needed a lift after Martin Erat was injured in Game 4 of the Caps series with the New York Rangers, the Caps turned to the 19-year-old right winger.
Wilson played in three games against the Rangers, and one would never know that those were his first three NHL games ever. In the three games he played, Wilson did not score a goal, but that was OK. It was how he played that mattered. In the Game 7 debacle, Wilson might have played his best game. In fact, he may have been the best player on the ice wearing a red jersey.
Wilson is going to be a tremendous player, and I am excited to see what he can do with this great opportunity he will be getting.
Another player to watch will be Michael Latta. Latta was the other player the Caps acquired in the trade that sent Filip Forsberg to the Nashville Predators in exchange for Martin Erat.
When the trade went down, Russian Machine Never Breaks ran a nice article on Latta and why he was more than just some "other guy" thrown in to make the deal work.
Latta can score and play a very physical style of game. On top of that, he can play center and—who knows—perhaps he can be the second line center the Caps have been seeking for several years now.
There are also players like Stanislav Galiev and Connor Carrick who have shown a lot of potential. Galiev was selected in the third round of the 2010 NHL draft by the Caps. Carrick was drafted in the fifth round by the Caps in the 2012 NHL draft.
Galiev just turned in a very strong season for the Reading Royals of the ECHL, scoring 23 goals, handing out 24 assists and registering a plus-16 rating in just 46 games for the Royals.
Carrick played in 68 games for the Plymouth Whalers of the OHL and had 12 goals, 32 assists and a solid plus-27 rating. Those numbers sound a lot like Mike Green's, and having another player like that is a problem most teams would like to have.
On the blue line, the Caps re-signed Tomas Kundratek. Dmitry Orlov figures to get a real opportunity to earn a full-time starting job for the Caps this season. Both men have played very well when they have been given the opportunity.
Of course, the biggest impact to the Caps roster might not be felt until the early part of 2014, after the Sochi Olympics conclude. That is when Evgeny Kuznetsov might end up finally joining the team.
The 21-year-old center has enormous potential, even if most anticipate him playing on the wing once he arrives in the NHL. He can skate with the best of them, pass, score, make plays, has fantastic vision and has even improved his game on defense and as a penalty killer.
His stats this past season while playing for Traktor Chelyabinsk of the KHL were outstanding. He had 19 goals and 25 assists in 51 games during the regular season. In 25 playoff games, Kuznetsov had five goals and six assists, including one in the KHL Championship where Traktor fell in six games to Dynamo Moscow.
The question remaining is whether Kuznetsov will actually come to D.C. this season. Earlier this year, Kuznetsov stated that he would come and play for the Caps after the 2014 Olympics in Sochi.
If he does come to Washington after the Olympics, he has the potential to be an immediate game changer for the Caps. He would also likely arrive right when the Caps would be in the thick of a playoff chase, and his addition could be what pushes the Caps over the top.
There is no question that George McPhee has invested heavily in his young up and coming players. It sure seems like he is "all-in" on players like Wilson and Kuznetsov.
And perhaps he knows more about Kuznetsov's pending arrival than he has let on.
His attitude towards free agency tells me that he either truly believes in these young prospects or he is just flat out in denial.
Let's hope it is the former and not the latter.
This Could Be a Long Season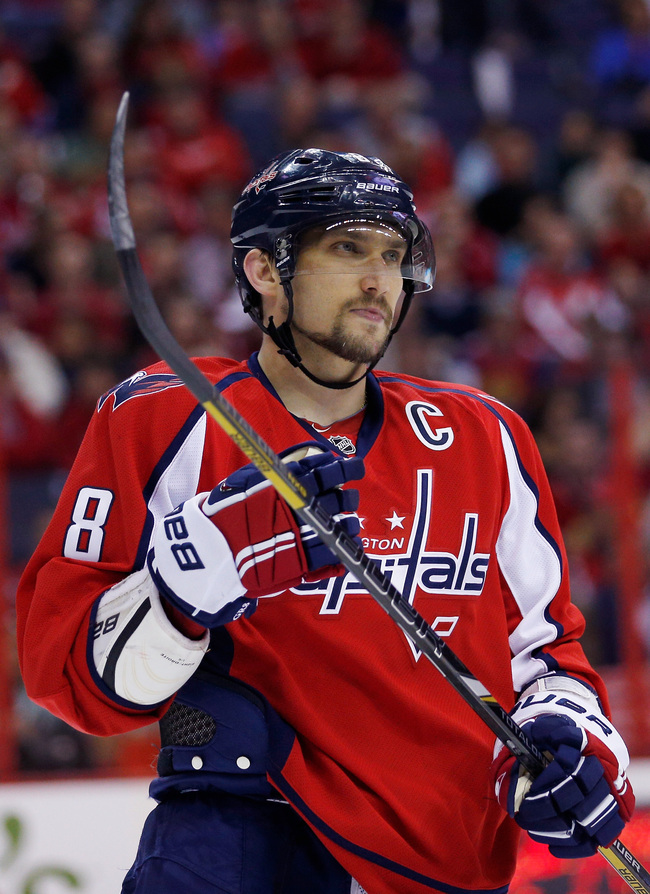 The Caps will have to rely even more on Alexander Ovechkin this season.
Rob Carr/Getty Images
Possibly the biggest take away that can be gleaned from the start of free agency is that the 2013-14 season could be a rather long and difficult one for the Washington Capitals.
Despite George McPhee's belief that the Caps are a good NHL team, they are not built to excel in their new division. What is worse is that McPhee is not going to take any steps to do anything about that.
There is no doubt that the Caps are a good team. But to think they will be as good as they were last season—without Mike Ribeiro and in a much tougher division—is pure wishful thinking on the part of McPhee.
There is a glaring lack of depth on the team after the top line. Instead of giving Alexander Ovechkin more weapons with which to work, the Caps will have to rely on Ovi even more than they have in the past.
The second line will likely consist of Troy Brouwer, Brooks Laich and Martin Erat. Can Brouwer duplicate his numbers from this past season? Will Laich emerge as a true second line center? Will Erat be boom or bust?
Those are all very valid questions and questions to which there are no easy or apparent answers.
The third line will likely consist of Mathieu Perreault, Jason Chimera and Eric Fehr or Joel Ward or Jay Beagle or some combination of that. All of those guys are hard workers, but none of them are going to strike fear into the hearts of opposing defenses or goaltenders.
The fourth line will be a work in progress all season long, especially with Matt Hendricks on his way to Nashville. I expect to see Tom Wilson and Michael Latta get some playing time here.
The point, however, is that until Evgeny Kuznetsov arrives—if he arrives—the Caps just do not have the depth they will need to excel in their new division.
To paint an even bleaker picture, virtually every other team in the Caps' new division has improved while the Caps have regressed.
You can review for yourself this article on NHL.com that shows team activity in free agency for every team in the Eastern Conference. A picture is worth a thousand words, right?
The Carolina Hurricanes improved their dismal defense by adding Andrej Sekera and Mike Komisarek.
The Columbus Blue Jackets—one of the better feel good stories last season—only got better by adding Nathan Horton to go with Marian Gaborik, who the Jackets acquired at the trade deadline.
The New Jersey Devils suffered a big loss when David Clarkson signed with the Toronto Maple Leafs. They then mitigated the damage by signing Michael Ryder and Ryan Clowe. They also strengthened their goalie situation by acquiring Cory Schneider.
The two New York teams, the Islanders and Rangers, do not look like they made major improvements, but it does not look like they took any major steps back either. How the Isles respond to the loss of their captain, Mark Streit, and how the Blueshirts do without John Tortorella, will be two of the more interesting stories to watch this season.
The Philadelphia Flyers got better. Not only did they sign Vincent Lecavalier, they also acquired Streit from the Islanders and got rid of Ilya Bryzgalov's contract.
The Pittsburgh Penguins might have regressed a bit by losing Jarome Iginla and Matt Cooke. Then again, they did re-sign Chris Kunitz and Pascal Dupuis, and they also nabbed Rob Scuderi, which should help the Pens defense quite a bit.
Of the eight teams in the Caps' new division, one can make the argument that the Caps, at best, are the fourth or fifth best team in that division. Will that be enough to qualify for the playoffs in a stacked Eastern Conference that only get better with the Detroit Red Wings shifting conferences?
Probably not.
The honest truth about the Caps is that they just do not have the depth necessary to truly excel in their new division, and they do not have the physical presence to make a lot of noise in the Eastern Conference.
With McPhee insisting on not doing anything with free agency, and instead intent on relying on the Caps existing and upcoming talent to carry them to the next level, McPhee may have really crippled the Caps before the season even begins.
With the way free agency has begun for the Capitals, it could be a very long and disappointing season indeed.
Keep Reading

Washington Capitals: Like this team?