Stock Up, Stock Down for Philadelphia Phillies' Top 10 Prospects for Week 14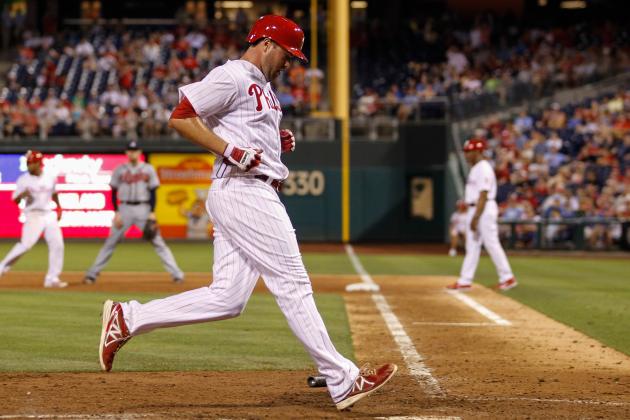 Brian Garfinkel/Getty Images

The Philadelphia Phillies promoted their second top-10 prospect to the major leagues this past week, when Darin Ruf was called up from Triple-A to take the roster spot of the injured Ryan Howard.
Although Ruf's numbers in Triple-A were not quite up to par with his numbers from Double-A last season, his promotion is still an intriguing one.
A successful run from Ruf, combined with a prolonged absence from Howard, could lead to a platoon role at first base at some point in the future, or it could at least help Ruf stick on the roster.
It will be interesting to see if Ruf also receives playing time in left field, with Domonic Brown moving over to right for a few games here and there.
If Ruf heats up, he could not only serve as a first base option, but he could also push Delmon Young for an outfield job.
In the meantime, how did the rest of the team's top-10 prospects fare this week?
Let's take a look at whose stock is up and whose is down following Week 14.
*All statistics courtesy of MiLB.com unless otherwise noted.
Begin Slideshow

»
Stats: 76 games, .229 BA, 15 RBI, 63 H, .283 OBP
Last Week: 5 hits in 24 at-bats, 1 2B
Stock: Even
Carlos Tocci closed out the week with back-to-back multi-hit games, and he could use these recent performances to build off of in July.
Tocci has gotten off to a slow start in July, batting under .200 with an OBP that was also under .200.
At his age (17), Tocci's more than 100 games played already could prove to be very valuable for him going forward.
However, areas such as his .205 average against right-handed pitchers, and the nearly equal number of successful and unsuccessful stolen base attempts that he's had, could still use improvement.
A second half batting average close to his .269 batting average in May would be a great sign from Tocci.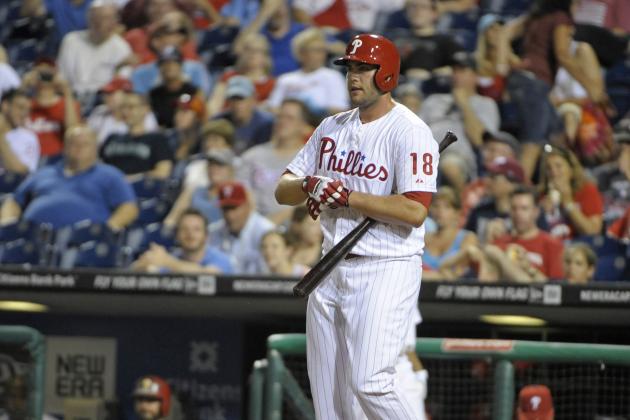 Eric Hartline-USA TODAY Sports

Stats: 82 games, .266 BA, 7 HR, 46 RBI, 81 H, .344 OBP (MiLB)

Last Week: 2 hits in 4 at-bats, 1 2B, 3 R (MLB)

Stock: Up
It may have taken longer than expected, but Darin Ruf made his 2013 debut this past week after Ryan Howard was placed on the disabled list.
Ruf was having a quiet week in Triple-A, batting just .200 with four hits in 20 at-bats, but his stock is up for the week now that he is back in the major leagues.
Ruf's power numbers have dipped this season, along with his batting average, while he is also striking out more frequently.
However, he is also coming off a month of June that saw him bat .301 with a .390 OBP and his highest number of walks in a month so far this season.
Last season, Ruf batted .333 in the majors after being promoted in September while also slugging three home runs. In his brief stint so far this season, Ruf is batting .500 with two hits and three runs scored.
If Ruf plays well and Howard misses most of the remainder of the season, the Phillies could turn to a platoon role for Howard once he returns from the disabled list.
It's also interesting to note the similarity with the situation involving the Phillies last big first base prospect. It took an injury to Jim Thome for Howard to receive consistent time in the major leagues. Now, with Howard out, Ruf has his chance.
Howard's contract would be much more difficult to move, whether this season or down the line, but another first baseman now has a chance to stick at the major league level for the Phillies.
Stats: 82 games, .325 BA, 21 HR, 66 RBI, 109 H, .366 OBP
Last Week: 8 hits in 24 at-bats, 1 2B, 1 HR, 3 RBI
Stock: Up
Maikel Franco continues to thrive in Double-A, as he is still batting over .400 following his promotion.
Since being promoted to the Eastern League, Franco is batting .423 with five home runs and 14 RBI. He has also only struck out three times, leading to a .431 OBP.
So far in July, Franco has picked up hits in a third of his at-bats and is now batting .353 with runners in scoring position since his promotion.
Franco has had an outstanding first half to the season, and as a result, he will be playing in this weekend's Sirius XM All-Star Futures Game.
Even if his production declines slightly in the second half, Franco will still be on pace to exceed his previous career highs in multiple offensive categories this season.
If he keeps up his current pace, Franco could find himself challenging for a big league roster spot next season.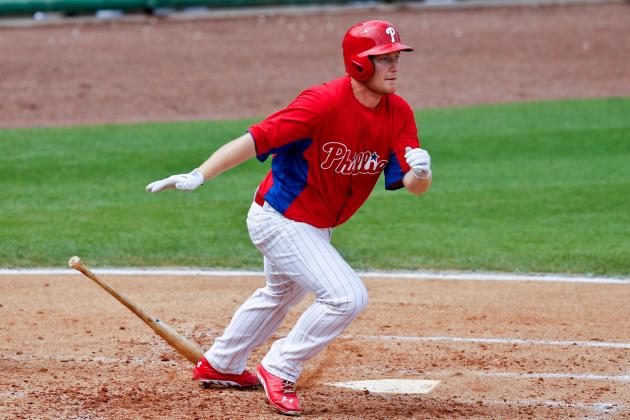 Derick Hingle-USA TODAY Sports

Stats: 86 games, .281 BA, 8 HR, 49 RBI, 93 H, .342 OBP
Last Week: 6 hits in 25 at-bats, 1 2B, 2 RBI
Stock: Even
Cody Asche is off to a solid start in July, as he had two multi-hit games this past week.
After finishing June batting .318, Asche has six hits so far in July, keeping his average above the .280 mark.
Asche is still striking out a bit too frequently, but he has kept himself in position to potentially reach Philadelphia next season (depending on what happens at this year's trade deadline).
Furthermore, despite Maikel Franco's outstanding season, Asche has seemingly kept himself in the Phillies' plans, even if it means that he has to change positions at some point.
It would still be nice to see Asche bat closer to the .324 average he had last season, but an average above .280 for the rest of the way—especially considering his quick progression to Triple-A—would lead to a solid overall season.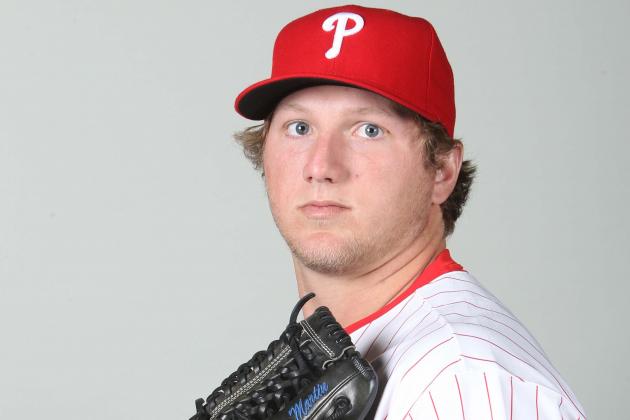 Kim Klement-USA TODAY Sports

Stats: 17 GS, 91.2 IP, 57 BB, 79 K, 4.81 ERA
Last Week: 1 GS, 5 IP, 5 BB, 4 K, 5 ER
Stock: Down
Ethan Martin's win streak ended this past week, while his walk total continued to rise.
In five innings, Martin walked five while striking out four batters and giving up five earned runs. His five walks made it the second time in three starts that he has walked that many batters, while the loss was his first since June 7.
Martin's walk total continues to rank among the highest in the International League.
If Martin walked fewer batters and maintained his current strikeout rate, he may have done enough to insert himself into the Phillies' plans if another replacement was needed in the rotation.
As of now, however, the walks may be what keep him in Triple-A for the rest of this season and possibly the beginning of next.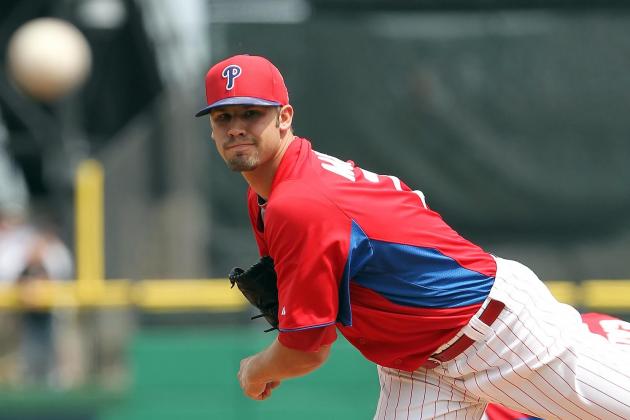 Kim Klement-USA TODAY Sports

Stats: 8 GS, 42.1 IP, 12 BB, 29 K, 4.97 ERA
Last Week: Did not play, injured
Stock: Even
Not much has changed in Adam Morgan's status, as he continues to rehab following a rotator cuff tear that has kept him out of action since May 15.
A healthy Morgan could have added starting rotation depth at Triple-A, especially if he managed to keep up his strong early season start throughout the rest of the first half.
Once he returns, Morgan should have a chance to position himself for consideration for a possible rotation spot next season.
Hunter Martin/Getty Images

Stats: 15 GS, 84.1 IP, 27 BB, 55 K, 3.84 ERA
Last Week: 2 GS, 2-0, 11 IP, 4 BB, 12 K, 2 ER
Stock: Up
Jonathan Pettibone had a solid week, with his performance on July 7 being arguably his best start of the season.
In his first start of the week, Pettibone went 5.2 innings while walking three and striking out six in a winning effort. Pettibone gave up just one earned run and just three hits as well.
In his second start, Pettibone struck out six while walking just one in 5.1 innings and giving up five hits. Pettibone also picked up the win, pushing his record to 5-3 on the season.
After spending much of the season giving up a high number of hits in each start, Pettibone has now given up no more than five hits in any of his last four starts.
Considering how many innings he is pitching in each start, it still wouldn't hurt to lower this number a little more.
However, since giving up 10 hits on June 15, Pettibone has given up five, four, three and five hits, respectively, in his last four starts.
With Carlos Zambrano now sidelined, Pettibone should remain in the rotation well into the second half, giving him a chance to reach a double-digit win total.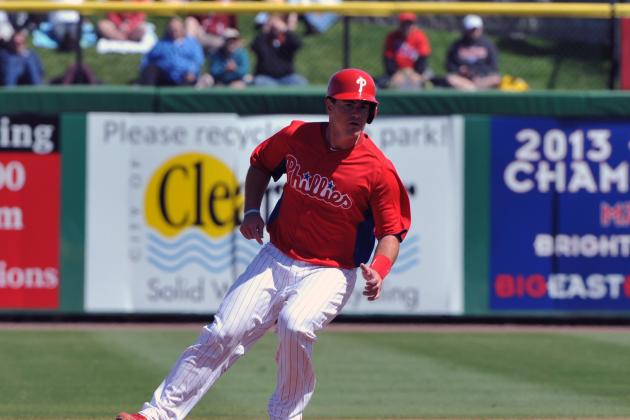 Al Messerschmidt/Getty Images

Stats: 34 games, .165 BA, 3 HR, 15 RBI, 19 H, .220 OBP
Last Week (Double-A): 1 G, 1 BB
Stock: Even
Tommy Joseph's return from a concussion has taken him all over the Phillies' minor league system, but none of his stops have seen him break out offensively.
In 11 games in the Florida State League, Joseph batted .095 with 13 strikeouts and no walks.
Joseph's performances and missed time this season have put the Phillies in a difficult position with Carlos Ruiz, making the team's future at catcher uncertain.
Since being acquired by the Phillies, Joseph has hit just six total home runs. This comes after he hit 38 home runs in his first two minor league seasons combined.
Stats: 67 games, .238 BA, 5 HR, 21 RBI, 62 H, 32 SB, .323 OBP
Last Week: Did not play, injured
Stock: Even
Roman Quinn remains sidelined with a wrist injury in his first full-season in the South Atlantic League.
After seeing his offense dip in June, Quinn will now likely miss most of July while he rehabs.
It will be interesting to see how Quinn plays once he returns and has half a season under his belt. The switch-hitter batted .281 last season and .304 in May of this year, but he saw his average fall to .188 for the month of June before getting injured.
Stats: 17 GS, 93.1 IP, 46 BB, 102 K, 3.09 ERA
Last Week: 1 GS, 6 IP, 1 BB, 9 K, 1 ER
Stock: Up
Jesse Biddle's winless streak continued this past week, despite his nine-strikeout performance.
Biddle pitched six innings, striking out nine and walking just one in a no-decision. He also gave up just one earned run in the outing, meaning that he has now given up just three earned runs in his last 14 innings.
Despite having just three wins, Biddle still ranks among the best in the Eastern League in ERA and leads the league in strikeouts.
Opponents are also batting just .200 against him this season.
Unless the Phillies decide to promote him to Triple-A for his last few starts later this season, Biddle will likely remain in Double-A with Maikel Franco, both of whom will represent the Phillies at the Futures All-Star Game.