Burning Questions for the Minnesota Vikings' Training Camp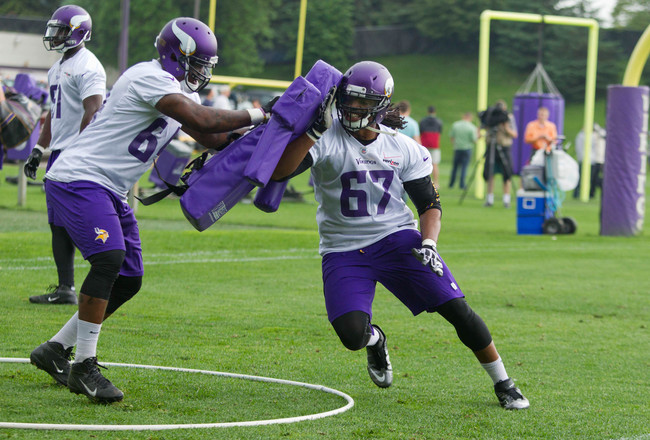 Bruce Kluckhohn-USA TODAY Sports
The Minnesota Vikings open training camp later this month. With an NFL-maximum of 90 players heading to Minnesota State University, Mankato, there will be plenty of questions in need of answers before their season opens September 8 in Detroit.
The Vikings are coming off a surprising 10-win season that earned them a trip to the playoffs. As the team got younger this offseason, the expectations will be for a deeper run in the postseason.
Here are some of the biggest questions that face the Vikings for the 2013 season as training camp looms.
Will the Vikings Return a Kickoff for a Touchdown?
Over the past four seasons the Minnesota Vikings have had five kickoffs returned for a touchdown—and all five of them belong to the departed Percy Harvin. No other player in Vikings history has returned more than one kickoff for a touchdown.
A look back through Vikings' history suggests it could be a while before the team gets its next five.
In the 52-year history of the franchise there have been only 16 kickoff returns for a touchdown. The five that occurred before Harvin joined the team in 2009 spanned 10 seasons, dating back to 1999.
The best bet heading into 2013 might come from rookie wide receiver Cordarrelle Patterson. In his only season at Tennessee, Patterson scored a touchdown on both a punt return and a kickoff.
Which Surgically Repaired Knee Will Make It Back to the Field First?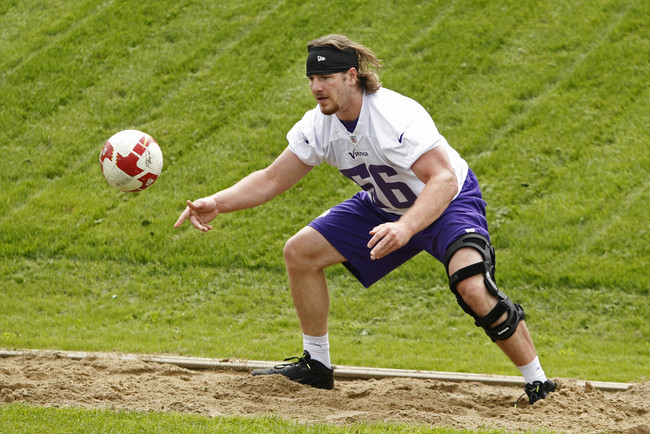 Bruce Kluckhohn-USA TODAY Sports
Last month the Minnesota Vikings saw two of their young players make an incredible return to the practice field during the team's minicamp—wide receiver Greg Childs and linebacker Michael Mauti.
Childs, drafted in the fourth round in 2012, is attempting to come back after tearing the patellar tendon in both of his knees during last season's training camp. Mauti, one of the Vikings' seventh-round picks this year, is coming off his third ACL injury in five years, the second to his left knee.
Both players have a goal to be fully participating when training camp opens on July 26.
Both are long shots to make the team, but play positions the Vikings need to upgrade.
Which Cornerback Will Emerge as Antoine Winfield's Replacement?
Head coach Leslie Frazier wanted Antoine Winfield to re-sign with the Vikings, but intended to use him in a reduced role on defense. Perhaps that was just a smoke screen in order for the Vikings to pay him less in 2013.
The plan was to move Winfield to the slot position as the nickel corner. A peculiar move considering he was coming off one of his best seasons with the Vikings. Known as a sure tackler, Winfield recorded 101 tackles, the most in his career with Vikings.
He also led the team with three interceptions.
So who is going to pick up the slack left behind with his departure?
The most likely candidate is Josh Robinson. Last season as a rookie he finished with 56 tackles and two interceptions.
How Long Will It Take for a Quarterback Controversy to Develop?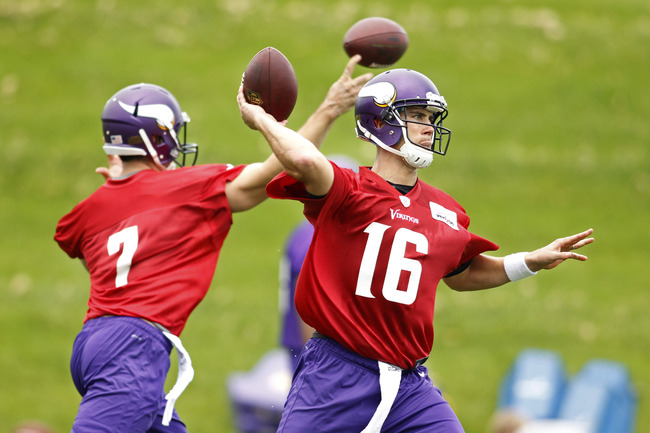 Bruce Kluckhohn-USA TODAY Sports
Last year there was virtually no chance of a quarterback controversy—especially since head coach Leslie Frazier was reluctant to give Christian Ponder the hook.
When he was finally forced to put in Joe Webb—in the biggest game of the year for the Vikings—Webb cemented his fate and proved he was not a reliable backup.
As soon as the Kansas City Chiefs released starting quarterback Matt Cassel, the Vikings signed the eight-year veteran to a two-year, $7.4 million contract. No doubt, even after having to repeatedly confirm that Ponder was the starter, Cassel saw this as a very good opportunity to return to a starting role.
Performing well in the preseason will not be enough—just ask Sage Rosenfels.
Last preseason Rosenfels led the four Vikings quarterbacks with a 122.9 quarterback rating—and he was the only quarterback cut from the team.
So perhaps the best thing for Cassel is to be mediocre during the exhibition season, and really let things roll when—and if—he gets a shot to actually throw a pass in the regular season.
Can Joe Webb Make It as a Wide Receiver?
Speaking of Joe Webb...
The Webb experiment at wide receiver is back on again. After being drafted as a wide receiver in 2010, he impressed then-head coach Brad Childress enough that they gave him a chance to prove he was an NFL quarterback.
Webb has demonstrated incredible athletic ability and the Vikings desperately want to find a position for him.
A lot will depend on whether the Vikings keep five or six receivers heading into the season. Greg Jennings, Jerome Simpson, Cordarrelle Patterson and Jarius Wright are all locks to make the roster. That means Webb will be competing with a group of rookie free agents to make the team.
Can the Minnesota Vikings Keep Sharrif Floyd from Starting?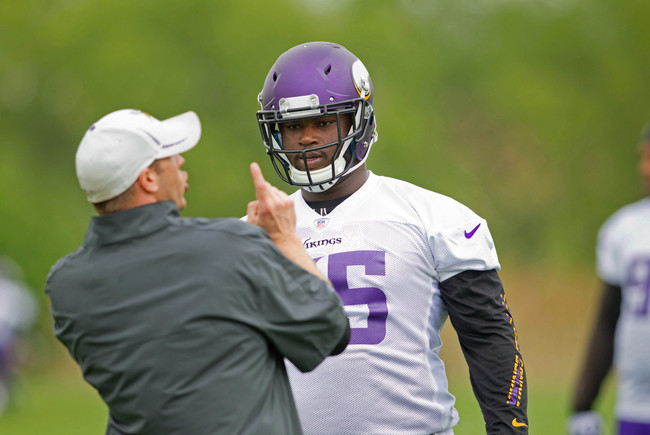 Bruce Kluckhohn-USA TODAY Sports
The Minnesota Vikings have nine players drafted over the last three seasons starting or making significant contributions. This includes safety Harrison Smith and cornerbacks Josh Robinson and Chris Cook on the defensive side of the ball.
When the Vikings selected defensive tackle Sharrif Floyd with the 23rd pick in the draft, there were immediate expectations that he would be a starter when the season opened.
According to a report on 1500ESPN, the Vikings plan to use Floyd as a rotational lineman, and mainly as Kevin Williams' backup. Something is going to give here. Both Floyd and Williams are three-technique tackles, but if the Vikings want to put the best four lineman on the field, one of these two may end up moving over to nose tackle.
Which Pending Free-Agent Defensive Lineman Is Going to Earn His Next Contract?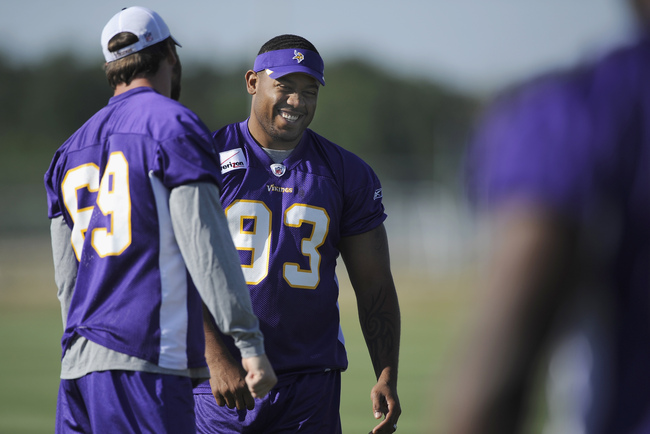 Hannah Foslien/Getty Images
Speaking of the Minnesota Vikings' defensive line...
Three of the four starters from last season, as well as the top backup at defensive end, are all playing in the last year of their contracts.
Defensive tackle Kevin Williams agreed to re-negotiate his contract, accepting a little more guaranteed money, but one less year. He joins Jared Allen, Brian Robison and Everson Griffen, all of whom will be free agents in 2014.
The chances of the Vikings re-signing even half of this group are slim. With the youth movement the Vikings have been on since last season, it would appear unlikely that Williams (32), Allen (31) and possibly even Robison (30) will get another contract from the Vikings.
That means Griffen (25) remains as the most likely candidate to garner a contract extension for next season.
Will Desmond Bishop Fare Better Than Recent Free-Agent Signings?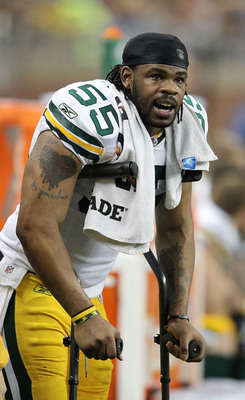 Leon Halip/Getty Images
Last season the Minnesota Vikings signed two players to free-agent contracts that had missed the entire 2011 season—offensive guard Geoff Schwartz and tight end John Carlson.
Unfortunately for all parties involved, the signings were complete flops. Surgery to repair a sports hernia slowed down Schwartz last summer and gave Brandon Fusco the opportunity to start all 16 games at right guard last season.
Carlson suffered a knee injury during training camp and really never got going. He wound up with only eight receptions for 43 yards—this after averaging 46 receptions his first three seasons in Seattle.
The Vikings signed former Packer Desmond Bishop to take over at middle linebacker. Bishop is coming off a ruptured hamstring that caused him to miss the entire 2012 season.
According to a study by the American Journal of Orthopedics, (h/t B/R featured columnist Gary Davenport):
Ten proximal hamstring avulsions were identified in 10 National Football League (NFL) players between 1990 and 2008.

Of the 10 injuries, nine had palpable defects. Each of the ruptures was managed with surgical fixation within 10 days of injury. All of the players reported full return of strength and attempted to resume play at the beginning of the following season, with nine of the 10 actually returning to play. However, despite having no limitations related to the surgical repair, only five of the 10 athletes played in more than one game.
If that's the case—only half of those players returning from a similar injury played more than one game—the Vikings better have a plan B ready to go.
How Many Rookies Will Make the 53-Man Roster?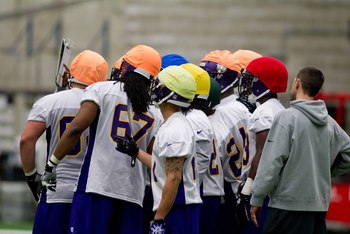 Bruce Kluckhohn-USA TODAY Sports
The Minnesota Vikings have 25 rookies on their current roster. This includes their nine draft picks and 16 undrafted free agents signed at the conclusion of the draft.
Just to illustrate how tenuous one's position is as an undrafted free agent, the Vikings have already released two players in order to add two others to the roster.
Being drafted by the Vikings has been a pretty good proposition lately. Of the 33 players drafted between 2009 and 2012, 25 of them are currently on the team's roster.
The Vikings also had 10 players see action last season that entered the league as undrafted free agents. Of those 10, seven signed their first contract with the Vikings. The most recent undrafted free agents on the current roster include running back Matt Asiata, linebacker Larry Dean and punt returner Marcus Sherels.
The expectations are for the three first-round picks to not only make the roster, but contribute significantly. After that, the only lock to make the roster at this point is Jeff Locke, the UCLA punter selected in the fifth round.
The most likely draft pick to make the team is Penn State linebacker Gerald Hodges, and that will most likely be as a backup.
Can Adrian Peterson Duplicate His Success from 2012?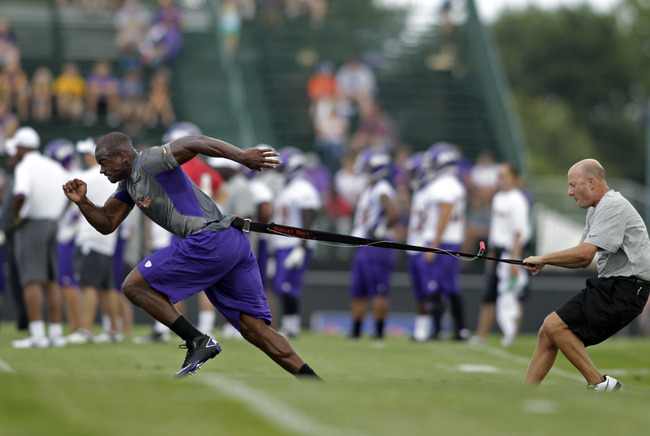 There was no stopping Adrian Peteson in 2012, can he repeat that performance?
Bruce Kluckhohn-USA TODAY Sports
At this point last year, Adrian Peterson was working on the sidelines, rehabilitating his surgically repaired knee. Head coach Leslie Frazier had issued a "hands off" directive to the rest of the team in all drills that Peterson participated.
Peterson didn't even run the ball a single time in the Vikings' four preseason games. When the season started it took a little time for him to knock of the rust, but once he got going, there was no stopping him.
He got stronger as the season proceeded. He didn't exceed 100 yards rushing in a game until Week 4. He only topped the century mark three times in the first half of the season. In the second half of the season, he did it seven times and rushed for over 150 yards in a game in six of those final eight games.
Now he has his sights set on 2,500 yards. Don't tell him that for the six previous players to rush for more than 2,000 yards in a season, their combined performance dropped by an average 48 percent the following season.
Perhaps head coach Leslie Frazier needs to bar Peterson from any action until Week 1 when the Vikings face the Lions in Detroit on September 8.
Keep Reading

Minnesota Vikings: Like this team?