Pros and Cons of Montreal Canadiens Signing Daniel Briere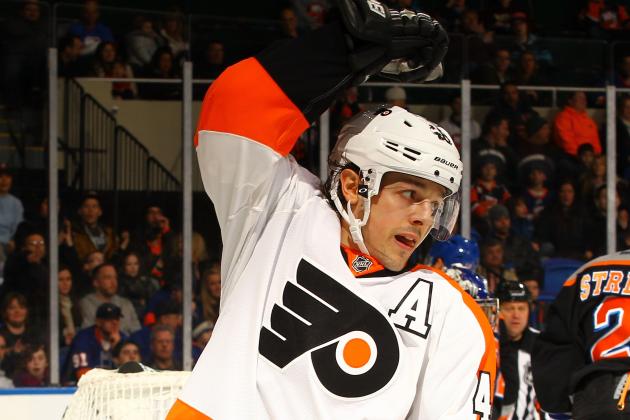 Al Bello/Getty Images
Montreal Canadien Daniel Briere.
When the Montreal Canadiens looked to get center Daniel Briere under contract just prior to the start of free agency, it came as a surprise to many…probably mainly to Briere himself, considering he had spurned the city just six years earlier when he signed with the Philadelphia Flyers instead.
Of course, a career on the downswing and limited options are usually reason enough for anyone to change their minds. So even though Briere and the Habs had presumably moved on after failing to come together in 2007, the organization is apparently willing to take a chance on the veteran.
However, as bad as it all looks on the surface, there are some benefits to signing a soon-to-be 36-year-old, diminutive forward. Here are the various pros and cons to the two-year, $8 million deal:
Begin Slideshow

»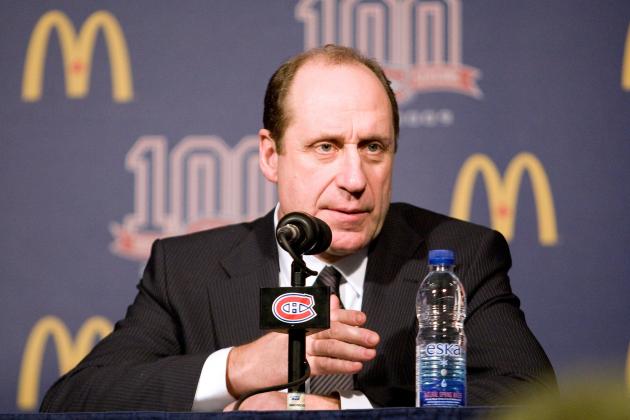 Richard Wolowicz/Getty Images
Former Montreal Canadiens general manager Bob Gainey.
Whoever said persistence pays off probably didn't have a span of six years in mind, as that's more an indication of obsession rather than resolution.
To be fair, although the Habs unsuccessfully courted Briere back in 2007 when he ultimately signed with the Philadelphia Flyers, Marc Bergevin was not the general manager of the Habs then.
That would be Bob Gainey...which normally would actually be reason enough to stay away, based on his track record at the helm of the Habs, anyway. If an offer from Gainey wasn't enough sign for Bergevin to avoid Briere like the plague, perhaps he should have been clued in to the former's serious lack of judgment by how Gainey was reportedly willing to give Briere more money than the Flyers did (before taxes).
An average of $6.5 million per year is a little more than Briere deserved, at least over the last few seasons, but to his credit Gainey did get the six-year ($42 million) part right, seeing as it took that long for Philadelphia to realize its huge mistake.
Regardless, Briere is now a Hab and Bergevin can find some pride in how he was able to accomplish something Gainey couldn't as Montreal's general manager. I'd say next stop Stanley Cup, but perhaps he should next move up to something smaller.
Thankfully, the 5'10" Briere has set the bar pretty low to start.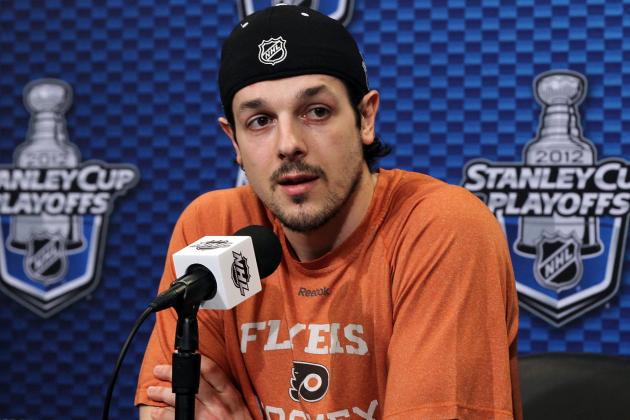 Jim McIsaac/Getty Images
Former Philadelphia Flyer Daniel Briere.
With the signing, the Habs now have a grand total of three native French speakers on the roster (not including the Anglophone Rene Bourque and Raphael Diaz, who is from Switzerland).
Needless to say, it must be a huge relief to the local media for when they need quotes after games, seeing as there's a decent chance Francis Bouillon finds himself in the press box more often than not this upcoming season and that David Desharnais played like he should have been there most nights last year.
While the languages a player speaks shouldn't be all that big of a deal, in all seriousness, nabbing Briere is a huge deal from a cultural perspective in Montreal. Considering he's slotted to start on one of the top two lines, it's even better. That being said, so is Desharnais. So take that with a grain of salt.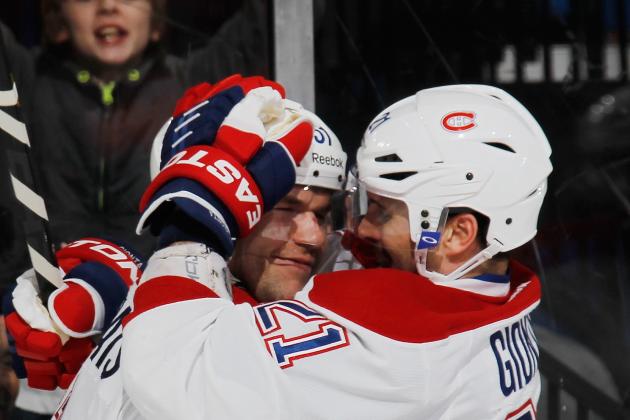 Bruce Bennett/Getty Images
Montreal Canadiens David Desharnais (left) and Brian Gionta.
Like him or hate him, Briere fills a void in the team's top six.
Technically speaking, the Habs could have entered next season with a top line of Max Pacioretty, David Desharnais and Brendan Gallagher and a second one of Rene Bourque, Tomas Plekanec and Brian Gionta.
However, as hinted at previously, Desharnais struggled last year with just 28 points in 48 games. Amazingly, Gionta struggled to a greater degree, with just 26 points in 48 games despite leading all forwards in total power-play ice time (on a power-play unit that ranked fifth in the league, no less).
As such, Briere, who can play center or the wing, could come in handy and conceivably replace Desharnais as the team's first-line center or Gionta on the wing on the second line.
Whether head coach Michel Therrien ultimately opts to alleviate the pressure on Gionta to produce offensively, gives Desharnais a bottom-line role (for which he is arguably better suited) or goes with some other combination is up in the air. However, Briere undeniably gives him options, which is never a bad thing.
The option to substitute in someone other than Briere might have been just a tad better, though.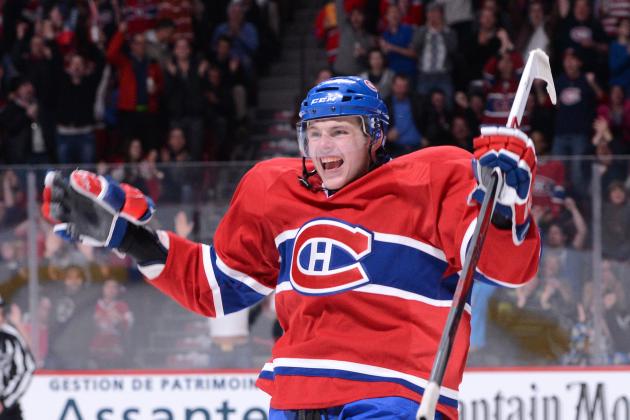 Richard Wolowicz/Getty Images
Montreal Canadien Alex Galchenyuk.
Despite the drawbacks to the deal, there is little denying Briere gives the Habs more depth than they would have otherwise had entering next season, and every little bit helps toward making a team a legitimate contender.
Assuming Briere lives up to expectations and plays like a top-six forward, the Habs will have a total of nine capable of filling a similar role entering next season. That includes players like Alex Galchenyuk and Lars Eller, who proved themselves as key offensive (and defensive) contributors last season.
While they may not be ready for top-line roles right now (even if a case can absolutely be made to the contrary), Briere's two-year deal at the very least successfully bridges the gap between now and when they may be ready for more responsibility, offensively speaking.
Granted, a one-year deal may have been better, as one doesn't really know what Briere will be able to give a team at this stage of his career and Eller and Galchenyuk were chomping at the bit by the end of this past season.
However, it will definitely be a better fit than the five-year deal Lecavalier ended up getting with the Flyers would have been, with Philadelphia essentially replacing the bought-out Briere with the former Tampa Bay Lightning captain (in whom the Habs were also interested).
Think musical chairs without the chairs...or music for that matter, as "Ole Ole Ole" really only starts being sung in the Bell Centre near the tail end of a victory, and, in this particular game, the Habs are unlikely to win, to say the least.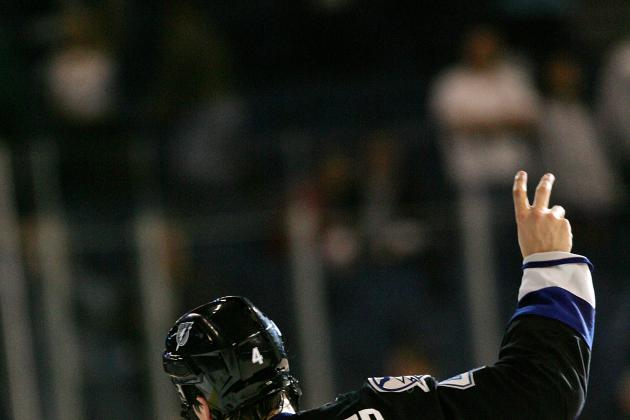 Bruce Bennett/Getty Images
Current Philadelphia Flyer Vincent Lecavalier.
Speaking of Lecavalier, despite the many reasons there were to not sign him, he undeniably would have been the better fit with the Habs over Briere. Lecavalier is actually from Montreal (Briere is from near Ottawa) and is also younger, tougher, bigger and just a better all-around player in general.
It's almost as if Bergevin panicked when he snubbed Montreal six days ago and went harder after the next best thing out there: A player who snubbed Montreal six years ago.
Maybe Bergevin felt he couldn't land anyone once free agency actually began and felt the need to sign anyone who would have him, desperation be damned. Maybe he more realistically believes he couldn't get anyone else for the right amount of money. Or, maybe, just maybe, he legitimately believes Briere is the answer.
Unfortunately, if any of those hypotheses are accurate, he was likely wrong.
For example, Jaromir Jagr is still available and, based on his well-documented wishes to play for Montreal as recently as last summer, he would actually want to be here for reasons aside from a steady paycheck.
At 41, he's definitely older than Briere but arguably would have been a better fit because of his chemistry with Plekanec. At 41, he also likely would have been OK with a one-year term and signed for less than $4 million.
As such, that Briere was had for cheaper than Lecavalier would have commanded is irrelevant, as there were other, better and cheaper options out there, as Jagr proves. And one need not look all that far for further proof.
On Friday, the New Jersey Devils might have signed Ryane Clowe, in whom the Habs were also interested, for an insane, undeserved $4.85 million, but they also signed Michael Ryder for an actually reasonable $3.5 million per year for two seasons.
Yes, Michael friggin' Ryder, who has less of an injury history than Briere (perhaps because he's nearly three years younger), 29 more goals over the last two years, 32 more points and fits in so well with the Habs that they acquired him on two separate occasions. And yet Bergevin let Ryder pursue free agency…just to land Briere…for more money. It's unfathomable.
Now, I'm a firm believer in the theory that you don't know what you have until it's gone, but even I can admit that Ryder, a guy who went without a goal in the season's last nine games last year for Montreal, is not the answer. So, if Ryder is not the player who will push the Habs over the top, Briere definitely isn't either.
Briere is far from bad. He has offensive skill, is a proven playoff performer, bangs home rebounds like nobody's business and will probably help out the power play (again, a power play that ranked fifth in the league and didn't necessarily need help, but I digress).
In fact, his style of play is eerily reminiscent of that of Brendan Gallagher, who was nominated for the Calder Memorial Trophy this past season. However, the Calder is awarded to rookies. Briere is nearly 15 years older than Gallagher and the charm kind of wears off once the injuries start to pile up.
It's probably best to consider Briere "Brendan Gallagher-light" as a result, even if he is an incredible one pound heavier (one inch taller, for the record). And that last line sums up this acquisition best.
After going off the board to draft the 6'5", 228-pound Michael McCarron in the first round last week, thereby acknowledging the Habs need to get bigger, Bergevin just signed Briere to make the Habs even smaller than they were already.
With the signing, the Habs will now have as many as four forwards in the top six that are 5'10" or shorter and less than 180 pounds. Now, size admittedly isn't everything, but it is a lot, and the Habs just don't have, well, any.
With 22 roster spots filled and Bergevin having qualified Ryan White and Gabriel Dumont, another move is unlikely. That Montreal's big acquisition of the offseason is fourth-line enforcer George Parros speaks volumes as to just how much Bergevin failed to prioritize and address Montreal's key needs.
Maybe that's unfair, but only to Parros, because he can legitimately help Montreal, giving the team a legitimate heavyweight at 6'5" and 228 pounds who will help to protect Briere and company come next season. It would be infinitely better, though, if he didn't have to.
Bergevin has by most accounts done a good job up to now, but, discounting the four token pros listed in previous slides, there is really no good way to justify this move. The Habs will still likely contend for the top spot in their division again, but it's definitely less for certain now because of the question mark that is Daniel Briere.
This isn't six years ago, Briere isn't the same player he was and the Habs should be looking toward the future anyway. Thankfully, it's still bright, but not at all because of this signing.