United States vs. Guatemala: 6 Things We Learned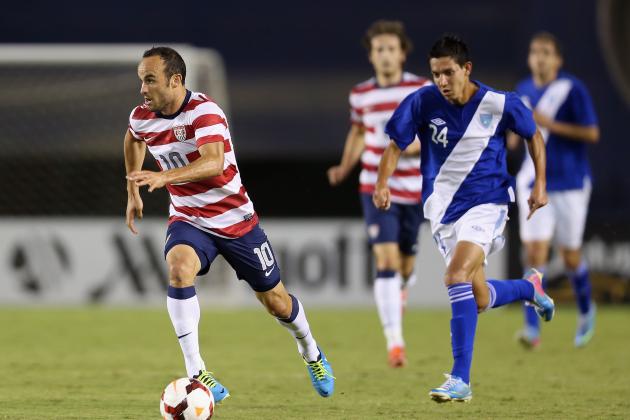 Jeff Gross/Getty Images

Landon Donovan made history for the U.S. men's national team, securing a brace in an easy 6-0 victory against Guatemala in San Diego on Friday.
The U.S. dictated tempo, quickly moving the ball around the field with short, one-touch passes. It was clear coach Jurgen Klinsmann was pushing the U.S. to press high and attack early.
In the end this match was certainly Landon Donovan's. The L.A. Galaxy midfielder returned to the international game in style, converting a penalty shot for which he had suffered the foul and burying another big chance just minutes later.
Here are six things we learned from the United States' 6-0 victory against Guatemala in their final Gold Cup tuneup.
Begin Slideshow

»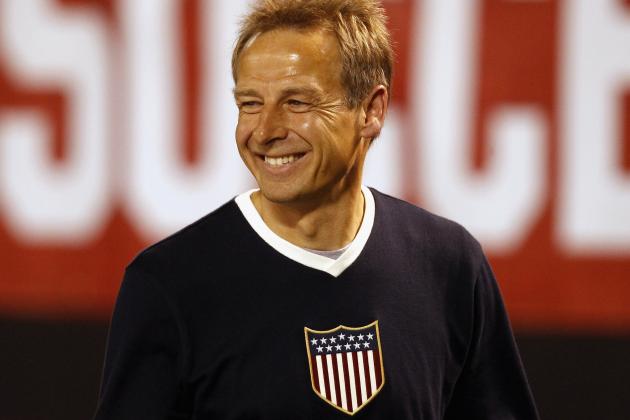 Matt Sullivan/Getty Images

The United States are rolling as of late, winning their fifth match in a row, a streak that began with beating Germany in an international friendly on June 2.
During that streak the U.S. have been seriously stingy, allowing under a goal a game; the defeat of Guatemala was their third straight shutout.
The focus turns to the Gold Cup as Klinsmann looks to win his first international trophy as coach of the U.S.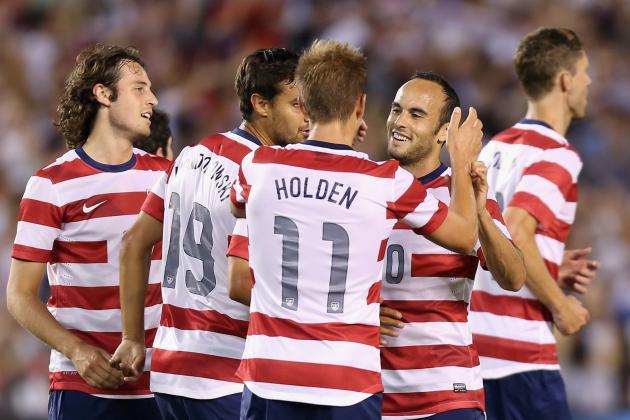 Jeff Gross/Getty Images

It became all the more clear just how competitive certain spots in the starting 11 are for the United States men's national team after their 6-0 victory over Guatemala.
Jurgen Klinsmann will have many different options to roll out in the team's final World Cup qualifiers after the Gold Cup. It will be fascinating to see what Klinsmann does with his midfield if both Stuart Holden and Landon Donovan continue to play so well.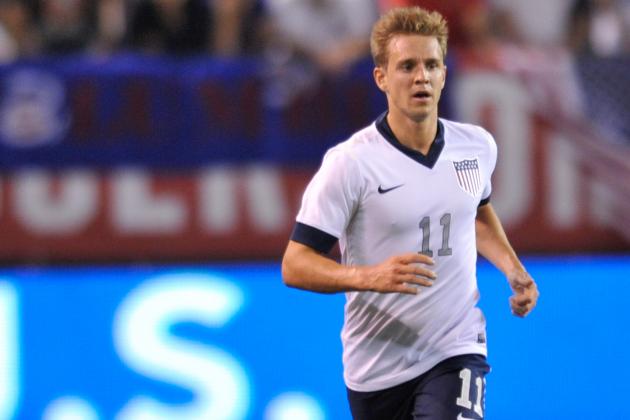 David Richard-USA TODAY Sports

Stuart Holden played his first significant minutes since returning from injury over a year ago.
Holden slotted into the center of the midfield and comfortably attempted difficult passes to moving teammates. He did not seem to mind mixing it up in the midfield either, engaging in individual battles and showing off an impressive work rate.
The American offers a unique option for Klinsmann and is certainly in the mix of central midfield starters.
Just about 25 percent of Landon Donovan's international goals have been from the penalty spot, so it was a bit of a shock to see him miss two in a row during this MLS season for the L.A. Galaxy.
Former U.S. manager and current Galaxy headman Bruce Arena even suggested that he would likely switch his penalty-taker, as Adam Serrano noted on the Galaxy's website.
Donovan, though, was good enough for Klinsmann, and the American delicately chipped his 50th international goal in the back of the net.
It had been 11 caps for Chris Wondolowski before the 30-year-old scored his first goal for the U.S.
Friday's tally must have been a massive weight lifted for the San Jose Earthquakes captain, who scored 27 times in his Golden Boot-winning campaign during the 2012 MLS regular season, tying Roy Lassiter's record for most goals in an MLS regular season.
Wondolowski picked up a loose ball in the 18-yard box after Donovan's darting run and short through ball nearly picked out a streaking Stuart Holden.
Landon Donovan reminded fans of the type of player he is for the U.S. on Friday evening.
Not only did he finish beautifully on two occasions, but Donovan was also incisive in distribution and clearly added a different level of attacking options for the U.S.
The most prolific goalscorer (51) in U.S. history made a fine case for Klinsmann to include him on the national squad beyond the Gold Cup.