Burning Questions for the Pittsburgh Steelers' Training Camp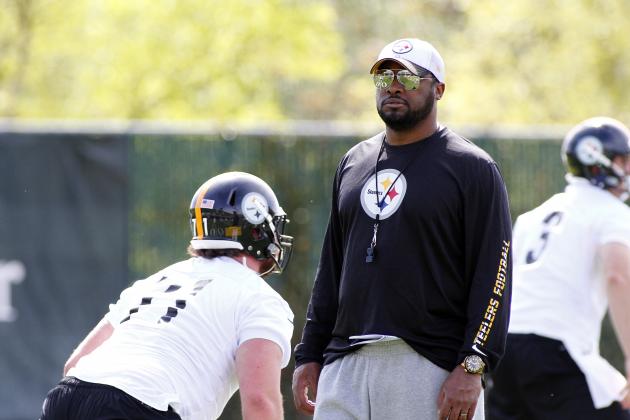 Justin K. Aller/Getty Images

The 2012 season began with such promise for the Pittsburgh Steelers.
They raced out to a 6-3 start and at the start of November, they were one of the hottest teams in the NFL. But injuries, costly turnovers and a lack of mental toughness late in games became too much to overcome as the Steelers lost five of their final seven games.
As Pittsburgh enters the 2013 season, there are a lot of questions as the once veteran-led roster is now being replaced with young talent that has been eagerly awaiting their opportunity.
Whether or not the young players can adequately take over for the departed veterans is only one of the training camp story lines.
Here is a look at the burning questions as the Steelers open training camp.
Note: All stats via NFL.com or ESPN.com unless otherwise noted.
Begin Slideshow

»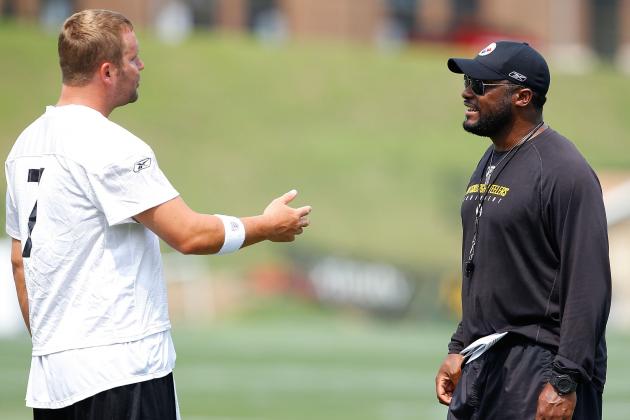 Jared Wickerham/Getty Images

Prior to last season, the Steelers last missed the playoffs in 2009. Despite finishing that year at 9-7, it was not enough for them to enter the playoffs and defend their Super Bowl title.
The missed playoff appearance proved to be just a hiccup as Mike Tomlin led the Steelers to back-to-back 12-4 regular seasons, including an AFC Conference championship in 2010.
Tomlin has demonstrated the ability to refocus his team and bounce back from a down year and this season will be yet another challenge for him and his staff.
So what are the plans for Camp Tomlin 2013?
Tomlin made it clear that being "prepared" is what he expects come training camp, via Steelers.com:
The word that I used was 'prepared'. Oftentimes we talk about being ready for camp. I think ready is an emotional thing. I'm ready for camp as I sit here today because I love camp. I love the process of team building. Prepared is another thing. Daily actions between now and then are to ensure that we're ready to take the actions that we desire to take. I'm more concerned about our guys being prepared than ready. We talk openly about the differences between the two.
There were times last season that the Steelers did not look "prepared" for games, so to have this mindset in training camp will be a good start. How Tomlin gets his team prepared will be another story.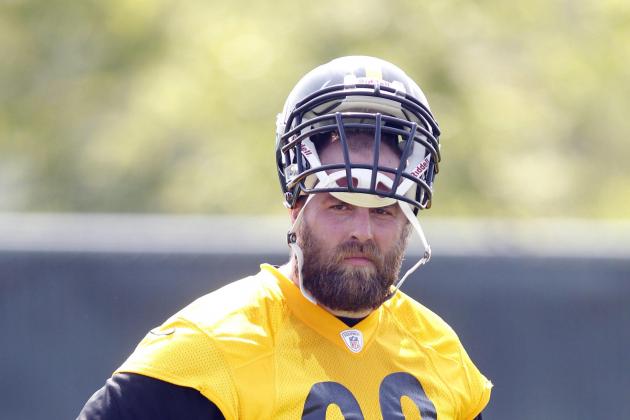 Charles LeClaire-USA TODAY Sport

In the matter of one offseason, the Steelers leadership was dismantled as they parted ways with Hines Ward, James Farrior and Aaron Smith. But that didn't leave the team the team without leaders, did it?
Troy Polamalu didn't say that the Steelers lacked leaders, but he did tell Alan Robinson of the Pittsburgh Tribune-Review that they missed some players.
"We don't have guys like James Farrior and Aaron Smith, the core leadership since I've been here," Polamalu said.
Losses in close games and a collapse at the end of the season supported the theory that there were problems in the locker room.
The tipping point came when an anonymous teammate called out LaMarr Woodley for his conditioning, via Ron Cook of the Pittsburgh Post-Gazette.
"He was awful," one teammate said regarding Woodley's 2012 performance.
"He tells us he works out, but we didn't see it. He wasn't in shape. That has to be a reason why he was always hurt."
These comments snowballed and led to a number of players speaking out about the team's leadership before Ben Roethlisberger finally put an end to it, via Ed Bouchette of the Pittsburgh Post-Gazette.
"For anybody to say there are locker room issues or leadership issues are completely off base," Roethlisberger said.
He added that the "frustration" from last year resulted in teammates speaking out.
Winning will cure that and the Steelers will depend on the veterans to help lead the way.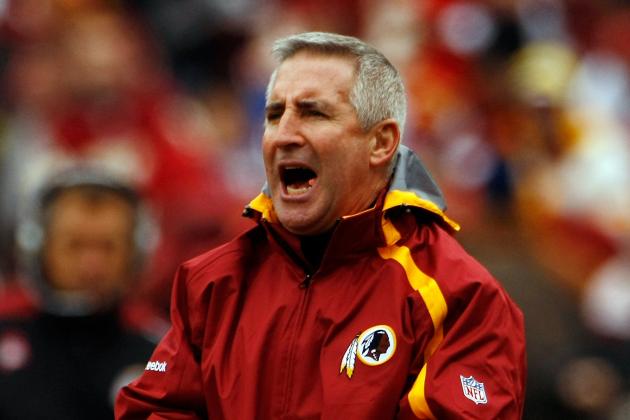 Win McNamee/Getty Images

Mike Tomlin is not one to make major moves with his coaching staff, but he will enter this season with two new coaches.
Danny Smith will take over as the special teams coordinator while Jack Bicknell Jr. replaces Sean Kugler as offensive line coach.
In a rather bizarre move, Tomlin fired special teams coach Al Everest prior to the start of the 2012 season. The unit would struggle throughout the season, finishing in the bottom half of the league in punting and punt returns and did not have stellar coverage units.
Smith's biggest tasks will be to reinvigorate the return game which averaged 25.3 yards per kick return and 7.3 yards per punt return.
His options will be limited as Chris Rainey is gone and Antonio Brown is the primary receiving option and should not be risked returning punts and kicks.
Instead, Smith will have to sort through a number of options including LaRod Stephens-Howling, David Gilreath, sixth-round draft pick Justin Brown as well as undrafted free agent Reggie Dunn.
Dunn is an intriguing option after running the 40-yard dash in 4.29 seconds and returning four kicks for touchdowns while at Utah last season.
Finding the right returner will be one of the keys for special teams success this year.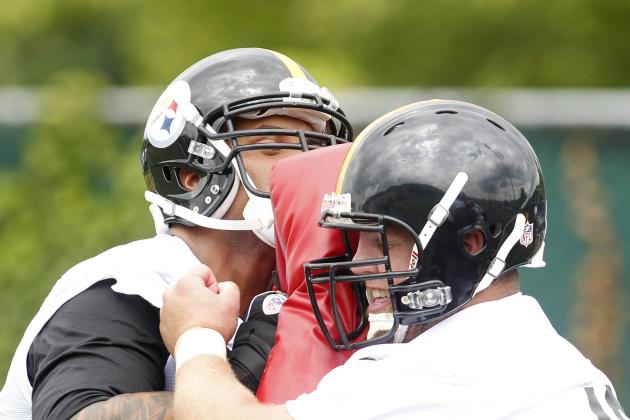 Charles LeClaire-USA TODAY Sport

Perennially, the Steelers have one of the worst offensive lines in the league and last season was no exception.
Pro Football Focus ranked the Steelers' offensive line 25th in the league. They were 24th in pass blocking, 30th in run blocking and 18th in penalties.
After years of ignoring the position in the draft, the Pittsburgh's front office has spent recent years investing heavily in the offensive line and this is the year that it may begin to pay off.
The man in charge of constructing this unit is new offensive line coach Jack Bicknell Jr.
Under Bicknell, the Steelers will be running more of—but not exclusively—a zone-blocking scheme.
Bicknell told Steelers.com that he likes athletic linemen that can move and will implement his scheme based upon the team's personnel as well as the opposing defenses that they must face.
Helping the offensive improve on their 26th-ranked ground attack will be one of the biggest priorities for Bicknell. He should be in Tomlin's ear asking him to run the goal-line drill early and often in camp.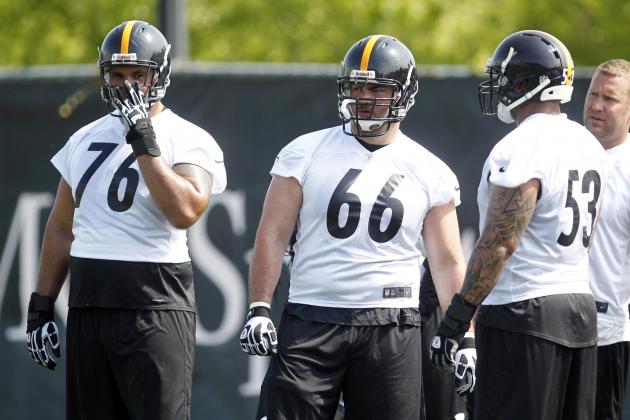 Charles LeClaire-USA TODAY Sport

The right side of the offensive line has the potential to be very, very good—that is if David DeCastro and Mike Adams live up to expectations.
DeCastro was slated to start as a rookie last year before a severe knee injury suffered in the preseason virtually ended his season.
Unlike DeCastro, Adams was considered a work in progress and needed a year to develop. His time came sooner than expected when Marcus Gilbert got injured forcing Adams into the lineup.
Adams—as expected—struggled in pass protection, allowing five sacks in six starts and 10 games played. He was rated as the 11th worst tackle in the league by Pro Football Focus, allowing 25 pressures in 280 snaps. However, his run blocking was much better as the Steelers averaged 155 yards on the ground in his first three starts.
DeCastro only started three games last year and had his ups and downs. He struggled at times, yet flashed some of the potential that made him a first-round selection.
He did show enough to impress NFL.com's Bucky Brooks, who expects him to be the NFL's most improved offensive lineman this year.
Now that they are healthy and have a year under their belts, DeCastro and Adams are in position to join Maurkice Pouncey as a strong foundation for the offensive line. The Steelers have invested a lot into their line and now it is time for that investment to pay off.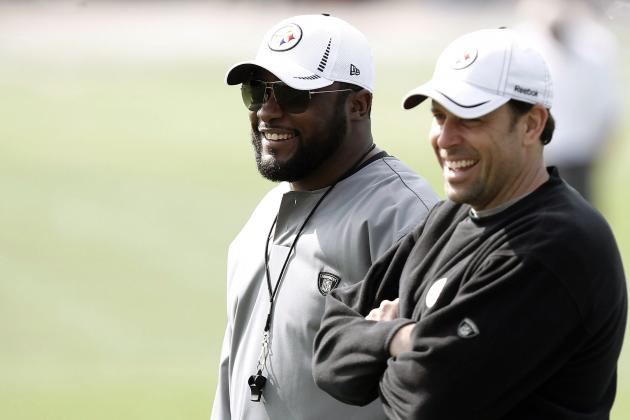 Jared Wickerham/Getty Images

Year one under Todd Haley came with mixed results.
The rushing attack regressed and they only scored 0.7 more points per game in 2012 than they did in 2011. However, not everything was bad.
Prior to getting injured against the Kansas City Chiefs, Roethlisberger was on pace for one of the best statistical seasons of his career. More importantly, he was sacked on only 6.3 percent of his passing attempts—the lowest of his career.
That did not mean he was entirely thrilled with the new scheme. Roethlisberger at one point told the Pittsburgh Tribune-Review that it was a "dink-and-dunk offense."
To an extent he was right, but that is irrelevant. It doesn't matter what offensive scheme a team runs, the bottom line is that it has to be productive.
Pittsburgh's offense wasn't nearly productive enough last year and the necessary adjustments have been made. So far, Roethlisberger has been pleased with the changes, via Steelers.com.
Yeah, a little bit. There's a little more comfort. There has been some changes this offseason in some of the offensive philosophies, playbook and some things that I think are good. It's some compromise from all different position coaches, running back coaches, line, and quarterback coaches. I think we've taken a little bit of everything and made it a lot better. You can ask anybody on offense that, including coaches, and they'll tell you that we all like the way the offense is and where it's going.
With suggestions from all around, the offense can go in a number of different directions. My guess is that they combine the best of Bruce Arians' free-for-all offense and Haley's structured offense.
That could mean allowing Roethlisberger more freedom to move around the pocket and get the ball downfield as well as utilizing the play-action pass. It should also mean a continued emphasis on short, quick passes and utilizing the backs and tight ends as a safety valves.
We will just get a hint of what the changes on offense will be in training camp as the coaching staff will want to save the big adjustments for the regular season.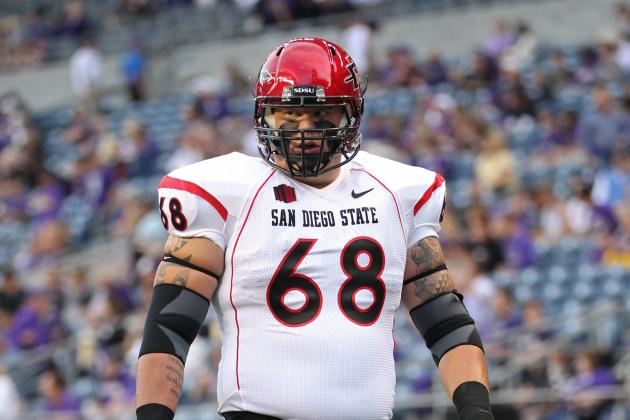 Otto Greule Jr/Getty Images

Pittsburgh's depth was tested in 2012 when it lost numerous starters to injuries.
They failed the test.
Depth should be an even bigger concern in 2013 as the Steelers lack experience behind the starters along the offensive line, in the defensive backfield and at inside linebacker.
Kelvin Beachum is a do-it-all offensive lineman who can play both guard and tackle spots and was getting snaps at center during the team's offseason workouts.
Besides Beachum, the only lineman likely guaranteed a spot is John Malecki, who can play guard and center.
A number of players including Guy Whimper, Joe Long, Nik Embernate and Mike Golic Jr. will be some of the players competing for a spot.
In the defensive backfield, the Steelers are set with their top five.
Ike Taylor, Cortez Allen, Ryan Clark, Troy Polamalu and William Gay will form a formidable secondary that should once again be one of the better units in the league.
Curtis Brown will look to improve after two disappointing seasons at cornerback while Robert Golden and rookie Shamarko Thomas will compete for playing time behind the starting safeties.
Besides the offensive line, the thinnest area of the roster is at inside linebacker.
Larry Foote will once again start alongside Lawrence Timmons, but the Steelers may have to depend on rookie Vince Williams as the top backup.
It is unknown when Sean Spence will be ready to return and Stevenson Sylvester was shifted to the outside during minicamp.
What we know now is that there is a lot of unproven depth and there will be plenty of opportunities for the younger guys on the roster to make an impact as a backup.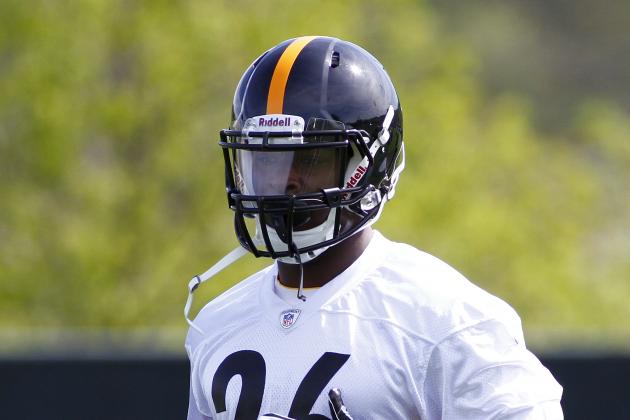 Justin K. Aller/Getty Images

Pittsburgh's coaching staff has been getting better at getting its draft picks on the field in recent years.
Players such as Maurkice Pouncey, Marcus Gilbert, David DeCastro, Mike Adams and Kelvin all started for at least a portion of their rookie years while Chris Rainey and David Paulson contributed in more limited roles.
The 2013 draft could have as many as four rookies contributing as starters or in specialized packages this season.
Jarvis Jones and Le'Veon Bell will compete for starting jobs while Markus Wheaton and Shamarko Thomas will hope to contribute on passing downs.
For a roster lacking playmakers at certain positions, it will be interested to see how the coaches develop these four players. This is typically a slow process in Pittsburgh, but Tomlin and company may look to throw them into the fire during camp.
The rest of the draft class—Landry Jones, Terry Hawthorne, Justin Brown, Vince Williams and Nick Williams—will be competing for a backup job or to contribute on special teams.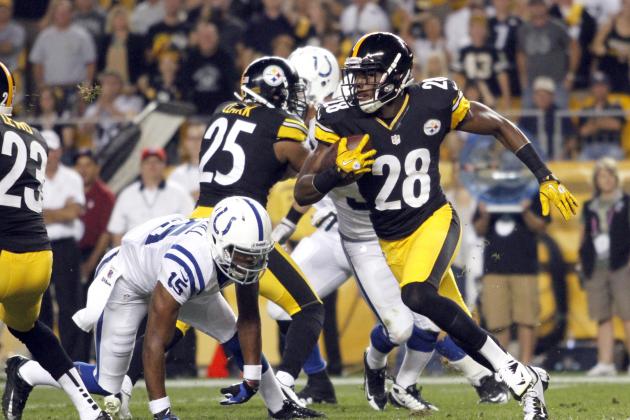 Justin K. Aller/Getty Images

Less than a month ago, NFL Network's Warren Sapp once again called the Steelers' defense "old and slow."
The Steelers do have some age on their defense with five starters at least 32 years old or older. However, six of their starters are 28 years old or younger—including three new starters.
Steve McLendon, Jason Worilds and Cortez Allen will all have expanded roles this year as they move into the starting lineup to replace Casey Hampton, James Harrison and Keenan Lewis, respectively.
Not only do these three defenders add youth to the defense, but they add a ton of talent as well.
McLendon is a powerful defensive lineman who will be able to not only defend against the run but also rush the passer, and Worilds is an athletic linebacker who has flashed the ability to get to the quarterback.
Allen is the most intriguing player. He is tall, lanky and can run very well. The coaching staff will be able to move him around on the field as he has the size and quickness to cover receivers in the slot as well as the outside.
While each of these players has performed well in limited snaps last year, it is a much tougher challenge to be an every-down player and not every player is ready for an expanded role.
Camp will be the first opportunity for us to see how each player performs while No. 1 on the depth chart.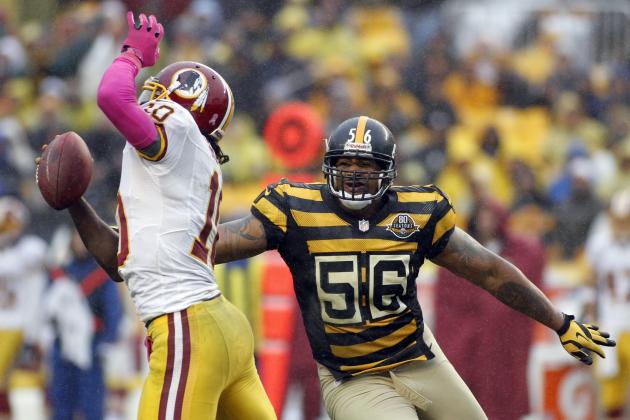 Justin K. Aller/Getty Images

Last season the Steelers had a good, but not great defense. What is separating them from the league's elite right now is the lack of sacks and the failure to generate turnovers. This is not a new problem.
Over the last two seasons, the Steelers averaged 36 sacks, 10.5 interceptions and seven fumble recoveries. By comparison, they had 48 sacks, 21 interceptions and 14 fumble recoveries when they were AFC Champions in 2010.
The lack of production has Dick LeBeau concerned and it will be one of the defenses' priorities this season.
Improving the pass rush will come down to the physical condition of LaMarr Woodley as well as the development of Jason Worilds and Jarvis Jones.
Wooldey has not been in top physical condition and has suffered through injuries over the last two years. With James Harrison gone, he will be the main pass rushing threat moving forward.
Pittsburgh expects big things from Worilds as well, as he will be expected to—at least in part—replace Harrison's production while Jones may get some playing time as a situational pass rusher.
In the secondary, a healthy Troy Polamalu and a new starter in Cortez Allen should help boost the interception numbers.
LeBeau is one of the best coaches in the game, but two consecutive years of poor production is not acceptable and it will be an area of focus in camp.