WWE Main Event and SmackDown: In-Depth Recap and Review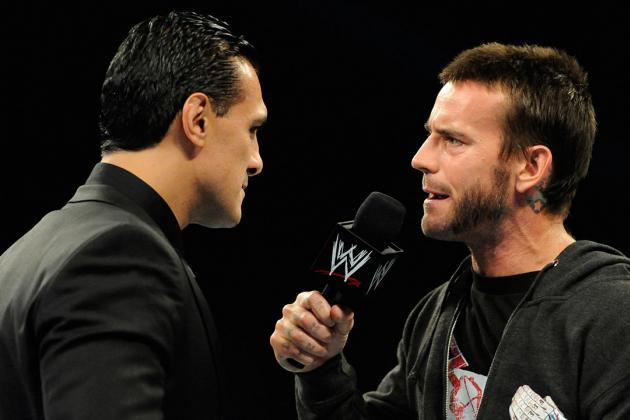 WWE.com
Every week here on Bleacher Report, I will take an in-depth look at Main Event and SmackDown, recapping all the action and offering analysis on everything from the matches to commentary and anything else that takes place on the show.
This week focused heavily on Money in the Bank storylines. We got to see several matches between participants from both ladder matches.
WWE has been producing a lot of great matches lately, and this week was no exception.
Let's get right into the first match from Main Event, Christian vs. Damien Sandow.
Begin Slideshow

»
Main Event got off to a great start, thanks to Damien Sandow's pre-match promo where he quoted himself paraphrasing a quote from Erasmus. Cody Rhodes being back on commentary was also a nice treat.
The match Sandow and Christian put on was very entertaining. There were lots of innovative counters, and both men seemed to be very comfortable in the ring with one another.
At one point, it looked like Sandow barely avoided an injury when his leg got caught in the ring apron as Christian pulled him down to the floor.
Despite his best friend being in the ring, Rhodes did a good job of putting Christian over as being on top of his game since returning to the ring.
Sandow had control for more of the match than Christian, but Christian kept coming back and getting near-fall after near-fall. Rhodes even mentioned at one point that Christian is what he calls a "counter wrestler."
Christian built up some momentum toward the end of the match as he hit his usual flurry of offense, but Sandow managed to turn things around in his favor again.
The match seemed like it could end at several different times, but each man always had a way out of the other's signature moves. Christian finally managed to win the match with the Killswitch.
This is another in a long list of very good matches from Main Event.
Winner: Christian
Some notes from the match:
I am not sure how I have never noticed this before, but Sandow is very similar to Professor Moriarty in some of his mannerisms—especially Jared Harris' Moriarty. Now we just need a WWE equivalent to Sherlock Holmes. Any suggestion?
Sandow's use of a cartwheel was genius.
Christian needs a new look. He has been cycling through the same four pairs of tights since he returned from TNA.
I love how Rhodes brought up that Sandow used an Edgecutioner against Christian.
Rhodes has a future as a commentator if he ever decides to stop wrestling. He knows the sport really well, and he is very charismatic.
These two have faced off more times than I care to remember. Whenever one of them is being pushed, the other one is jobbed out to make them look good.
Zeb Colter's pre-match promo was the same stuff we have been hearing for months. If WWE can't find a way to freshen him up a bit, he won't be able to help Antonio Cesaro or Jack Swagger.
Swagger thought he was going to pick up an early win by count out after he nearly drove Sin Cara through the barricade, but Cara made it back in right before the 10-count to keep the match going through a commercial.
Swagger eventually won with the Patriot Lock in what was a decent match, but nothing special for either man involved.
Winner: Jack Swagger
Some notes from the match:
Colter seemed more worried about the shape of his mustache than what was happening inside the ring.
Sin Cara might be the biggest flop in WWE history. He came in with so much hype, and now, he is losing almost every match he is in.
This is twice in recent weeks that Curt Hawkins has not only had a televised match, but actually had his entrance shown, too.
Normally when someone like Hawkins faces someone the size of Big E Langston, you would expect Hawkins to have the speed advantage, but that was not the case.
Hawkins managed to get in a few shots here and there, but in the end, Langston destroyed him in the way we have come to expect from him.
Winner: Big E. Langston
Some notes from the match:
Rhodes making reference to Langston keeping opponents down for a five-count when he was in NXT proved that he pays attention to the WWE product very well.
AJ is still wearing Ziggler shirts even though they haven't been seen together in a few weeks.
Main Event was pretty run-of-the-mill this week. The opening match was great, the middle match was alright and the final match was a quick squash.
This seems to be a pattern with Main Event, which is odd since it seems to run in reverse order to the normal pattern of a wrestling event.
Rhodes being on commentary has been a nice change in recent weeks. He does not play up his heel persona too much, which makes it much better when he is calling matches and putting over both competitors.
Overall, this was a show that did not exceed or fall short of expectations.
CM Punk takes a jab at John Cena in his opening promo. It was not a bad one, just a friendly little joke.
Punk talks about how he always goes against the grain and how he always proves his haters wrong. He is being kind of cocky, but he isn't saying anything that isn't true.
Punk talks about getting his hands on Brock Lesnar. Alberto Del Rio's music hits, and he comes out, upsetting Punk. Del Rio says he expected more from Punk and Punk says he expected a cool car from Del Rio.
They go back and forth about why they dislike each other. Teddy Long comes out and makes a singles match between them for later. At least it wasn't a tag match.
A few observations:
Del Rio is so stupid. It's play "on" the Internet, not "with" the Internet. What a loser. (I say this while adjusting my glasses and snort-laughing.)
Punk hasn't really changed anything about his gimmick since turning face. He is still talking about being the best in the world and doing things nobody else can do.
It's as if losing Paul Heyman was an automatic face turn. As long as he doesn't insult the fans anymore, he can insult any babyface or heel, and the fans will always cheer for him.
I agree with Punk. I want the cool cars back in Del Rio's entrance. He always had something really rare or expensive, and it separated him from every other heel.
Any match that begins with a Sandow promo on his way to the ring is off to a good start. This was a pretty standard tag match for the most part. It was a little on the short side, though.
The Usos always manage to be entertaining, so hopefully, they are being taken seriously as contenders and not just being used to job to The Shield at a pay-per-view.
After the match, The Shield delivered a promo from the Titantron to The Usos. If they get enough time at MITB, then this will be an awesome match.
Winners: The Usos
Some notes from the match:
Sandow's voice is so booming that everyone in the arena could easily hear him yell "Referee! Do your job!" while The Usos hit a double-team move on Rhodes.
Michael Cole asked JBL what would happen if Rhodes and Sandow are both on top of a ladder during MITB, and without missing a beat, JBL replied "They're going to double-cross each other." It will certainly be interesting to see if one of them does win it this year.
If Dean Ambrose wins MITB, I predict Rollins and Reigns will turn on him once he gets too cocky about being a U.S. champion and MITB winner. They might pick up another third man, remain a tag team or split up the group altogether.
This is even more possible if they lose the titles to The Usos, because Ambrose could blame them and say he is the only one carrying his weight. However, I do not see Ambrose winning the case. That match will either go to Rhodes, Barrett or Sandow in my opinion.
This was a decent match, but I would have to say that Alicia Fox was the one who actually wrestled the better match.
She has improved a lot since debuting as a singles wrestler for WWE. Fox also really stepped up the aggression in this match. But why she seemingly bounces from heel to babyface with absolutely no storyline to explain it is still a mystery.
Fox ended up stealing a win with a little help from AJ, while coming close to having a wardrobe malfunction in the process.
Winner: Alicia Fox
Some notes from the match:
When AJ ran into the Bellas backstage and screamed "Ah! Sister Sister!" I was curious if she was just saying it or making a reference to the sitcom about twin sisters?
Langston laughing at AJ because of her problems was funnier than it should have been.
This is a match we have seen many times in the past, but with Christian having been gone for so long, it feels new again.
As expected, these two put on a good show. They traded control throughout the match, with plenty of near-falls and signatures from both men.
Randy Orton took home a clean win with the RKO in what might end up being the match of the night.
Winner: Randy Orton
Some notes from the match:
HD television allows us to see exactly where Christian's fake tan stops on his neck. It's as if he wears a helmet while tanning.
Christian looks a little awkward when he hit the spear since he wasn't quite as big as Edge was.
Orton seems like a very viable candidate for MITB. He hasn't been in the title picture for a long time, and this could be the perfect way to get him back in there.
Dolph Ziggler came out before his match and gave a promo that seems to indicate that he will remain mostly the same as a babyface; he just won't mock the crowd.
The match with D-Mac was quick, with Ziggler picking up the win with a Zig Zag, but not before D-Mac powerbombed him into the turnbuckle. The action after the match was probably more enjoyable than the match itself.
Ziggler came back into the ring after 3MB challenged him, and he managed to avoid everyone in the group before getting back out of the ring and laughing at them.
It was a good way to keep his show-off persona while continuing his babyface turn.
Winner: Dolph Ziggler
Some notes from the match:
For anyone questioning why Ziggler has been facing 3MB lately, it is likely because WWE is taking it easy with him after his concussion by giving him easy wins.
It could also be to test his babyface turn against some heels like 3MB to see how fans react to him.
This match went exactly how anyone would have predicted. Justin Gabriel got in some good offense, but in the end, it was Fandango who picked up the win with his flying leg drop.
Gabriel seems to be finding some more TV time lately, although it is always in a losing effort. Hopefully, he and Tyson Kidd can reform their team when Kidd returns.
Winner: Fandango
After the match we were treated to a video from Jack Swagger, Antonio Cesaro and Zeb Colter. They talked about the 4th of July and how Americans don't actually know what independence is.
Some notes from the match:
Summer Rae always looks genuinely enthralled by Fandango. She is a good performer.
I know it is a small detail, but the fence in the videos doesn't fool anyone. We all know they're not outside. There are no shadows, and you can see the reflection of lights in Colter's glasses.
Maybe I just pay attention to details that are too small, but they could have made it look more like they were outside very easily.
Cesaro seems really out of place during this so-called patriotic promo.
Seeing Del Rio without Ricardo Rodriguez is really weird. It's like he lost half his gimmick.
Paul Heyman joined commentary for this very entertaining match. Punk and Del Rio know each other very well after feuding over the WWE title, so this match had high expectations.
They didn't have as much time for this match as I would have liked, but they did really well with what they had. Both guys hit their usual array of signature moves, and both men seemed to be ready for whatever they had in store for each other.
Punk really sold Del Rio's offense to his arm throughout the match well, especially when he struggled to get to the top rope because of the hurt arm.
During the match, Heyman and Cole had a lot of things to discuss, but one interesting thing that Heyman brought up was how he mentored Cole early in his announcing career.
The match spilled to the outside, with Heyman taking a shot from Del Rio at one point. Punk came to his rescue, but both men ended up being counted out.
No Contest
Some notes from the match:
They should never show Del Rio deliver a kick to the face close up. It makes it look too fake.
I have to find out what brand of razor Del Rio uses. His face never has so much as a 1 o'clock shadow, let alone real stubble.
Maybe he uses a straight razor. They do give the closest shave, but can also cut your artery with one wrong move.
I am glad Punk didn't go over Del Rio in this match. Del Rio is already somewhat of a weak World champion. Losing a non-title match to Punk would have really hurt him.
Main Event and SmackDown certainly had their high points, but they were shows that I would classify as average at best.
Christian looked awesome this week in three different matches with Dean Ambrose, Damien Sandow and Randy Orton. Clearly, Christian has been keeping up with his training during his 10 months off.
CM Punk vs. Del Rio seemed to take a bit of a back seat to the program between Punk and Heyman, which is fine since Del Rio isn't feuding with Punk right now. The double count out ending will upset some fans, but it was really the only choice they had.
Del Rio is World champion. He can't lose to someone who isn't even chasing his title, and Punk can't lose to Del Rio since he is trying to make a statement before Money in the Bank.
The drama between AJ and Dolph Ziggler is certainly going to come to a head soon, and sooner is better than later. Ziggler's babyface turn will truly be complete once he gets rid of AJ.
What did you think of Main Event and SmackDown this week?
Thanks for reading and follow me on Twitter @BR_Doctor.