Rookie, Undrafted Free Agent Watch for Detroit Lions Training Camp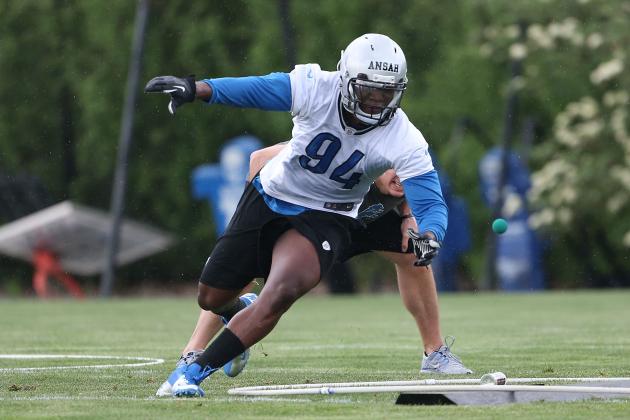 Leon Halip/Getty Images

One of the most important parts of training camp for a fan is getting to know the new faces on your favorite team.
These are the guys who, if the front office chose well, will be carrying the Detroit Lions' proverbial flag into battle for years to come.
Maybe there is a Hall-of-Famer in this class, just doing his best to get noticed among a crowd of other 22-year-olds.
Maybe there's a player who will defy his draft status and fly out of nowhere to become a huge star.
Maybe one of these guys is about to become your favorite player.
There is potential for all of these things in every draft class, so you owe it to yourself as a Lions fan to get acquainted with these players now. Here's the rundown on every one of Detroit's fresh-faced rookies, from the first-rounder everyone knows to the undrafted player you'll never hear from again.
All names, numbers, and height/weight statistics taken directly from the DetroitLions.com online roster. Player stats taken from ESPN.com
Begin Slideshow

»
College: Brigham Young (BYU)
Draft Status: Round 1, fifth overall
Height/Weight: 6'6'', 270 pounds
Jersey Number: 94
College Production
Despite being a gifted athlete, Ansah didn't really come into his own as an everyday player until his senior year. Even then, he notched only 62 tackles (though with 13 tackles for loss including 4.5 sacks).
Ansah's lack of college production was one of the big questions surrounding his draft status.
Projected Fit
Ansah has already practically been forced into the right defensive end position. It may be the right spot for him, but he was moved around a lot at BYU, so expect that will take some time for him to acclimate to the position.
That said, one narrative that has followed him since his days at BYU—from ESPN analysts (see accompanying clip) and in reports from the Senior Bowl and early season workouts—is that Ansah catches on and learns extremely quickly. Figuring out the defensive end position shouldn't be a huge intellectual task for Ansah.
Fun Fact
Before even considering football, Ansah twice tried out for the BYU basketball team, missing the cut both times. His love for basketball might explain why his shot-blocking skills are so sharp—Ansah batted down nine passes in 2012.
College: Mississippi State
Draft Status: Round 2, 36th overall
Height/Weight: 6'1'', 190 pounds
Jersey Number: 30
College Production
Slay played only two years at Mississippi State, starting in just one campaign, and although he didn't exactly break any records, he improved significantly from his junior year (24 tackles, five passes defensed, one interception) to his senior year (40 tackles, 11 passes defensed, five interceptions).
He played second fiddle across from fellow second-round pick Johnthan Banks, who usually drew the toughest assignments, raising questions about how Slay will be able to handle stronger, elite-caliber receivers.
Projected Fit
In the short term, Slay will just hope to get in the lineup, a notoriously difficult feat for a rookie cornerback. The best-case scenario is that he starts immediately at right cornerback across from Chris Houston, but chances are that won't happen immediately.
In the long term, Slay has the physical tools to be not only the Lions' best cornerback, but one of the better cornerbacks in the league. He has a very long way to go before he's at that point, though.
Fun Fact
Slay's son Duron was born when he was 15 years old. With help from his mother, Slay finished high school, then studied his first two years at a junior college before joining Mississippi State for his junior and senior years. Talking about the motivation his son provides him, Slay said (via Carlos Monarrez of The Detroit Free Press):
Just seeing him, that pushed me...I didn't want to disappoint him. I know he's looking at everything I do, so I hope I'm (showing) him the right way right now.
College: Kentucky
Draft Status: Round 3, 65th overall
Height/Weight: 6'3'', 333 pounds
Jersey Number: 75
College Production
It's hard to gauge Warford's production in college. Not only was he a guard, a position with notoriously few countable statistics, but he played for an awful Kentucky team that went 2-10 his senior year.
All you need to know about Warford's college production is, that after spending his freshman year mostly as a reserve player (a performance that earned him All-Freshman SEC honors), he moved into the starting lineup at a sophomore. The result was 37 consecutive starts and three All-SEC accolades.
Projected Fit
Barring a major mental roadblock on Warford's part, he should start at right guard from day one and stay there for several years.
Fun Fact
This is the highest the Lions have drafted a guard since taking Jeff Hartings in the second round in 1996. It's the highest they've drafted an interior offensive lineman since taking Dominic Raiola in the second round in 2001.
It was probably time.
College: South Carolina
Draft Status: Round 4, 132nd overall
Height/Weight: 6'8'', 267 pounds
Jersey Number: 92
College Production
Perhaps the biggest reason Taylor wasn't drafted higher than the late fourth round is because his production actually declined over his last three years playing at South Carolina. His best year was his sophomore year, when he notched 7.5 sacks and 13 tackles for loss.
Those numbers declined to three sacks and 8.5 tackles for loss his senior season.
Projected Fit
Taylor should see a reasonable amount of time on the field at both defensive end positions since the Lions like to use a deep rotation. At South Carolina, he played mostly at left defensive end, thanks to the formidable presence of Jadeveon Clowney on the opposite side, but Taylor's build would fit reasonably well on either side.
Fun Fact
Taylor had two interceptions in his career at South Carolina. Both were returned for touchdowns, one for 24 yards, one for 48 yards.
College: Appalachian State
Draft Status: Round 5, 165th overall
Height/Weight: 6'1", 205 pounds
Jersey Number: 6
College Production
Martin averaged 45.9 yards per punt his senior year, and in each his season he had a punt of at least 63 yards. Since he's a punter, there's not much else to say about him.
For what it's worth, Nick Harris, who handled the bulk of the Lions' punting duties last season, averaged 41.5 yards per punt with a season long of 58 yards. So yes, it's an upgrade.
Projected Fit
On fourth downs, he will come out to kick the ball to the other team, hopefully tilting the battle for field position in the Lions favor. He will likely be the holder on PATs and field-goal attempts.
Fun Fact
Before signing with Appalachian State, Martin turned down a soccer scholarship from Georgia State. Also, Martin's father played baseball at Eastern Michigan University.
College: Virginia Tech
Draft Status: Round 6, 171st overall
Height/Weight: 6'2", 204 pounds
Jersey Number: 10
College Production
Fuller only played two years of football at Virginia Tech after transferring from Kansas, where he was a track star.
Fuller started for only one season but made the most of it with 43 receptions for 815 yards and six touchdowns. The Lions appear to have put a lot more emphasis on physical skills in this year's draft and less on consistent college production.
Projected Fit
For now, there doesn't appear to be much room for Fuller on the roster. He has a lot of refining to do to his game (typical of any new receiver, but especially a converted track star), and the practice squad seems like a good place for him to do it unless he plays well on special teams.
Eventually, though, Fuller could use his track-star speed to make himself a legitimate downfield threat on a team that needs just that.
Fun Fact
Corey Fuller is the younger brother of former NFL safety Vincent Fuller, who played under head coach Jim Schwartz when he was the defensive coordinator with the Tennessee Titans. Fuller also did a brief stint under Schwartz in Detroit in 2011.
College: Notre Dame
Draft Status: Round 6, 199th overall
Height/Weight: 5'10", 201 pounds
Jersey Number: 41
College Production
Riddick spent his first season primarily on special teams, his second and third as a receiver, and his final season at his natural position—running back. He was productive at each of those positions, but never more so than at running back, where he rushed for 917 yards (4.8 yards per carry) and five touchdowns as a senior.
The best part? As a senior running back, he caught 36 passes for 370 yards, only two catches and 66 yards fewer than he had as a junior wide receiver.
Projected Fit
Fuller was a solid kick returner as a freshman, and dusting off those skills could go along way in helping him earn a roster spot. It also makes a lot of sense for the Lions to have a man with both rushing and receiving skills as a potential backup to Reggie Bush, a dangerous rushing/receiving threat in his own right.
Fun Fact
Despite playing twice as much at receiver as he did at running back (and continuing to be a receiving threat even as a running back), Riddick's career rushing and receiving stats are almost identical.
Riddick finished his career with the Fighting Irish with 1,169 yards and five touchdowns rushing, but 1,263 yards and eight touchdowns receiving.
College: Alabama
Draft Status: Round 7, 211th overall
Height/Weight: 6'5", 278 pounds
Jersey Number: 89
College Production
Williams' real value doesn't really show up on the stat sheet. He finished his career at Alabama with 51 receptions for 503 yards and seven touchdowns, but receiving isn't what the Lions drafted him for.
Projected Fit
When lined up as an inline blocker, he is nearly indistinguishable from the offensive tackle next to him. He can start on the line or from in the backfield, and can, in limited capacity, be a valuable red-zone target.
In other words, he's just a bigger, younger Will Heller.
Fun Fact
Williams was a contributor to all three national championship Alabama teams. He played a big role on those teams; that role just never included catching more than 20 passes in a season.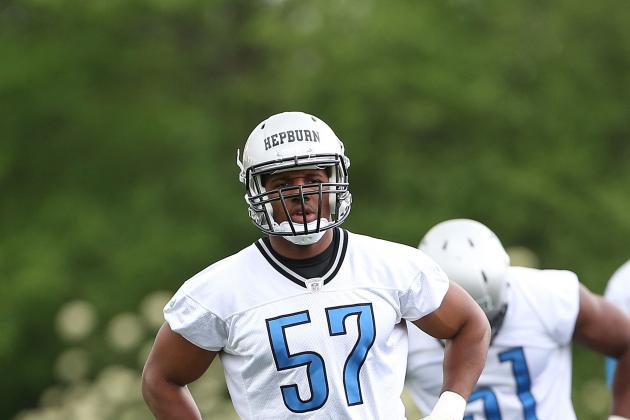 Leon Halip/Getty Images

College: Florida A&M
Draft Status: Round 7, 245th overall
Height/Weight: 6'2", 240 pounds
Jersey Number: 57
College Production
A good raw athlete who lettered in both football and wrestling in high school, Hepburn started as a redshirt freshman on special teams, then joined the defense as a sophomore. In his senior season, he notched 86 tackles, 5.5 sacks, seven passes defensed and a forced fumble from the middle linebacker position.
Projected Fit
For now, Hepburn's goal will be to make himself valuable on special teams. His athleticism and intelligence merit alone could merit a place on special teams, and if he makes the squad and develops his abilities, he could eventually be a good reserve middle linebacker, available in case of an injury to Stephen Tulloch.
Fun Fact
Hepburn was a student before he was an athlete. He walked on to the Florida A&M football team while carrying a full course load in biochemistry and still discovered a way to kill certain cancer cells during a summer internship.
According to his NFL.com draft profile, the former National Honor Society member wishes to start a biochemistry company, where he plans to lead disease treatment and eradication research.
I'm thinking "cures cancer" probably falls in the "high character" category.
Brett Deering/Getty Images

College: Oklahoma State
Draft Status: Undrafted
Height/Weight: 6'3", 230 pounds
Jersey Number: 57
College Production
Elkins played only two years at Oklahoma State, having transferred in as a former JUCO player. In those two years, Elkins posted 165 tackles, three sacks, two forced fumbles and an interception.
Projected Fit
Elkins is an athletic player whose inexperience provides him plenty of room to develop, but the linebacker position is dense with competition right now. The best Elkins can hope for this season is a stint on the practice squad.
Fun Fact
Before walking on the football team at Blinn College, Elkins was the MVP of his state championship-winning rugby team.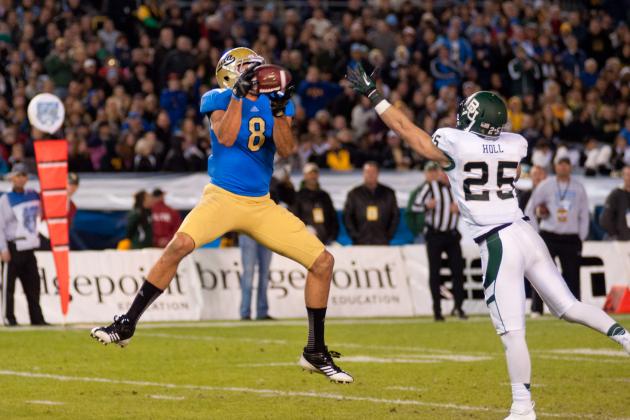 Kent Horner/Getty Images

College: UCLA
Draft Status: Undrafted
Height/Weight: 6'7", 255 pounds
Jersey Number: 47
College Production
In his three-year career at UCLA, Fauria had 88 receptions for 1,139 yards and 20 touchdowns. However, more than half of his production in all three areas came in his outstanding senior season. He's not much of a blocker, but he'll fit well in a scheme that only wants him to catch passes.
Projected Fit
Fauria's game is very similar to that of Tony Scheffler. Both are lengthy, athletic guys who can catch the ball down the field and in the red zone. If Fauria can show enough in training camp to make the roster or even the practice squad, he could be poised to replace Scheffler when the veteran hits free agency next offseason.
Fun Fact
Fauria had three different head coaches and four offensive coordinators between his freshman year at Notre Dame and his three subsequent years at UCLA. He never had the opportunity to get comfortable in an offensive system, because his system—and his role within it—was constantly changing.
College: Ball State
Draft Status: Undrafted
Height/Weight: 6'5", 301 pounds
Jersey Number: 72
College Production
Holtz started 33 games at Ball State, including all 13 in his senior season. That season he was named a first team All-MAC player.
Projected Fit
The Lions do need an additional player at tackle. Nobody is really locked into the roster after Riley Reiff, Jason Fox and Corey Hilliard, so Holtz could be an answer there.
Fun Fact
Holtz redshirted his freshman season in 2008. His head coach at Ball State that year was current University of Michigan head coach Brady Hoke.
Bob DeChiara-USA TODAY Sports

College: Central Michigan
Draft Status: Undrafted
Height/Weight: 6'3", 305 pounds
Jersey Number: 62
College Production
Keyton started all 13 games at right guard as a redshirt senior, and also played center earlier in his career. Aside from that, there's very little to say. Interior linemen generally don't post much "production."
Projected Fit
The fact that Keyton can play either guard or center is a plus. The Lions generally look for that in their interior linemen. However, Keyton is facing an awful lot of stiff competition for a roster spot. Chances are, it's practice squad or bust for him.
Fun Fact
Keyton is one of only two Lions rookies to go to college in the state of Michigan. Both Keyton and UDFA wide receiver Cody Wilson went to Central Michigan.
College: Appalachian State
Draft Status: Undrafted
Height/Weight: 5'7", 172 pounds
Jersey Number: 40
College Production
As a senior for the Mountaineers, Miller rushed for 1,368 yards and scored 15 touchdowns from scrimmage, by far the most productive of his two seasons there.
Projected Fit
Per Steve Behr of the Watauga Democrat, Miller said, "they want me to play the role of punt returner and kick returner, so I'll try to make that happen."
Considering his combination of good speed and diminutive stature, that role makes sense. It's basically the same combination they had in Stefan Logan, which was actually pretty good when he was able to take care of the football.
Fun Fact
Though his build and athleticism make him a natural for a return role, Miller returned only three kicks (for 55 total yards) and one punt (for no gain) in his career at Appalachian State.
College: Albany
Draft Status: Undrafted
Height/Weight: 6'1", 233 pounds
Jersey Number: 49
College Production
A four-year career as a linebacker at Albany yielded 247 tackles, three interceptions and 13 passes defensed.
Projected Fit
Morgan will shoot for special teams and the practice squad, and even that might be a stretch. There is only one roster spot likely to be available at linebacker, and there is a slew of talented players gunning for it.
Fun Fact
According to his player profile, Morgan majored in actuarial and mathematical science—the same as Ziggy Ansah.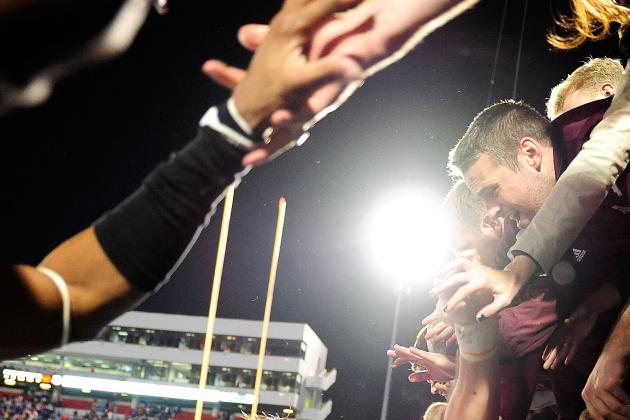 Stacy Revere/Getty Images

College: Texas A&M
Draft Status: Undrafted
Height/Weight: 6'5", 277 pounds
Jersey Number: 64
College Production
One of the few Lions UDFAs from a major conference school, Texas A&M's Spencer Nealy notched only 4.5 sacks as a defensive end, but supplemented that with 21 total tackles behind the line of scrimmage.
Projected Fit
Even the practice squad is optimistic for Nealy. The Lions have far too much young talent to sift through at defensive end, and Nealy is likely to just get caught in the shuffle.
Fun Fact
Spencer's father Ed Nealy played 10 seasons in the NBA, including several under the Phil Jackson-coached Chicago Bulls.
Andy Lyons/Getty Images

College: Kentucky
Draft Status: Undrafted
Height/Weight: 6'0", 189 pounds
Jersey Number: 47
College Production
Neloms played both cornerback and safety at Kentucky, which implies a versatility the Lions really like in their defensive backs. He was more of a physical player than a cover man, which is probably why he had more forced fumbles (four) than interceptions (two).
Projected Fit
The Lions will be looking at Neloms as a safety, and he'll have a hard time breaking through there. There is a wealth of young, underdeveloped talent at the position, and Neloms likely won't be able to supplant any of them.
Special teams is an option, but the Lions already keep a guy at safety who only does special teams, and he's one of the best in the league (John Wendling). Why would they keep another?
Fun Fact
Neloms played cornerback his freshman, sophomore and senior years, switching to safety only for his junior year. That one year at safety, Neloms had more pass breakups (six) than he had the rest of his college career (four).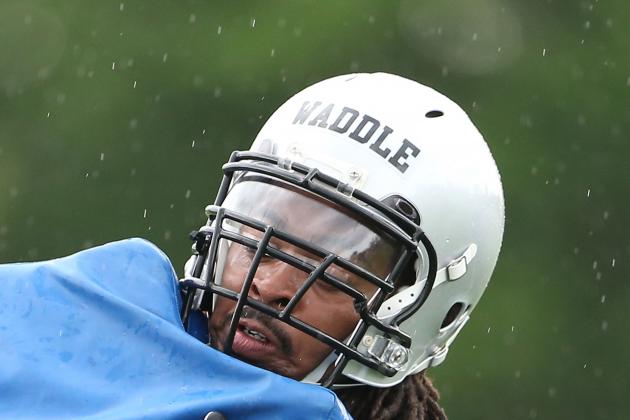 Leon Halip/Getty Images

College: Texas Tech
Draft Status: Undrafted
Height/Weight: 6'6", 321 pounds
Jersey Number: 66
College Production
Waddle got his first two starts in his first season with the Red Raiders, then started 38 consecutive games at left tackle thereafter. He was the blindside protector for one of the most prolific offenses in college football at Texas Tech, but it's important to keep in mind the Texas Tech offense focuses primarily on quick passes, which protected him a bit.
Projected Fit
Waddle is one of the few undrafted players that has a serious chance at the Lions' final roster. He's an absolute bear on the line, but carries too much of a gut and hasn't been tested in a pro-style offense.
Still, the Lions need depth at tackle, and while Waddle may not have the footwork (no pun intended) to stay on the blind side, he could be a solid reserve at right tackle, or even a starter at some point, depending on how close he gets to his ceiling.
Fun Fact
Waddle, in rookie minicamp, reportedly pancaked first-round pick Ziggy Ansah (via Anwar Richardson at MLive.com). Whether that's more good news for Waddle or bad news for Ansah depends on your perspective.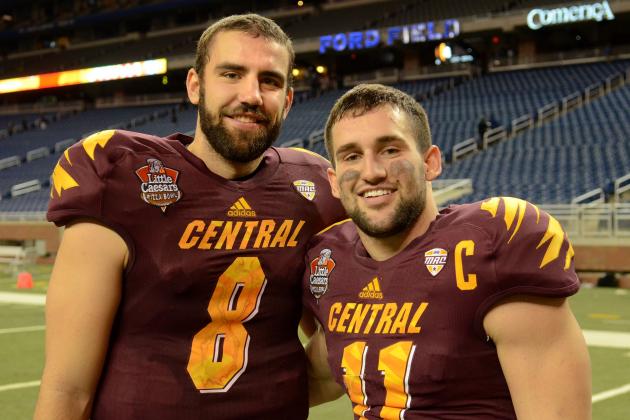 Mark A. Cunningham/Getty Images
Wilson (right) was a team captain for the Chippewas.
College: Central Michigan
Draft Status: Undrafted
Height/Weight: 5'9", 191 pounds
Jersey Number: 1
College Production
Wilson is one of the more productive college players the Lions brought in. With 230 career receptions for 2,729 yards and 13 touchdowns, Wilson was a highly valuable member of the Central Michigan offense. He was especially productive in his sophomore season, when he hauled in 83 catches for 1,137 yards and five touchdowns.
Projected Fit
You can toss Wilson onto the pile of players competing for the starting and backup slot receiver roles. Like many other new potential weapon, Wilson will need to try making an impact on special teams—probably as a returner.
Fun Fact
Cody's father Dave Wilson has been the Lions' team chaplain longer than Cody has been alive.