WWE Money in the Bank: Ranking WWE's 10 Greatest Ladder Matches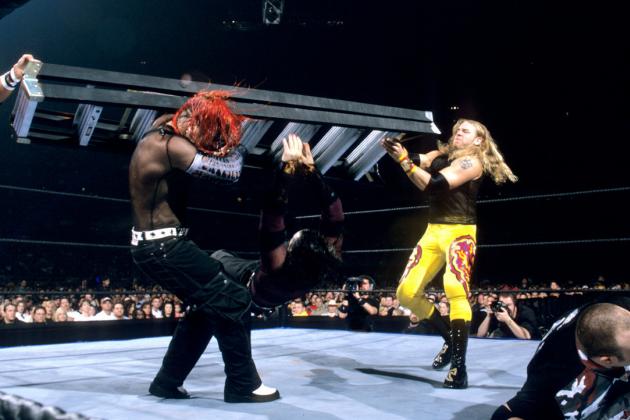 Photo from WWE.com
WWE will have two more shots at creating classic ladder matches at Money in the Bank 2013.
Whether they have been standard ladder matches, the TLC (Tables, Ladders and Chairs) variety or the Money in the Bank version, WWE's greatest matches collection is brimming with matches that have challengers climbing up rungs to snag a prize hanging above the ring.
The absolute best ladder matches have featured some of the same stars again and again. Chris Jericho, Shawn Michaels and Edge are among the masters who have electrified audiences with the help of a ladder or two.
Just missing the cut are classics like the Tag Team Championship TLC Match at SummerSlam 2000, John Cena and Edge's battle at Unforgiven 2006, Christian outlasting Alberto Del Rio in 2011 and most recently The Shield debuting against Team Hell No and Ryback.
The following are the ladder matches that entertained us just a touch more than those. They are ranked on historical significance, entertainment value, star power and how much they've become a part of our memories.
Begin Slideshow

»
Being the first TLC match on WWE Raw earns this match a spot in terms of historical significance, but its ability to thrill is just as important.
Kane went at it alone against three other teams that included a number of ladder masters from Chris Jericho and Christian to Jeff Hardy and Rob Van Dam. Weapons cracked against bodies and men flew with little regard for their health in this battle for the tag team championship.
The pace was frantic, the spots were plentiful, and a match built on carnage over story is still one many fans remember fondly and vividly.
Ladder matches are so often a showcase for high-flyers, but The Rock and Triple H's battle for the Intercontinental Championship built its excitement on the strength of its brutality.
Both men cracked each other's head on the rungs, Triple H hit a baseball slide that knocked the ladder into The Rock's mouth, and Triple H took intense bump after intense bump.
This was a well-told story of hatred and a struggle for a championship that elevated both champion and challenger to upper-echelon stars.
Much of what made the classic three-team ladder matches before it so fantastic bolsters this match as well.
The crowd could barely react to each successive breathtaking spot as they came so fast. A bulldog from the top of a ladder, Jeff Hardy getting superplexed from a ladder and Chris Benoit missing a flying headbutt onto a table are some of the most memorable car crash-like moments.
A crazed energy carried this barrage of violence.
Had this come before some of the matches it followed or had it been at WrestleMania, fans would likely think even higher of this classic.
A briefcase containing a contract for a championship match hung over a ring as six superstars vied to climb a ladder and become the first-ever Mr. Money in the Bank.
Shelton Benjamin's acrobatic leap, Chris Benoit going on a crossface rampage and Tomko propping a limp Christian on the ladder are among the many big and entertaining moments.
The novelty of having this match for the first time and how important it has since become as a WWE staple earn it a high ranking as well. It helped Edge launch his Hall of Fame career as he showed why he came to be called the Ultimate Opportunist, both in winning this match and then later in cashing in on a helpless John Cena.
The fact that it features some of the greatest ladder performers ever, including Edge, Benjamin, Christian and Chris Jericho, elevates it even more.
The fans who gave these four wrestlers a standing ovation were certainly appreciative of the spectacle they had just witnessed, but they couldn't have known how significant this match would become.
The New Brood took on Edge and Christian in a tag team ladder match, a concept those men would later perfect. This battle helped make everyone involved stars and started a trend of chaotic, compelling multi-team ladder matches.
Edge and Christian were in sync as they went on the attack, evoking memories of The Rockers, but only if that exciting team were competing in a demolition derby.
Foes threw foes off of ladders, Edge smashed face first into a propped-up ladder, the Hardys later swatted Edge down with a pair of ladders.
In the end, it was Matt Hardy carrying his brother Jeff out of the arena, a bag of money in Jeff's hand and a ladder-centric revolution having just begun.
Action-wise, this is just as good as their WrestleMania classic, but that one came first and it's hard for a sequel to surpass the original.
Shawn Michaels' attempt to win back the Intercontinental Championship from Razor Ramon emphasized the danger of the ladder as his legs got tangled in the steel and Ramon brutalized him with it.
Many of the great tag team ladder matches depend on a series of amazing spots, but this had far more realistic in-ring psychology. Michaels tried to use his quickness to evade and to strike the bigger man, and the ladder essentially became a third wrestler, serving as both victim and weapon.
The Intercontinental Championship again became the focal point of a classic ladder match.
Longtime rivals Chris Jericho and Chris Benoit topped all of their previous meetings with a brutal, stunning battle.
Great chemistry, chair shots and Jericho torturing Benoit atop the ladder helped make this match unforgettable. Both men seemed to be giving everything in order to win and in order to entertain. The fact that Jim Ross got more fired up than normal is an indication of this clash's greatness.
Only the finest ladder masterpieces were able to edge this one out.
Take everything that made Chris Jericho vs. Chris Benoit great, double the intensity of the rivalry and replace a great performer in Benoit with one of the best ever in Shawn Michaels.
That's a formula for a classic.
This was the climax and best match of one of WWE's best feuds. It was one of many of Michaels' award-winning performances and one of Jericho's finest as well.
The crowd buzzed as blood smeared across Jericho's mouth, as ladders bent and as the match ended with a poetic tug of war over the World Heavyweight Championship atop a ladder.
Many consider this the greatest ladder match of all time—and for good reason.
Edge, Christian, Matt and Jeff Hardy and Bubba Ray and D-Von Dudley delivered a masterpiece. On a bigger stage than the No Mercy 1999 match, and somehow more thrilling than these teams' previous outings, this was a series of breathtaking bursts of excitement.
Each man sacrificed his body to continue to outdo each other.
This battle was a display of danger and grace, surprises and collisions that made fans cringe and cheer simultaneously. Spike Dudley, Rhyno and Lita all charged in at different moments, their interference adding to the chaos.
There was no dull moment as chairs clanged on heads, bodies flew through tables and ladders teetered and crashed. This also gave us the iconic image of Edge spearing Jeff Hardy as he hung desperately to the rings that held the titles.
Only perfection could top this.
Shawn Michaels and Razor Ramon's WrestleMania X match is as close to perfection as one can get. Their show-stealing performance may not ever be topped.
The novelty of the ladder concept at the time, as it was WWE's first televised version of this kind of match, is certainly a part of what makes this great. The grand stage that is WrestleMania and the compelling performance by both men add to that.
Michaels and Ramon both claimed to be the Intercontinental champ, and they fought over that title in an intense, beautiful and superbly paced bout.
They set the bar for future ladder matches extremely high by using creativity and realism to craft this classic.
Ramon pulled down Michaels' pants and then Michaels leaped off the ladder for a flying elbow drop with his butt cheeks hanging out. Michaels later flew off the ladder onto his foe in one of the most famous images in WWE lore.
This is not as wild and dangerous as the tag team matches that eventually followed it, but it's the best WWE story, performance and overall match that has involved ladders.