10 Chicago Bears Jerseys You Likely Rocked During Your Childhood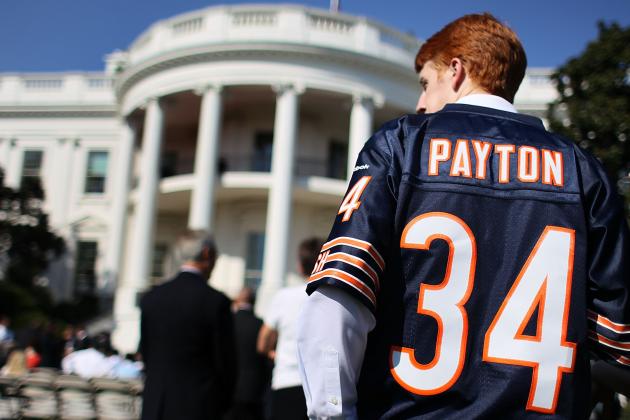 Mark Wilson/Getty Images

As a kid, you dream of being like your favorite football player. Putting on his jersey somehow brought you closer to the game and made you feel like a true fan.
As you get older, those memories are still there. Some are good, and some are very bad, but a jersey you wore as a child will always invoke a fun story.
Whose jersey did you wear when you were a kid? Here are 10 players you probably represented during your childhood.
Feel free to share any players missing from the list in the comments, and don't be afraid to admit you wore a Curtis Enis or David Terrell jersey.
Begin Slideshow

»
Who didn't love the "Punky QB?" Jim McMahon became a crowd favorite in Chicago for his tough play and no-nonsense attitude. If you grew up in the 1980s, there's a good chance you had a McMahon jersey and a headband to match.
At 335 pounds, William "Refrigerator" Perry had a heart and personality as big as his size. Never before had the Bears franchise seen such a cult favorite.
Perry's fame rose quickly as a rookie when he moonlighted as a fullback. Perry scored two touchdowns during the 1985 season and added a touchdown in the Super Bowl.
You didn't have to know much about football to fall in love with Perry. He had fans all over Chicago, and tons of people donned the No. 72 jersey.
There is perhaps no person more beloved in the history of the Bears franchise than Walter Payton. Payton was a true gentleman on and off the field, and he captivated not only Chicago but also an entire nation with his extraordinary talent.
To this day, Payton is considered one of the greatest football players of all time. Payton's jersey is one of the few in all of the NFL that can transcend decades. There is never a bad time to represent Walter Payton.
Intensity and intimidation come to mind when somebody mentions Mike Singletary. Just putting on his jersey gives you an extra boost of confidence.
The iconic No. 50 always invokes memories of "Samurai Mike" and an era when football was tough and the Monsters of the Midway imposed their ways on the league.
Alonzo Spellman came onto the scene at the tender age of 21. Just two short years later, he was an imposing figure on the Bears defensive line.
If you grew up during the early- to mid-1990s, you can remember Spellman's beady glare into the backfield as he threw down quarterbacks.
Spellman wasn't a star by any means, but he was a dominant personality. On a team that wasn't very good, it was easy to root for Spellman and rock that jersey with pride.
Everybody has made at least one mistake when buying a jersey, and odds are Cade McNown was yours. The level of excitement centered around McNown back in 1999 was high, but boy did that fizzle out quickly.
The former first-round pick lasted only two seasons in Chicago, and you likely threw out his jersey in a way that was reminiscent of one of his 19 career interceptions in just 25 games with the Bears.
Bears fans have tried so hard over the years to root for a quarterback, but, sadly, the talent has not met them halfway.
"Rex is our quarterback" is a phrase that still makes Bears fan cringe. But he had plenty of supporters and jersey sales. Everybody stood behind Rex during the 2006 Super Bowl run. The bandwagon was empty after that February evening in Miami.
If you walk down the streets of Chicago wearing a Grossman jersey now, you're likely to have inanimate objects thrown your way.
At one point in time, Devin Hester was the most electrifying man in the NFL. He could bring people out of their seats, and he became an instant icon in Chicago.
Like another great athlete who wore No. 23 in Chicago, Hester's greatness was the talk of the town. Every little kid wanted to be like him, and parents rushed out to get his jersey.
His fame has since sizzled, but you will still see your fair share of Hester jerseys—and with good reason.
Brian Urlacher belongs on the Mount Rushmore of Chicago Bears greats. His storied career is second to no one, and his popularity in Chicago was on par with other great athletes.
Urlacher brought defense back to a city as tough as nails. He restored football pride in Chicago and will always be remembered for his heart and dedication to the franchise.
No. 54 was on the backs of people of all ages for 12 years and will continue to be for years to come, despite his recent retirement.
Young Bears fans of today, keep your head up and faith alive. Rocking a Jay Cutler jersey might get you some grief, but there's a good chance better days are ahead.
When Cutler joined the Bears back in 2009, he was viewed as the end to a string of bad luck at the quarterback position. The ride has been bumpy, but there's still hope.
A Cutler jersey still means something in Chicago, but what will the future bring? Will he be more Rex Grossman or Jim McMahon?