Chicago Cubs: 5 Bold Predictions for the Cubs' Second Half of the Season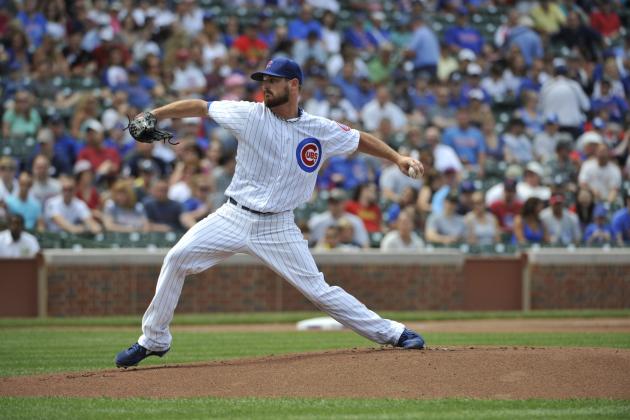 At this time there are only a handful of National League pitchers I would suggest that are having a better season than Travis Wood: Clayton Kershaw, Adam Wainwright, Matt Harvey, Cliff Lee, Patrick Corbin, and Jordan Zimmermann.
Of those six other pitchers, four have a lower\better average ranking among qualified starters than Travis Wood when averaging their N.L. ranks in ERA, BAA, WHIP, BABIP, P\IP, hits given up, and walks surrendered.*
If things continue as they have, it is conceivable Travis Wood could finish in the top five.
But baseball writers have proven their apprehension in voting in favor of pitchers on losing clubs unless they are having an absolutely remarkable season.
This is not to say Travis Wood would have a better chance at winning the N.L. Cy Young if he were with a better club, but he definitely would finish somewhere closer to the top if he were on a contender.
* There will be an additional slide at the end that will list the aforementioned pitchers, their average rankings, and which of the seven categories they rank within the top 10, along with a few notes.
Otto Greule Jr/Getty Images
Looking at the statistics as they currently stand, it is feasible for both Jeff Samardzija and Travis Wood to finish the season with 10 or more wins each.
There are a lot of factors that can ultimately impact this prediction—number of starts, length of starts, run support, bullpen, etc.—but a bold prediction needs to ignore rationality to an extent.
If Wood and Samardzija continue to pitch as well as they have, they should be able eek out five more wins each, regardless of possible mitigating factors.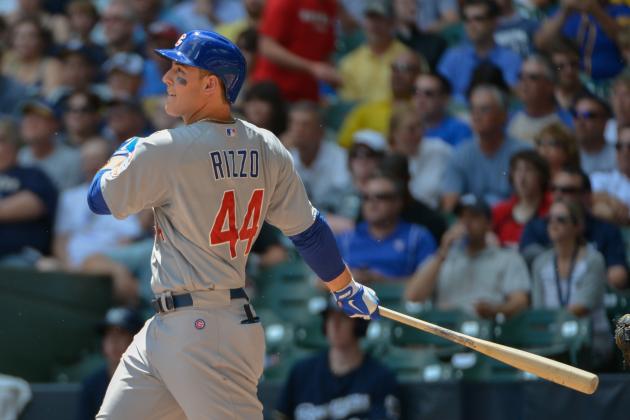 Benny Sieu-USA TODAY Sports
At the time of this writing, Anthony Rizzo has 12 home runs and 48 RBI—both are team highs.
That means, using basic mathematics, he needs to his 18+ home runs and knock in 52+ RBI in the next 82 games.
It is a more challenging task than you might first believe. In the month of April, Rizzo hit eight of his 12 home runs and nearly half of his RBI.
He hit only two HRs and 16 RBI in May, and two HRs and 12 RBI in June.
Not a good sign.
Rizzo will have to go on some kinda tear to make my prediction to come true, but, as Kevin Garnett once said, "ANYTHING IS POSSIBLLLLLLLLLLLLLE!"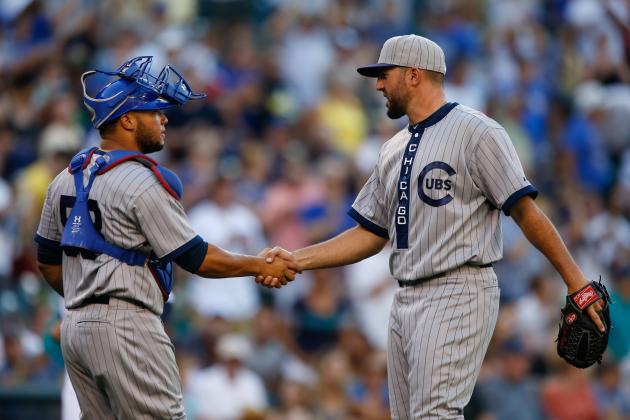 Otto Greule Jr/Getty Images
The bold prediction here isn't that Kevin Gregg will be traded and not if, but his replacement as the Cubs' closer.
James Russell and Shawn Camp proved early in the season that they are not right for the closer role, combining for eight blown saves.
Looking at the bullpen as it is currently constructed, the Cubs will have only one relief pitcher that has converted a save after Gregg is traded, Blake Parker.
Blake Parker is the most likely candidate to serve as Kevin Gregg's replacement once he is dealt. Not only for his one successful save in as many opportunities, but he has experience closing games in Triple-A.
Before being called up to Chicago, Blake Parker was 0-1 with seven saves and a 2.04 ERA for the Iowa Cubs.
Since his promotion Blake has been used primarily in a late inning capacity; which you can see for yourself by checking out his game logs on BaseballReference.com.
This could lead one to believe Dale Sveum is grooming him for the closer role once Gregg is dealt.
Given the evidence, it would be difficult to believe that anyone else will get a shot at becoming the Cubs' full-time closer before Blake Parker.
With that, this bold prediction now becomes an italicized prediction; maybe even a normal-font prediction.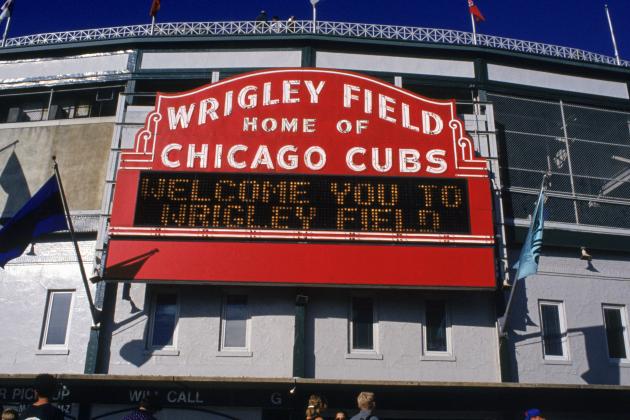 Jonathan Daniel/Getty Images
Multiple simply means more than one. For some reason people tend to believe multiple means something more than just "more than one."
So before you jump the gun, I am only going to state that there will be multiple top 10 prospects on the MLB roster when the season concludes.
The more likely candidates are Brett Jackson and Junior Lake. But anything can happen.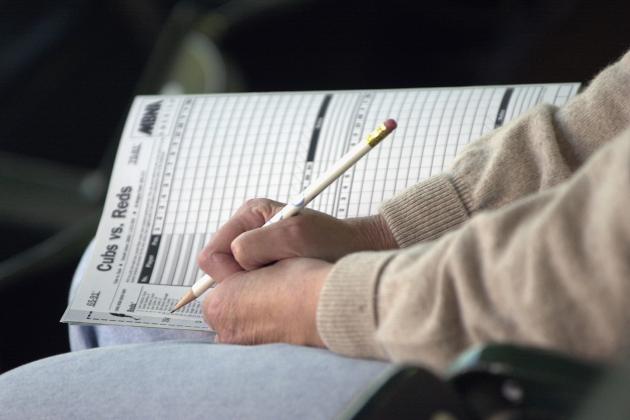 Jonathan Daniel/Getty Images
First, the statistical rankings were gathered from using ESPN's MLB Statistics page using their "qualified" option rather than "non-qualified", and calculated myself.
Secondly, there were times when I altered ESPN's ranking system.
Case in point, if Pitcher A, B, C, and D have an exact 2.50 ERA and Pitcher E has a 2.55 ERA, I would consider Pitcher E to have the second-best ERA and mark his ranking as such despite ESPN ranking him in fifth. I did so because if the 2.50 ERA is the best ERA—No. 1—then a 2.55 is the second-best.
Another example is if you look at a specific statistical category and the top three pitchers had 38 hits given up, the three after that had 63, followed by the next three with 68, then two with 71, and one with 72, the twelfth pitcher listed would fall into the top ten since his total number of hits given up is the fifth fewest.
Lastly, in some cases when you go to look at who is in the top ten of a category they are placed in reverse order, or what I would consider to be reverse order. Such is the case for walks and hits. They list the pitchers by who has surrendered the most first; so the first ten pitchers are those that have allowed the most walks and not the fewest.
Matt Harvey – 5.714; ERA, BAA, WHIP, hits, walks
Patrick Corbin – 7.286; ERA, BAA, WHIP, BABIP, P\IP, hits
Clayton Kershaw – 7.571; ERA, BAA, WHIP, BABIP, hits
Jordan Zimmermann – 7.517; ERA, WHIP, BABIP, P\IP, walks
Travis Wood – 7.714; BAA, WHIP, BABIP, P\IP, hits
Cliff Lee – 11.286; ERA, WHIP, P\IP, walks
Adam Wainwright – 17.286; ERA, WHIP, P\IP, walks