Tony Thompson vs. David Price: Preview and Prediction for Heavyweight Bout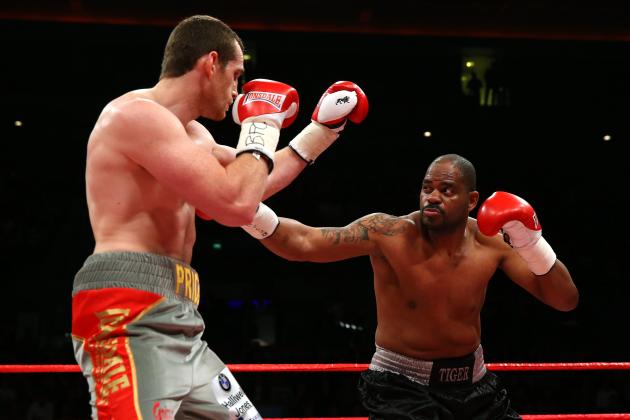 Alex Livesey/Getty Images

On Saturday night at the Echo Arena in Liverpool, British heavyweight David Price will look to avenge the only loss of his career, a Round 2 knockout suffered at the hands of American Tony Thompson last February. The fight is being put on by Price's promoter, Frank Maloney.
Thousands of local fans will raise their voices in the Echo Arena, belting out "You'll Never Walk Alone," the city's sport theme song, as Price heads into the ring, looking to get his career back on track.
Begin Slideshow

»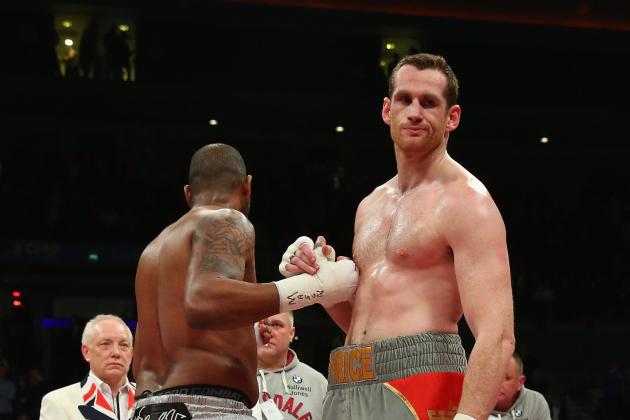 Alex Livesey/Getty Images

| | | |
| --- | --- | --- |
| | Tony Thompson | David Price |
| Record: | 37-3, 25 KO's | 15-1, 13 KO's |
| Height: | 6'5" | 6'8" |
| Reach: | 81.5" | 82" |
| Weight: | About 255 pounds | About 245 pounds |
| Age: | 41 | 29 |
| Hometown: | Washington, D.C. | Liverpool, United Kingdom |
| Stance: | Southpaw | Orthodox |
| Rounds: | 187 | 41 |
Price has a three inch advantage in height, but the reach is nearly identical. Price appeared very uncomfortable last February, facing a fighter who can nearly match his own physical dimensions.
The difference in experience here is substantial, and it was clearly a major factor last time out. Thompson has been a professional since 2000 and has faced Wladimir Klitschko twice.
Thompson's southpaw stance also gave Price difficulties in their last fight. On the punch that finished him, Price made a classic mistake against a southpaw, stepping forward with his lead left foot inside of Thompson's lead right.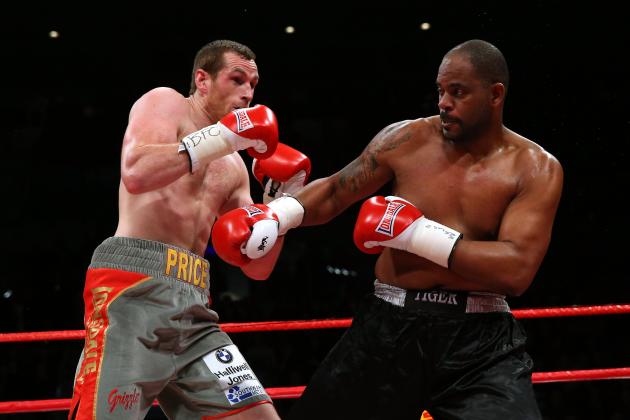 Alex Livesey/Getty Images

Prior to his loss against Thompson, David Price was viewed as one of the fastest rising heavyweights in the United Kingdom. The Liverpool native won a bronze medal for his country at the 2008 Olympic Games in Beijing, and had marched through a series of domestic trial horses before taking a major step up in competition against Thompson last February.
Even at 41, Tony Thompson just might be the top American heavyweight. His huge edge in experience was clear in their last meeting. Price appeared tentative and unsure, while Thompson looked as comfortable as somebody reading his morning paper over coffee.
Matching Price against Thompson was a big gamble in the first place. A win would have pushed Price's stock higher than other British heavies like Tyson Fury, and might potentially have earned him a title shot at a Klitschko brother.
Instead, Thompson stopped Price in the second round, with a single punch. Rather than regrouping slowly, Price and his team have opted to go right back to the table and roll the dice again.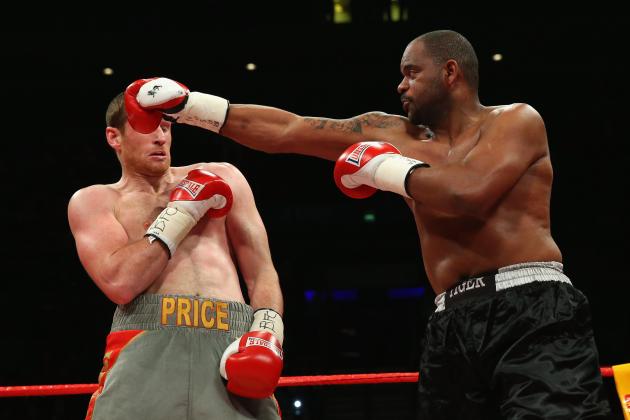 Alex Livesey/Getty Images

David Price always shows up to fight in exceptional physical condition. He has a good jab, although he didn't use it much against Thompson in their last fight.
Price has a battering ram for a right cross. He is an accurate puncher and has the power to knock down nearly any heavyweight that he can catch up with.
In most of his earlier fights, Price has done a good job using his 6'8" frame to cut off the ring on his opponents.
Tony Thompson is an experienced, well-rounded heavyweight. He controlled the distance effortlessly against Price in their last fight, and consistently maneuvered his own lead right foot outside of Price's lead left.
Thompson is a relatively big heavyweight, by modern standards, and he used that size well to neutralize Price in their last fight. He's got knockout power in each hand.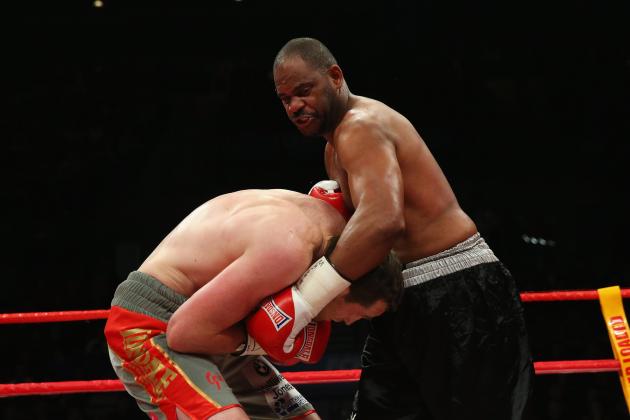 Alex Livesey/Getty Images

David Price looked far out of his depth in his last fight with Thompson. It's not so much that he has any specific weaknesses coming into this fight. He simply hasn't spent anywhere near as much time in the ring as Thompson.
Price pretty much abandoned his jab in the first fight, pawing and parrying cautiously with his lead left hand, rather than pumping the jab out. He was completely unable to cut the ring off on Thompson, or even get into a proper distance for letting his punches go.
Tony Thompson came into the last fight against Price in February at 262 pounds, nearly 20 pounds heavier than he had been in his previous fight against Wladimir Klitschko, and the heaviest he's come in at during his entire career.
That leads me to believe that he didn't really take Price very seriously as a challenge. And he did stop the Brit without even breaking a sweat.
But if he comes in flabby again and Price manages to extend the fight into the middle or later rounds, a lack of conditioning could backfire on the aging fighter.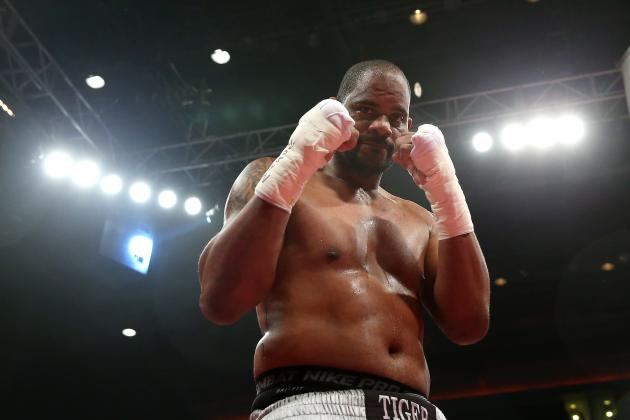 Alex Livesey/Getty Images

Tony Thompson will win this fight if he stays relaxed, controls the distance, and maneuvers his lead right foot outside of Price's lead left. This is precisely what he did in their last fight, when he won and made it look easy.
Thompson needs to stay patient and avoid getting into exchanges with Price. At 41, he can't bank on being able to fight the chiseled Price at a heightened pace over many rounds.
Thompson needs to take his time and stay confident that the big punch will be there eventually, just as it was last time. There is nothing he will need to do in this fight that he hasn't done many times before.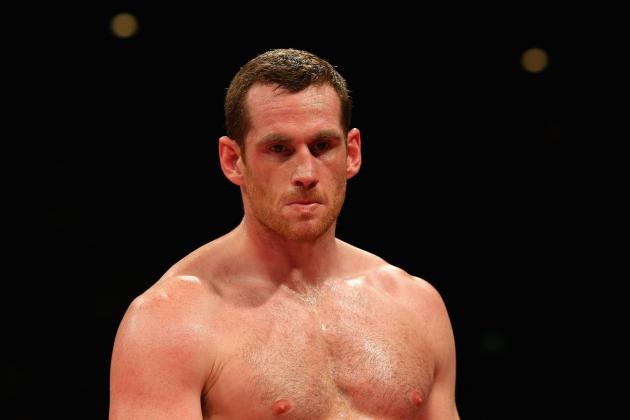 Alex Livesey/Getty Images

While Tony Thompson can feel confident doing everything the same as last time, David Price is going to need to fight a far smarter fight this time out.
The primary thing he needs to do is remain vigilant about where his lead foot is when he moves forward. An orthodox fighter cannot attack with his lead left foot inside of his southpaw opponent's lead right. It will give the southpaw the punching angle every single time.
Price should also use his jab, rather than merely pawing with the lead hand. If he can pump the jab effectively, it will make it easier for him to step to the outside of Thompson's lead foot.
These are basic boxing fundamentals. But sometimes doing basic, simple things in a boxing ring is anything but easy.
But if Price can improve from last time and extend the fight into the middle and later rounds, he will have a chance to slow down the older fighter.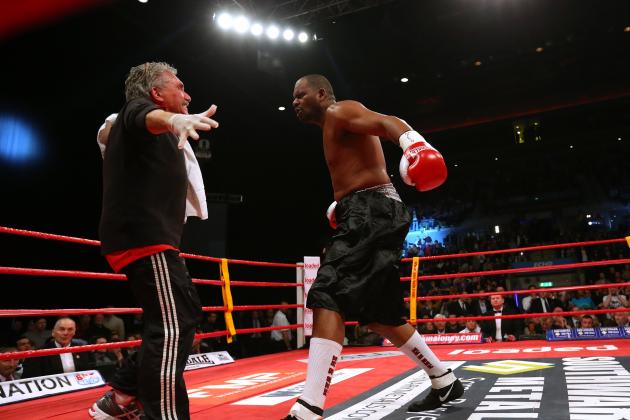 Alex Livesey/Getty Images

I've thought Price looked like a promising heavyweight prospect, but I was surprised when his team selected Tony Thompson as an opponent. It was a big gamble that backfired.
And it's tough for me to see what is going to be different now, a mere five months later. Thompson's KO of Price was possibly the most mismatched fight I've watched this year, excluding preliminary bouts.
It's not like Thompson just managed to land a big punch on Price, an outcome that is always a possibility with heavyweights. Thompson spent the first round and most of the second effortlessly controlling the range of the fight.
When Price made a mistake, lunging forward, Thompson calmly stepped to the outside and whacked him.
I'm sure Price will come in planning to fight a smarter fight this time out. But five months is not a lot of time to overcome an experience advantage like Thompson has over Price.
It can be done. But it's not the smart bet, and it's not one I am making.
I'm picking Thompson by KO again, in Round 5.