Stock Up, Stock Down for Philadelphia Phillies' Top 10 Prospects for Week 13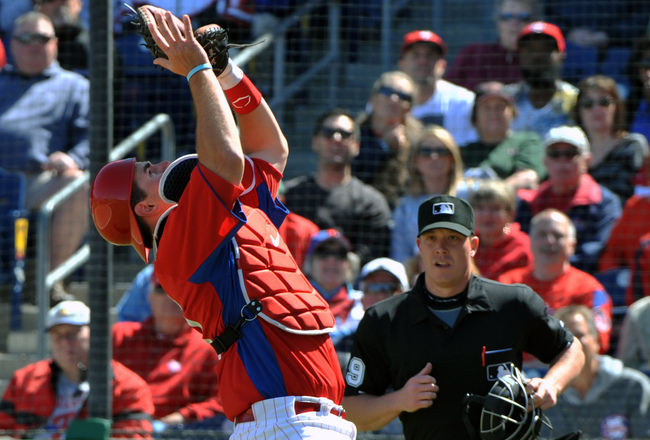 Al Messerschmidt/Getty Images
The Philadelphia Phillies' minor league system may soon see some changes as the trade deadline approaches at the end of July and prospects are either added or subtracted from their system.
In the meantime, at least two prospects currently in the Phillies' system were recognized last week for their success this season.
Jesse Biddle and Maikel Franco, both of whom are now playing for the Phillies' Double-A affiliate, were named to the Sirius XM All-Star Futures Game at Citi Field.
While Biddle and Franco have performed as arguably the team's top pitching and position player prospects, respectively, others are still trying to consistently find success this season.
How did the rest of the Phillies' top-10 prospects fare this past week?
Let's take a look at whose stock is up and whose is down following Week 13.
*All statistics courtesy of MiLB.com unless otherwise noted.
10. Carlos Tocci, OF
Stats: 70 games, .231 BA, 15 RBI, 58 H, .290 OBP
Last Week: 4 hits, 22 at-bats, 1 2B, 3 RBI
Stock: Down
A quiet week offensively for Carlos Tocci dropped his stock a bit, although he managed to keep his average above .230.
Tocci is still one of the youngest players in the Phillies' minor league system, especially among those playing in a full season league, but last month saw him take a step backwards offensively.
After batting .269 in May with 28 hits, Tocci batted just .217 with 15 hits in June. These numbers more closely resemble his numbers from April, when he batted .192 with 15 hits. He also had two more strikeouts in June than he did in May despite having 35 fewer at-bats.
Tocci must continue to improve against right-handed pitchers, but it would be a great sign if he can raise his batting average in the second half as he continues to acclimate to his first full-season league in the South Atlantic League.
9. Darin Ruf, OF/1B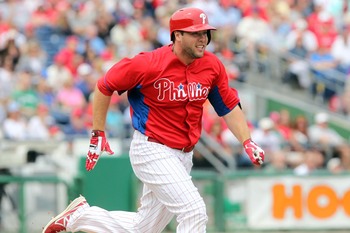 Kim Klement-USA TODAY Sports
Stats: 76 games, .271 BA, 7 HR, 43 RBI, 77 H, .349 OBP
Last Week: 7 hits, 24 at-bats, 2 2B, 5 RBI
Stock: Even
Darin Ruf finished a very solid month of June, but his offense is still not forcing the Phillies to promote him from Triple-A.
Ruf currently has a five-game hit streak and has struck out just three times during that span. However, he also has only two extra-base hits during that time and he has just one hit in each of his last three games.
Ruf posted his highest monthly batting average in June at .301, and his highest OBP, at .390. If he can improve those numbers in July, especially if the Phillies decide to make a change in right field following the All-Star break, he may be in position for a promotion.
He must continue to improve against right-handed pitchers and increase his average with runners in scoring position while also cutting down on his strikeouts.
Despite his lack of home runs, a higher OBP and an average closer to the mid-.280 range could help Ruf reach Philadelphia this season.
8. Maikel Franco, 3B
Stats: 76 games, .325 BA, 20 HR, 63 RBI, 101 H, .368 OBP
Last Week (Double-A): 14 hits, 30 at-bats, 1 2B, 1 3B, 1 HR, 6 RBI
Stock: Up
Somehow Maikel Franco keeps finding a way to make his stock soar.
Since being promoted to Double-A, Franco is batting .468 with four home runs, 11 RBI and 22 hits in 47 at-bats. He also has five multi-hit games in his last 10 games. What may be even more impressive is that he has struck out just once since his promotion.
In Double-A, Franco has both the same batting average and OBP against right-handed pitchers at .471.
Following his selection to this year's Sirius XM All-Star Futures Game, Franco has continued to receive recognition for his outstanding early-season success and may be emerging as the Phillies' third baseman of the future.
Franco already has hit the highest number of home runs in his career in a season. He will look to keep up his tremendous season as opposing pitchers become more familiar with him.
If he can continue to bat above .300, he may not be too far away from the major leagues.
7. Cody Asche, 3B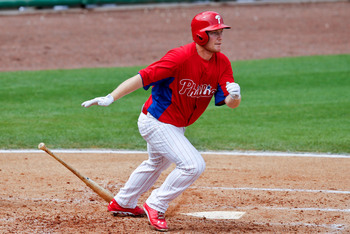 Derick Hingle-USA TODAY Sports
Stats: 79 games, .284 BA, 8 HR, 47 RBI, 87 H, .344 OBP
Last Week: 10 hits, 25 at-bats, 4 2B, nine-game hit streak
Stock: Up
Cody Asche closed out June on a tear, batting .378 in his last 10 games for a .318 average for the month.
Although he continues to strike out a bit too frequently, Asche's hit total helped increase both his batting average and OBP last week. Asche appears to be heating up at the plate at just the right time.
June saw Asche post his highest batting average of the season as well as season highs in runs, hits, doubles, walks and stolen bases. He also had a .392 OBP for his highest mark in any month this season.
With Maikel Franco now just one level below him, Asche is improving offensively at a great time.
Even if the Phillies eventually ask him to change positions, he should remain in their long-term plans if he continues to hit this way.
6. Ethan Martin, SP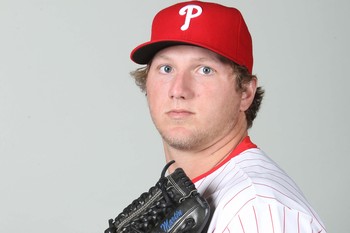 Kim Klement-USA TODAY Sports
Stats: 16 GS, 86.2 IP, 52 BB, 75 K, 4.57 ERA
Last Week: 2 GS, 14 IP, 8 BB, 10 K, 1 ER
Stock: Up
Ethan Martin has won his last four decisions. That's what helps his stock inch up this week, but just barely.
Martin continues to struggle with his command, as he walked eight batters in 14 innings last week. In two of his last three starts, Martin has walked more batters than he's struck out. He ranks second in the International League in walks.
In his first start last week, Martin struck out an impressive eight batters in six innings, but also walked five. However, by giving up just three hits and one earned run, Martin got the victory.
In his second start, Martin struck out two while walking three in eight innings of two-hit ball while giving up no earned runs.
It seems as if Martin is still progressing nicely, but he hasn't been able to put everything together yet. He has nearly double-digit strikeouts in some outings and pitched into the eighth inning, winning more than half of his starts.
However, in the starts where he has these high strikeout numbers or pitches deep into games, his walk total also seems to rise.
If he can string together a few starts where he's able to make everything come together—say, an eight-inning, eight-strikeout, two-walk performance—he could greatly increase his chances of earning a promotion later this season or next.
5. Adam Morgan, SP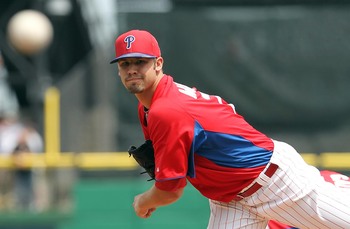 Kim Klement-USA TODAY Sports
Stats: 8 GS, 41.2 IP, 12 BB, 29 K, 4.97 ERA
Last Week: Did not play, injured
Stock: Even
Adam Morgan remains on the minor league disabled list with a tear in his rotator cuff.
Now that Carlos Zambrano has been placed on the disabled list as well, the Phillies could have benefitted from a healthy Morgan as a possible replacement for their major league rotation.
For now, Morgan must recover and attempt to pitch again later this season to keep himself in the running for a possible rotation spot next season.
4. Jonathan Pettibone, SP
USA TODAY Sports
Stats (MLB): 13 GS, 73.1 IP, 23 BB, 43 K, 4.17 ERA
Last Week: 1 GS, 6 IP, 1 BB, 4 K, 3 ER
Stock: Even
Jonathan Pettibone's stock could be up simply due to Carlos Zambrano remaining in the minor leagues following shoulder pain during his last start, meaning that Pettibone will remain in the major league rotation.
However, his recent start saw him continue his winless streak while he allowed a few more earned runs than in his previous outing.
Pettibone gave up four hits in six innings, although all four came in the first two innings. From the third inning on, Pettibone retired 12 straight batters.
Despite turning in a mostly solid performances for a pitcher in the back end of the rotation, Pettibone may have been in danger of losing his spot to Zambrano had an injury not arisen.
While Zambrano is sidelined, Pettibone should have more opportunities to prove that he deserves to remain in the rotation well into the second half of the season.
*Pettibone's major league statistics courtesy of ESPN.com.
3. Tommy Joseph, C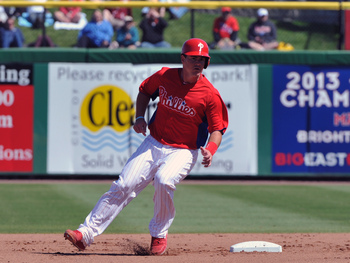 Al Messerschmidt/Getty Images
Stats: 31 games, .167 BA, 3 HR, 14 RBI, .220 OBP
Last Week: 1 hit, 14 at-bats, 1 2B
Stock: Down
Tommy Joseph continues to return slowly from a concussion he suffered on May 4. He recently picked up his first extra-base hit in more than a month while rehabbing in the Florida State League.
Once Joseph returns to the International League, he must improve offensively and defensively to have a chance at the major leagues next season.
In the meantime, the Phillies will have a difficult decision to make at the trade deadline. If they trade Carlos Ruiz, they could be trading away their only starting-caliber catcher if Joseph is not ready by next season.
One thing that would make any decisions a lot easier is if Joseph shows major improvements during the second half of the season.
2. Roman Quinn, SS
Stats: 67 games, .238 BA, 5 HR, 21 RBI, 62 H, 32 SB, .323 OBP
Last Week: Injured
Stock: Even
Roman Quinn joined Adam Morgan and Tommy Joseph as the Phillies' third top-10 prospect to head to the disabled list last week when he was hit by a pitch on his wrist.
Quinn could miss at least four weeks with the injury.
Although he is ranked as one of the Phillies' top prospects, Quinn had been struggling in his last 10 games and had his lowest batting average of any month this season in June.
Regardless of his recent performances, however, missing time during his first season in the South Atlantic League will certainly not help his progression, although there is still plenty of time for him to get back on track.
1. Jesse Biddle, SP
Stats: 16 GS, 87.1 IP, 45 BB, 93 K, 3.19 ERA
Last Week: 2 GS, 8 IP, 3 BB, 2 K, 2 ER
Stock: Even
Jesse Biddle closed out June the hard way, but has managed to keep his ERA among the best in the Eastern League.
Biddle, a Sirius XM Futures All-Star Game selection and an Eastern League All-Star, struck out just two batters last week, but also gave up just two earned runs.
His first start saw him last only two innings while walking one batter and giving up one hit. His next start saw him give up nine hits, but only two earned runs.
For the month, Biddle had a 3.12 ERA to go with his least number of strikeouts, but he also had fewer walks than he issued in May.
Despite having his second-lowest ERA for a month this season, opponents had their highest batting average for any month off him in June.
Biddle is still on pace to have a similar number of strikeouts this season as he did last year, which is a great sign considering that he has since made the jump to Double-A.
However, his high walk total means that he also has work to do before advancing to Triple-A.
As the second half gets underway, more consistent strikeout totals, along with fewer walks would be a pleasant sight, but Biddle has still done an outstanding job so far in his first taste of Double-A.
Keep Reading

Philadelphia Phillies: Like this team?