Bold 2nd-Half Predictions for Minnesota Twins Position Players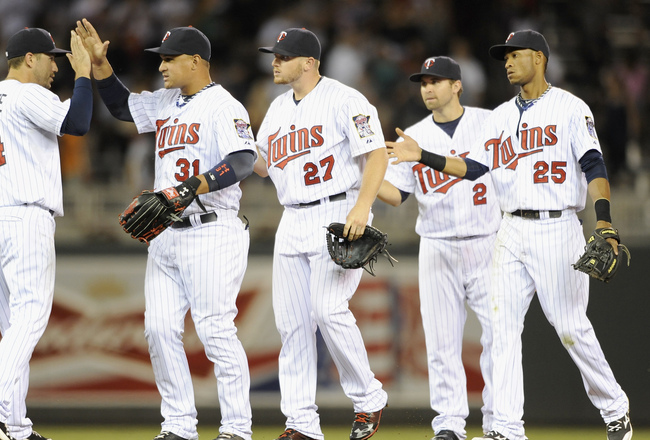 Hannah Foslien/Getty Images
There are many ways to show your fandom of anything in this world. Quoting a movie word for word, knowing the complete backstories to every character on your favorite TV sitcom or drama, citing lyrics of a deep cut of your favorite artist, or watching your team's games even though it has no shot at postseason play.
The Minnesota Twins are one of those teams. I'll admit I haven't been the most loyal Twins viewer over the past couple weeks with the NBA Finals and Stanley Cup being on, but now all we have left as sports fans is baseball.
As a side note, the NFL returns in less than 70 days.
So let's look ahead at what might happen in the second half of 2013 with a prediction for every member of the Minnesota Twins.
While reading, keep in mind this deep-cut lyric from Bruce Springsteen's "Living In The Future":
"Don't worry, darling. No, baby, don't you fret. We're living in the future and none of this has happened yet."
Stats current as of Thursday, June 27.
Ryan Doumit: Lead Team in Home Runs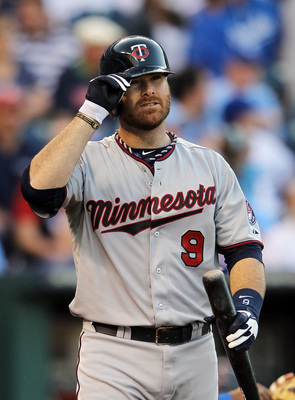 The face and beard of a slugger.
Jamie Squire/Getty Images
The Twins aren't exactly the most powerful team in the league. That's probably a pretty obvious statement when Joe Mauer is tied for second on the team for the most home runs.
Both catchers, Mauer and Ryan Doumit, have eight home runs and are only two behind team leader Josh Willingham.
Willingham's struggles and his possibility of being traded lead me to believe that Ryan Doumit will finish the season as the Twins leader in home runs.
Chris Herrmann: Impressive in Return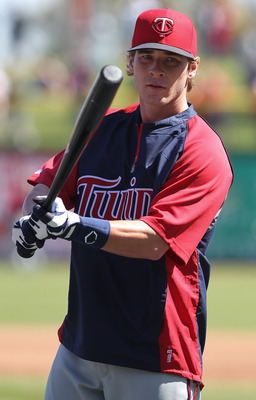 "I'm not a ladies man, I'm a Herrman"—something Chris Herrman might possible say.
Kim Klement-USA TODAY Sports
Sometime down the line, Mr. Chris Herrmann will be called back up to the big leagues. When that happens, I'd suggest holding on to your hats, folks.
Herrmann showed some flashes of good things to come in his earlier stint with the Twins this season, and I think that gives reason to believe some of that good comes later in 2013.
Joe Mauer: 200 Hits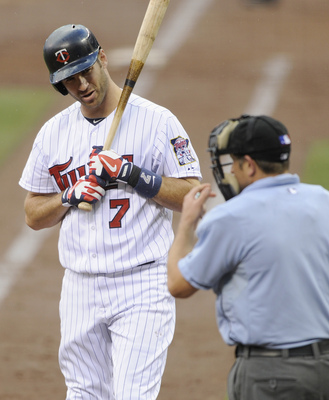 Apparently, Mr. Umpire doesn't know that that's Joe Mauer.
Hannah Foslien/Getty Images
Joe Mauer has done a lot of amazing things in his professional baseball career. One thing he hasn't done is get 200 hits. That will change in 2013.
Mauer is currently hovering around 100 hits (96 hits when written), and the Twins still have more than half the season to go.
Barring any lengthy injury, Mauer will reach this milestone...while also hitting 20 home runs.
Jamey Carroll: Walk-Off Home Run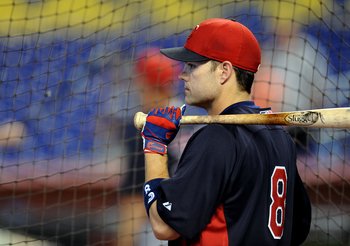 "What are all these kids doing on my lawn?"—faux Jamey Carroll (he's baseball old).
Steve Mitchell/Getty Images
Sometimes a guy is just due, and Jamey Carroll is due for a home run. Plus, if Carroll is due for a home run, he might as well make it a stylish walk-off one.
Carroll is one of only two players on the Twins roster who has played 20-plus games and not hit a home run, the other player being Wilkin Ramirez.
Carroll will get a big fly in a big-time way sometime before this season closes.
Brian Dozier: Finish with 75 RBI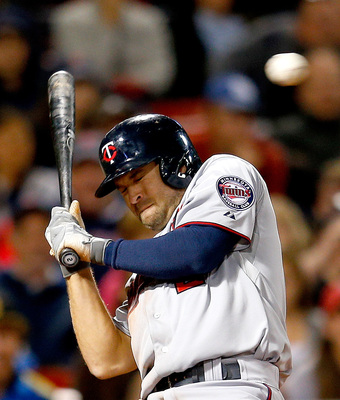 That ball is going straight for Dozier's beautiful hair! NOOO!
Jim Rogash/Getty Images
Brian Dozier seems to be finally warming up this season, and he'll just keep getting hotter. Right now, the second baseman has only 25 RBI—he'll triple that by the end of the second half of the season.
Dozier will probably never be the savior Twins fans thought he would be when clamoring for his promotion last season, but he could turn into a very productive everyday infielder.
And 75 RBI would definitely be very productive.
Eduardo Escobar: Will Become Everyday Shortstop
"To the window...to the wall!"—only explanation for Escobar's hand gesture.
Hannah Foslien/Getty Images
Remember early on in this season when Eduardo Escobar was hitting .500? I do, and it was quite glorious if I do say so myself.
I have been saying since the beginning of this season that Eduardo Escobar should be the starting shortstop instead of Pedro Florimon, and that will happen.
If you give Escobar the same playing time as Florimon, there numbers are about the same and Escobar provides more pop.
Pedro Florimon: 60 Runs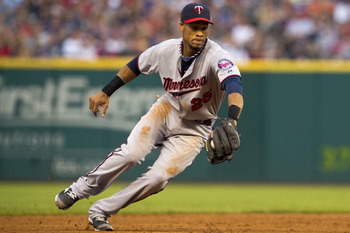 Vote for Pedro!
Jason Miller/Getty Images
Let's assume I'm wrong about Eduardo Escobar taking the shortstop gig, and let's keep it in the hands of Pedro Florimon. If Florimon holds on to the job, that means he'll stay productive and possibly become even more productive.
At the moment, Florimon has scored 18 runs, and if he can stay in the lineup, he'll touch home plate 60 times in 2013.
Justin Morneau: Will Be Traded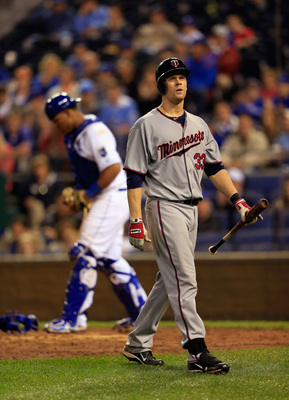 "Oh, America's cap! I get it now. Darn, Canadian jokes"—faux Justin Morneau.
Jamie Squire/Getty Images
There's a great chance Justin Morneau will be on a playoff roster this September, and that roster will not be affiliated with the Minnesota Twins.
The slugging Canadian hasn't been slugging too much this season, but someone will take a flier and overpay when the trade deadline comes around.
It's good for both sides of the deal. Morneau gets a chance to win a championship, and the Twins open up space to keep building for the bright-looking future.
Trevor Plouffe: Will Bat .300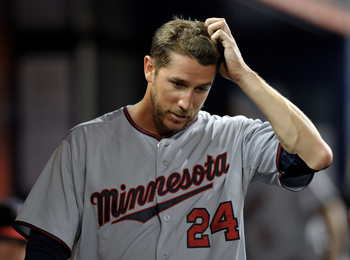 "Miguel Sano hit how many home runs?!"
Steve Mitchell/Getty Images
It's only logical to assume Trevor Plouffe is aware that Miguel Sano is in Double-A New Britain right now. It's probably also safe to assume that he knows there is a real possibility Sano could be the Opening Day starting third baseman in 2014.
If that doesn't motivate Trevor Plouffe, nothing will.
Plouffe will need to step his game up if he wants to hang on to his third base job with the Twins, and bumping his average up to .300 would be a nice way to do that.
Plouffe is currently hitting .273.
Oswaldo Arcia: Will Win AL Rookie of the Year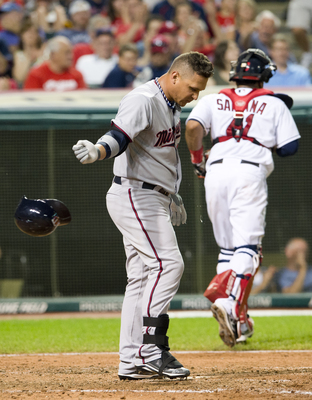 Drop it like it's hot.
Jason Miller/Getty Images
Earlier this season, I predicted that Aaron Hicks might win the Rookie of the Year award...I obviously had the wrong Twins rookie in mind.
Oswaldo Arcia has been tearing it up since his last return from Rochester. A weak class of rookies will help Arcia grab the ROY crown.
Aaron Hicks: Will Not Get His Average Above .200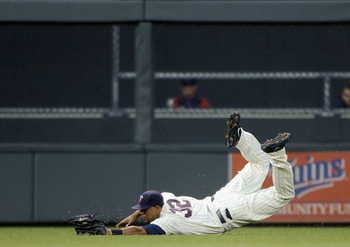 Am I safe?
Hannah Foslien/Getty Images
You can only dig yourself so deep inside a hole until you can't get out. Hicks did that with his remarkably slow start to the 2013 campaign.
The rookie center fielder tore it up during spring training, but when the Twins broke camp and went north, apparently Hicks' bat stayed behind in Fort Myers.
Right now, Hicks has a batting average of .179. It's very possible to get that well over the .200 mark, but I don't think he does.
Darin Mastroianni: Won't Play Another Game in a Twins Uniform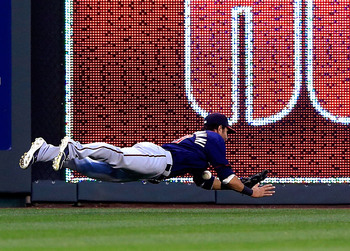 And I'm freeeeeeeeee...free fallin'.
Jamie Squire/Getty Images
Sorry to break the hearts of all the Darin Mastroianni lovers, but I think it's true. With Mastroianni being out since the beginning stages of the season, it looks like he will be the odd man out even if Willingham gets dealt.
The probable catcher of the future, Chris Herrmann, can also play some outfield, and when he gets recalled sometime in 2013, that's where he'll get a majority of his playing time.
The real great debate is who would you rather have: Mastroianni or Clete Thomas?
I, personally, go with Thomas.
Chris Parmelee: Will Thrive at First Base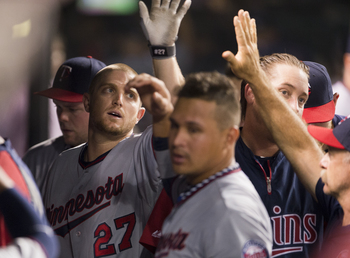 A high five for you, a high five for you...
Jason Miller/Getty Images
Assuming Morneau does get dealt, that means Chris Parmelee will become the everyday first baseman for the Twins. This is a good thing.
This move gives the Twins a look at Parmelee at his more true position at first base. If he succeeds, he'll hold down that spot for a couple seasons until Joe Mauer is transitioned from full-time catcher to everyday first baseman.
Clete Thomas: Serviceable Fourth Outfielder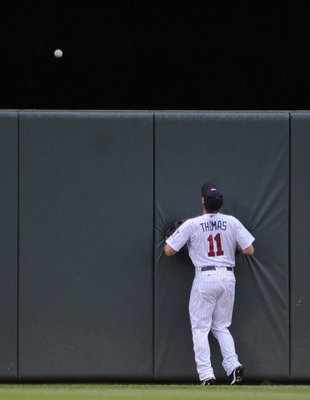 There she goes. There she goes again.
Hannah Foslien/Getty Images
Clete Thomas is not a real flashy guy, and it doesn't seem fair to really predict something flashy for him. The truth is that he'll move into the fourth outfielder role when Aaron Hicks comes back from injury, and he'll be really good in that role.
Thomas is the kind of guy you want in your lineup two to three times a week, and he'll give you pretty solid defense and a couple hits.
It's the perfect role for him.
Josh Willingham: Traded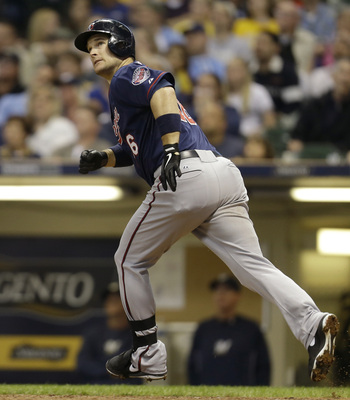 Gonna fly now.
Mike McGinnis/Getty Images
The Hammer has been struggling so far this season. Granted, Twins fans have high expectations after his career season in 2012, but regardless, he is underperforming.
Behind that struggle is a man who has a powerful bat (horrible defense thrown in FREE!), but someone will take a flier on the slugger. Probably an American League team that has a gaping hole in its DH spot.
Despite the struggles, Willingham will bring back a nice return for the Twins.
Keep Reading

Minnesota Twins: Like this team?