Full Training Camp Roster Breakdown for the Pittsburgh Steelers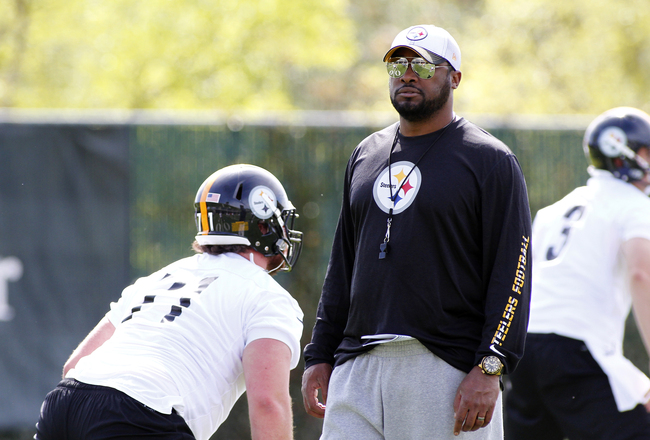 Justin K. Aller/Getty Images
The Pittsburgh Steelers will enter their 2013 training camp as a team in transition as they continue to integrate young talent onto the roster.
Offensive coordinator Todd Haley will have one of the youngest offenses in the league to work with this year. He will try to improve their production after averaging 21 points per game last season.
Meanwhile, Dick LeBeau will lead the oldest defense in the league that will have three new starters. But that defense will be much younger in 2013 as the three new starters will be integrated into the lineup.
After a disappointing 8-8 finish in 2012, the Steelers plan to make the necessary changes to make a return trip to the playoffs in 2013.
As training camp approaches, here is an analysis of the Steelers' 90-man roster.
Note: Listed next to names are given roster numbers. All stats via Steelers.com and ESPN.com.
Quarterbacks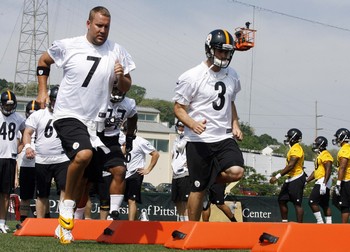 Charles LeClaire-USA TODAY Sport
Ben Roethlisberger (No. 7)
The key to Pittsburgh's offense will be the performance of Roethlisberger. Prior to getting injured last season, he was on pace to have a career year. In only 13 games last year, he threw for 3,265 yards, 26 touchdowns and only eight interceptions. Now in his second year under offensive coordinator Todd Haley, he may be even better.
Bruce Gradkowski (No. 5)
Unsatisfied with their depth at quarterback, the Steelers signed Gradkowski as their top backup to Roethlisberger. He is not the most impressive passer, but is mobile in the pocket and is more than capable of stepping in for two or three games next season.
Landry Jones (No. 3)
Jones wasn't drafted to replace Roethlisberger, but instead to provide a developmental prospect at quarterback. He has ideal size for a quarterback, but will be a work in progress as he adjusts to a pro-style system. Jones will be entrenched as the team's third-string quarterback.
John Parker Wilson (No. 4)
Following the 2009 draft, Wilson was signed as an undrafted free agent by the Atlanta Falcons and he has yet to play a down in the NFL. That will not change this year as he will be limited to an extra arm at training camp and will not make the final roster.
Running Backs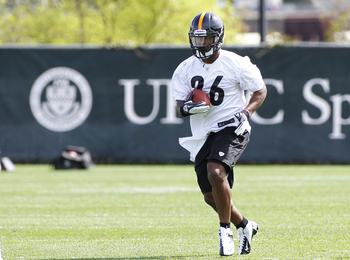 Justin K. Aller/Getty Images
Jonathan Dwyer (No. 27)
Dwyer led Pittsburgh with 623 yards last year and was the only running back on the team to average 4.0 yards per carry. Despite his immense talent, the knock on Dwyer has been his conditioning. He will enter training camp as the No. 1 back, but will face some stiff competition from second-round draft pick Le'Veon Bell.
Isaac Redman (No. 33)
Redman had the opportunity to show what he could do as a starter last year, but didn't demonstrate that he could carry the load. He is at his best in a reserve role as the primary backup and short-yardage back.
Le'Veon Bell (No. 26)
The Steelers believe that they have their running back of the future with Bell. He has the capability of running between the tackles and can also get to the outside. Besides his abilities as a runner, he also has good hands and can block. As long as his blocking skills translate to the NFL, Bell will be the Week 1 starter.
LaRod Stephens-Howling (No. 34)
Stephens-Howling was signed from the Arizona Cardinals as a role player. He will compete with Baron Batch for the final spot on the depth chart. Stephens-Howling is a capable runner and has good hands out of the backfield. However, his value on special teams as a returner will be what separates him from his competition.
Baron Batch (No. 20)
After spending his rookie season on the IR due to a torn ACL, Batch saw his first NFL action in 2012. He only gained 49 yards on 25 carries and had just four receptions. Batch will need to get better in all aspects of his game if he is going to beat out Stephens-Howling.
Curtis McNeal (No. 39)
McNeal is undersized at 5'7", but that does not mean he can't make it in the NFL. He is the Steelers only back with speed and is a surprisingly powerful runner who is not afraid to go between the tackles. A monster camp is the only way that McNeal can make the final roster. There is too much depth ahead of him, but he would be a good practice squad candidate.
Fullback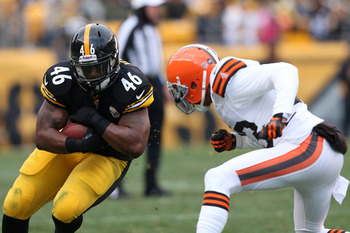 Karl Walter/Getty Images
Will Johnson (No. 46)
Though he is more of an H-back, the Steelers list him as the only fullback on their roster. He was a solid blocker as a rookie last year and showed his versatility by making 15 receptions. He could have an expanded role this year and is pretty close to a lock to make the team.
Tight Ends
Jared Wickerham/Getty Images
Heath Miller (No. 83)
Miller is an underrated receiving tight end, but stood out in that area last season. He was a focal point of Haley's offense as he set career highs with 816 receiving yards and eight touchdowns. Odds are that he will not be ready for training camp due to an ACL injury and Roethlisberger will have to look elsewhere for a primary receiving option early in the year.
Matt Spaeth (No. 87)
At 6'7" and 260 pounds, Spaeth is the most physically imposing weapon on the roster. However, his size has not translated into production. He only has 49 receptions and eight touchdowns in six seasons. The Steelers will need him to step up in the passing game as he has to help replace the production missing while Miller is out.
David Paulson (No. 81)
It is rare that a seventh-round draft pick can make an impact as a rookie, but that is exactly what Paulson did last season. Though he only had seven receptions, he showed enough to eventually become the No. 2 tight end. Paulson should once again fill that role this season.
David Johnson (No. 85)
Johnson suffered an ACL injury last year and has his work cut out for him. He is buried deep on the tight end depth chart and Will Johnson has impressed the coaching staff at fullback. The only way that Johnson can make the final roster is if he demonstrates that he is 100 percent and if Miller starts the season on the physically unable to perform list.
Jamie McCoy (No. 82)
McCoy has spent time on the St. Louis Rams' and Steelers' practice squad. There is talent to work with, but he has never been able to take the next step. Odds are he will once again not make the final roster.
Peter Tuitupou (No. 47)
Tuitupou only had 14 receptions in two years of action in college. He will not make the roster.
Wide Receivers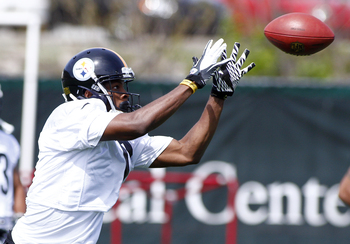 Justin K. Aller/Getty Images
Antonio Brown (No. 84)
From a sixth-round draft pick to a No. 1 receiver, Brown has come a long way in three years. Last season was a bit of a disappointment after earning the team MVP award in 2011. As one of the hardest workers on the team, Brown will be primed for a bounce-back season and should lead the team in receptions, yards and touchdowns.
Emmanuel Sanders (No. 88)
Sanders earned a promotion by virtue of Mike Wallace's departure via free agency. He is a terrific route runner and has deceptive deep speed. With only five career touchdowns, the Steelers will need him to increase his production in the red zone.
Jerricho Cotchery (No. 89)
Though he does not have the speed of Brown and Sanders, Cotchery brings physical play to the offense. He has had a limited role in his two years with the Steelers, making only 33 receptions and two touchdowns. It is possible that he matches that production this year. As the season progresses, Cotchery will have to hold off rookie Markus Wheaton.
Plaxico Burress (No. 80)
By no means is Plaxico Burress a lock to make the final roster, but his odds should be pretty good. At 6'5" and 232 pounds, he is one of the only receivers with substantial size that has a shot at the final roster. He does not have deep speed, but has the size to at least make defenses think and should be a threat in the red zone.
Markus Wheaton (No. 11)
Wheaton will be unfairly compared to Wallace because he was—in part—drafted to help replace him. While he cannot match Wallace's speed, he is a more diverse route runner. As with all rookies, Wheaton will have to work his way up the depth chart and could be as high as fourth on the depth chart to start the season before eventually working his way to third.
Justin Brown (No. 15)
At 6'3" and 209 pounds, Brown has intriguing size. He lacks deep speed and is a pure possession receiver. The only opportunity for him to make the final roster will be to beat out Burress for the final receiver spot. He could have the edge because of his ability in the return game.
David Gilreath (No. 18)
Last year the Steelers were begging for a young receiver to make an impact in training camp. Gilreath did not take advantage of that opportunity. He did spend time on the practice squad and signed with the active roster for three games. He will have to shine on special teams to make the roster.
Derek Moye (No. 14)
Moye is not a burner, but he does bring terrific size standing at 6'5". Size does not always equate to talent and production. He may be a candidate for the practice squad.
J.D. Woods (No. 17)
When Tavon Austin and Stedman Bailey are ahead of you on the depth chart, you will not get much attention. As the third option on the Mountaineers, Woods had 61 receptions and four touchdowns. He lacks elite speed, but is a tough receiver who knows how to get open. Having an NFL body and the ability on special teams makes Woods a sleeper to make the roster, but also a good practice squad candidate.
Reggie Dunn (No. 13)
Speed. That is all you need to know about Dunn who ran a reported 4.22 40-yard dash at Utah's Pro Day (via Joe Starkey of the Pittsburgh Tribune-Review). While in college, he had five kick returns for a touchdown. He may not have a spot on offense, but if his return abilities translate to the NFL, the Steelers will find a spot for him on the final roster.
Kashif Moore (No. 19)
Moore did not make it out of the Cincinnati Bengal's training camp last season and spent time on the practice squad of three teams last year. That does not bode well for him making it past the first round of cuts.
Centers
Charles LeClaire-USA TODAY Sport
Maurkice Pouncey (No. 53)
Pouncey is the unquestioned leader of the offensive line. He will need to lead a young offensive line as they adjust their schemes under new coach Jack Bicknell Jr. Expect another Pro Bowl year for Pouncey.
Joe Madsen (No. 69)
There is no depth at center right now which is a good sign for Madsen. The bad news is that the Steelers are working Kelvin Beachum and John Malecki there. He will have to shine in camp and the preseason to make the team.
Offensive Guards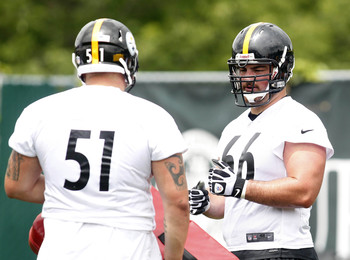 Charles LeClaire-USA TODAY Sport
David DeCastro (No. 66)
An injury in the preseason derailed DeCastro's rookie season. Back at full strength, it is time for him to show why he was billed as the top guard prospect since Steve Hutchinson. The Steelers need him to develop into one of the best guards in the league to help solidify their offensive line.
Ramon Foster (No. 73)
Foster is a durable player with 30 straight starts and 42 starts in the last 44 games. He lacks the athleticism of the other starters on the line, but makes up for it with his strength. After starting at right guard last season, he will transition to the left side.
Kelvin Beachum (No. 68)
Beachum was a long shot to make the roster last season as the Steelers' final draft pick. Not only did he make the roster, but he performed well in five starts at right tackle last season. His versatility will serve him well as he we be the top backup on the team. The coaches are preparing him to play all five spots on the line.
John Malecki (No. 62)
An undrafted free agent in 2010, Malecki bounced around from team to team before making two appearances on the Steelers' active roster last season. The expectations have been raised as he is one of their top backups who will have to play learn both guard spots and center. He is undersized, but a hard worker and compares well with former backup Doug Legursky.
Nik Embernate (No. 51)
Embernate was a player that the Steelers showed interest in before the draft. They signed him as an undrafted free agent and he has a legitimate chance at making the team. He gets after defensive lineman and his play is a physical as it gets. He earned the nickname "Embernasty" for a good reason. Embernate will be a camp favorite and has a chance to earn a backup job.
Justin Cheadle (No. 72)
The 6'2" and 290 pound guard is undersized and may have trouble against the larger defensive linemen that he'll be up against. Cheadle will be a practice squad candidate.
Chris Hubbard (No. 74)
Hubbard will transition from college tackle to NFL guard. With the lack of depth on the offensive line, it is hard to rule any player out, but the odds are not in his favor.
Offensive Tackles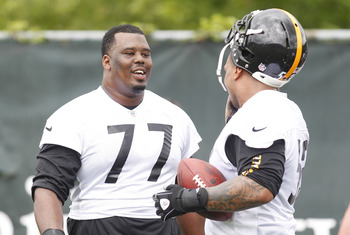 Charles LeClaire-USA TODAY Sport
Marcus Gilbert (No. 77)
No offensive player will be under more pressure than Gilbert this season—that is unless he fails at his job. He will be protecting Roethlisberger's blind side. He has 18 starts at right tackle and his next start at left tackle will be his first.
Mike Adams (No. 76)
Pittsburgh's ground attack was at its best when Adams started at right tackle. While he struggles in pass protection, he is flat out dominant when run blocking. He should be ready for camp after being stabbed twice on June 1st.
Guy Whimper (No. 61)
Whimper has started 21 games in the last two season—mostly at right tackle—and could be one of their top backups. However, he will not be a lock to make the roster as he has struggled in pass protection. Whimper will have to hold off the young tackles hungry to make the roster.
Mike Golic Jr. (No. 67)
Golic has terrific NFL bloodlines with his dad, Mike Golic, and uncle, Bob, each playing in the NFL. He will come to camp prepared for the rigors of the league. Expect the Steelers to play him at both tackle and guard. He has potential to make the final roster or practice squad.
Joe Long (No. 79)
Long has great size at 6'5" and 304 pounds, but is limited athletically. He was named the Division II college football lineman of the year in 2011 and is the younger brother of former first-overall selection Jake Long. He will have an opportunity to make the roster or practice squad.
Mike Farrell (No. 71)
At 6'6" and 303 pounds, Farrell has the size for an NFL tackle. As with the other young linemen, he will have a shot at the roster, but he is unlikely to make the roster.
Defensive Ends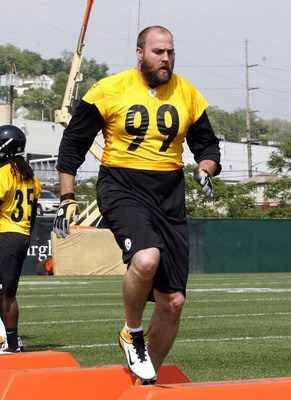 Charles LeClaire-USA TODAY Sport
Brett Keisel (No. 99)
Though he is the oldest member of the defense, Keisel has not slowed down and is still the top defensive end on the roster. He may lose some snaps to Cameron Heyward, but Keisel will still play an integral role on the defensive line and will step up as a team leader.
Ziggy Hood (No. 96)
Hood is not as bad as some make him out to be, but he has not lived up to expectations as a former first-round pick. Expect a typical year from him as he will be a relative non-factor early in the year and pick it up as the season progresses. He always plays his best football in December.
Cameron Heyward (No. 97)
The third-year defensive end from Ohio State needs to get on the field. Heyward has been the first man off the bench in the defensive end rotation and finally began to show signs of being a very good player last season. Do not expect him to unseat Keisel, but it is possible that he could take the starting job from Hood.
Al Woods (No. 65)
Woods had a solid year in a backup role, playing in 12 games last season. Though he only had three tackles, he was not a liability and provides a quality option off of the bench.
Nicholas Williams (No. 91)
At 6'4" and 309 pounds, Williams has the prototypical size that the Steelers look for in their defensive ends. He moves very well for his size, but is very raw and will likely take a couple of seasons to develop. There is a chance that he sneaks onto the roster, but the practice squad is the more logical destination.
Brian Arnfelt (No. 69)
Arnfelt was signed as an undrafted free agent out of Northwestern. He was a team captain and had 25 tackles and three sacks as a senior. It is unlikely that he makes the team.
Cordian Hagans (No. 67)
At 24 years old, Hagans is still relatively new to the defensive side of the ball. He was recruited to LSU as an offensive lineman and switched to defensive line when he transferred to LA-Lafayette. His 6'4" and 299 pound size provide him with a good frame, but he has a lot to learn to compete for a roster spot.
Nose Tackles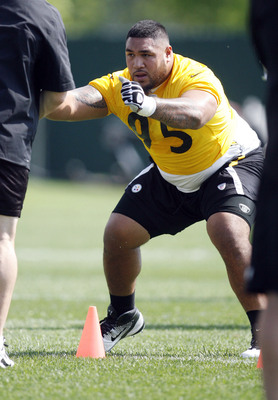 Charles LeClaire-USA TODAY Sports
Steve McLendon (No. 90)
There will be a big change in the middle of Pittsburgh's defense—both literally and figuratively. McLendon will take over for long-time nose tackle Casey Hampton. McLendon is very powerful and will add an element of pass rush, which is something that the Steelers have been lacking.
Alameda Ta'amu (No. 74)
The Steelers lack proven depth behind McLendon and they will count on a player like Ta'amu to fill that role. He had a terrible camp last season in what was generally an overall disappointing year. The potential is there, he just needs to realize it.
Hebron Fangupo (No. 92)
Fangupo was claimed off of waivers from the Seattle Seahawks last December. At 324 pounds, he is a massive presence in the middle and will compete with Ta'amu for the backup job. He has an excellence chance at earning this job.
Omar Hunter (No. 71)
Hunter has good size at 6'0" and 318 pounds to play in a 3-4 defense. He helped the Florida Gators have one of the best defenses in the nation last year. He will have a chance in this wide-open competition.
Inside Linebackers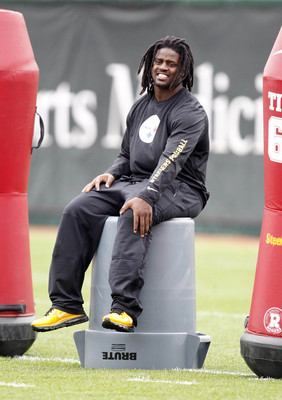 Charles LeClaire-USA TODAY Sport
Lawrence Timmons (No. 94)
Some love him, some hate him, but the fact is that Timmons is a very good linebacker. He had one of his best seasons last year with 106 tackles, six sacks and three interceptions. Do not be surprised to see him make the Pro Bowl this season. No linebacker on the team is asked to do more and Timmons does it all quite well.
Larry Foote (No. 50)
When you hear that the Steelers have an old defense, Foote is one of the reasons why. He is 33 years old, but is still getting the job done. Never one to rely on athleticism, he is always in position and had the most productive season of his career last year with 113 tackles and four sacks.
Sean Spence (No. 51)
Spence was drafted to be a future starter at linebacker. A devastating knee injury may derail that. There are still a lot of questions when it comes to Spence's health and he may not be able to play again this year. His health will be something to monitor, but expect him to at least start the year on the PUP list.
Vince Williams (No. 44)
The sixth-round draft pick has an excellent opportunity to be the top backup at inside linebacker. He was a leader at Florida State and was a big part of their second-ranked defense. He is primarily a run stopper and will have to develop against the pass. Special teams will be an area where he can really make an impact.
Stevenson Sylvester (No. 55)
Sylvester has never developed on the inside and is not enough of a special teams demon to be considered a "lock" to make the roster. He will have to show his versatility at linebacker and prove that he can take snaps on defense or else he will be off the roster.
Marshall McFadden (No. 40)
McFadden is an intriguing prospect who has flashed some potential in the past. Given the lack of depth at inside linebacker, he will have a fair chance at earning a spot.
Brian Rolle (No. 47)
At 5'10", Rolle is a bit undersized, but the Steelers have not strayed away from shorter linebackers. He has some talent ahead of him, however, do not rule him out as a potential sleeper.
Kion Wilson (No. 48)
The fourth-year pro has played in eight games between the San Diego Chargers and Carolina Panthers. His experience is one of the few things that he has going for him, but it may not be enough for him to make the team.
Outside Linebackers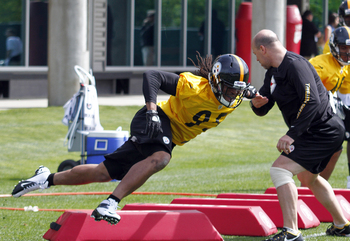 Justin K. Aller/Getty Images
LaMarr Woodley (No. 56)
Two years ago Woodley was one of the best pass rushers in the game. Injuries and conditioning have got the best of him, and now he is in need of a big year. He will be the top pass rusher now that James Harrison is gone.
Jason Worilds (No. 93)
Worilds has had to sit behind Woodley and Harrison for three years and now is his chance to prove himself. He played well in limited time last season, but no one was going to mistake him for an elite pass rusher. Though unlikely, Worilds could lose his starting job to rookie Jarvis Jones.
Jarvis Jones (No. 95)
Injury concerns and poor workout numbers allowed Jones to fall to the Steelers. He has top 10 talent and will need to demonstrate that in Pittsburgh. This season should be a learning year for Jones and the expectation should be to use him as a situational pass rusher. He will have a chance to compete for the starting job.
Chris Carter (No. 54)
The once promising prospect is now buried on the depth chart. Carter had no sacks in three starts and eight games played last season. He should make the roster and should be slotted behind Jones on the depth chart.
Adrian Robinson (No. 57)
Last season, Robinson proved that he could effectively rush the passer against third stringers. The expectations will be higher this year and he should earn a roster spot and contribute on special teams.
Alan Baxter (No. 45)
Baxter is only 6'0", but that did not deter him from getting to the quarterback. He had 15 sacks in two years starting at defensive end at Northern Illinois and added 24 tackles for a loss. He will compete for a backup role, but is more likely to be a practice squad player.
Terence Garvin (No. 49)
Gavin is 6'3" and 221 pounds, which is a bit light for an outside linebacker. There is a lot of talent ahead of him and he will have a tough time to beat them out.
Cornerbacks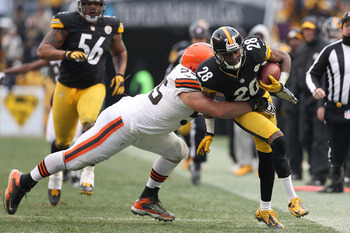 Karl Walter/Getty Images
Ike Taylor (No. 24)
The 33-year-old Taylor is still the top cornerback on the Steelers. As one of the hardest workers on the team, he is still in top physical condition and can run with the top receivers in the game.
Cortez Allen (No. 28)
Allen will take over the spot vacated by Keenan Lewis. The 6'1" and 196 pound cornerback is nearly identical in size to Taylor and has the potential to be just as good—if not better—than him. He had two interceptions and 10 passes defended in three starts and 15 games played last season.
William Gay (No. 22)
Gay will be in his second stint with the Steelers and will fill the nickel role. He knows the defense well, but cannot physically match up against some of the more talented receivers in the league.
Curtis Brown (No. 31)
The former third-round pick has been a disappointment thus far. He has yet to make an impact outside of special teams and this will be a big year in development. Players often make a big leap in their third year and the Steelers could use another young, athletic cornerback that is ready to contribute.
DeMarcus Van Dyke (No. 23)
Van Dyke is one of the fastest players on the team. He has all of the physical tools that you could ask for in a cornerback, but needs to put them all together on the field. He is a borderline roster player.
Terry Hawthorne (No. 30)
Hawthorne was a terrific cornerback prospect two years ago before having a down year last season. He has great size at 6'0" and 190 pounds and has the upside as a nickel back or even starter. Expect Hawthorne to make the roster and contribute on special teams.
Josh Victorian (No. 35)
In four games played and one start last season, Victorian had 10 tackles and two passes defended. He was a solid backup, but when in over his head when forced to start. His experience may not be enough for him to make the final roster this year.
Ross Ventrone (No. 41)
The 5'8" Ventrone played in eight games for the New England Patriots in 2011. He needs to have an outstanding training camp to earn a spot.
Isaiah Green (No. 39)
Green signed with the Buffalo Bills as an undrafted free agent in 2012 before spending time on the practice squad with the Indianapolis Colts. He has the athletic abilities to be successful as a depth player, but will have to shine on special teams if he wants to have a chance with the Steelers.
Nigel Malone (No. 37)
Malone had 78 tackles and 10 passes defended last season at Kansas State. Lacking the measurable and physical tools that the other cornerbacks have, Malone will have a tough time sticking around.
Safeties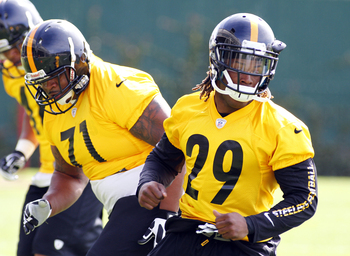 Justin K. Aller/Getty Images
Troy Polamalu (No. 43)
When healthy, Polamalu is one of the most feared defenders in the game. The problem is staying on the field. He will enter training camp healthy and the Steelers will need him on the field if the defense wants to get back in the business of forcing turnovers.
Ryan Clark (No. 25)
Clark is in the final year of his contract and the 33-year-old safety is at the top of his game. His number of tackles have increased each of the last five seasons and he has been one of Pittsburgh's most consistent defenders.
Robert Golden (No. 21)
The Steelers allowed backup safeties Will Allen and Ryan Mundy to leave via free agency, meaning that Golden is the top backup. He will have to hold off rookie Shamarko Thomas, but regardless, he should get a lot of playing time this season.
Shamarko Thomas (No. 29)
Another two inches taller and the 5'9" Thomas may have been selected in the first or second round. The Steelers love his talent and he will contribute on special teams and may see time in passing packages.
DaMon Cromartie-Smith (No. 42)
Cromartie-Smith is the tallest safety at 6'2" and has played in six games over the past two seasons. He will likely be the odd man out as the Steelers will probably carry four safeties.
Specialists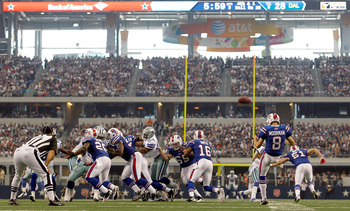 Tom Pennington/Getty Images
Shaun Suisham (No. 6)
Suisham was terrific last season, connecting on 90.3 percent of his field goal attempts. He will be the kicker this season.
Daniel Hrapmann (No. 2)
Hrapmann will be at camp to take some of the kicking reps, but does not have a chance at beating out Suisham.
Drew Butler (No. 9)
Butler averaged 43.8 yards per punt with a net average of 37.8 yards. He has potential to get better, but needs to become more consistent.
Brian Moorman (No. 8)
Moorman has been one of the more dependable punters over the years. At 37 years old, he could very well be the Steelers punter this season. It will come down to which punter is more consistent.
Greg Warren (No. 60)
Warren is entering his ninth season with the Steelers and will have to get noticed by the coaches to lose his job.
Luke Ingram (No. 48)
One bad snap and Ingram could be the Steelers next long snapper. Until that happens, he will just be showcasing his skills for a future opening.
Keep Reading

Pittsburgh Steelers: Like this team?